This article may contain affiliate links; if you click on a shopping link and make a purchase I may receive a commission. As an Amazon Associate, I earn from qualifying purchases.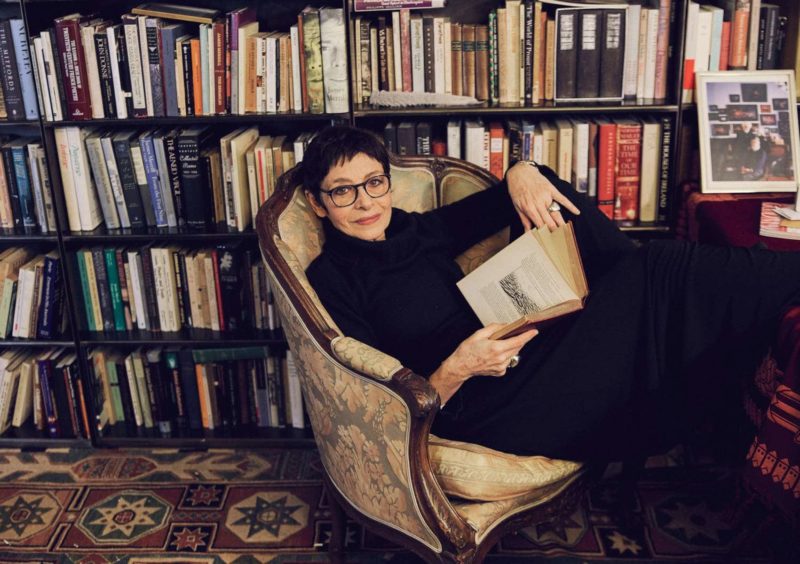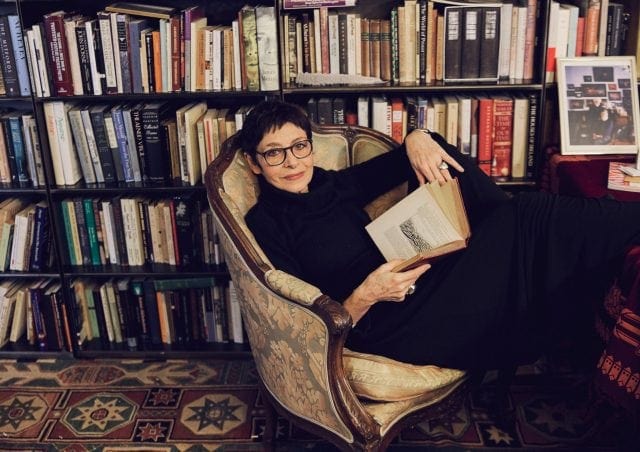 Joan Juliet Buck. She was the reason I cancelled my Vogue subscription. But little did I know about this amazing woman.

Her 2011 piece for the magazine, "A Rose in the Desert" about Syrian First Lady Asma al-Assad disgusted me so much, I could no longer support a publication that published such a thing.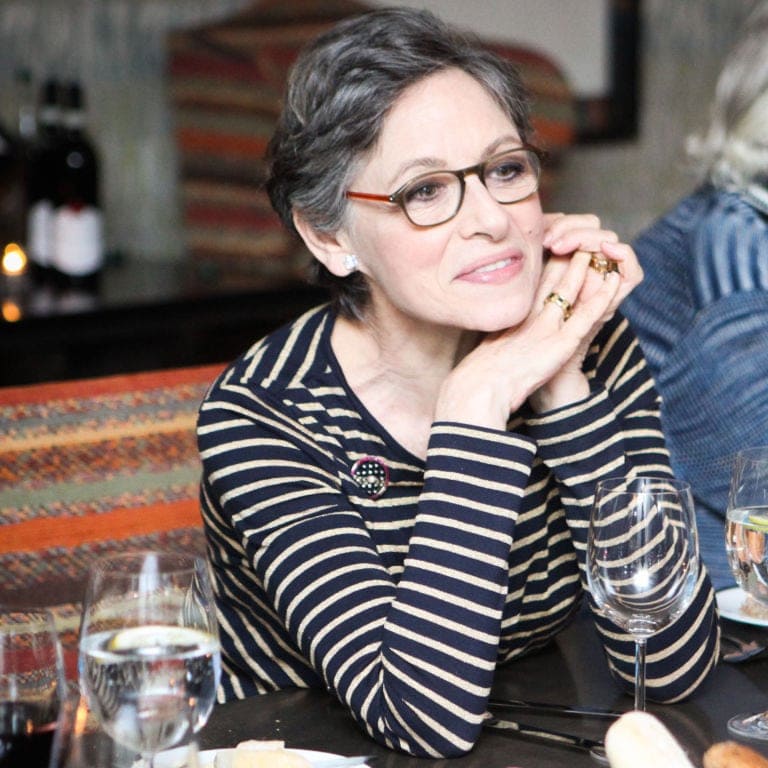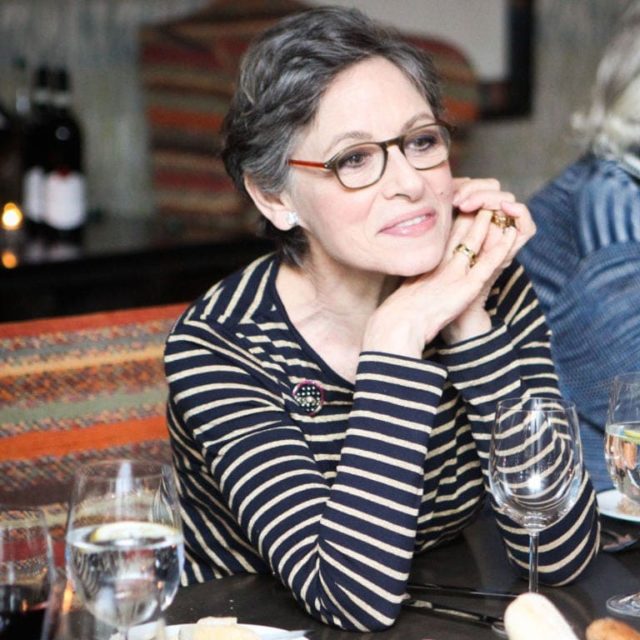 But Joan Juliet Buck is so much more than that piece in Vogue. The daughter of legendary film producer Jules Buck, Buck was born in California but grew up in France and London.  Her godfather was John Huston and was childhood best friends with his daughter, actress Anjelica Huston. She dropped out of Sarah Lawrence College join Glamour as a book reviewer. She was picked by Andy Warhold to be his London corespondent for Interview and at the young age of 23 was the features editor for British Vogue. She went on to write for publications such as Women's Wear Daily, Vanity Fair, The New Yorker, and Condé Nast Traveler. and is the only American to hold the position of Editor in Chief of Vogue Paris.  She's dated some of the most famous men, acted in amazing movies (you may recognize her from her part as Madame Elisabeth Brassart in the film Julie & Julia), and even wrote two novels.  But such a life isn't as glamorous as you may think.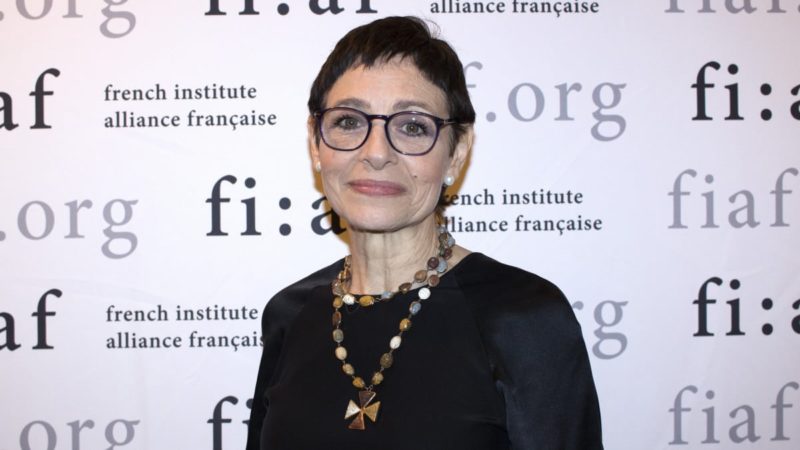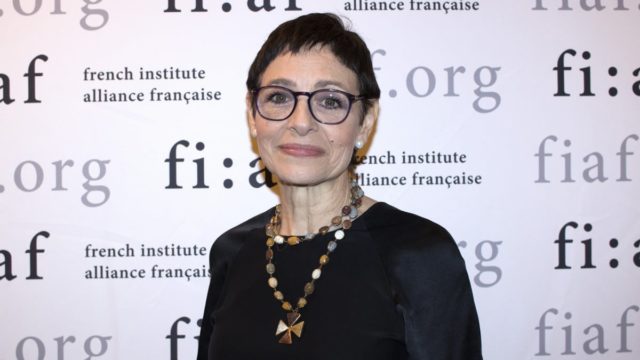 Buck's recent memoir, The Price of Illusion goes into what really happened during her tenure at Vogue, what happened before, after, and yes, why she agreed to write that piece about the Syrian First Lady. Not in a long time have I gobbled up a book so quickly and with such excitement.  I filled pages of my journal with quotes, my hardback copy now dog-eared and riddled with notes, bullets, and highlighter. I mentioned previously on the blog how much I enjoyed this book; even if you're not a fashion lover I believe you will enjoy Buck's memoir.
I had the great honor of interviewing Joan Juliet Buck one rainy afternoon. Her agency connected our lines, I sat in bed in my beloved threadbare jersey harem pants while Buck made lunch in her new home. We laughed, we talked about universal healthcare (we both agree that a government's first job is to care for its people), how flattering navy can be, and of course, harem trousers.  Some snippets from my conversation with Buck: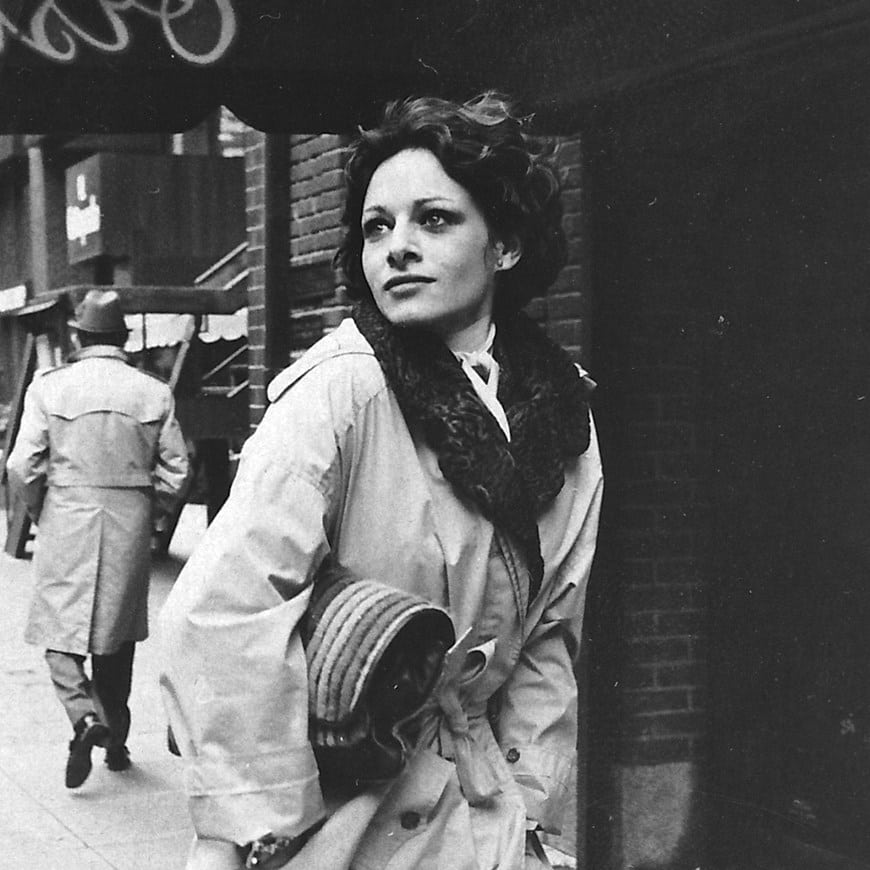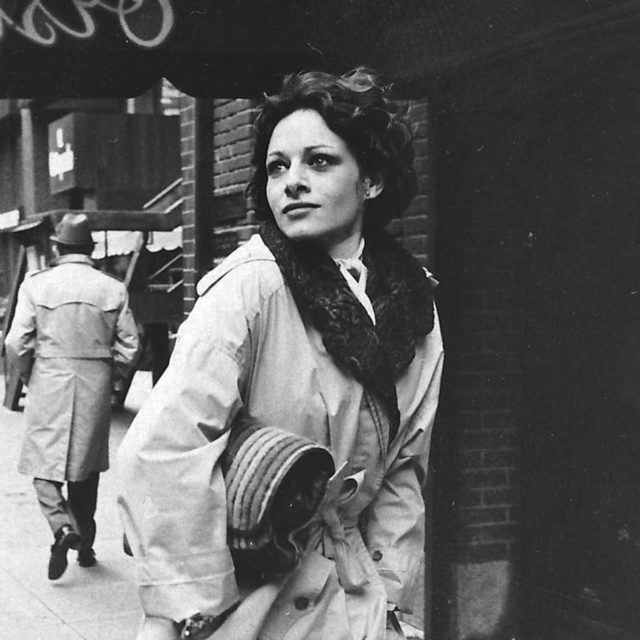 Gary: I was fascinated by your relationship with clothes. The costumes you had at a young age, the way your dress changed when you became Editor of Vogue Paris. While I often write about how clothing can be armor, it can also be a disguise, or a fortress. I felt I saw all of these roles for clothing and more in your book can you speak more about it?
Buck: We need clothes because we're not covered in fur. It's interesting what's happened with clothes; you used to dress to conform. My mother dressed to conform in the '50s and 60s and then my generation we all dressed all alike as if we weren't conforming. And now there's nothing really to conform to. I'm always happiest and I think everyone is with a uniform. You want to know what your go-to clothes are.
I just moved into a new place so I'm thinking, do I put all the Jil Sander Uniqlo sweaters together, or do I put them by nice great neckline grey sweaters, and then heavy winter cashmeres? If you're thinking by brand you're not thinking of what the clothes do for you but what you do for the clothes. And if you're thinking by function or shape or texture then you're dominating your clothes. So it's not all Tom Ford with Tom Ford; raincoats go with raincoats. I think function is very important and what you have do as a fashion blogger is redefine function.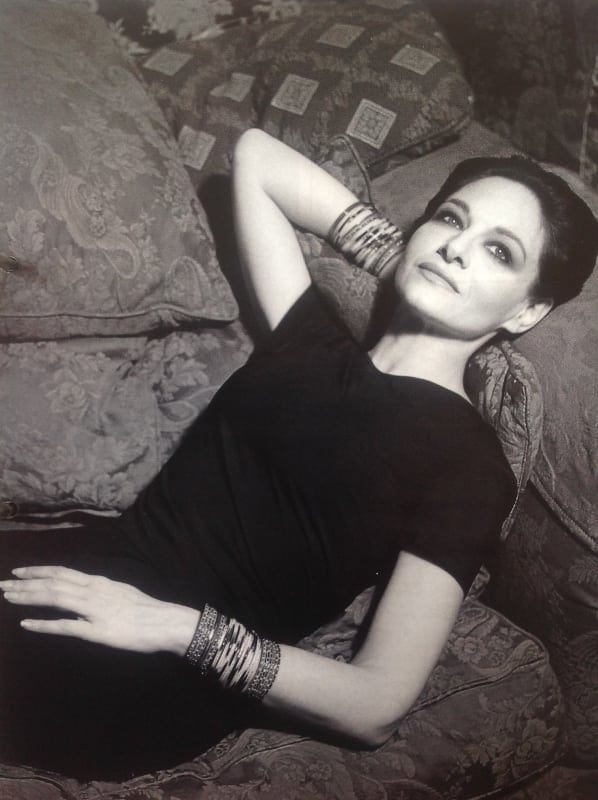 You dress because you want to be somebody. I'd rather be George Sand wearing some exotic Trans-Caucasus robe with a pillbox on my head and harem trousers than most anything else. Who do people dress to want to be when they're dressing today?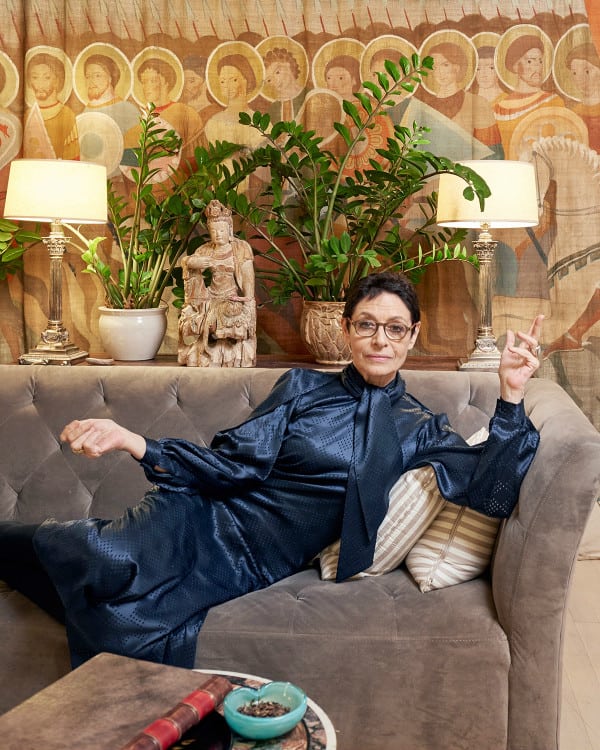 G: "I owned a profusion of outfits so dense that no joy, no event, no memory could stick to one thing." This was one of the many lines I not only underlined but transcribed into my journal. As a blogger I earn money by encouraging others to buy, but the older I get the more I want a wardrobe that has a history, a story, my story. I'd love to hear about your wardrobe now.
B: As I just moved into the house it's mainly on the floor! It's interesting because I'm 68 so there are practically no more high heels except for one Armani pair that actually don't hurt. And almost everything, all my fancy new clothes are from Zac Posen. And they're wonderful, but they're not the sort of Zac red carpet stuff, they're navy blue. My style is, and I say it in the book, somewhere between priest and soldier. I like very severe things, I don't like ruffles, I like a certain kind of neckline, not too near the neck, I don't like collars, etcetera so Zac made these amazing outfits for me that are exactly what I love. And there's Pamela Barish in L.A., she's a very very good designer, she has a boutique in Venice and she cuts really well. So those are my good new clothes that all hang together because those are the clothes I wear when I'm going out. Everything is navy blue.
I didn't use to really like navy blue, I thought it was a bit bourgeois, but navy blue has actually changed because with the death of an overriding convention of how everyone should look, that kind of bourgeois side to navy blue has vanished. And it's become much more what it really is, which is a more flattering black. It doesn't drain you and you don't look like you're going to a funeral and you don't look like you wish you lived in Berlin. You just are wearing a good dark color.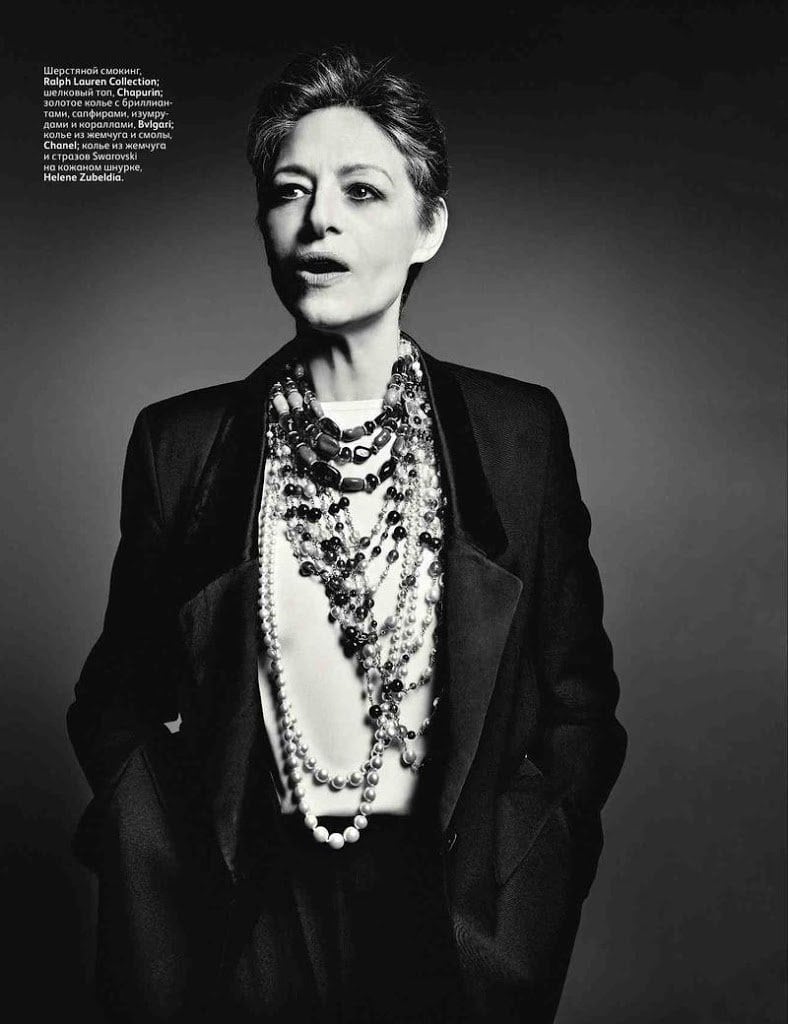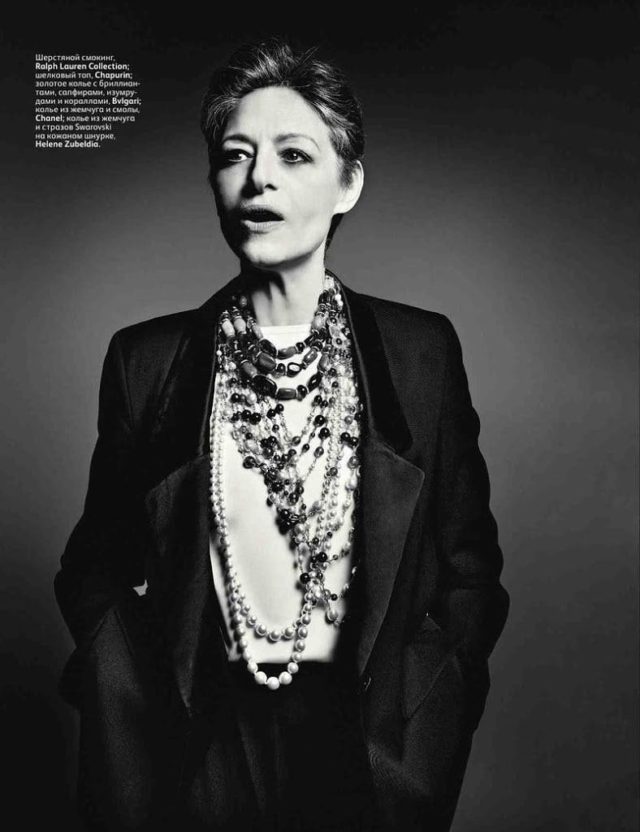 I have a lot of things about color in my book. Brown, which the French hate, they say it's a German color and they don't want anything to do with it. But brown at my age isn't as attractive. Do you know what I mean? At Vogue, we never shot a white girl in yellow, except Carolyn Murphy once in a Prada dress because Caucasian skin looks horrible wearing yellow. Brown is always whispering autumn! It looks weird in the spring, it looks weird in the summer.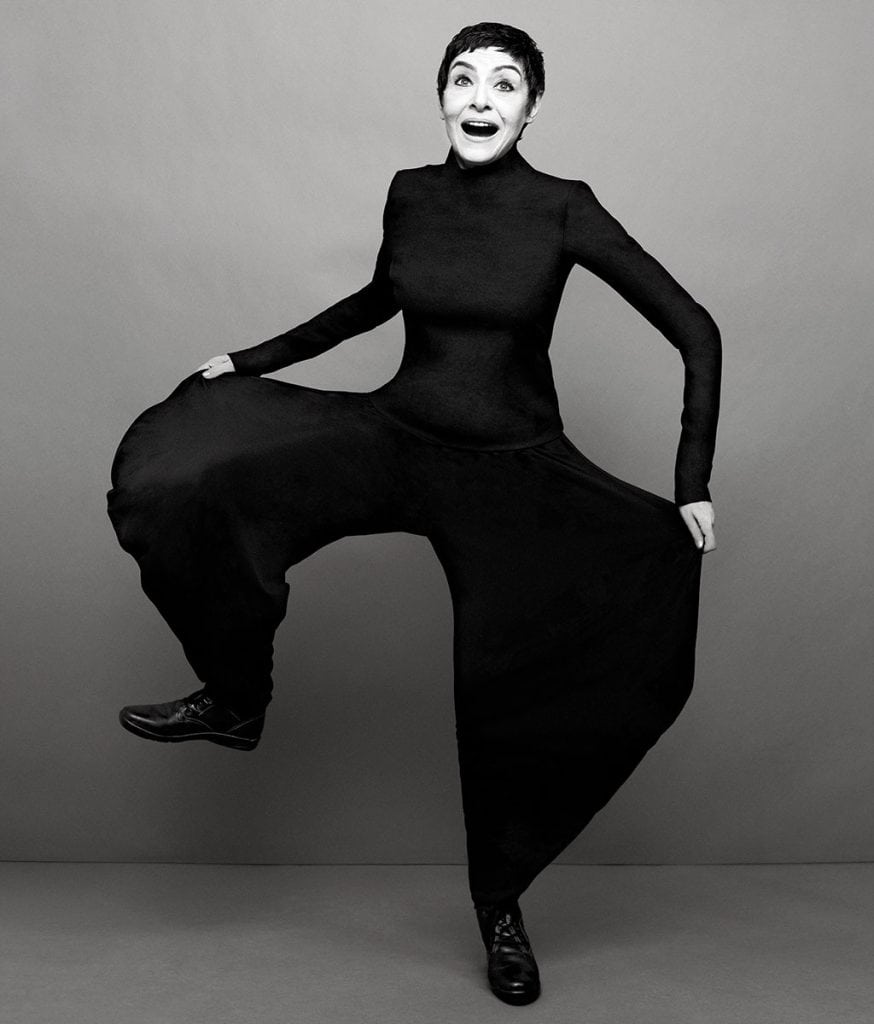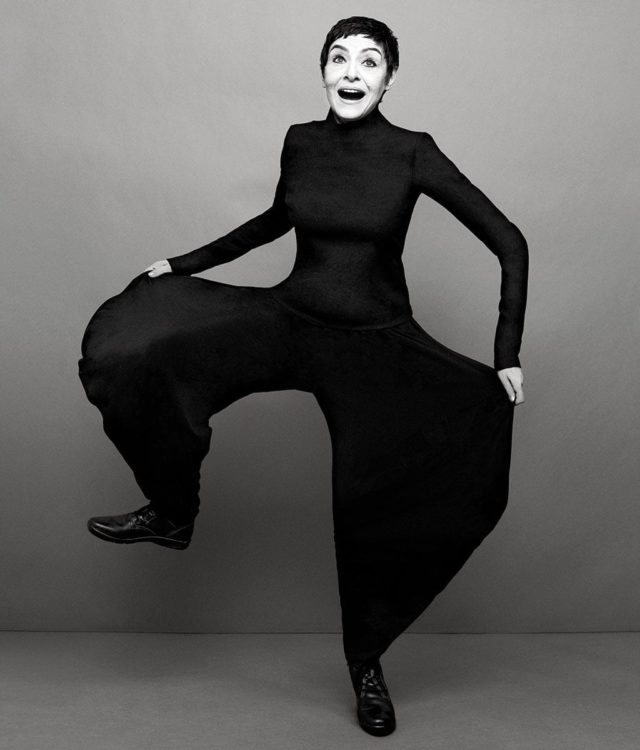 I have 18 pairs of harem pants in black silky jersey from a designer in Istanbul called Nu and she's really good. I'm not going back to Istanbul but I have various ways of getting more and they're the only trousers I like. I like covering my legs but I don't like looking masculine. Mine are everyday plus super fancy with a gold top. That's the basis of my wardrobe.
Another age thing, I don't like heavy handbags. For years I wore Prada nylon crossbodies and then finally I found a very light, very beautiful, very simple agnès b. leather bag that you can wear like that but it's light. And the whole idea for my of handbags with extra hardware and shit hanging off of them is just silly. I've always hated handbags with little handles. When you're carrying a handbag that has little handles you look a little bit like a hamster. It makes your arms look short. You put it in the crook of your elbow and you look like the Queen of England.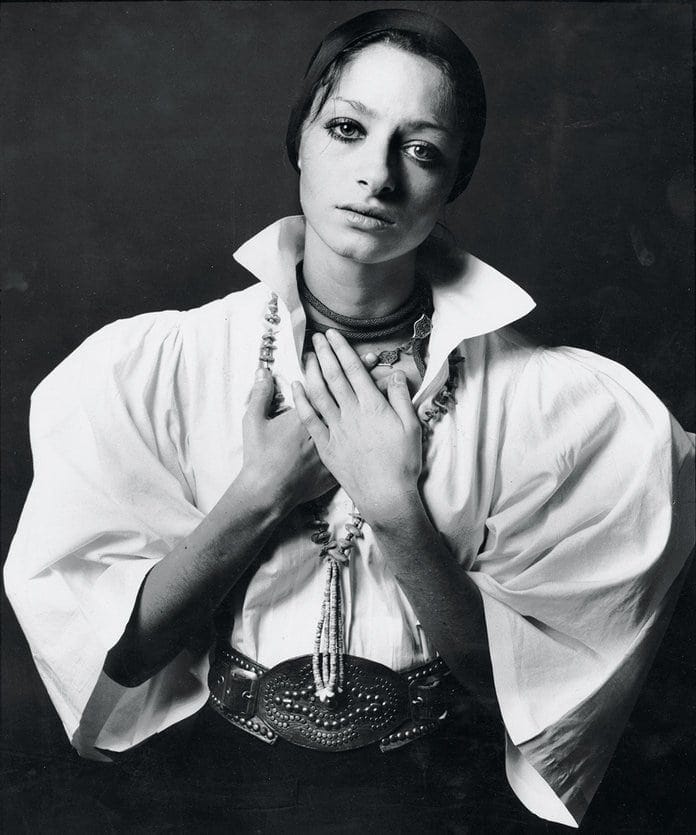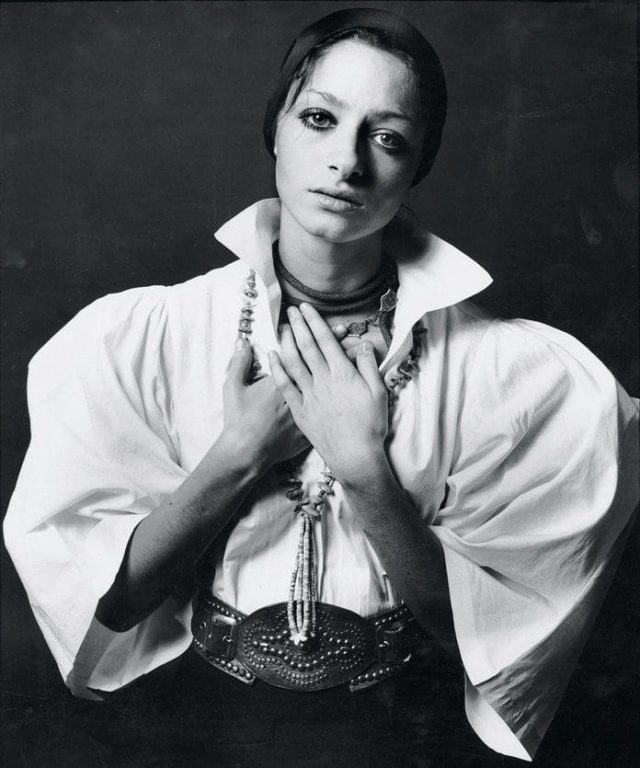 G: Do your hangers face the right or left side of your closet?
B: Such a good question. The clothes are looking left because when you push the hangers back, you do it with your right arm, so you want to see the front. I have a hanger that I nicked from the coatroom at the Montrreux Palace Hotel because that's where Nabakov lived. I like to think that Nabakov's coat hung on it now and then. I also have those really skinny weird ones that are covered with some black fuzz. Black is better than beige because beige is depressing.
And also beige is over.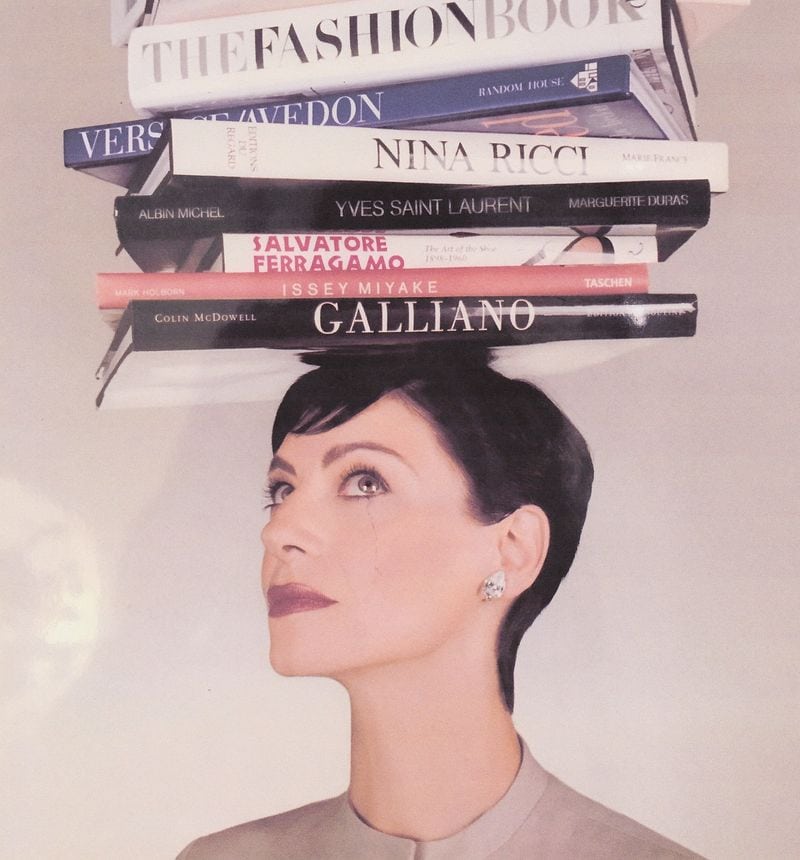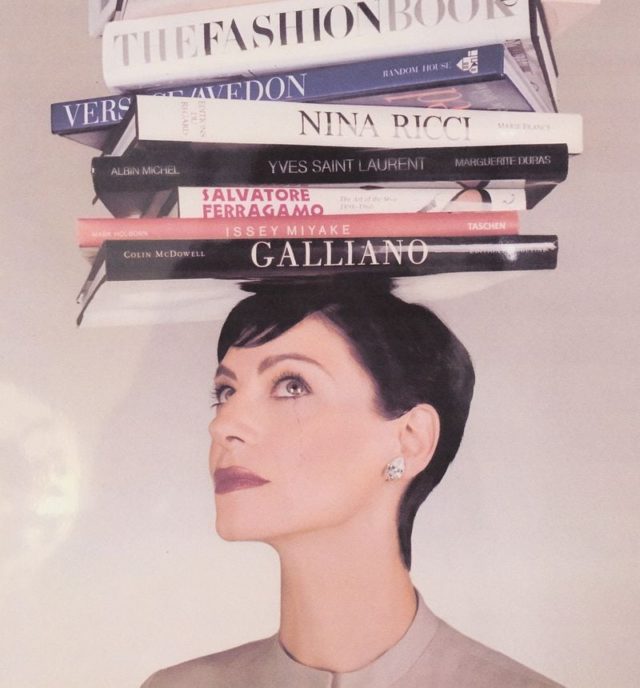 G: What do you find to be the best thing about getting older?
B: Not worrying about what handbag you wear to dinner.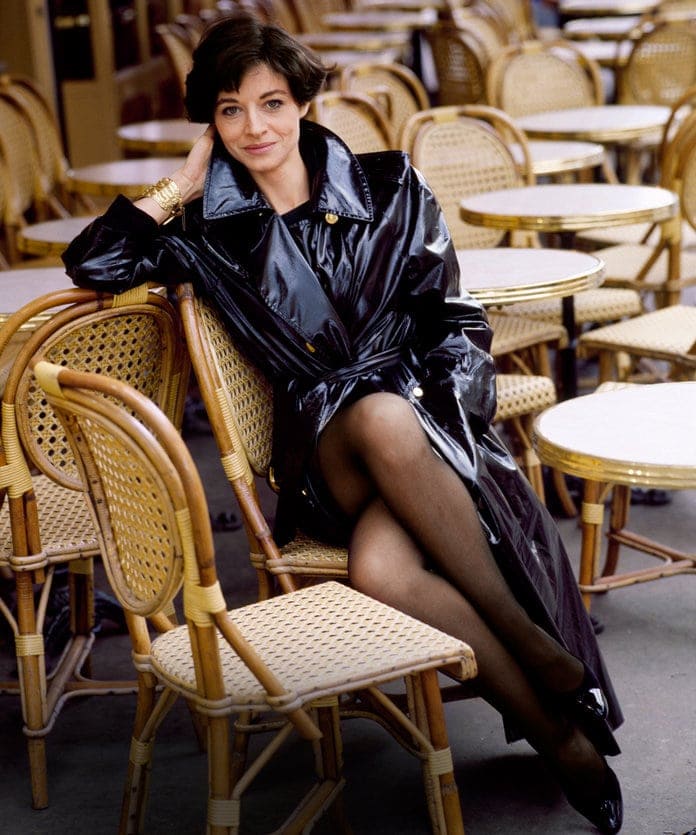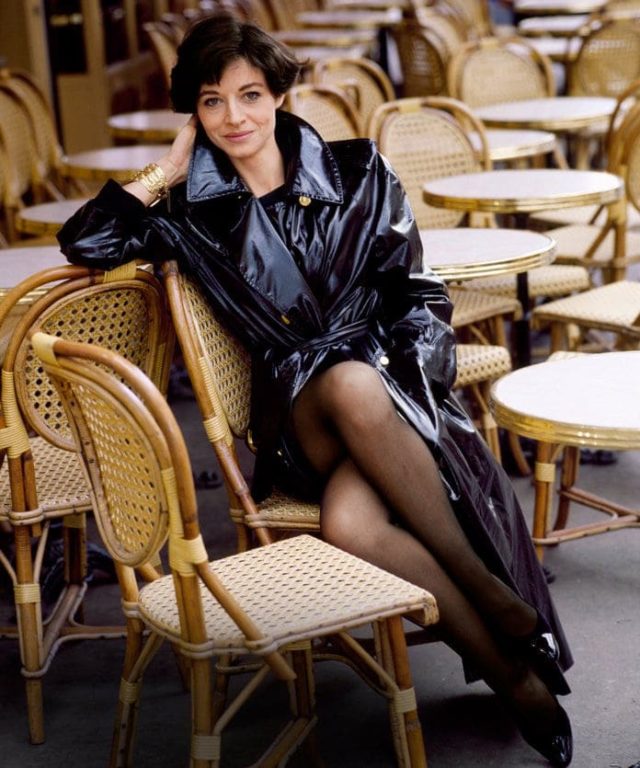 G: What three things should every stylish woman own?
B: A perfume she loves and she won't tell anyone else the name of, a trench coat though maybe it isn't a trench coat, the thing is coats have become unfashionable and everyone's in weird jackets. You need a coat against the rain, and a good trench coat, it doesn't have to be beige. The thing about it is you can always wear it. And harem trousers!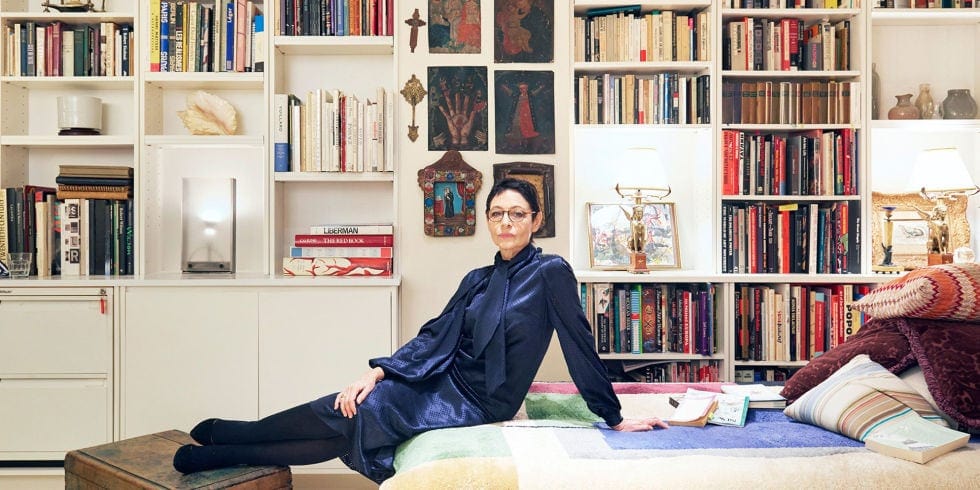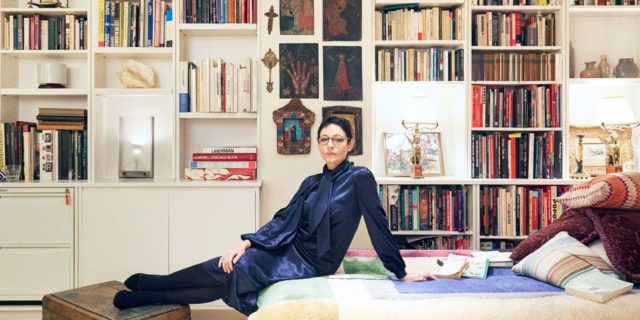 G: I know you love books and own thousands of them. What is one book you think every woman should read?
B: Oh my book of course!