This article may contain affiliate links; if you click on a shopping link and make a purchase I may receive a commission. As an Amazon Associate, I earn from qualifying purchases.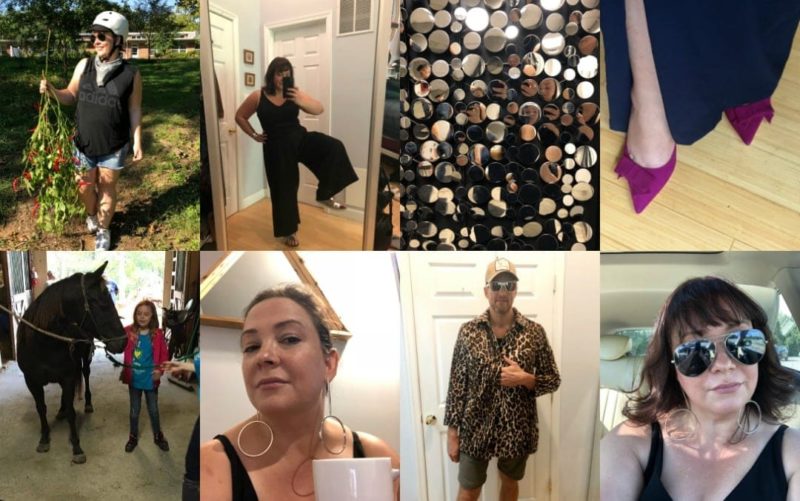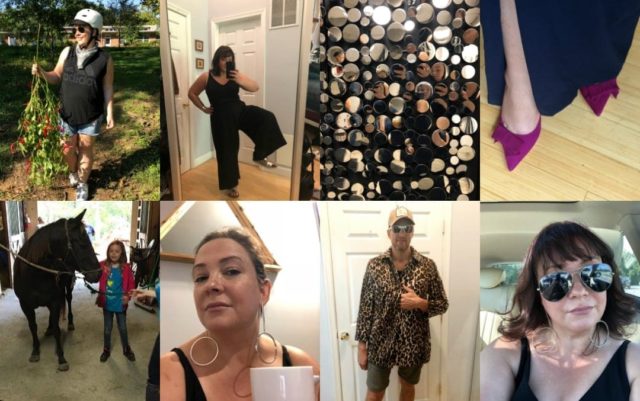 I am so excited I will be in town this weekend. Being away the past two weekends has put me so behind I've been working crazy hours and struggling to keep up (hence no blog post this past Wednesday). I have VIP tickets to the All Things Go Fall Classic music festival this weekend but think the only time I can attend is late Sunday, and that's only if I get caught up prior to that. My bedroom is a mess, my closet's a mess, my dining table is loaded up with laundry to be folded and put away and mail that needs to be looked through (let's face it, most will go to the shredder). I've felt extra awful because I put off making a hair appointment and then my stylist went on a much-deserved two-week vacation. I was living in hats and messy updos to hide fried ends and roots but finally got to see Billy at Scissor & Comb this week and I feel like a new woman. I also fit in a mani (powder dip acrylic) and finally feel ready to face October. Karl and I even did a few outfit shoots and I'll have them on the blog next week!
Okay, today is a long Weekend Reads because it's a three-day weekend and a LOT of retailers are having awesome sales.  Below I have shared the ones I saw that get me the most excited. Scroll on, and find the regular weekend content!
Three-day Weekend Sale Updates
Through October 8th, save 40% at J. Crew on with the promo code BIGSALE. This is full-price and sale items (select items not included, see the site for deets). J. Crew has expanded their size range to 3X and their styles and pricing are returning to the old J. Crew we knew and loved. I've found sooo many things lately that I love from there. Quick picks:
Also through the 8th, Lands' End is offering 40% off full-price items with promo code SQUASH and PIN 8992. I just did some shopping at Lands' End; here's some of the things I got and some of the things I'm tempted to buy with this promo:
Chico's has 40% off one item (promo code 46805) or 50% off two or more (promo code 22385) already reduced item through October 8th.
Through October 8th, Banana Republic has 50% off the entire store, an additional 40% off clearance, and free shipping on orders over $50 with the promo code FREESHIP.  I love that Banana Republic has extended their sizing to 20, has petite and tall options, and have found a lot of gems in the past few seasons.
Gap has 40% off absolutely everything, no exclusions with promo code FALL and an extra 10% off with promo code FAVES. Prices through the 8th and FYI purchases in-store may not be the same low price or eligible for this promo. Some of the goodies I see this season:
Weekend Reads
Looking for the perfect red lipstick for this season? How about a cool, calm, and collected red? 100% of the proceeds from this lipstick will go towards helping anti-sexual assault organizations.  If you'd prefer a neutral pink shade, how about this one? 50% off all earnings from this color will go towards helping a civil rights organization targeted by the Trump administration.
DC isn't known for being a stylish city, but I am constantly inspired by the looks I see walking down one of the city's streets or when scrolling through Instagram. One who constantly wows me with crazy creative combinations that work so well and look so effortless on her is Anchyi Wei and this white on white look is an example. I also appreciate how she explains how she comes to create these looks; it shows how having style like that takes a certain artistic mind. Oh and this look? I saw it in person when we bumped into one another at Union Market and it too somehow looked effortless.
Now this is a blogger collab that excites me: Blair Eadie of Atlantic-Pacific is partnering with Halogen for a size-inclusive (00-24) collection of fashion at Nordstrom.  The collection drops on the 22nd in select stores and online; click here to see if it will be in a Nordy's near you.
Congrats to Donna Strickland, the first woman Physics Nobel winner in 55 years.
Do you use hashtags to search for content on Instagram? Are you an Instagrammer who uses hashtags to reach a larger audience?  Looks like Instagram is doing a makeover on hashtags and you will no longer have to decide whether to put them at the end of your caption or in a separate comment.
I was honored to attend such a beautiful event; a recap of my friend Sylvia's Riveria Brunch at Alhambra at the St. Regis written by the fabulous birthday girl herself.
I love ELOQUII, look through my archives and it's clear I have a big place in my heart for the brand. Well it broke my heart to find out that like ModCloth they were bought by Walmart. I don't see this affecting the quality, style, or service (they won't be in Walmart stores, just under the umbrella with ModCloth, Bonobos, Shoes.com, and Moosejaw). However, I made a decision when I started this blog to not support Walmart.  Visit this link and this link and this link and this Wikipedia entry (as I don't wish to fill this page with articles) to learn some of the reasons why Walmart is so problematic and moreso than many other companies. This is why I no longer link to ModCloth and why I have said no to dozens of sponsored posts for brands I love but being required to tell you to buy them at Walmart.  While I have featured ELOQUII heavily in the past, I cannot with good consience continue to do so.  I will be on the hunt for fashionable quality plus size retailers to fill their space.
For a bit of beautiful fluff, enjoy this gallery of iconic celebs lounging in their beds. While the copy feels as though it was written by an intern who doesn't even know who these people are and a few aren't the celeb's beds but set or hotel beds, it's still a fun distraction. I want Helen Gurley Brown's red lacquer headboard.
Well this piece inspired me to purchase Avibon A313 and Ole Henriksen Banana Bright Eye Crème.
Love Robin Givhan's take on fashion, and this piece is spot on.
This Week's Readers Question
"A question for you – or maybe a request (unless you've covered this already and I missed it) – what process do you follow when you decide to buy something online? You often mention reviews and things you've read that might dissuade you from buying. Is this all from comments on the company website? Anywhere else you look? Do you always check measurements or go with your standard size? I mostly shop online and would like to learn some tricks/tips on how to be more successful with my purchases. Thanks!"
I read online reviews pretty extensively. I love it when retailers share the age of the reviewer, as I will likely relate more to the issues of a woman over 35 than one in college.  Since my bust and my foot width are issues, those are keywords I look for and whether they felt it gaped or was tight.  If there aren't reviews I often Google the name of the product, for example "Gap Mid Rise Real Straight Jeans" and see if I can find a message board or blog that has reviewed them.  Also items are often sold at multiple retailers and while Macy's may not have a review, Nordstrom or Bloomie's may.  If it is a new to me brand, I often Google it as well to find blogs that may have reviewed it so I can get an idea of whether the brand runs large or small.  I always check measurements as a size 14 in one retailer may be more like a 16 and at another may fit more like a 10. Measurements seem daunting, but the ones you likely need the most are your bust (measure over your bra at the widest point), your waist (measure where you go in), and your hips (measure at the widest point). A simple tape measure (this one is great for throwing in your purse, this one is what I have and have had for years) will get the job done and always round up just in case.
Like many of you, I am a blog reader and like to follow bloggers who are around my size or shape.  They sort of do the test driving for me when it comes to new brands.  And I find most bloggers are totally happy to answer emails and comments (FYI we all prefer comments to emails because it helps with our engagement numbers and your question may be one of other women and answering it on the blog can help others) about brands.  How does it fit, how does the ponte weight compare to another brand, what size do you normally wear vs. what size you chose, etc. Google the brand and the word blogger to find women wearing the brand you're curious about.  To find new blogs you may relate to, Google search keywords that describe you (over 40, stay at home mom, size 12, petite, long torso, full bust, work fashion, retired, plus size, etc.) plus the word blog. Most of us set up our SEO (search engine opimization) with those keywords to find those of you who will like us. And finally, I prefer retailers with easy return policies because even with a ton of research there may be a dud. Hope that helps!
For Your Entertainment
I'm not crying, you're crying!  Marshmello is by far my daughter's favorite music artist. I get it, his music has a poppy, happy vibe to it and he partners with some amazing artists.  For this song, he partners with Bastille and the corresponding video will make you feel all the feels if you have or ever had a fur baby.