This article may contain affiliate links; if you click on a shopping link and make a purchase I may receive a commission. As an Amazon Associate, I earn from qualifying purchases. 
I don't mind my age, in fact I really enjoy it. It is far easier to be 36 than it was to be 26 – I love myself more, I care less what others think, and my life seems to have far more enjoyment and far less drama. People are sometimes surprised to find that I am 36, believing that I act and look a few years younger. However, I often catch myself thinking or saying things that make me (and those around me!) realize my age.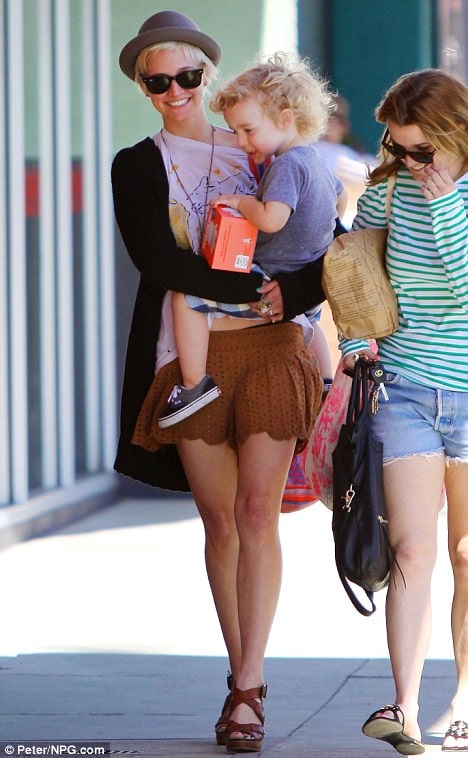 At least Ashlee Simpson isn't heading to the office in this 
Today, I felt like a grandma when I was walking to work. In front of me was a woman who I can only assume was heading to work. It was almost 9am, she was in a part of the city where there aren't any shops or tourist attractions, she was walking with purpose, she knew her destination.
Her skirt was so short, if she took too large of a step I know I would have caught a glimpse of cheek… and not the cheeks on her face. She had on a white cotton blouse with flutter sleeves, tucked into a tweed skirt that looked vintage. Espadrille wedges, a camel handbag, the entire ensemble was simple, summery, sweet. But the SKIRT!! I couldn't imagine where she worked being able to wear such a skirt. When I stepped out for lunch, I saw her again with two friends or coworkers; one was in black trousers and a refined knit top in a print, the other in a knee-length shift dress. Her companions were dressed in clothes that were stylish, flattering, work-appropriate. This woman surely stood out for her excellent fashion sense, but the skirt was just as short looking from the front at noon as it was from the back at 9am.
I crossed the street, and ended up at an intersection with another fashionable woman. White crisp shirt, sleeves rolled, collar popped. Adorable cat-eye sunglasses and round-toe pumps with a slight platform. Perfect shade of red stain on her lips, her hair was groomed yet casual. And then… yet again the SKIRT! It was a bubble skirt that ended right below her bum. Unlike the woman in the vintage skirt who was probably in her early '20s, this woman seemed to be around my age and though slimmer than I, had similar legs (pale, touches of cellulite, the occasional visible blue vein). As she crossed the street, three times she went to smooth the back of her skirt to ensure she wasn't exposing more than she desired.
Call me grandma, but I believe such skirt lengths should not see the light of day unless you are at a beachside party or a fashion event. If you are wearing something that forces you to constantly fidget, adjust, and ensure you aren't exposed it's not the best attire… especially for the office.  You should dress in a way that makes you feel confident, and flatters what you find to be your best features.
I stepped out for a quick Starbucks run; when I walked out of the coffee shop I practically walked into a group of four folks who seemed to have just left a business lunch at a nearby restaurant. Two men in suits, both holding their jackets, their shirtsleeves rolled. One woman in a knee-length gray crepe wrap dress with snakeskin pumps and a mauve leather handbag. The fourth woman was wearing a khaki linen skirtsuit with nude patent peeptoe pumps and a brown leather purse; she too chose to carry her suit jacket in the heat, exposing the white eyelet strapless bustier that was underneath. A BUSTIER?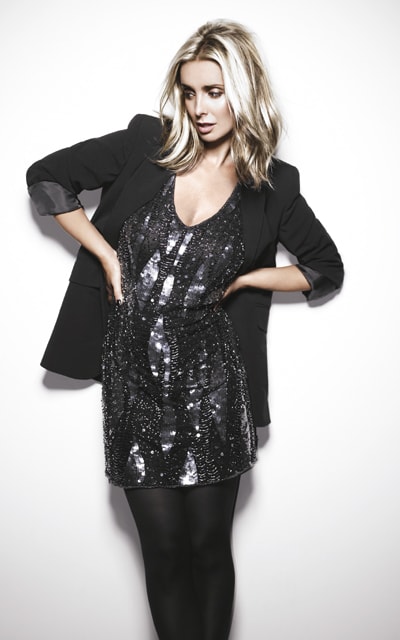 A lovely look… though not for the office
Magazines often try to make items seem more versatile than they really are. They show sequined tube tops paired with pinstriped pantsuits for the office, with ballskirts for a wedding, with leather shorts for a night out on the town. The thing is, most people do not work in the sort of environment where such "day to night" pieces really work. I often see women in what is obviously a strapless dress trying to make it corporate with a cardigan, in halter-tops hidden by blazers, backless blouses under wrap sweaters. It doesn't make the piece look like a 9-5 garment, it just looks like a nightclub top covered up by a corporate one.
Call me grandma, but I believe sexy attire should be left for evenings and weekends. If you have plans after work, then tuck your sequined cami or backless dress in your bag and do a quick change in the office lavatory before heading out. In addition, if you by chance do think an eyelet bustier is an appropriate base layer for your suit, think twice before stripping off your jacket in front of business associates (and the crowd in Dupont Circle at lunchtime).
Follow Me | Twitter | Facebook