This article may contain affiliate links; if you click on a shopping link and make a purchase I may receive a commission. As an Amazon Associate, I earn from qualifying purchases. 
With my recent weight loss I am finding that most of my spring clothes do not fit. I have been slowly buying staples, hoping I don't have to spend much but find pieces that will work with the warmer weather, but also be versatile and classic. As you know, I had a meh experience with Ann Taylor LOFT. I recently tried another brand I found success with in the past – Lands' End Canvas.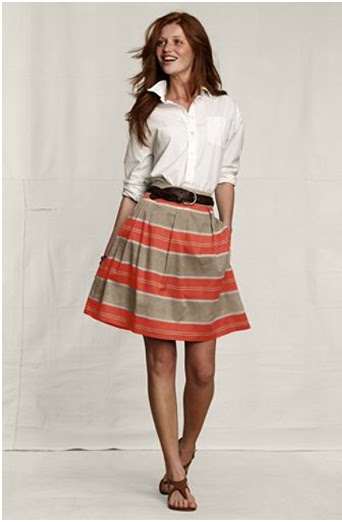 Last year I ordered a pleated skirt from Canvas and found it to be well-made but not a flattering style. That skirt had a drop waist, this one has a softly gathered skirt that flares straight from the waist. With that change, I figured it was worth checking out. I got the Persimmon Stripe, imagining it with a chambray shirt, a crisp white shirt, a scoop tee in navy or even a dark green, a brown leather belt and wedge sandals.
This skirt is exactly what I thought it would be. It is fully lined, two layers of soft cotton voile that float but don't stick out in an unattractive manner. The color is true on your computer. I ordered a 12 and it fit perfectly, even a bit generous. The length was also perfect – came right to the top of my knee. You know how much I love pockets, well this skirt has pockets but they are practically invisible when not in use, not adding bulk to the silhouette. It is so refreshing to order an item that is exactly like what you see online.
However, I am not keeping this skirt. Though it is utterly adorable and well-made, it's not a silhouette that flatters my body. Though I like the look head-on, I think the additional fullness isn't too flattering to my rear or mama pooch. It's not the skirt's fault, it's just a bad personal choice.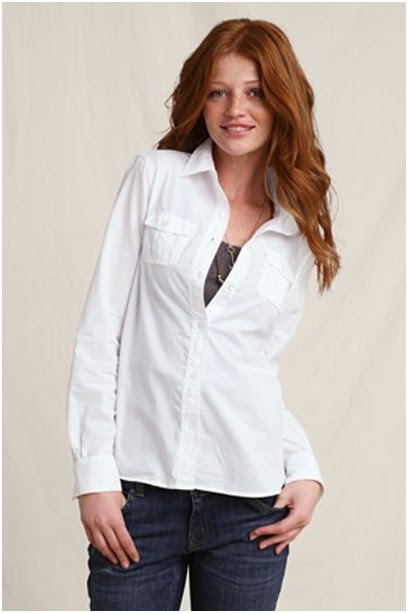 I purchased the Lands End Canvas Heritage Oxford almost a year ago and still adore it (wearing it today while writing this!). It's one of the few button-down shirts I have found in a long time that fits my body right off the hanger. It's a shrunken fit that isn't too tight, can dress down with jeans or be tucked into a pencil skirt for a great work look. A few months ago I ordered a different button-down from Canvas and didn't feel the love – it just seemed to be cut strangely. Well this spring I decided I needed a white shirt in my wardrobe and since this shirt was on sale, I figured I'd give this shirt a chance.
It isn't what I expected. The shirt is very thin, very soft cotton. It has a safari feel to it with the pockets and semi-sheer fabric. Though the fabric is pretty sheer, you can't see a skin-colored tee shirt bra underneath, and it doesn't cling to the skin so it's still quite modest and wearable sans camisole. I ordered a size Large, it fits great – no gap at the bust, no pulling at the shoulders, but it nips in a little bit at the waist for a feminine silhouette.
It's a very relaxed style; this weekend I rolled the sleeves, unbuttoned three buttons and wore it untucked with vintage jeans. I can also see it being tucked in to a pencil skirt of dark stretch denim or olive canvas, giving an old-school Banana Republic sort of vibe.
I was imagining wearing it with the Pleated Pattern Skirt when I ordered it; it is not the right fabric or silhouette, but it doesn't really matter since I'm not keeping the skirt!
Sort of a short review, but I am trying to be frugal with my purchases. However with the return of the skirt (which is now on sale but wasn't when I ordered it), I may be able to check out the Chambray Officer Shirt so I can get my chambray fit for the season!
Have you ordered from Lands End Canvas? What do you think of their line?
Follow Me | Twitter | Facebook