This article may contain affiliate links; if you click on a shopping link and make a purchase I may receive a commission. As an Amazon Associate, I earn from qualifying purchases. 
When I started middle school, I suddenly realized my wardrobe was woefully inadequate. In a much larger school with kids from several feeder schools from across the county, I now was in class with kids from different types of neighborhoods, different income levels, and different senses of style. In elementary school, it was more about wearing something fun or colorful. Middle school, it wasn't good enough to wear your favorite color. Now, the brand mattered.
My parents weren't wealthy. A lot of my clothes came from yard sales and hot off my mom's sewing machine. But I just HAD to have a few key pieces… and those pieces came from The Limited.  I can recall going to a yard sale and finding a Forenza top.  it was bright yellow and a dated look with patched-look fabric and a drawstring neckline, but I got it anyway to be able to say I owned something from this brand sold at The Limited.
All my friends were having their Bar and Bat Mitzvahs and I had nothing to wear. There were varied events; daytime parties in rental halls and synagogue basements, and evening formal affairs in fancy ballrooms. My mom got to work on her sewing machine and made me some pieces; I recall a dark blue taffeta dress with puffed sleeves and a princess waist. She even sewed in dress shields so I wouldn't sweat through on the dance floor. But I swore I NEEDED something from The Limited for less formal affairs.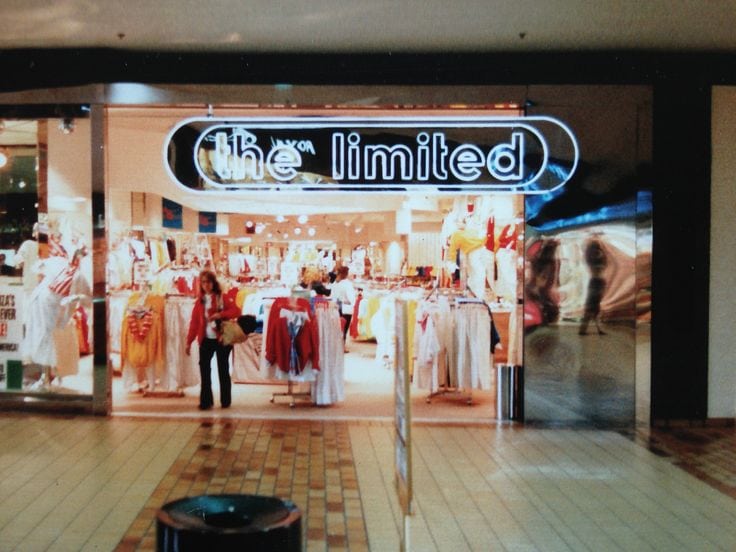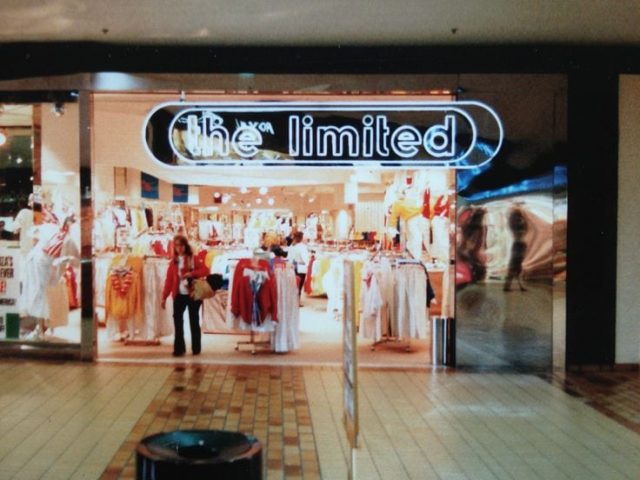 I remember the first time I went in The Limited. It was at Landover Mall (RIP). The store was on the top floor. It was dimly lit, lots of chrome, and looked so adult and chic. I remember the fitting rooms were to the left of the store, up a few stairs, staggered with the doors on an angle. My mom got me a two-piece look out of a poly blend that was faintly ribbed like grosgrain. It was cream; a puffed-sleeved jacket with a sweetheart neckline and tiny fabric-covered buttons down the front. With it, a matching cream drop waist skirt with three ruffles. I felt so sophisticated in it. We also bought a 7th grade must-have – a Forenza roll-neck sweater. My friend Kelli had one in dusty rose and Krista had one in cornflower blue (and wore it with matching blue plaid ankle zip Guess jeans); I got one in white which seemed to my tween self to be a very sophisticated choice.
That cream outfit was worth the money. I remember wearing it to Shana's Bat Mitzvah and a very stylish adult telling me she loved my outfit where did I get it. I was so excited to say, "The Limited!" Even more excited when she said, "I love that store too!" I wore that set to death and wouldn't be surprised if it was kept and in a box in my mom's attic.
The sweater was also worth the money. I wore that sweater almost every week. If I wore it on a Monday, I'd wait until Wednesday the next week to wear it so it didn't look too obvious. The first time I wore it, my boyfriend Drew spilled chocolate milk down the front. My mom used every hint from Heloise to get it gleaming white again. The next time I wore it, I spilled pizza on it. Again, my mom scrubbed and mixed household ingredients to get it snowy white. I wore that sweater to my first boy-girl party.  It was my Cool Girl sweater.
My mom got a new job, I worked summers at the pool snackbar, and with that acquired more fundage for my shopping habit. Soon came henleys and turtlenecks from Outback Red and even a drop-waist shirtdress with braided leather belt. In high school I took a "personality photo" with two friends; we three wore matching v-neck shaker knit tunic sweaters, white mock-necks, and black leggings from The Limited.
After college, I got a job at Express, a sister store to The Limited. Not everyone realized that at that time (the late '90s) Express, Structure (which became Express for Men), Bath & Body Works, Victoria's Secret, Lane Bryant, Lerner New York (which became NY&Co), Limited Too (which became Justice but came back with the original name), Henri Bendel, Cacique (yes, they used to have independent stores and carried straight sizes), and Abecrombie & Fitch were all part of Limited Brands. The credit cards would work at any of the stores, and a few times a year employees would get our discount at all the different chains. With that discount I bought an cream silk twill pantsuit from The Limited and for the first time didn't have my mom hem something but went to a tailor to get it custom fit for me. Thought that cream outfit in middle school was sophisticated? This cream suit I felt was an elegant classic and a piece I'd wear and love for the rest of my life. I wore it to a job interview, I wore it to a sorority event, I even wore it to a Bat Mitzvah. I still have that suit; it is not a classic but it is carefully packed away in my attic.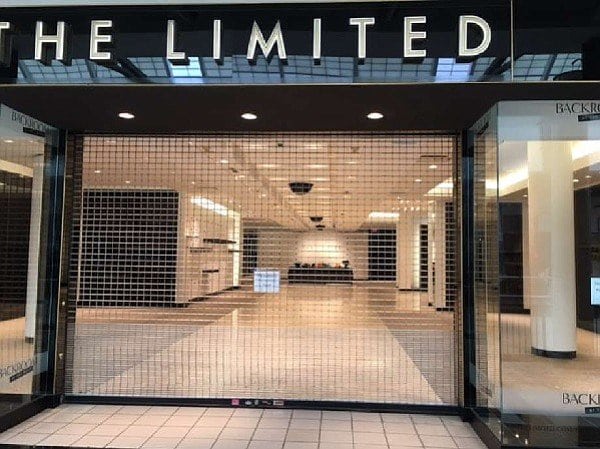 This month after 54 years of business, The Limited has filed for bankruptcy and closed all of its stores. I haven't shopped at The Limited in a very long time, but am sad to see a part of my sartorial history end. Every time I see a well-fitting cream suit, I think of The Limited and how it started it all!