When I was in high school, we stayed with my parent's friends for a night on the way home from a vacation. I don't remember much about the trip except the downstairs bathroom in their home. For décor, they had a goldfish bowl on the back of the toilet and it was full of perfume samples. I loved that idea, and as soon as I got home, I made it my mission to have something similar. Over 20 years later, I have filled a vase with perfume samples, and am ready to upgrade to a goldfish bowl.
At first, it was all about the look, but as I received perfume samples with orders (I never begged for them from perfume counters, they just came as gifts with purchases or friends would hand me a couple they didn't want), I started checking them out. See, I used to be a perfume addict.
It started in elementary school with some fragrance I picked up in F&M that had a purple, orange, and pink ombred glass bottle that likely smelled like cotton candy. We went on a school field trip to the Museum of Natural History and the boy I liked told me I smelled good. Oh, the power of fragrance!
Through my school years, there was Benetton Colours, Sunflowers, Escape, Dune, White Musk, and whatever I could afford at the drugstore. Many gave me headaches but I soldiered on, thinking that fragrance was the finishing touch on my personal style. In college I dabbled with patchouli, but stuck mainly with Opium, which I felt was mature and unique and sophisticated. After college I worked for Express (which is the same company at Bath and Body Works and my discount worked there) and then The Body Shop (home of White Musk), so I spent many years smelling like fruit and flowers.
When I left retail, I swore I would never again smell like a Yankee Candle. I started buying fragrances… a lot of fragrances. Chanel N°5 was a classic so I bought it, but then realized I don't want to smell like my mom (she's a die-hard Chanel N°5 fan). I tried other Chanel fragrances, the scent with the actress I love in the commercial, the scent that the musician I love says she wears, the fragrance sold by my favorite cosmetics line, the fragrance in that magazine's gift guide. I loved the look of all the glass bottles on my dressing table, but I ended up being someone who never wore fragrance because I was spending a lot of money and not ending up with anything I liked for more than a week or two (or else I would hug someone and they'd say, "Is that Gucci Envy?" making me realize I smelled like perfume, not me).
So I did what I should have done a long time ago – I started using those little testers I was collecting. Who cared if a couple of the vials were empty or close to it? This gave me a chance to test drive a fragrance without spending more money. And while I was at it, I decided to get rid of all those perfumes. Did you know people will buy partially used bottles of perfume on eBay?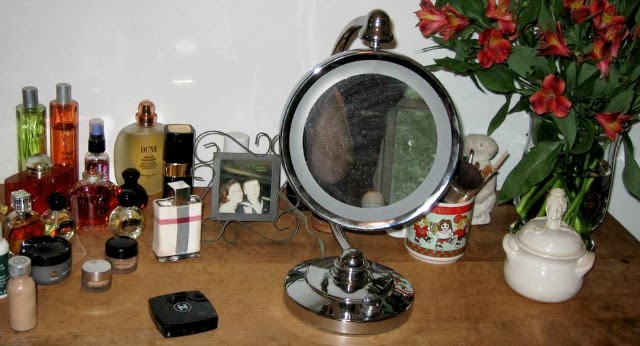 My first bottle of Burberry London on my dressing table in 2006, and my thinning fragrance collection.
And so, I came upon Burberry London. I didn't like the bottle (who puts beige fabric on a bottle? It gets so grody looking after a few months!), I didn't like the brand (I'm not plaid and trench coats, this brand doesn't speak ALISON!), but it was the first perfume that I didn't tire of, didn't give me a headache, and didn't smell like every other woman in the room. When I wore it, I rarely got comments on my fragrance, only when I hugged people, and no one ever asked what I was wearing but just said I smelled good.
For over past eight years, I have worn Burberry London. I stopped for a while once Emerson was born because I feared it would affect breastfeeding, but now it's part of what Alison Gary smells like. I spritz it three times in the air and walk under it; when I am going out at night I'll do a fourth spritz and then another spritz on my wrists. The older I get, the more liberal I am with my fragrance, as it has become part of my signature. And since I have one solitary scent, the cost isn't as bad. And yes, I have purchased unused and tester versions of Burberry London on eBay for a fraction of the retail price (if you try this, go with sellers with great reviews that detail the quality and authenticity of fragrances, often fragrance companies will sell their overstock or extra testers for a nice price).
Follow Me | Twitter | Facebook | Instagram