This article may contain affiliate links; if you click on a shopping link and make a purchase I may receive a commission. As an Amazon Associate, I earn from qualifying purchases. 
After my last LOFT experience I didn't plan on shopping there again. I felt I had aged out of the store. However so many of you raved to me about the LOFT linen tees I decided to give them another chance. So glad I did! While not everything was a hit for me, this was a really positive LOFT purchase.  Unlike most of these haul posts, I was able to get a few phone selfies in on my lunch break the day I worked from home last week.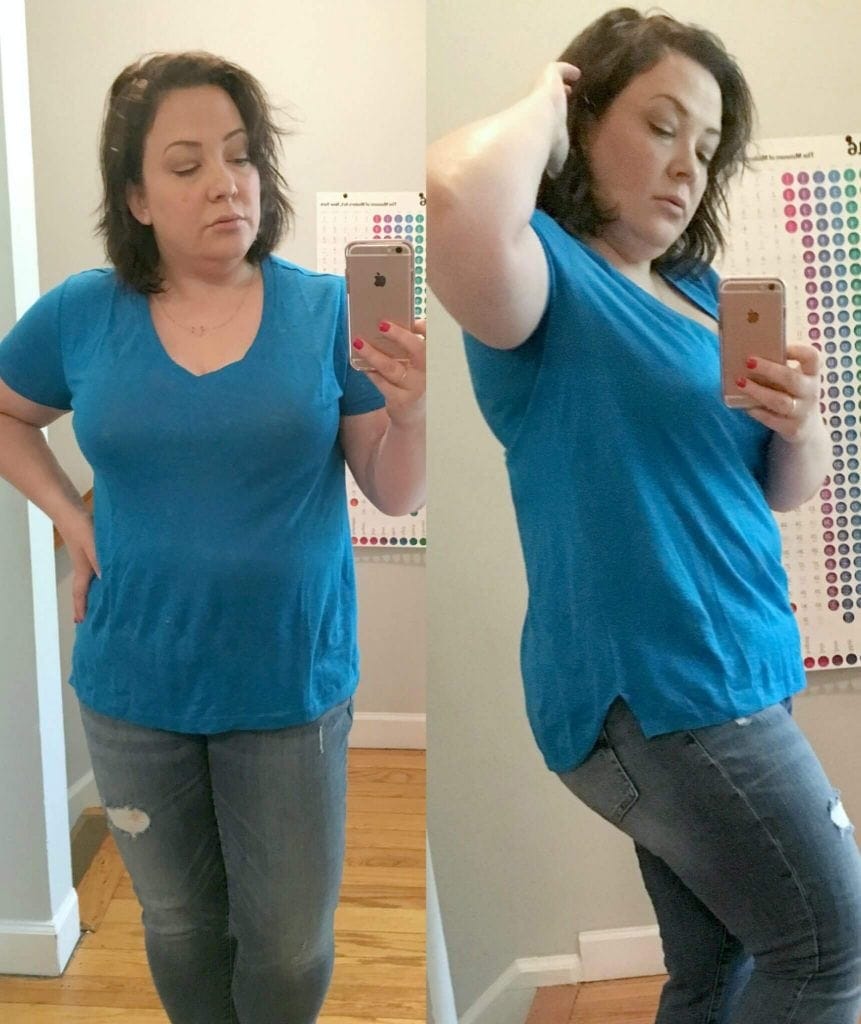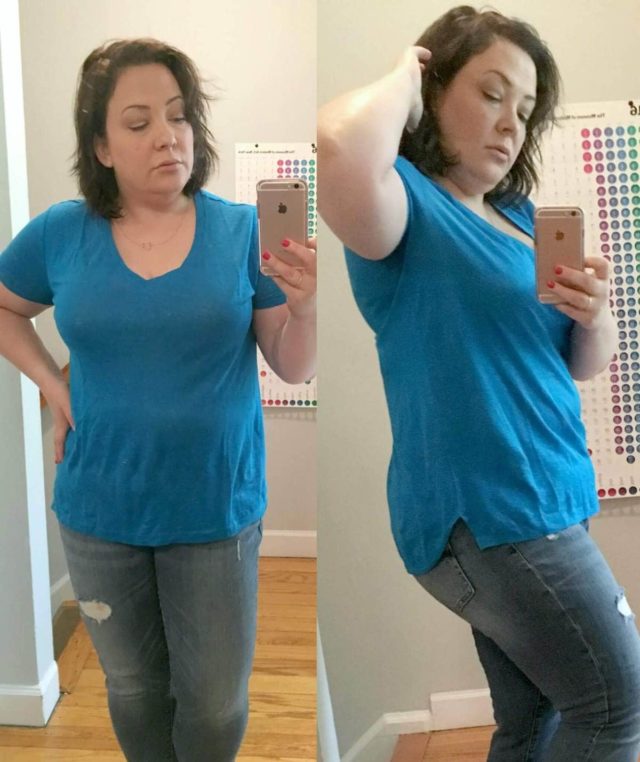 This color is to die for. Mommy, if you're reading this, you might want this shirt. My mom LOVES the color blue, and this is a super bright rich cerulean peacocky blue that is so darn pretty. Usually Lou & Grey runs really narrow and small for me, but the large is a comfortable fit for me. Unlike the linen tee I got from Everlane, this one is drapey and not itchy. I have a skin-colored tee shirt bra on underneath and it isn't too transparent. The only odd thing about this shirt is the hem – the back is shirttail/scooped and the front is straight. Why would a shirt have such an odd detail? Eh, it's not a big enough detail to affect my feelings on the shirt. I have yet to wash it; I plan to wash on gentle and line dry. Win!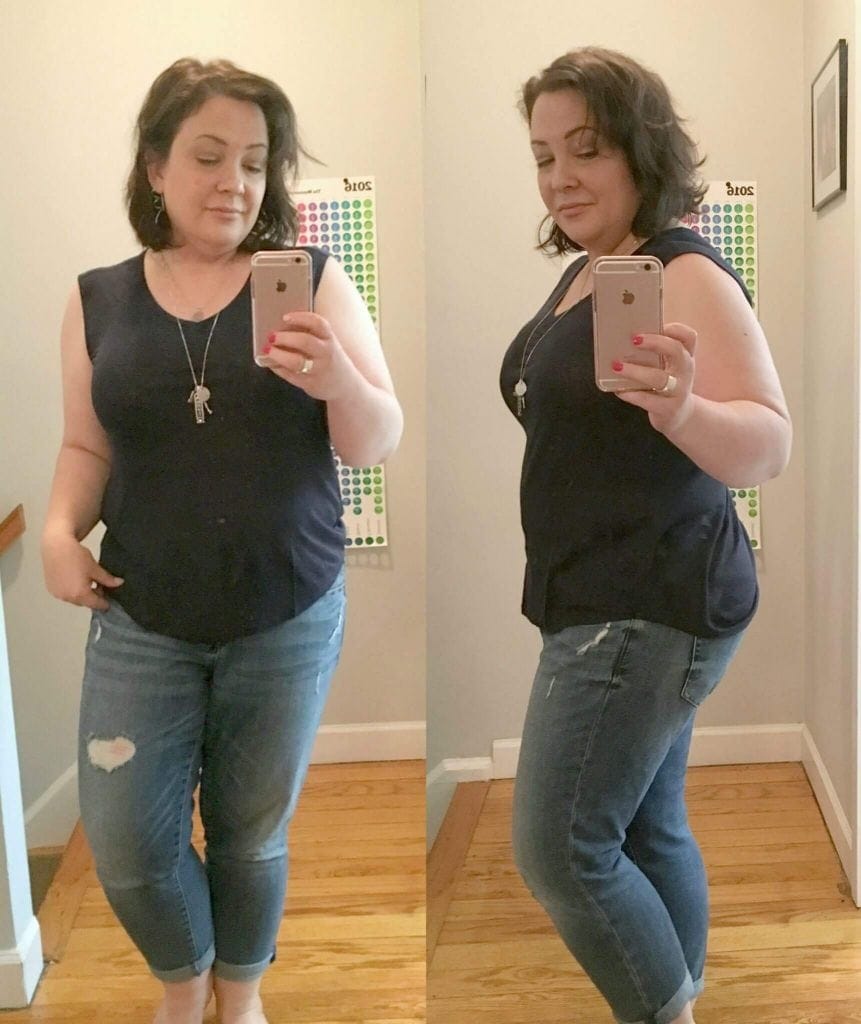 This tee is from LOFT not Lou & Grey and there is quite a difference in the cut and a subtle difference in the quality. The price difference for me (they had a sale at the time) was only $3, but I think the Lou & Grey one feels a good $10-$15 more expensive. That doesn't mean this shirt is bad, on the contrary. I like it very much. It's a bit more fitted, the neckline is a nice length, and it's a rare sleeveless top that doesn't make me look like a linebacker. In fact I already wore this top with these very jeans and a pair of silver Birkenstocks out to lunch. It's not too sheer, it's thin and breezy, and long enough to tuck or leave out without being that awkward length for us ladies with lower tummies. Again, haven't washed yet but plan to baby it. Win!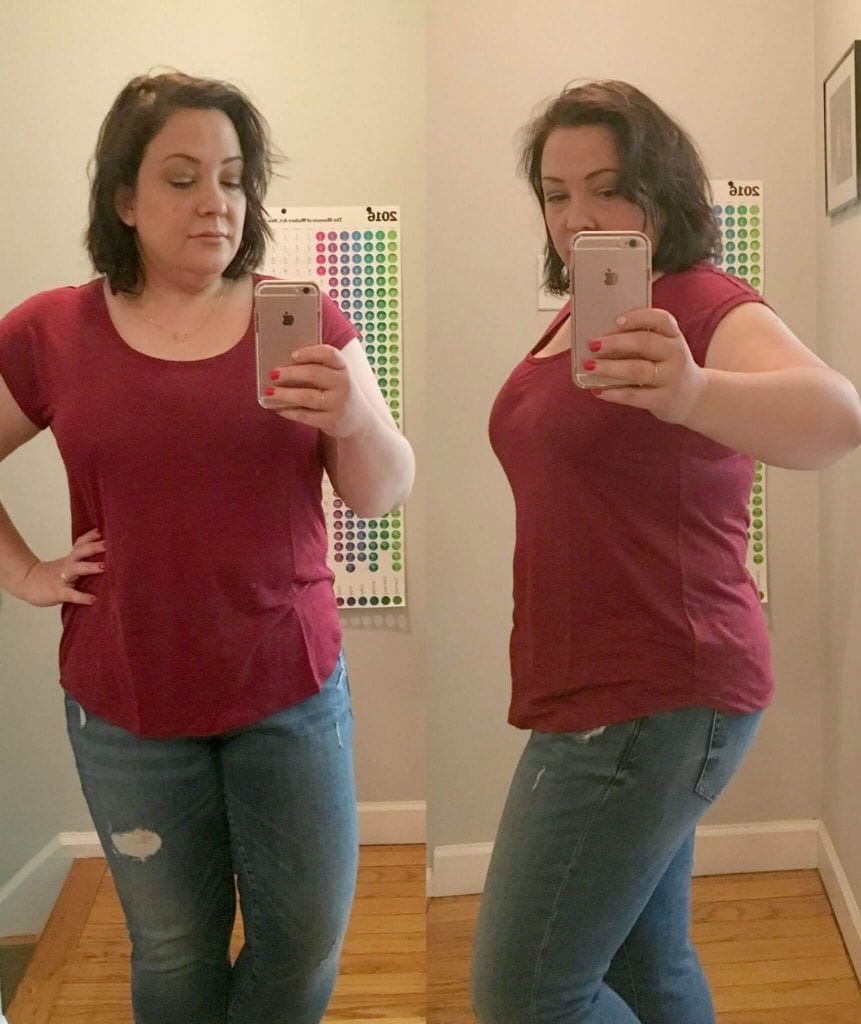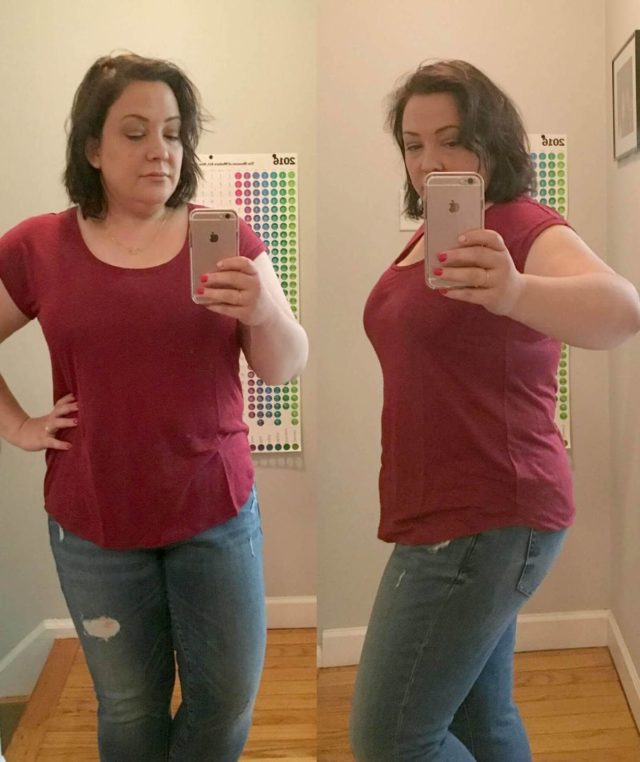 This tee is a super pretty color but not a color that goes with much else in my wardrobe. I think it fit well and is the same quality as the sleeveless version. A very flattering neckline. However, I am returning it because the color isn't right for my wardrobe and I don't really need three linen tees that are all relatively similar. Since the cause of the return is personal and not due to the shirt I say Win!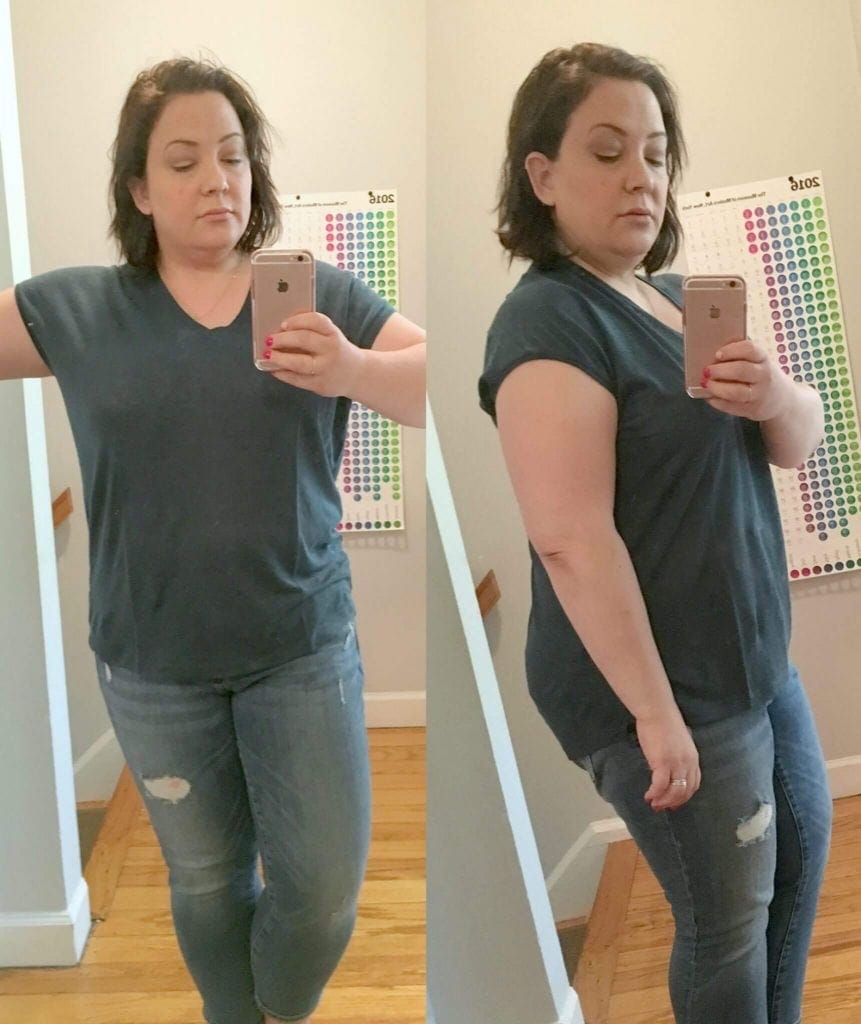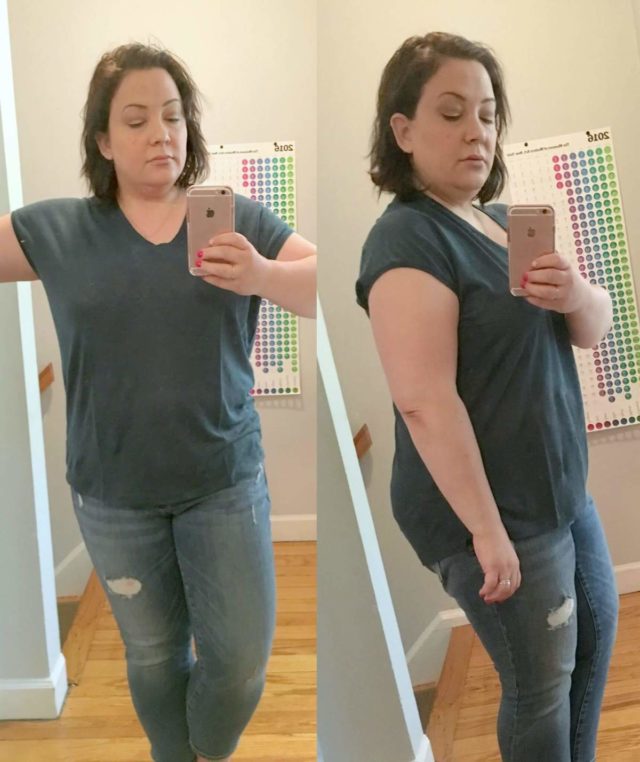 While the name is a bit odd (reminds me of this Etsy shop), the color of this tee is quite gorgeous in person. I love this color and could see it working with all of my wardrobe. Too bad the silhouette doesn't work with my figure. The cocoon-esque sleeves aren't flattering with a bust or larger arms, I just looked more bulky. This cut could look super cute on a slim figure, but that is not I. Fail.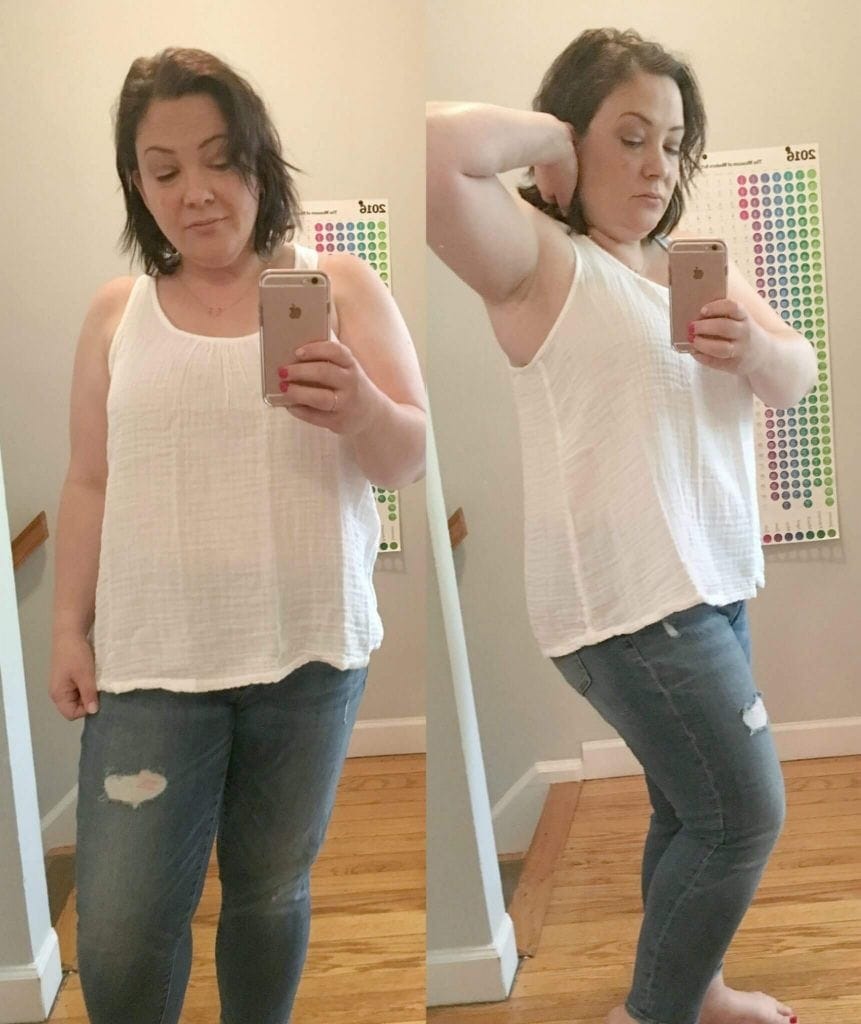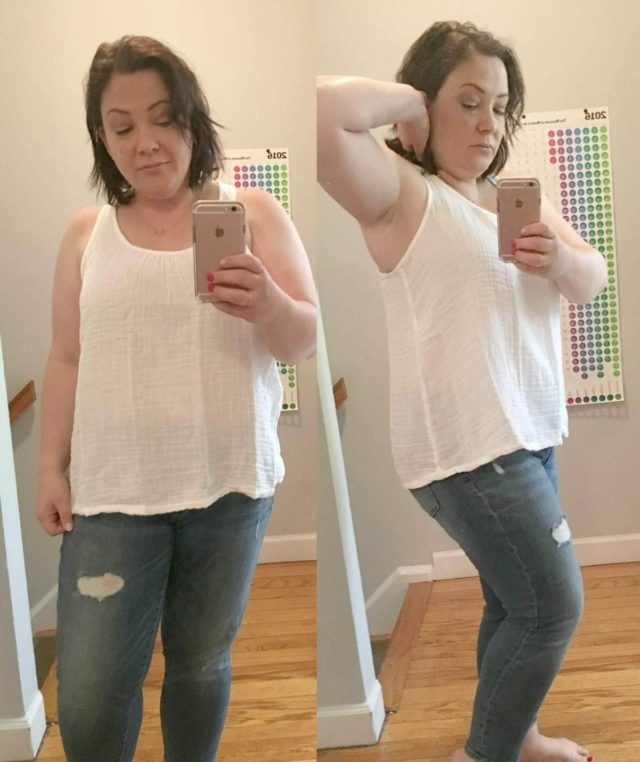 Reviews said this top ran super big and they are right! I think I could have worn a small just fine. However, why would I? This top reminds me of the mesh underwear the hospital sent me home with after giving birth to Emerson. It's super sheer, it's really full, and I would need a racerback tank or adapter to wear it (and no way will I wear an adapter with a shirt so sheer you'd be able to see it). I do think this could be super cute on the right person, the same kind of person who can wear a black bralette with straps at the bustline that look chic peeking out of a thin white v-neck or a tank like this. If you're that person, try it for it is breezy but size down at least one size. Fail.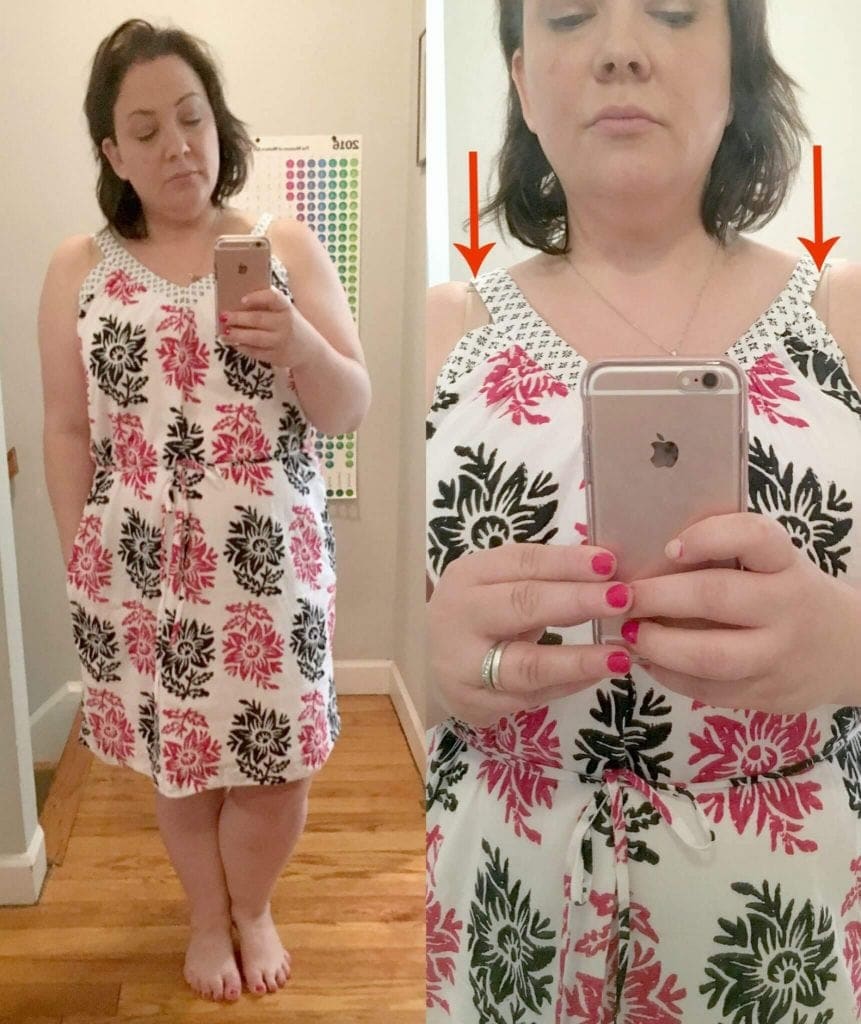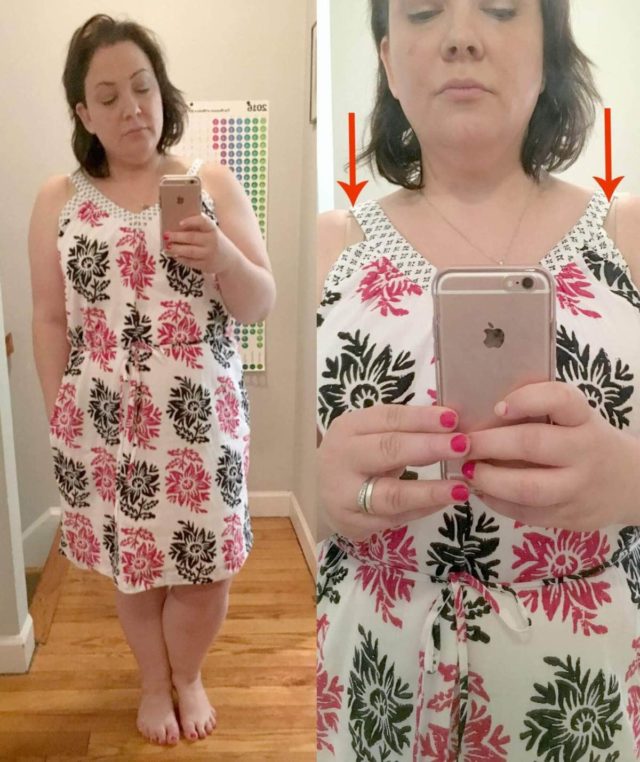 My review of this dress is a summary of every review I read before ordering it. It runs a bit big and full, but if I sized down I think it would be too tight on top. It's not figure flattering, but if you're looking for a dress to throw on in the extreme heat, this is a great option. It has pockets, which is awesome. I put this on and kept futzing with the string at the waist trying to make it look better. It didn't help. I asked Karl's opinion and he said it looked like a good Bonaroo dress. He's right; if I was going to be outside all day without access to A/C, my home, or showers and care more about comfort than figure flattery or style this dress would be awesome. But I'm not going to Bonnaroo. My bra shows a bit, the lining is as heavy as the dress so it's pretty bulky, and it just doesn't make me happy when I look at it on me.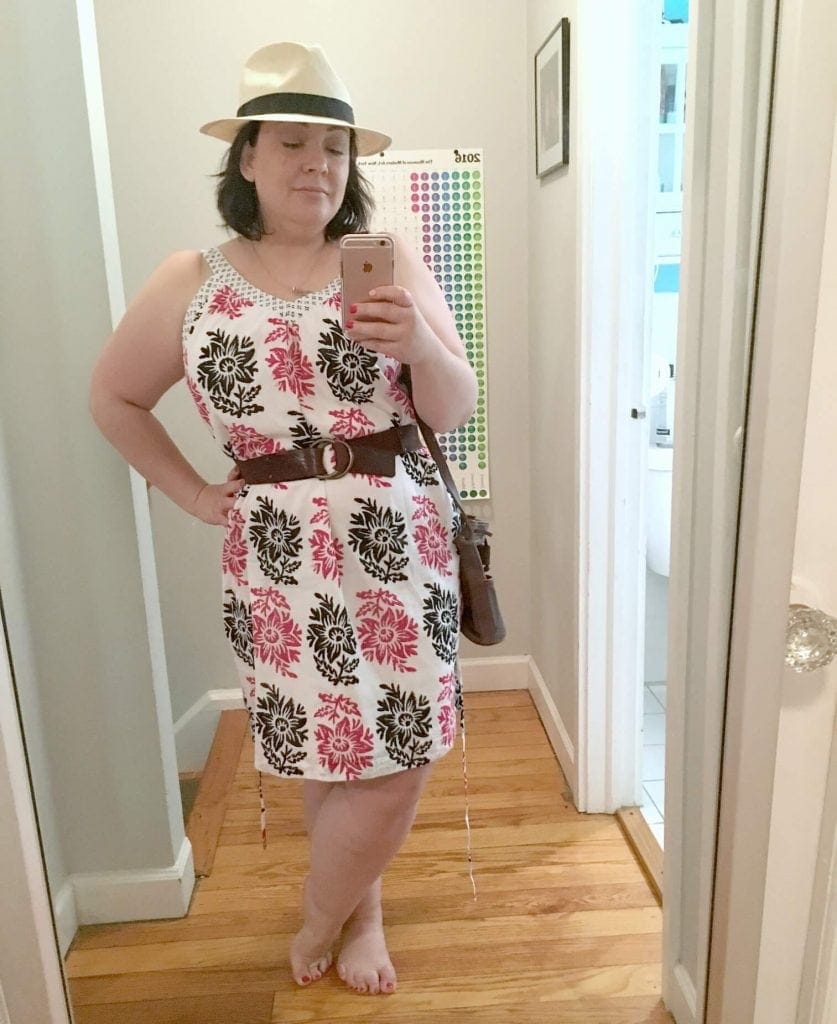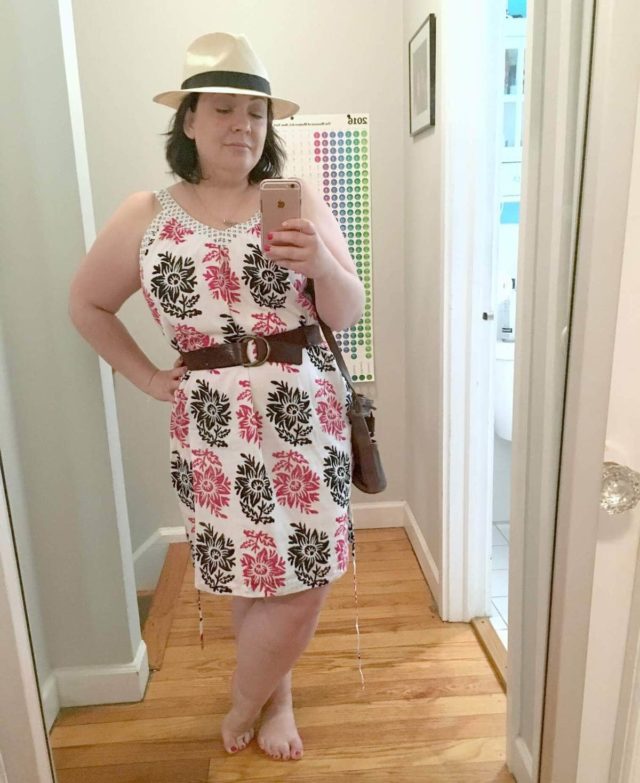 For fun, I jazzed it up as I would for an outfit post with some accessories at the front of the closet. I still don't like it and it's still bulky and weird, but it's a good example of how outfit posts can be misleading. Have just the right pose, some distracting accessories, and a beautiful background and a potato sack can look gorgeous. Fail.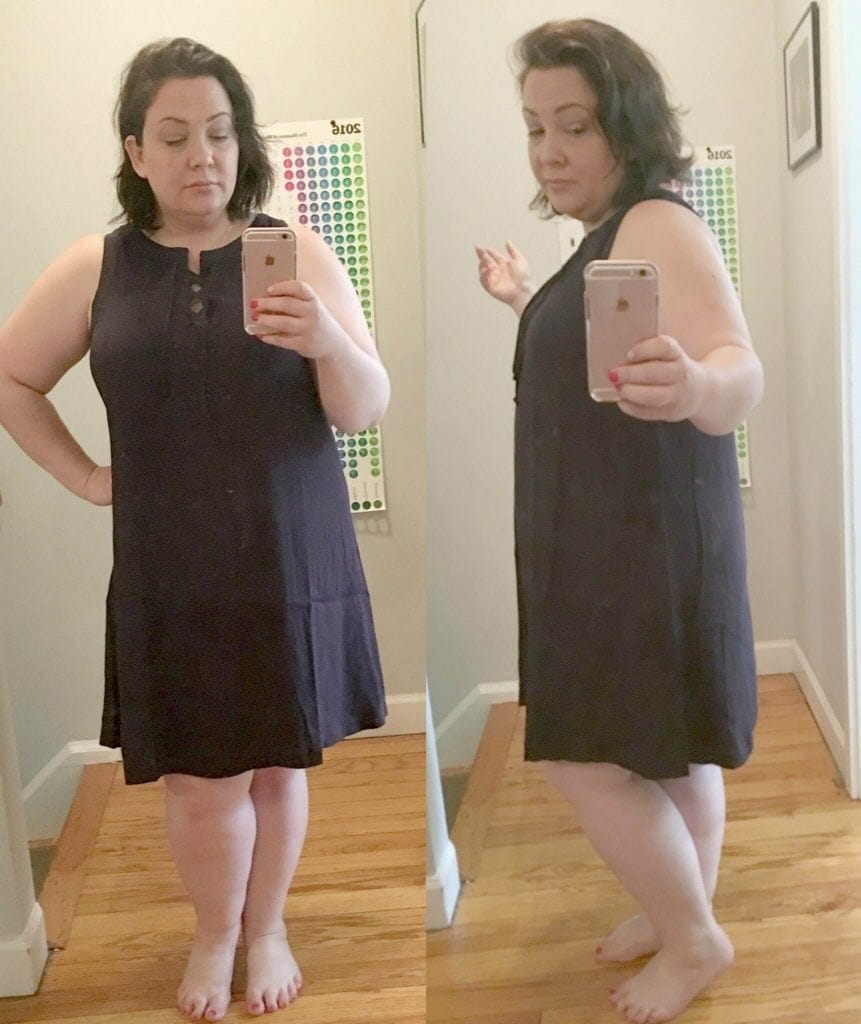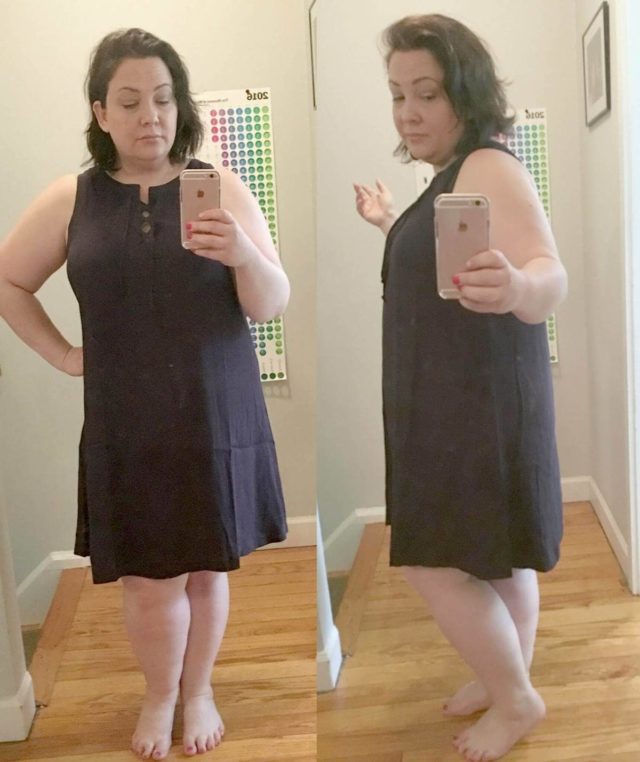 If I were taller and not as busty I may have kept this dress. It's a crepe finish which can dress up nicely, but is also travel friendly and won't cling in heat and humidity. It's lined, but it doesn't make it too heavy. The lace-up detail is fun without being so memorable or trendy you can't wear it often or next summer. It's the kind of dress you can wear to work or on the weekend with a change of shoes. But I am short with big breasts and this dress looks maternity on me.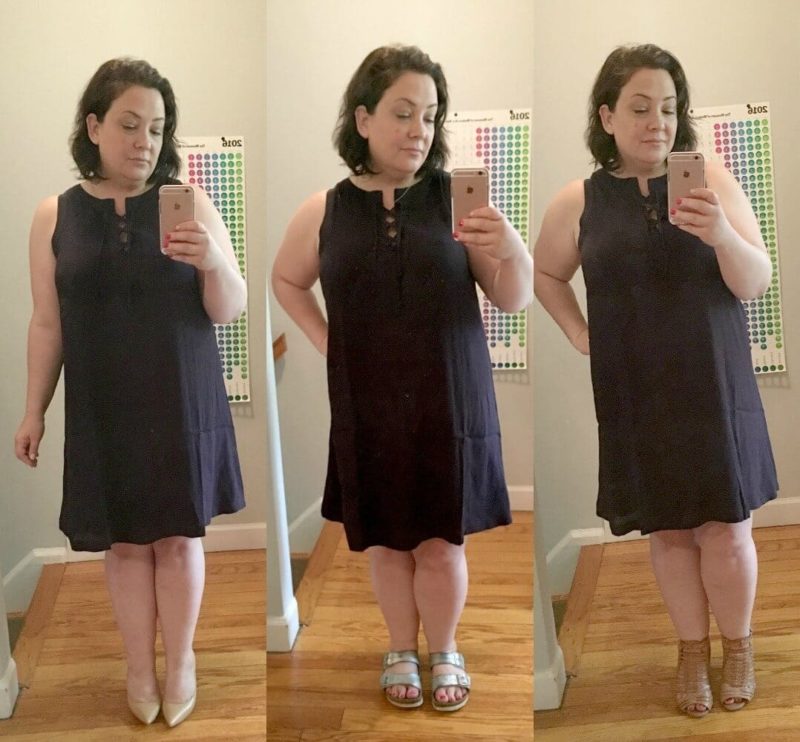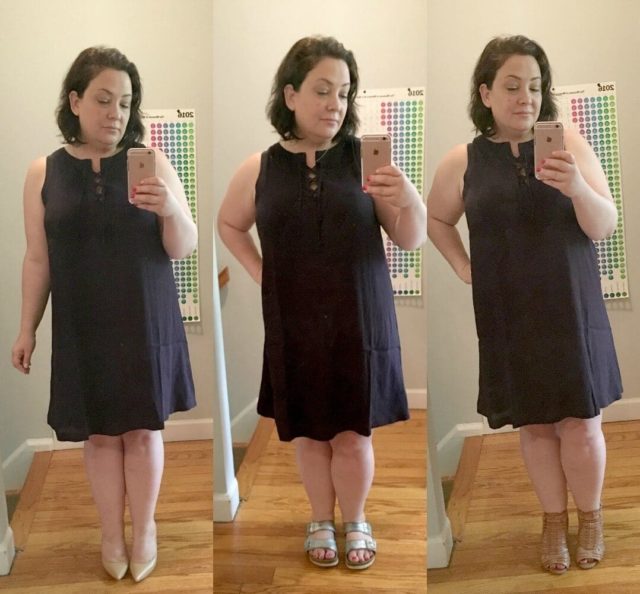 Again, I played with accessories. This dress is far cuter with a pair of nude pumps. I felt a bit Kate Middleton that way. But I won't be wearing nude pumps in August, I'd more likely be in a pair of sandals so I grabbed my two most worn styles and it showed this dress is not right for me. Fail.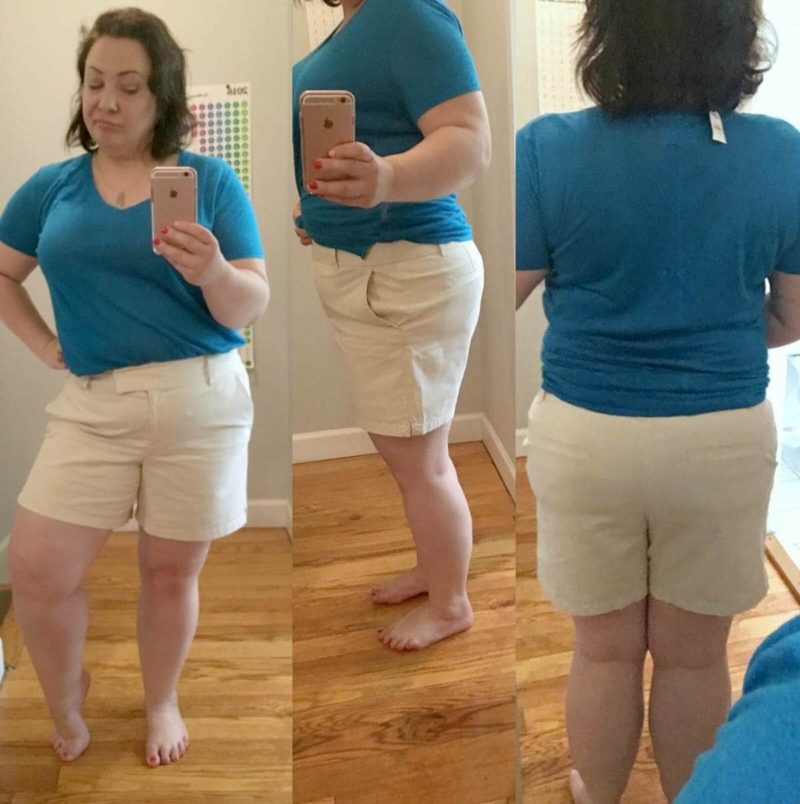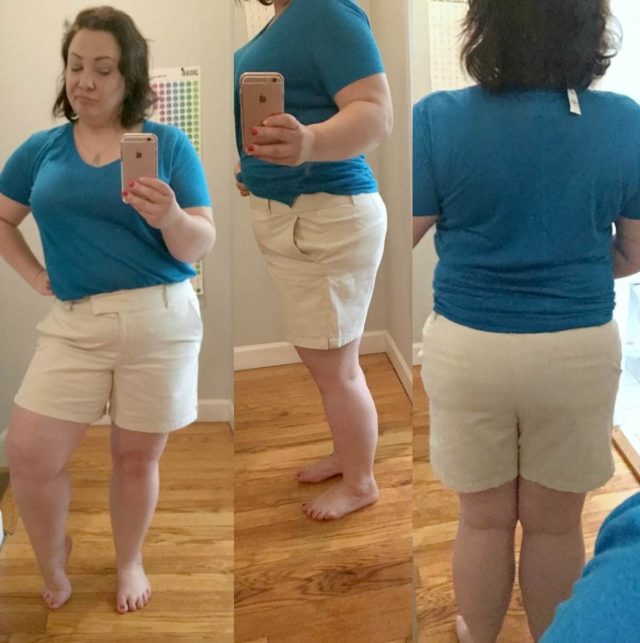 I usually size up with shorts, but thanks to the reviews I got these shorts in a 14, my usual with LOFT. I wanted petite but LOFT is one of those brands that thinks short people don't wear over a size 12. Le sigh. It's clear a petite would have been better on me, but I don't think that would have kept these shorts from entering the city limits of Frumptown. These are the kind of shorts that age a woman, that causes women to give up on shorts and sweat it out in capris and ankle pants all summer long. Ladies, it's not you, it's the shorts. It's the super wide thick waistband that adds bulk just where we don't want it. The pockets that gape, making our hips and bellies look even bigger. There's so many reasons why these shorts are not good shorts for people shaped like me. The one positive? These are super stretchy. I could climb and run and squat and spend a whole day being active and they would move with me and not get all wrinkled and gross or cause a wedgie or stretch out so I have to hike them up after an hour. That one detail made me almost keep these horrible shorts, thinking of my upcoming road trip. But I'd rather hike in a dress and bike shorts than in the shorts equivalent of the Mayor of Frumptown. Fail.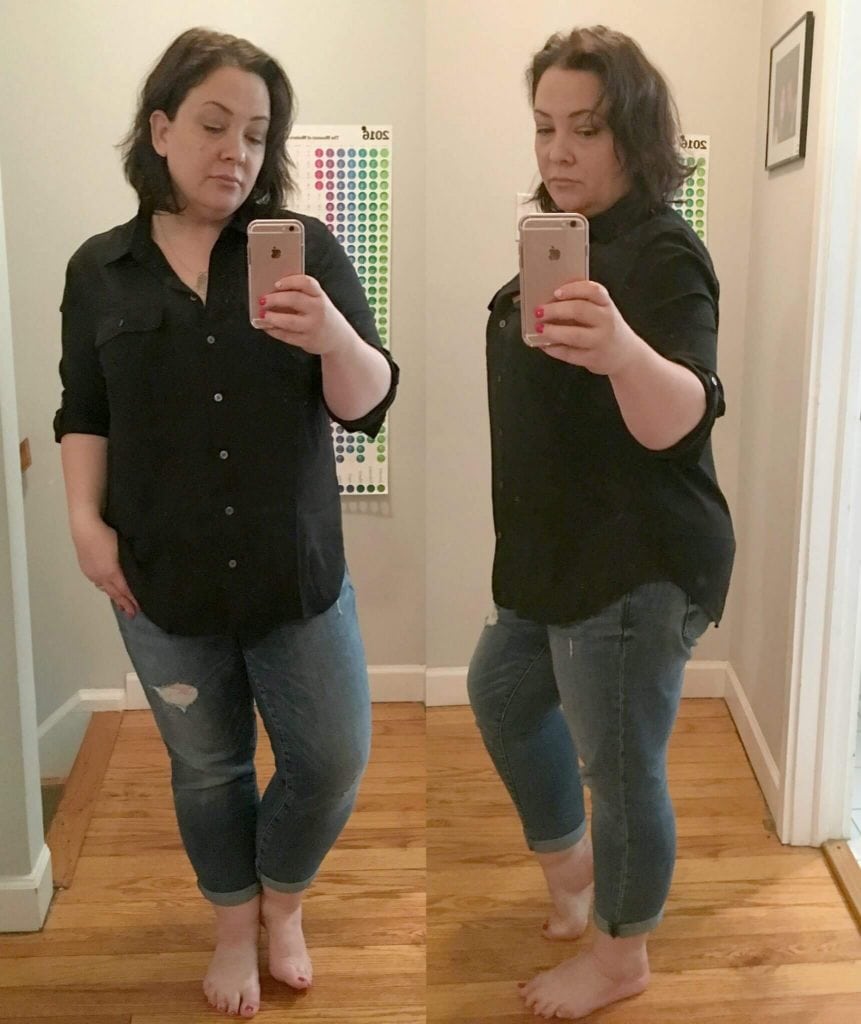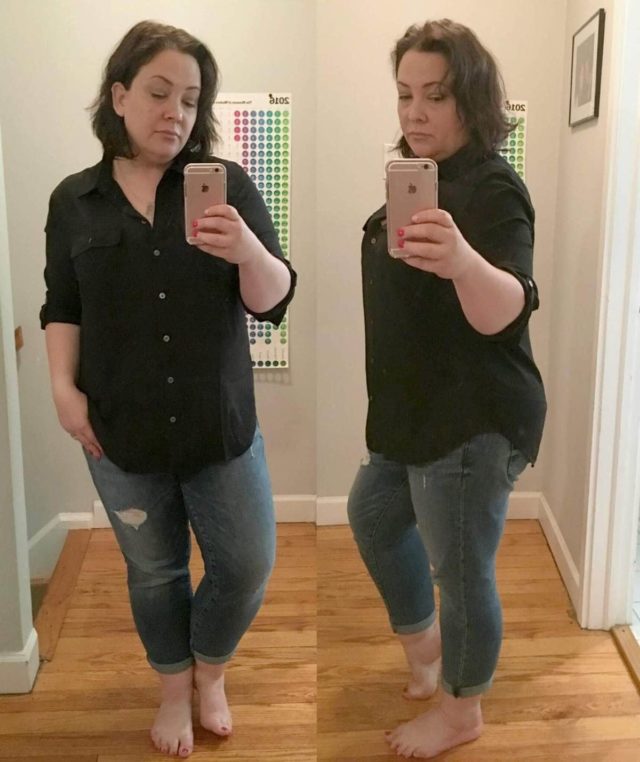 I have a navy silk utility blouse from Ann Taylor that I love and wear often. The only issue I find with it is that it is silk. It's often in a bag for the cleaners when I really want to wear it. I also wish I had one in black, so when I saw this one and saw it was machine washable I ordered it. And I love it. It's a lightweight crepe finish that looks elegant enough for the office, and it has good drape. Flap pockets aren't the best choice for a large bust, but these are floppy with black buttons so they don't draw too much attention or add too much bulk. I love that I can tuck it in to trousers or a skirt for work, or wear it like this with jeans for the weekend. It's a good length, one I can wear untucked with my leather-front leggings or a pair of skinny jeans this fall. Win!
Shop the Post:


In general this was a pretty positive LOFT shopping experience. While LOFT isn't an ethical brand, being the size I am my pickings are slim. I feel these pieces have the quality I desire where they will survive multiple seasons and get plenty of wear. So LOFT, you're back on the list of potential retailers where I'll shop. Let's hope it stays that way this coming fall!