This article may contain affiliate links; if you click on a shopping link and make a purchase I may receive a commission. As an Amazon Associate, I earn from qualifying purchases. 
Can you help a fashion impaired over-40 woman? Do you have any suggestions for a black and navy wardrobe in a very casual work place setting (think: jeans are the norm)? I also like to accent with chartreuse and maybe some plum items…I'm at a bit of a loss as to how to approach this.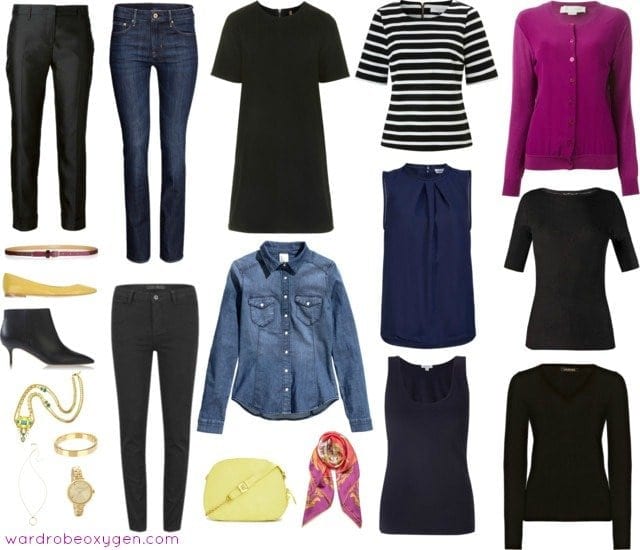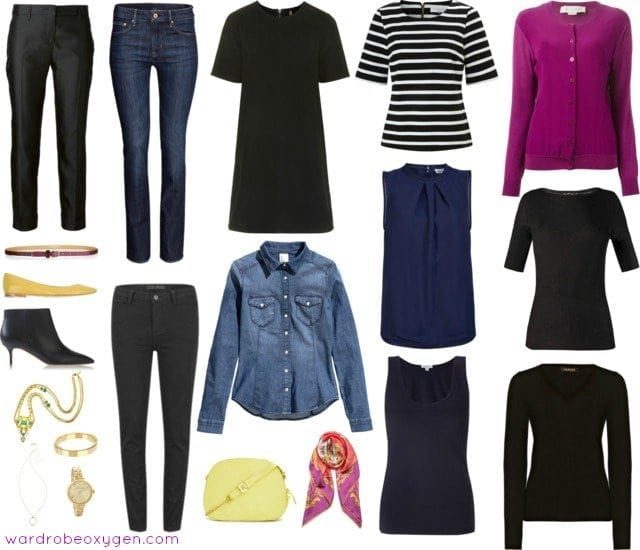 When creating a capsule wardrobe, it's important to start with basics, but basics with an edge. Good fit (that means size up if need be and go to a tailor or even your local dry cleaner for a nip, tuck, and hem), and the best quality you can find and afford. Also, don't think that a wardrobe staple has to be ordinary – choose necklines that are flattering, interesting cuts, and luxe fabrics to show personality and help you not tire of them after a few wearings. Choose pieces that have a touch of your personality – feminine, rocker, boho, or country touches will look more chic than trying to be as basic as possible. With this capsule, I have a bit of a feminine classic feel.
With a casual work wardrobe, even though you're permitted to wear jeans it doesn't mean you should go full-on loungewear. It's possible to be relaxed and casual while having an air of professionalism and respect for your company and your personal style. While the core of this capsule is denim and cotton knits, choosing knits with refined silhouettes, shoes in a glossy leather, and classic shiny accessories of gold and silk keep the look polished.

Three-quarter sleeves are quite flattering and especially in a climate-controlled office, work year-round.  While many women over 40 fear sleeveless blouses, they are usually more flattering than cap and short sleeves blouses and one with detail like a pleated neckline distract from the arms.  A pair of jeans in a dark wash with a straight leg won't go out of style; let your second pair of denim be a bit more trendy.  I chose a black skinny jean for its versatility and more classic look.  Cropped pants have become a classic from spring to fall; choose a crisp fabric and a very clean front to not add bulk or look dated after a season.  If you find a denim shirt that has the perfect color and fit but it's too stiff for comfort, soak overnight in a basin of eight cups of hot water and one cup white vinegar and then launder as usual.

Though your office is denim-friendly, a simple knit dress is so useful for days where you need to get dressed in a hurry or have an event after work. Loose shift and tee-shirt styles in heavy jersey and ponte knits don't wrinkle, are as comfy as sweats, and quite versatile with a switch of accessories. This dress could be worn with the chartreuse flats for the office or even a pair of Chucks or casual sandals come summer but can dress up easily with the statement necklace or scarf and the booties.

Black combined with navy used to be a no-no but these days the pairing is seen as fresh and quite chic. It's important to have the colors saturated; faded blacks and navy will look sloppy and not have the combination look purposeful. Choosing fabrics with a bit of silk or lycra will keep the colors rich.

Since plum and chartreuse are accents in this collection, it would be very easy to switch them out for other colors.  Pink, green, red, mustard, orange, and even leopard print would be great alternatives.  It doesn't have to be limited to two colors either; the belt could be one color, the flats another, the cardigan another as long as all the colors played nice together.  Jewelry can be switched out for silver or styles that you prefer.  Accents and accessories are where you can infuse your personal style into a capsule wardrobe.  Belts are a place where you can scrimp, and right now delicate necklaces and statement pendants are in style so they are easy to find at every pricepoint.  But for the rest of the accessories try to buy the best quality you can afford; a cheap bag or pair of shoes can really take down an outfit.  If these are your signature colors, it makes sense to spend more, care for the piece, and make it a long-term accessory you regularly wear.
To winterize this look for now, replace the cropped pants with full length ones (ponte knit pants are comfortable and not too dressy for your office), a pair of thick black tights for the dress, and maybe replace the chartreuse flats with a black Mary Jane or wedge with a closed toe. The sleeveless blouse can be replaced with a long-sleeve blouse and the denim shirt replaced with a sweater coat in navy or black. But with the current capsule of 11 garments I was able to create 25 different outfits.

When shopping for a capsule, don't buy anything unless you know it will work with three other items in your closet. No matter the bargain price, if it's not versatile it's not worth your hard-earned money. The same goes for quality and fit – it's better to own few piece in your closet than a stuffed wardrobe of pieces that don't look quite right. Shop slow, shop thoughtfully, and you have a closet full of pieces that look great and work as hard as you do!