This article may contain affiliate links; if you click on a shopping link and make a purchase I may receive a commission. As an Amazon Associate, I earn from qualifying purchases.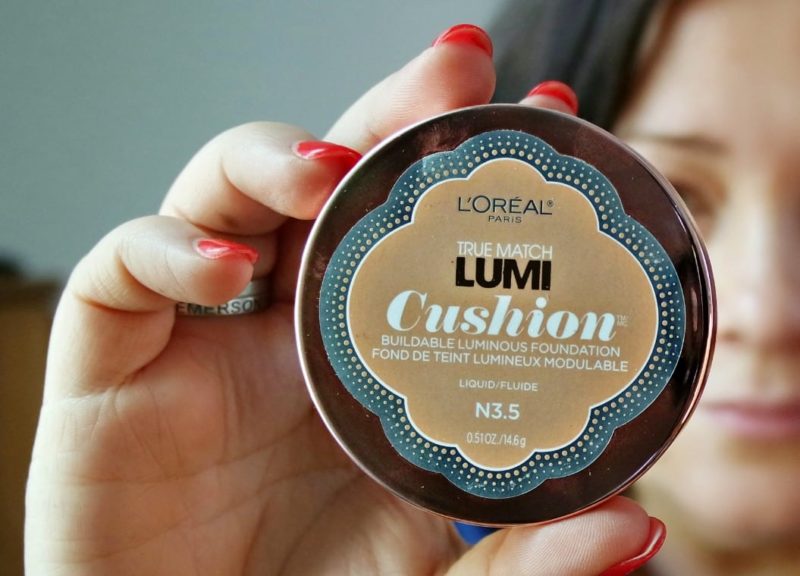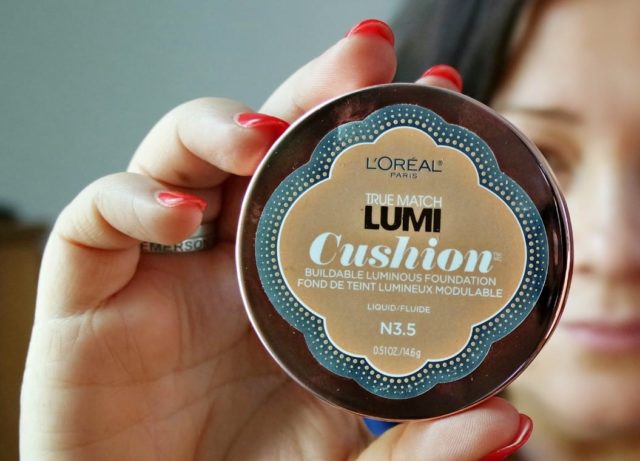 A few months ago, L'Oreal sent me a box with three shades of the True Match Lumi Cushion foundation. Two were far too dark for my skintone, but the third, N3.5 Classic Buff I decided to try.
One of the popular cosmetic trends from South Korea is cushion foundations and BB creams, and L'Oreal jumped on this bandwagon before most drugstore brands. This is a larger thick compact in white and very on-trend rose gold mirror. When you open the compact there's a mirror on the inside of the lid and a top layer to hold the applicator pad; flip up that layer to access a sponge that is drenched in the product. You press the pad into the sponge and then apply to your skin. Unlike many gimmicks, this one makes sense. The compact is well made; it can be thrown into your makeup bag and you don't have to worry about it popping open. The sponge keeps the liquid in place, no drips or leaks. Having the sponge separated keeps the product clean and the sponge from getting gross too soon. This is an excellent system for travel or beauty on the go.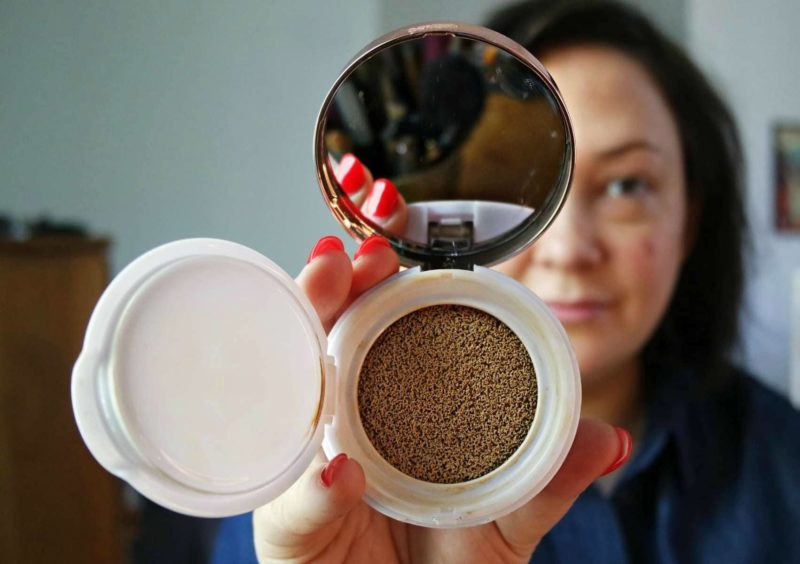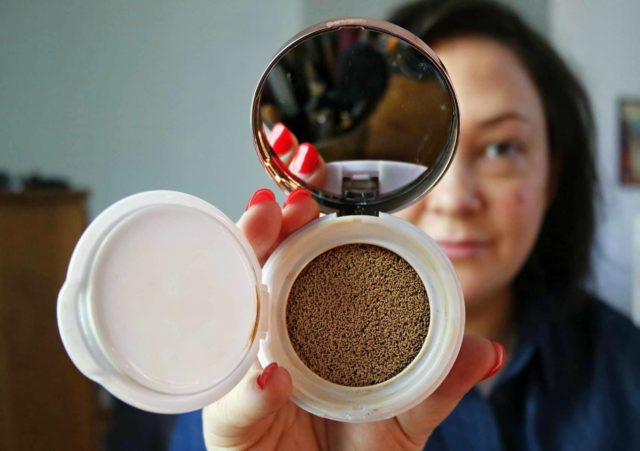 L'Oreal states Lumi Cushion foundation is a, "luminous refreshing formula [that] creates sheer to medium coverage." I think this is an accurate description. The product is thin, thinner than most foundations. When applied to the skin it feels more like a tinted moisturizer in that it's thin and feels hydrating like a lotion. It gives a dewy finish, and feels cool so I get the 'luminous' and 'refreshing' descriptors. The finish is sheer to medium; it can layer well and go from BB cream or tinted moisturizer level of just evening skintone to adding more coverage where you need it.
I usually end up with products called Fairly Light, Buff, or Beige and look best with a color that isn't too warm or too cool. Back in the day when I wore L'Oreal True Match as my daily foundation I was a N3. So N3.5 Classic Buff made sense and proved to be a perfect color for my skin.
How you apply the product can determine how well you like L'Oreal Lumi Cushion. The back of the compact has three photos as instruction: press, tap, build as needed. For the first few times I pressed the applicator pad on the sponge and then wiped on the skin as I would use my fingers to wipe on a tinted moisturizer or foundation. Not impressed. Then I tried tapping like the photo and it was a whole other experience. Big taps on the cheek, tiny taps to blend, tiny taps all around the eyes, teeny taps around the nose, another press of the sponge, some big taps then little taps to blend. The tapping is what helps it build coverage and seems to help it stay longer throughout the day.
The left side is bare face, the right side is with L'Oreal Lumi Cushion (and a bit of yellow concealer on zits)

I have normal to dry skin and find the formula is hydrating, but not greasy. I don't set it with powder; I apply it directly over my moisturizer, apply concealer over it, and then the only powders over that are blush and eye shadow. Even so, the product lasts for several hours. At the end of the workday, I still look polished, though the redness under my nose and my undereye circles may be more visible than they were when I left for the day. I think L'Oreal Lumi Cushion holds up better on my face than tinted moisturizers or BB creams I have tried in the past and has a slightly heavier coverage without being as heavy as a traditional foundation.   I liked it so much, when I ran out I bought two more – one for my dressing table and one for my cosmetic bag.
L'OREAL LUMI CUSHION – PROS:
I desire a luminous dewy look that makes my skin look healthy and glowy and youthful and this does just that.
I find tinted moisturizers too light of coverage, BB creams always are odd for me, and foundations look too heavy especially as I have gotten older and my skin more dry. This has a perfect weight that is that happy medium between tinted moisturizer and foundation.
Once I started using it, I felt this was such a gimmick and it would run out before a bottle. However, I've been using it for two months almost daily and it hasn't run out, though it's not as saturated of a sponge as it was weeks ago.
It lasts far longer on my skin than any BB Cream or tinted moisturizer I've ever tried.
No smell.
You can't feel it on your skin. I hate when I feel like there's makeup on my face; I can't feel Lumi Cushion.
You can't see it on your skin. Especially now that I am over 40, makeup can look really obvious and get into little nooks and crannies. This doesn't. It's the kind of stuff where guys I work with who know nothing but Star Wars, Comedy Central, and Drupal say I look healthy.
L'OREAL LUMI CUSHION – CONS:
The applicator pad sucks. But usually the applicators that come with products usually suck. It's soft and can bend to do some blending around your nose and such but the sponge is cheap and falls apart before you're finished with the product. I switched to using a BeautyBlender which does just as good of a job.
If you stick with the applicator, be sure to wash it.  It will get gross, smell gross, and sitting around all day in leftover foundation is not healthy or good for your skin.
It's pretty pricey for a drugstore foundation and you get less product in this format than in a standard bottle.
L'OREAL LUMI CUSHION – FINAL VERDICT:
It's funny, I wrote this post a several weeks ago but if you follow me on Snapchat you know I've been dealing with some acne which has put off photos for this review.  And then I was slammed at work… well this has been months in the making.  When I first wrote this I said it was okay but I wouldn't buy it again.  Then I ran out, started using something else I had on hand and realized how much I missed L'Oreal Lumi Cushion and bought more.  I don't think this will be a good mid-summer foundation because it slips when I sweat and can make me look greasy, but I really enjoy the hybrid it is, something between a tinted moisturizer and a classic foundation.  I like the luminous aspect, and I like that I can layer it or do touch-ups during the day without looking cakey.  I've also found it plays nice with NARS Setting Powder for hotter or longer days. Goes to show you really need to use a product for a long while before you can give a valid review!
L'Oreal Lumi Cushion Foundation usually retails for $16.99 at drugstores and big box retailers, though I found it cheaper on Amazon.