This article may contain affiliate links; if you click on a shopping link and make a purchase I may receive a commission. As an Amazon Associate, I earn from qualifying purchases.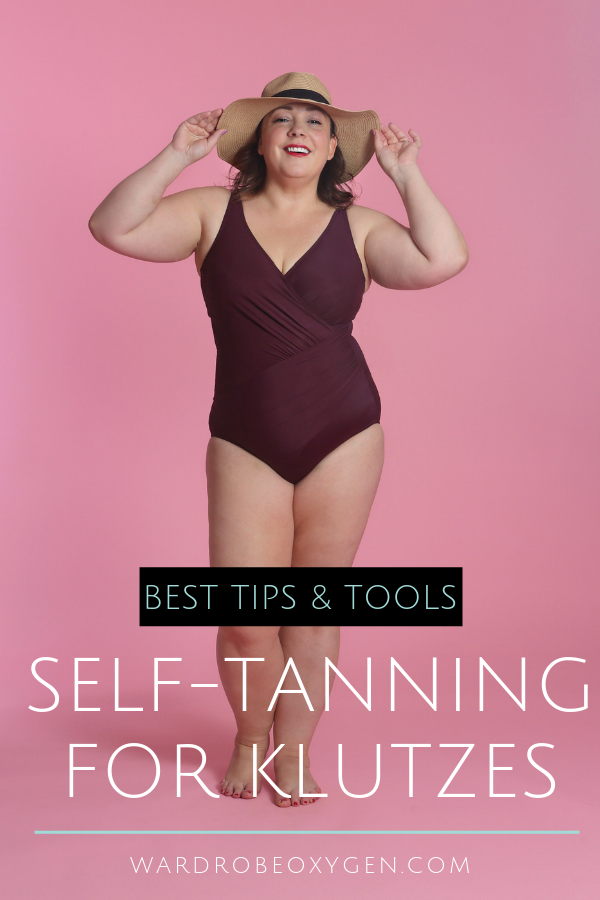 I may be a fashion blogger but that doesn't mean I have my act together. I always have coffee spilled on my blouse, regularly end up with lipstick on my teeth, and my bruised legs tell the tale of how I am constantly walking into or tripping over things. I have tried so many self-tanners but I don't have the patience to stand like a starfish waiting for it to dry, the control to get it on without streaks and orange feet, or the desire to spend the majority of my weekend perfecting a beauty routine. That being said, I like the look of being tan. For one, it helps hide all those bruises from being a klutz. I also like that I can get away with less makeup. No one needs to be tan, embracing your paleness is chic. You do you. But if you're like me and would like a little color without spending your whole life on it and without getting orange and streaky, read on.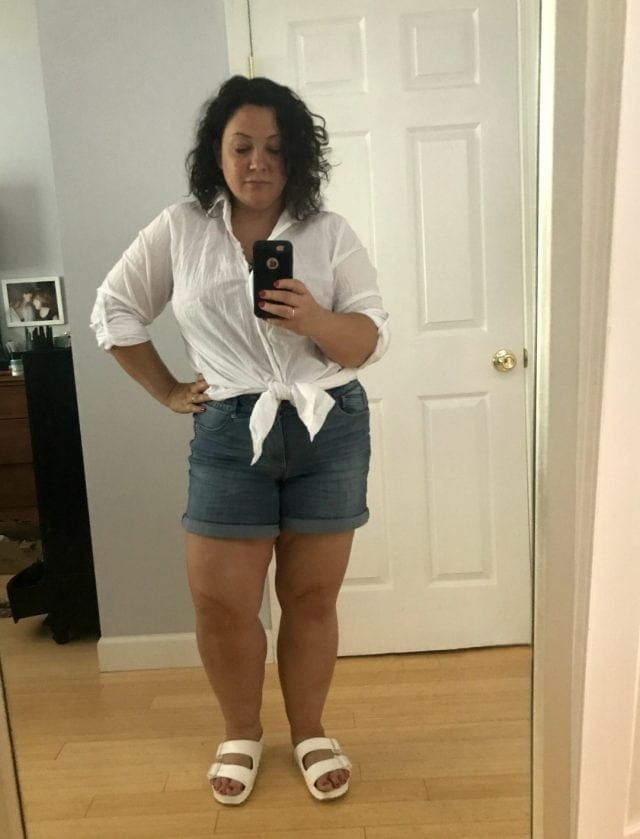 How to Get an Easy and Natural Self-Tan at Home
My process won't make you look as though you spent your whole summer at the beach. It will give you a natural glow that lets you get away without blush and makes you feel more comfortable in shorts and skirts with bare legs. And it's a process you want to start sooner rather than later. The key to a natural looking self-tan is to start light and gradually increase the intensity.
First Step: Exfoliate
You want a smooth canvas (your bod) for self-tanning. If not, dry spots will absorb more self-tanner, causing the tan to look uneven. And then those dry spots flake off leaving white skin underneath making you look even more uneven.
Sites will recommend all kinds of body scrubs or even offer recipes to make your own at home. I have no time or interest in anything that complex. Get yourself a skin towel. It's like a giant washcloth but woven from the threads of a body pouf in a way that makes it super scratchy (scratchier than those exfoliating gloves). It's big enough that you can grab each end and scrub your back. Use it in place of a body pouf or washcloth. This is the exact one I own. Squirt on some body wash and scrub the heck out of your skin, exfoliating while you're washing without getting the bottom of the shower slippery from a sugar or salt scrub. Do this every shower; it not only will create a smoother canvas for streak-free tanning, it will make your skin glow and feel super soft.
I also recommend dry brushing. Do this in addition to the skin towel, not as an alternative. I've previously written about the benefits of dry brushing. I have this brush, it's like $12. It's a few minutes each morning to help exfoliate, increase circulation, reduce cellulite, and feel more awake. You're welcome.
Second Step: Start Subtle
If you try to go St. Tropez in one weekend, you either need a lot of patience and control, or you'll end up with dirty looking feet and streaky triceps. If you start now several weeks before Memorial Day weekend, you can build a fake tan that looks like the real thing.
I've been using Jergens Natural Glow for several years and find it to be the nicest for price, smell, and result. Also, there's no difference between the regular and the firming in regard to color. I don't know if the firming actually firms but I buy it just in case. I start with the lightest color – light to medium. I apply it every other day through the month of April and then go up to every day until I complete the tube. Once the tube is complete, I can then either stick with this subtle glow or switch to the medium to dark option.
While Jergens gives me a very natural looking glow, it doesn't offer a ton of hydration. If I put another moisturizer on too soon after applying the Jergens, the Jergens doesn't seem to work as well. So every other shower, I instead add a few drops of Clarins tanning drops for body to my favorite body moisturizer. This, you need to be careful as it will streak. I add 3-4 drops to enough moisturizer for each limb. I then apply with my hands (no fancy mitt, I'm too lazy for that) but I make sure to spread it all over the leg or arm and then work on rubbing it in. I usually do a drop less for the arm than the leg because it's easier to rub it in on the leg since you can see it and use both hands. Then another glop of moisturizer with only two drops for the rest of body, focusing on the chest and belly. Then immediately wash your hands; orange palms are not chic. I then stay in an old towel or a dark-colored bathrobe as I brush my teeth, get ready otherwise and it's absorbed in time to put on clothes and head out.
I have tried these Clarins drops with a lotion and with an oil; I have not tried it with a cream or butter because I like to mix the two products together in my hand before applying and that just seems like a mess (and too much time on my hands, making it more likely to have terracotta palms).
I haven't tried other tanning drops; I bought this one because a friend used it and swore by it and all the cheaper drops were sold out everywhere I went. I don't know if all tanning drops are created equal, but Clarins gives me a nice tan, not orange shade. I only streaked once and it was a bit on my ankle/top of foot and it was my second use and I was being especially lazy about the whole process. I also got an orange spot on the palm of my hand that time; I learned to be super diligent about the hand washing after that. FYI, if you're lazy and don't read the instructions, the way to get drops out is to press the bottom of the bottle. It's not like I did that myself, totally hypothetical, I always read all instructions from cover to cover. Yep.
Third Optional Step: Amp it Up
After about a month, you will not only have a base tan but have gotten the hang of these products and then you can intensify the process. I know some who use both products daily. I never would (I'm lazy, remember?) but I plan come May 1 to up the number of tanning drops at least for my legs to get them a bit browner.
Do know you don't HAVE to do this every day. What's great about these faux tan products is they fade super gradually. If you decide you want to go pale, if you forget the product on a weekend getaway, you decide for a week you don't have the time or patience to rub in this stuff, no worries. It will fade away subtly like a normal tan.
Shop My Picks for Self-Tanning: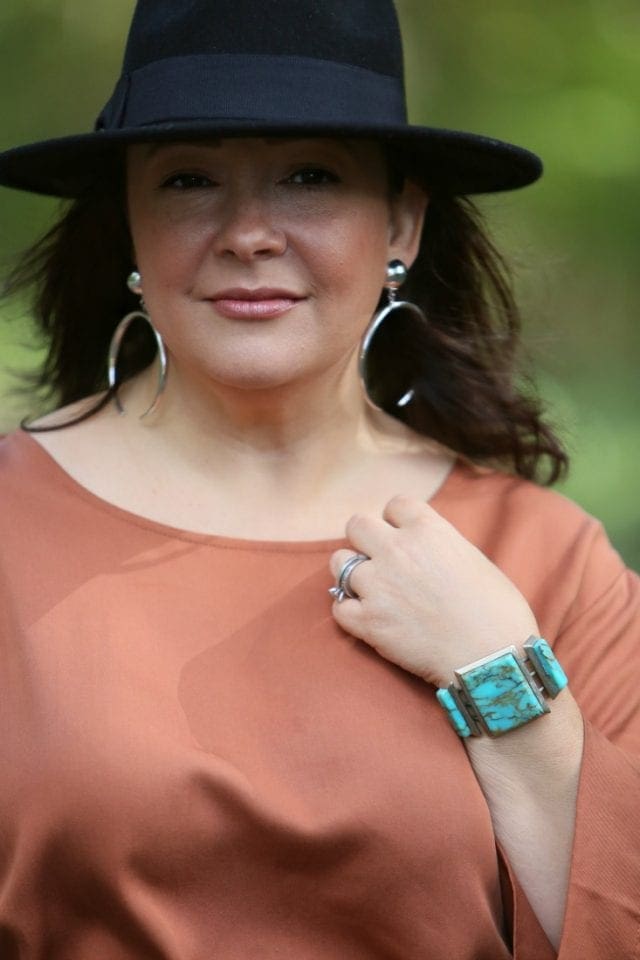 Tips for Faux Tanning the Face
The face is a completely different thing when it comes to self-tanner. I do know of people who use body self-tanner on their face… I am not one of those people. I will never forget when in middle school my friend Heather used Coppertone QT and walked into homeroom looking like a streaking Oompa Loompa. It scared me straight for decades since. If you go slow with tanning your bod, go even slower with your face. You can cover a streaky ankle with socks or ankle booties, a streaky face is another story.
I never used self-tanner on my face until 2014 and it was purely by accident. I received a sample of a Dr. Dennis Gross Glow Pad with a beauty order. I took it on vacation, thinking I'd try it out. I figured it was some sort of chemical exfoliator that would make my skin glow. I wiped my face with the cloth, added night cream, woke up the next morning looking as though I spent the day at the beach. Woah, when they said glow they meant sun glow? But I was surprised; no streaks, no orange skin, no visible point where I stopped using it. That day I placed an order for more of these pads and I must be on my 5th order of them. Every February when I look at my face in the mirror and wonder why I look so tired and gray I order a box and within a week am happier with my reflection. I order 1-2 boxes a year and only use it from February to October.
I only use these 2-3 times a week max because of the price. At night after cleansing, I use one pad. I wipe over each closed eye, then under each eye to be sure to get into the fine lines underneath. Then I wipe down my whole face like I am painting it, then I go again around the curves of my nose, wiping out towards my hairline and ears, I get the ears, I paint stripes from my jaw down to my chest filling in the space bordered by the bra, all the way from the front to behind the ears. I then sort of wipe all over after that so I don't end up with possible stripes on my neck. A quick swipe or two from fingernails up each arm and then when the cloth is almost completely dry, I do another swipe near the hairline and neck just to be sure it's all blended. It dries quickly and you can immediately after put on your creams, lotions, serums, and potions. I don't recommend putting on any other chemical exfoliant or treatment (vitamin C, retinol, lactic acid, glycolic acid, etc.). Wash hands immediately (this has never given me straight up orange palms or streaks but it has given my hands a… warm glow).
Please buy these pads from a reputable seller such as Sephora. I found a bigger box on Amazon for a great price. Half the box was fine, the other half they didn't work at all. I ordered again, all the pads were dried out. I get trying to save money, but this is a product where it's best to buy what you know to be the real deal and not expired.
Doing this a couple of times a week will give you a subtle glow. If you want to go darker, I again recommend Clarins tanning drops, but the ones specifically made for the face. In the morning, I will add 2-4 drops to my daily moisturizer and apply as usual, being sure to get my neck and décolleté. Wash hands afterward. Two drops will provide the effect of the Dr. Dennis Gross pads, four drops will actually make you look as though you spent the day at the pool but without the pink cheeks and sun damage. I haven't seen any streaking with the Clarins drops for face; I've added it to moisturizers from Colleen Rothschild, Paula's Choice, and Neutrogena without issue. I have only added to lotion, not an oil or serum and am not sure how that would do. I recommend getting this from somewhere like Nordstrom or Sephora so if you don't like the results you can return it. However, I find it to look very natural.
As an FYI, I didn't like the Dr. Dennis Gross pads for the body; I got streaks. They may be great for some, but I think they require a lot of patience, a well-lit room, and a careful method to cover all skin evenly. I'll stick to my lazy klutz solutions for self-tanner!
What to Do if You Get Self-Tanner Streaks
If you're a lazy klutz like me, there's a good chance even if you go slow and gradual, you'll end up with streaks. I've found the best solution is to take a bath or a long hot shower so you skin is all soft and porous and warm and then scrub the heck out of it. Use your skin towel, use that St. Ives you know you shouldn't use on your face but is still in the back of your linen closet, use kosher salt or sugar in some coconut oil and get to town. This is the best and the easiest, since you can do it right in your tub and shower.
If you still have streaks, I've used nail polish remover (acetone works better than without, but both will have some effect) and I've tried a half lemon with a bit of salt on it (hey it works for cleaning pans). This is best for a small specific spot (say the place where your foot meets your ankle that is on display and turned to the color of rust) as these options can cause irritation.
Do I Need Self-Tanner?
Again, I must reiterate that no one needs a tan to look and feel great. While a tan seemed like a beauty must a couple decades ago, these days pale skin is seen as beautiful and many celebs and fashionistas of all ages are sporting their natural pale skin with style. However, if you want a bit of a tan, I hope these tips will help you achieve it without too much trouble, time or streaks!
Shop the Post: