This article may contain affiliate links; if you click on a shopping link and make a purchase I may receive a commission. As an Amazon Associate, I earn from qualifying purchases.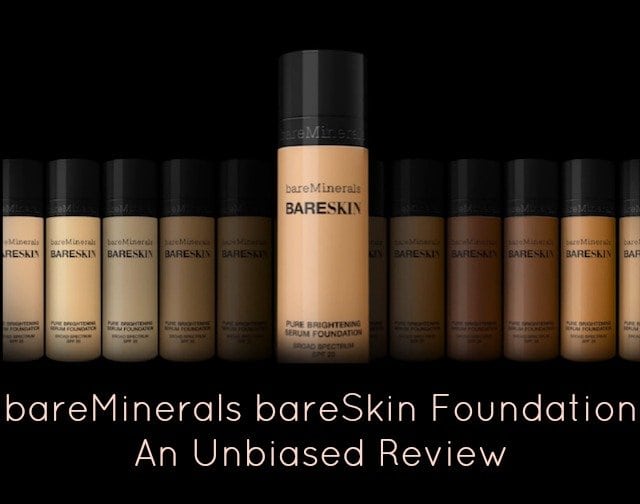 The other day, my coworker came in my office and after we discussed a work project she mentioned a new beauty product she was using and LOVED. I admitted I too was using the same product and realized I never wrote a post about it! But hey, using a product nearly all summer provides a more authentic review, right?
Early summer, many blogs I follow had sponsored posts from bareMinerals promoting their new liquid foundation, bareSkin. Promoted as "the future of foundation," bareSkin claimed to provide a no-makeup look that brightened and evened skintone but wasn't full of yucky ingredients like fragrance, oil, silicone, or parabens. All these sponsored posts raved about the benefits of bareSkin, but not a single one showed a picture of themselves wearing it, few mentioned what color they chose, how it held up through the day, or anything else to prove this product lived up to its claims.
I've used bareMinerals before; while I find their original mineral foundation to make me itch, their Touch Up Veil is awesome and always in my purse for mid-day touchups. I was disappointed in the uninformative sponsored posts, but considering my experience with the line, intrigued enough to buy a bottle, give it a whirl, and give you a completely honest review.
I ordered through Beauty.com (hello Ebates cash back, Beauty cash back, free shipping, and the ability to place and order and have makeup, laundry detergent, dog treats, and allergy meds all show up in the same box), and since you supposedly HAD to get the coordinating brush, ordered that as well. When I wore bareMinerals foundation I looked best in Fairly Light; bareSkin has a completely different set of colors so that reference didn't help at all. Glancing at the colors, considering the color names I match with other brands and my bit of faux tan, I chose Bare Nude.
The foundation arrived a couple days later, but the brush was backordered. Good chance for me to see if the brush is truly worth it. I tried the foundation with the Real Techniques Stippling Brush (looked to be a similar shape), MAC 190 Foundation Brush, and a combo of my fingers and a BeautyBlender. Ew, gross, this stuff sucks! It looks so orange, it's greasy, it doesn't cover, it's dreadful! Then the bareSkin brush arrived and I tried again.
Yes, you need the special brush. Seriously, the brush makes all the difference.
The brush is smaller than I thought, but far better crafted than old bareMinerals brushes in my collection. It's soft, tightly packed, and hasn't shed all summer. The first time using the clean brush, I applied two drops of bareSkin as they recommend and I didn't think it was enough. The finish was similar to Laura Mercier Tinted Moisturizer: a hint of color, looking a bit more finished but otherwise naked. This was not brightening or evening. However, the next time with the brush already with residue makeup, two drops was plenty to cover my entire face (if you desire more coverage, you can add more drops after your first application). And this time with the right amount of product, it did brighten and even my skin tone. And yes, Bare Nude is a perfect color for my summer skintone.
The key to making bareSkin look good is blending, or in the words of old-school bareMinerals infomercials, buff. Buff, buff, buff, and buff some more. Use one hand, then the other to get in different directions and have a more even finish. The result is skin that looks dewy (but not greasy), even and airbrushed (but not fake), soft and natural (yet pores and wrinkles and spots are buff buff buffed away). Because of so much buffing, I applied my concealer over the foundation. Not sure if it is the foundation, my change in diet, or the season but I found with bareSkin my normal Laura Mercier Secret Camouflage concealer to be too heavy and switched to an old liquid favorite, L'Oreal True Match. I don't set my foundation with powder because I think it emphasizes my wrinkles, but I do set it with e.l.f. setting spray.
And so, a few pictures of me wearing the foundation this summer: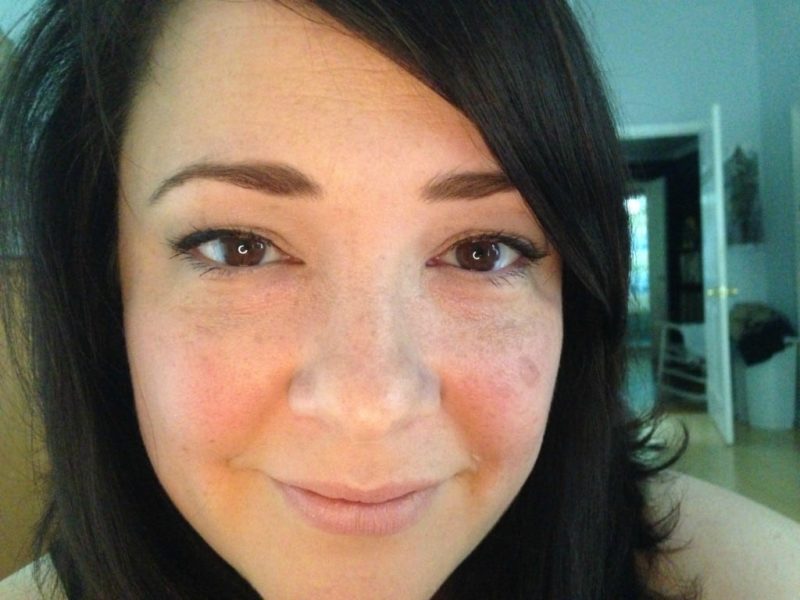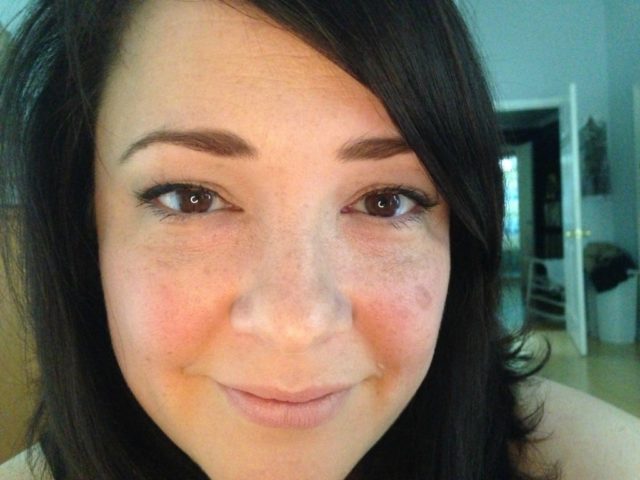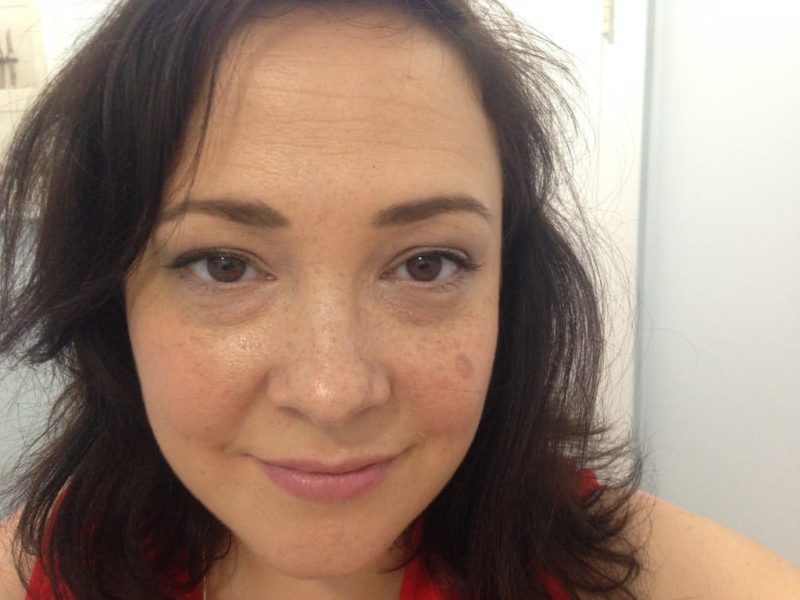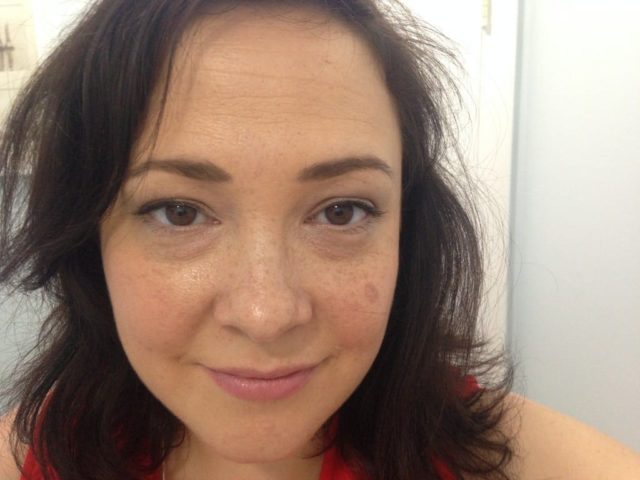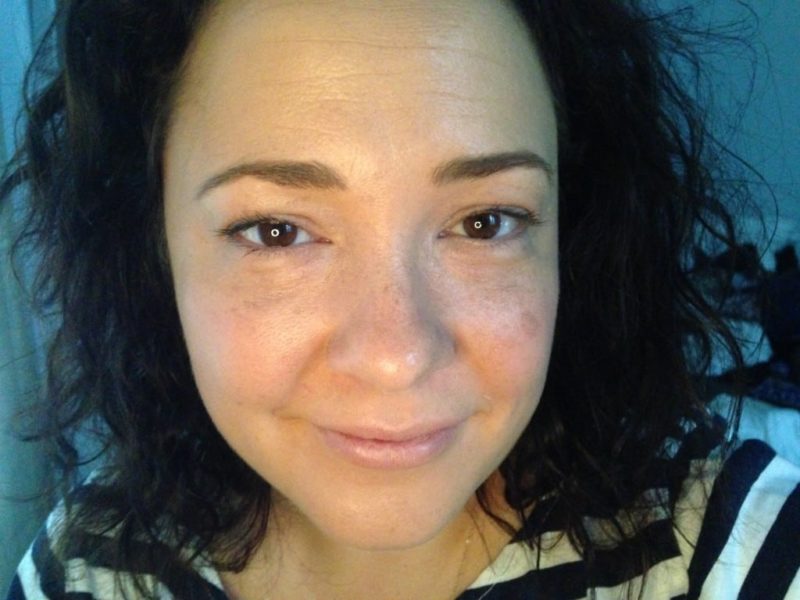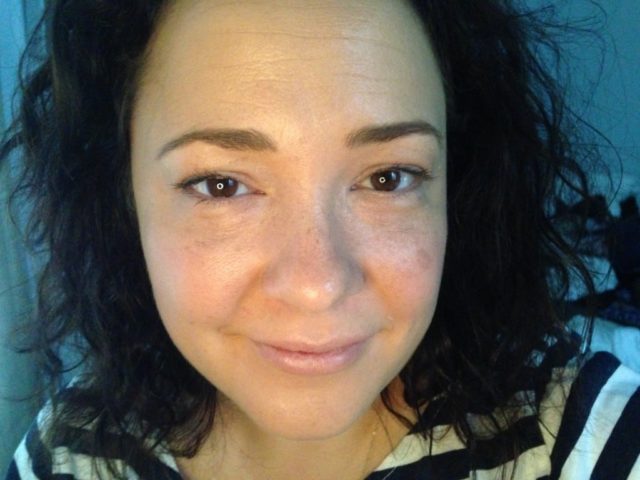 bareSkin by bareMinerals is what I have always wished BB and CC creams looked like on me. I always put them on, maybe liked them for a week, but then felt they didn't do enough to justify wearing them. I wondered if I was too old, my undereye circles too pronounced, my uneven skin too hard to correct. bareSkin makes everything look even without looking like (or feeling like) I'm wearing makeup. And for anyone else who has dealt with the itchies from bareMinerals traditional foundation, I haven't experienced any irritation or breakouts or any other ill effects from bareSkin.
Some tips:
If you want more coverage, start with two drops, buff it in, then do a second application. This will provide a far better finish than starting with more drops. You'll automatically get more coverage than I have if you set with powder (my coworker uses Mineral Veil and likes the result).
Girl I wanna make you buff, buff 'til you can't buff no more… seriously, if you think it looks gross, buff it some more. It will blend and merge with your skin.
My coworker went into a Sephora to get color matched; if you have a Sephora or bareMinerals store near you I highly recommend doing this. If not, be sure to shop somewhere that takes returns because the bottles are colored, not clear and looks can be deceiving.
SHAKE IT! This stuff needs to be well mixed to get a natural finish.
If you wear a liquid concealer, try applying it on top of the foundation; with so much buffing you may buff it away. I found applying on top I didn't need as much and it looked more natural too!