This article may contain affiliate links; if you click on a shopping link and make a purchase I may receive a commission. As an Amazon Associate, I earn from qualifying purchases.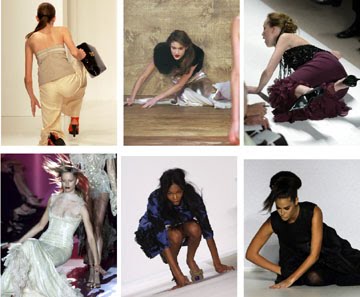 It happens to everyone, even runway models who are paid to walk…
I walk fast. If you are married to a person who is over a foot taller than you, you learn how to walk quickly.
At work, I am often on Webinars and conference calls and online trainings where I have to type, "BRB!" into a chat and dash to the bathroom once I have another person who can take over my role. Because of this, I can pee faster than any man. Get it done, get back to work.
Today I had to get to work super early, like it's dark out and the husband and dogs and baby are still asleep early. Get dressed in the dark early. Feel around in the closet… hey that's my Merona maxi dress. One-step dressing. Done. I put on the maxi dress, feel through the drawers in my jewelery armoire and find my two silver bead long necklaces from H&M and my silver cuff and I am dressed.
I haven't worn the maxi dress to work before because I really don't think it's work-appropriate. Somehow if the dress was knee-length I think it would be nice for work with a pair of heeled sandals and maybe a cardigan. But a maxi dress… it seems to festive and tropical. Today, I was tired, didn't feel like wearing Spanx and knew my trusty black pants were in the hamper so I decided to go with the maxi dress.
About 20 minutes ago, I totally ate some office carpet when dashing to the bathroom. Awesome. Glad that the office near my maxi-crash was empty so I did not have an audience.
Not only are maxi dresses not work appropriate, they are also a workplace safety risk. I think this was fate reminding me to adhere to my personal style laws at all times. Break them, and receive punishment!