This article may contain affiliate links; if you click on a shopping link and make a purchase I may receive a commission. As an Amazon Associate, I earn from qualifying purchases. 
Hey Allie,
I recently discovered your blog and fell in love. There is something I need some help with – a cardigan/wrap that doesn't make me look bulky or shorter than I already am. I'm 5'4″ on a good day and around 130 lbs, but with short legs and a long torso. I've found that the classic crew neck button down doesn't do me or my waistline any service (D cup with a high waist). I've searched numerous stores in vain but haven't found a style that suits me. I did find one – picture the currently popular drapey cover but shorter and a built in belt of the same fabric (only not good quality and didn't fit quite right). Help!
You are not the only one to have this problem with cardigans. I don't know why so many "must-have" lists encourage women to buy a cardigan. As I walk around our Nation's Capital, I see almost every woman wearing a cardigan, and most women do NOT look good in them.
A Classic Cardigan – one with a crew/jewel neck, buttons down the front, long sleeves and a banded hem can be found at most any retailer for most any pricepoint. They are toted as being the must-have to take a sundress and make it appropriate for work or a house of worship, the perfect thing to make a tee or tank and jeans an outfit, a way to extend your summer wardrobe into the cooler months. The thing is the Classic Cardigan has a neckline that shortens one's neck, a band that usually hits at the widest part of a figure, seaming at the armhole that will make even the leanest arm look meaty. Add to this a row of buttons down the front which draws attention to a large bust or tummy, you have all the ingredients for a style disaster.
What is one to do, if she is not a long and lean Classic Cardigan-friendly figure?
The Soft Jacket – I have a black collarless ponte-knit jacket I got at the Banana Republic outlet a couple of years ago. It has large black buttons, bracelet-length sleeves, hits right at my waist. The neckline is wider than that of the Classic Cardigan, the heavier fabric gives more shape, but the knit is still comfy and kind to my curves. I wear it open to create a vertical line down the body which slims. I have paired this with a white ribbed tank and jeans, a sleeveless sundress and peeptoes, and even with ponte-knit pants from a different retailer to make a soft-structured suit for work.
Ponte (also known as Ponte de Roma) is a heavyweight, densely-knitted stretchy fabric that washes well and can be dressed up and down. These days I see ponte knits at retailers ranging from Target to Nieman Marcus. The fabric is very friendly to women with curves as that it will show your shape without clinging or adding too much bulk. Other fabrics that work well are stretch wool, boucle, and even heavier-gauge sweater knits.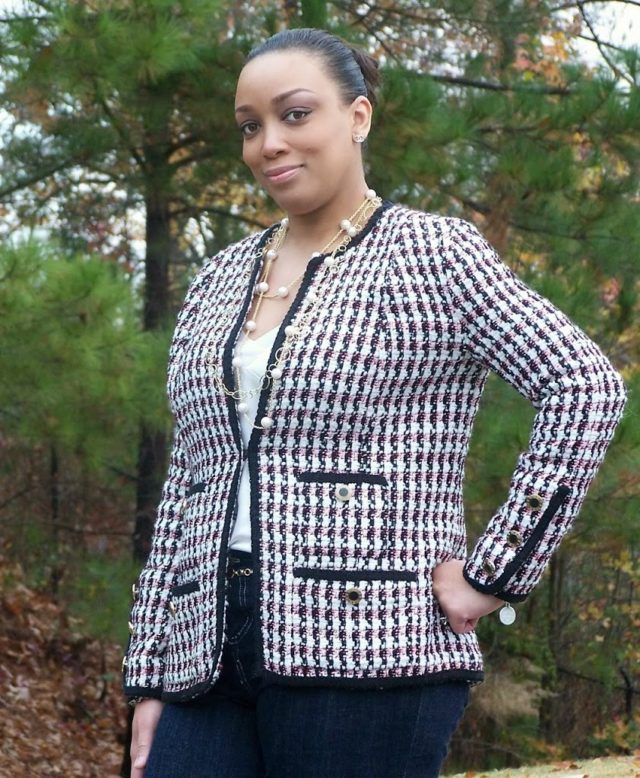 The thing with a soft jacket is that it has more defined shoulders, a heavier weight fabric and all over more structure to the garment so that it is seen as a separate item, and not an added layer to your figure. One would think a heavier weight would add bulk to the bust, but in fact it will then lie away from your body, showing the curvature of your waist. The heavier fabric will create definition between your neck and collarbone and the garment, which will also create the necessary slimming definition.
The Boyfriend Cardigan – As a petite busty woman, I really expected to hate this look. A long, lean knit is only going to bunch up on my rear and make me look shorter, right? Wrong. The boyfriend cardigan can be quite flattering to a short and curvy frame.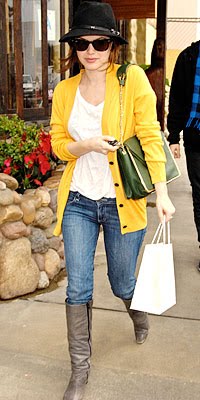 Photo of Rachel Bilson courtesy of LikeMag
"Boyfriend" is a popular term the past couple of seasons – we have seen Boyfriend jackets, cardigans, sweaters and jeans. Essentially this means an item that looks as though you stole it from your boyfriend's closet. Items that are a bit slouchier, a bit more relaxed, often times weathered. When it comes to cardigans, a Boyfriend style is one that is longer and usually has a v-neck (think varsity sweater). Unlike a varsity sweater, boyfriend cardigans are usually out of a softer knit like merino, cashmere, silk knit or Shetland wool.
Such a sweater can easily look dowdy if you attempt to wear it like a regular cardigan. This is not a good style to just throw on with a tee and jeans, or over your work blouse and trousers. However, it can be nicely paired with dresses and skirts that have straight or a-line silhouettes, and can look quite smart. With a simple shift dress or shell with pencil skirt, left open a Boyfriend cardigan maintains the long lean shape of the outfit; add a leather belt to the waist (with the cardigan still unbuttoned) and you add definition to a small waist or create a waistline on a more straight figure. Paired with slim jeans or trousers and boots, it creates a casual cool look perfect for the weekend.
Wrap it Up – You mentioned a belted cardigan, and I have to agree that this simple added feature can add much flattering style to a sweater. I am a big fan of wrap-style and self-belted cardigans. This past winter I got two cardigans from Nordstrom's Caslon line that had a ruffle at the cuffs and along the collar and a wide self-belt. I could wrap the cardigan across the front and cinch with the self-belt and it would show my shape while offering warmth.

Ballet-style wrap sweaters are a great option as well – they look great over a simple dress or with a shell and trousers, and flatter curves and a large bust. And you can always go SJP and use a brooch to make a standard cardigan into a wrap!
Change up the Classic – I own three Classic Cardigans, even though I am one who finds these sweaters terribly unflattering. How do these work for my petite yet curvy frame? I changed up at least one trademark of the silhouette.
With one, it is of a heavier-weight knit. This gives it more structure, similar to a soft jacket. With the other two, they are longer – not quite as long as a Boyfriend cardigan, but they don't have the band at the bottom and hang at mid-hip instead of high hip where a band will hide my waist. Other alterations can make a great difference – switch long sleeves for short puffed ones, standard buttons for frog closures, add ruffles to the collar (Lands End has a great one with this feature).
Pair a crewneck sweater with a scoop neck top or dress in the same color for a nice twist to the twinset – keep the cardigan unbuttoned and this altered neckline will be surprisingly flattering. When possible, I buy a tank or scoop shell in the same color as a cardigan and from the same brand. I make sure to launder the same way and the same amount of times so they remain a matched pair.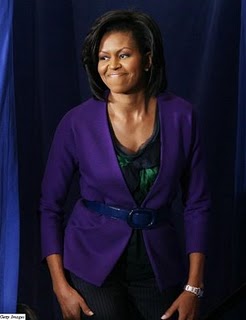 Add a belt – Take a cue from Michelle Obama: you can add a skinny leather belt, a wider elasticized belt, even a wide strip of grosgrain fabric. If you leave the cardigan unbuttoned, you can maintain that vertical line down the body which will lengthen and slim.
What styles of cardigans have you found that are flattering to your specific figure?