This article may contain affiliate links; if you click on a shopping link and make a purchase I may receive a commission. As an Amazon Associate, I earn from qualifying purchases. 
This is my dressing table. I always wanted a dressing table. My mom has a large white antique one with a three-piece mirror attached and a matching curved bench just right for women wearing lots of crinolines. I loved sitting at that dressing table, surrounded by pots and bottles of potions for beauty. There was a shallow long drawer in the center – here is where she placed many of her tools – powder puffs, hair clips, brushes and sponges. there were six smaller drawers – three on either side. In these drawers she had little boxes to separate blushes, shadows, pencils and several Revlon lipsticks. She seemed to have every shade imaginable but was partial to Iceblue Pink. When I started wearing makeup, I too wore Iceblue Pink, as well as Almay's One Coat mascara, Almay's makeup remover pads and slate eyeliner pencil (cannot remember the brand).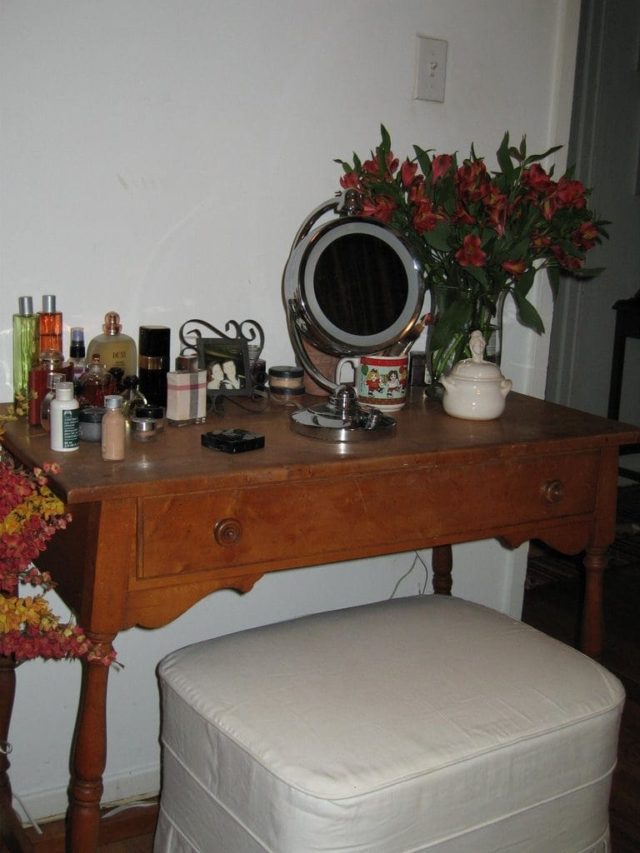 In the sorority house in college, my roommates and I made one of our standard-issue desks into a dressing table. We hung a mirror above the desk and draped scarves from it. We covered the top with our many bottles of perfume and stuffed the two drawers with our crazy collections of cosmetics. Electric green shadow, silver false lashes, and several tubes of Revlon's Coffee Bean and Toast of New York lipsticks. The 90's were about brown lips and neutral eyes, yet when we went out we glammed it up. I kept my makeup brushes in a coffee mug with my sorority letters on it, a gift from my Little Sister.
My bachelorette apartments after college were too small for dressing tables. makeup was kept in a Caboodle, and later a professional-style makeup case complete with shoulder strap and locks. All my shadows, pencils, powders and lip products were organized by color story in their separate little compartments, brushes in the medicine cabinet or on the bureau still in that sorority coffee mug.
When I moved in with my boyfriend/now husband, our house was too small to accommodate all of our furniture, let alone a dressing table. Our bed took up the majority of the room, leaving little space for two nightstands, a chest of drawers for him and a bureau for me. The makeup case went in the bathroom under the sink, the coffee mug of brushes in the cabinet above the toilet.
After six years in this cramped space, I decided to get creative. The bed went against the wall, requiring only one nightstand. This opened up the long wall, giving room for a cedar chest at the foot of the bed and to bring in my husband's childhood desk. At first we considered using the desk as an actual desk, but having a computer in the second bedroom, it would be a tad redundant. I took it over, bought a bench from Target (Shabby Chic collection) and brought all my bottles and pots to the desk.
By transferring to this new dressing table, it gave me a chance to trim down my cosmetics collection. Gone were the electric green eye shadows, the 99% empty foundation bottles from last season, the face shimmer (not the best idea on a person who already glistens in the heat), the lipsticks I bought but never loved, the shedding and cheap brushes, and all the false lashes I bought with the best intentions for a holiday gala or event but never could properly adhere to my lid. I tossed all the perfumes that were years old and only kept the ones I actually wear (or find too beautiful of a bottle to toss). I was amazed that a jam-packed professional makeup case was able to be pared down to two baskets in the lone desk drawer.
I collected my favorite trinkets that have gotten lost in the home – a lacquer box my friend mailed me when she was studying in Japan, a Buddha statue I made in elementary school, a picture of my husband an I when we had just started dating, a porcelain container with a female bust on top – a gift from my sister-in-law and full of little vials of perfume samples. And flowers, fresh flowers were a must. My mom often had a blue vase with some sprigs from the lilac bush outside the back door. My lilac bush is not as mature and fruitful as hers, so I have so settle for grocery-store alstromeria that I change out every other week.
This morning, sitting at my dressing table, applying my foundation, I realized how much I enjoy this ritual, these few minutes every morning where I sit in silence and apply my makeup and fragrance. It's the same type of peace I get when I paint or work on stained glass. Many may find this ritual to be shallow or superficial, but I find it divine.