This article may contain affiliate links; if you click on a shopping link and make a purchase I may receive a commission. As an Amazon Associate, I earn from qualifying purchases. 
I was scrolling through the New Arrivals of beauty at Nordstrom and see… hey I know that bottle of perfume. I know it very well, I wore the heck out of it… several decades ago. Estee Lauder's 'Pleasures' was an Alison mainstay in the '90s and early '00s. Created in 1995, 'Pleasures' was a scent to represent flowers after a rain and I wore it until I replaced it with Burberry 'London' in the late oughts.
'Pleasures' is clearly not a new fragrance, but I have seen with the return of '90s fashion trends there has also been a return of some '90s beauty trends.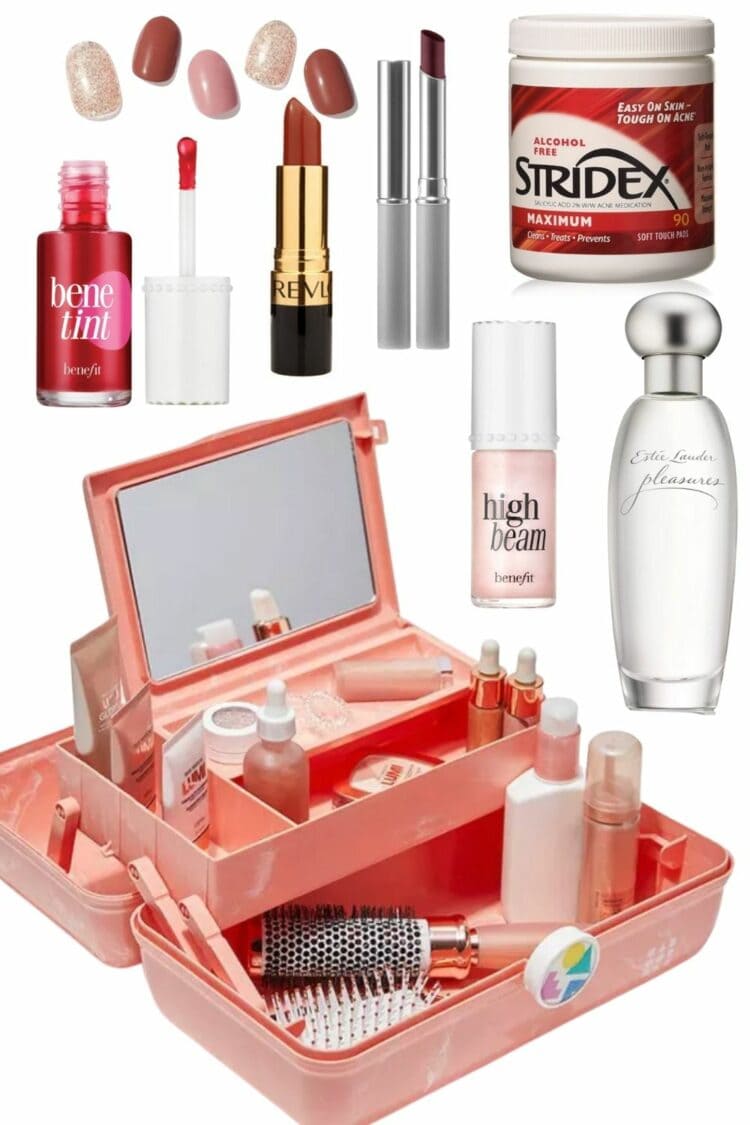 '90s Beauty is Back: Nostalgic Beauty Products to Use Now
It's hard shopping for a tween who isn't into sports, isn't into makeup, isn't into a specific art or craft, no longer plays with dolls and little toys. When searching for Christmas gifts I found that Caboodles are back (or maybe they never left).
Caboodles are plastic storage boxes that are inspired by fishing tackle boxes. They open to offer a variety of little compartments, and while they are promoted to organize beauty products, they are also great for storing hair accessories, jewelry, craft supplies, and much more. I loved my Caboodles, and hoped my kid would as well.
She, like me, didn't use her Caboodle to organize makeup, but all the other little special trinkets in her room. And it reminded me how useful Caboodles are for travel (they snap shut and have a handle), and for keeping a bathroom organized (they're easy to stack in an under-sink cabinet or linen closet and you can choose different colored Caboodles for different products).
Caboodles can organize reusable cotton rounds and face brushes, beauty samples that come with your Sephora orders, manicure and pedicure supplies, the makeup you keep for special occasions, and much more. Who says we need to leave such a handle product in the past with our Bonne Bell lip smackers?
While brown lipstick was hot for several years during the '90s, I remember it most clearly in 1994. I moved into an off-campus apartment with one of my best friends. She worked at Contempo Casuals and scored us to coolest clothes. We'd iron our hair with a clothing iron and we'd choose between Revlon's 'Toast of New York' or 'Coffee Bean' as our lipstick to go with our velvet bodysuits, oversized CK jeans, flannel shirts, and Doc Martens.
Over the past few seasons, brown makeup has returned. The lip is matte, but more like velvet than the '90s over-dry longwear looks. While some of GenZ has gone hardcore into the past with streaks of brown blush and contoured brown shadow, it's possible to revisit this lipstick trend at any age without looking like you're stuck in the past.
Revlon's 'Toast of New York' feels very modern and fresh when paired with a hint of bronzer and defined lashes. And since this is a color that also looks great blotted into a stain, it's a lipcolor that can look great even after taking off your mask.
Seeing this tub of Stridex pads may provide horrific flashbacks from high school trying to battle acne. Hopefully, you have won that battle and moved forward with better skin and better products. But this red box of Stridex pads is pretty fabulous for life beyond acne.
Packed with salicylic acid, the red box of Stridex pads is a secret beauty gamechanger. I learned about their benefits when researching natural deodorants. Many use Stridex pads in place of deodorant; the acids not only kill the bacteria that cause body odor, these pads will also improve your skin by getting rid of ingrown hairs, darkness, and breakouts that plague many people's armpits.
These pads are also great for exfoliating knees and parts of legs that get ingrown hairs or irritation from shaving, for killing foot odor, evening out self-tanner streaks, and much more!
Photo Credit: Estee Lauder
The website describes this perfume as, "the rare essence of baie rose to reflect a modern woman's desire to experience life's little pleasures every day. Created in 1995, pleasures set the trend for uplifting, airy fragrances and introduced the sheer floral fragrance style. Evelyn Lauder created this fragrance to have a sheer, elusive, luminous quality, capturing the clarity of flowers just after a spring rain."
That description makes me wonder why I stopped wearing 'Pleasures.' I think I changed it when I got engaged; I wanted to have a signature scent that I wore on my wedding day and for the rest of time. I was always inspired by my mom who has always worn Chanel No. 5 and it became her signature, something we always purchased as a gift for her on holidays.
It's funny, I wore Burberry 'London' for my wedding, on our honeymoon, and so long I wore it through my pregnancy years later. I stopped wearing it because I got tired of it. I realized I wasn't a signature fragrance sort of person, I like variety, and I like a lot of days with no scent. I need to check out Estee Lauder 'Pleasures' again and see what my 40-something self would now think of it!
Dude, I wore the heck out of some 'Black Honey' in my day. I had one in my car, one at my desk, one in my purse... and they weren't cheap but I knew I couldn't be without.
The color 'Black Honey' was launched by Clinique in 1971, but achieved cult status after 1989 when the color was used for the brand's Almost Lipstick. During a time when makeup was complicated (sounds a bit like today), Clinique's Almost Lipstick was an easy to apply, no mirror needed combo of color and moisture in a balm-like consistency. 'Black Honey' was a transformative color that seemed to work with most any skintone.
Just as it was a literal and figurative balm for a high-intensity time, Clinique's Almost Lipstick in 'Black Honey' is a great choice for our current times. Easy to swipe on, hydrating while offering a hint of color, goes with everything while also looking beautiful on its own... I am tempted to get it again and have one in my car, one at my desk, and one in my purse at the ready to look polished with little effort.
In the '90s, press-on nails were a THING. I can't recall how many times I bought a set swearing they would work, they would look natural, I'd no longer be the girl with the chewed nails but the woman with elegant hands.
And now it's 2021 and after a year without a visit to the nail salon, I am again that kid with the gnawed-on fingers. And social media can tell because it's having ads for Ohora nails following me from Instagram to Facebook to Pinterest.
Unlike the Lee Press-on Nails from our past, Ohora's nails are stretchy semi-cured gel that you stretch over your current nails and use a light to fully cure to glossy (or matte if that's your thing) hardness.
Knowing I am less likely to chew if my nails look pretty and are too tough to bite, I ordered some of these for me and my kid (maybe she'll keep them in her Caboodle). I'll be sure to do a full review once we use them, but I can't help but think of how impressed my '90s self would be with this new nail technology.
I remember getting my first bottle of Benefit's High Beam. I don't recall the year, but I do know I had a MySpace account. High Beam was this pink shimmery liquid and I'd do a bit on my cheek bones and a bit down my nose. A little went a very long way; I don't even think I finished that first bottle because makeup started getting matte and heavier and this just seemed too shiny for the times.
Since then, I have bought illuminating powder, highlight products from eco-friendly and high-end brands, wands and sticks, and tubes of glowy products that essentially are achieving the same thing that High Beam was making happen decades ago.
While the beauty brand Benefit started in 1976, it gained international popularity by starting a catalog in 1989, having a counter at Henri Bendel in 1991, and opening in Harrods in 1997. It makes sense that every beauty lover in the late '90s and early '00s had at least one product by Benefit in their makeup case (or maybe it was a Caboodle!).
With so many confusing products on the market, when I run out of my current illuminating product I may go back to High Beam, which seems to be one of the OGs, achieving that dewy look decades before the rest.
In 1977, an exotic dancer came into the Benefit store and asked for a nipple stain. That began the history of BeneTint, which was first called "Rose Tint" for the dancer. Now available in three different colors (BeneTint is the original rose color, there is also GogoTint and LoveTint), this lip and cheek stain has achieved cult status.
I bought my first bottle of BeneTint around the same time I purchased High Beam; I got them from the Benefit catalog and loved the cheeky whimsical names and packaging.
I never mastered the art of the stain for my lips or cheeks, but did appreciate that during a time when many longwear products tasted and smelled terrible and dried lips out terribly, BeneTint smelled like roses, tasted mild, and didn't leave my lips feeling like sandpaper. Now that I am more skilled with cosmetics and desiring simple "set it and forget it" makeup, it's appealing to try Benefit's cheek and lip stain again.
What do you think of the return of '90s trends, and along with it, some of the beauty products we used back then? Do you plan revisiting? Are there any products you used in the '90s that you still use today?
Shop the Post: