This article may contain affiliate links; if you click on a shopping link and make a purchase I may receive a commission. As an Amazon Associate, I earn from qualifying purchases. 
Reader Allyson asked about my shoe collection. She is trying to figure out what she needs versus what she wants. I am probably the worst person to ask about this for I have an affinity for shoes that match nothing in my wardrobe and will probably cause bunions and hammertoes before I am 40. I like them tall, I like them funky, I like the heels to be spindly…
Anyway, looking at the shoes that get a lot of wear in my collection, I see the not-quite-traditional ones get the most use. The classic black shoes are great in a pinch, but I often find an unexpected neutral like a camel, tan, red or a print like leopard (one with black AND brown in it) seems to work with the majority of the wardrobe.

So here is my collection. You'll see a few I never wear, and will wonder where some have gone (sold, donated or tossed – recently did some gutting of my closet – hello red patent peeptoes and pilgrim shoes). This is my current collection, all seasons combined: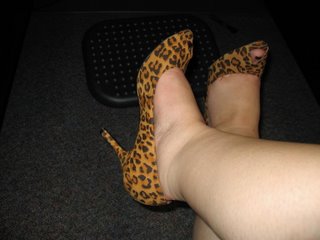 1. Leopard peeptoe heels from BCBGirls. I actually own two pairs because I adore them so much. One pair is a bit scuffed and smelly; the other ones are reserved for more special of occasions. These are fabric, have a 4" heel and make me feel sexy and powerful. I bought the first pair I think late 2006 and then the second pair on sale in spring of 2007.
2. Brown croco peeptoe heels from BCBGirls. Same exact style as the leopard ones. Bought in spring of 2007
3. Black croco peeptoe heels from BCBGirls. Ditto. If you find a pair of shoes that are comfortable AND fit your style, stock up! I bought them the same day I bought them in brown.
4. Black satin peeptoe heels from Enzo Angiolini. Very similar style to the BCBGirls, but a wider opening at the toe, and evening-appropriate. I got these in summer of 2007 to replace my previous black satin dress heels that broke a heel.
5. Black city boots from Impo. These are actually pleather so they look a bit like patent leather. Side-zip ankle boots with a 1" or shorter kitten heel. I bought these in winter of 2006 to replace my 5-year old city boots that were just DONE.
6. Tan leather calf-height boots from Duo. These are the "Bern" style from their website. Very low heel, comfortable casual style. Got these in the fall of 2007.
7. Brown suede tall boots from Silhouettes. 1" kitten heel, pointed toe, slightly slouched/rouched fabric. I must say a pair in purple are en route to my house via eBay – got them for about $20 on there. Yes, PURPLE! The brown ones I received as a gift this winter.
8. Black low-top "Chucks" Converse Chuck Taylor sneakers. I bought these this fall, got them for my husband as well (yes we are the corny couple with matching shoes).
9. Red pointy-toed pumps from Steven. 2" heel, candy apple red and a sale price I couldn't resist. Have had for a couple of years now, got them at Off Broadway Shoes.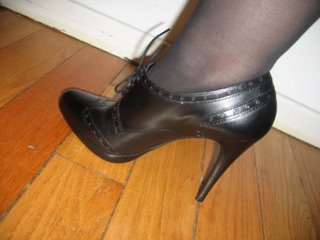 10. Black heeled oxfords from BCBGirls. Super high heel, pointed toe, classic oxford styling. Can go with skirts or pants. Ordered these in the fall but they were backordered and didn't receive until winter.
11. Black ballet flats from Target. A total waste of money. They have no cushioning, no support, no study sole and are pleather so they make my feet sweat. I keep these for emergencies, but have no clue what emergency it would be as that I haven't worn them in months. Bought these in late spring of 2007.
12. Black leather flats from Naturalizer. Very simple style, rounded toe, soft leather, arch support and comfort sole. These were bought for comfort, but are nondescript enough that they work okay for style as well. Bought these in… I think late summer 2006.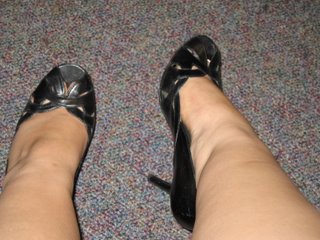 13. Black open-work pumps from Steve Madden. I have had these for years (I beleive it was 2001). Classic pump style, but peeptoe and the front is a lattice-work of leather. I call them my Carmen Miranda heels.
14. Hot pink studded pointy-toe pumps from NYLA. Hot pink, dark metal studs and a dangerous heel. These are a bit scuffed in front (and where can you find hot pink shoe polish?) but still a blast to wear and get tons of comments and compliments. I think I got these in… 2004. Yes, I got them while trying to find shoes for my wedding. I couldn't resist – also from Off Broadway Shoes.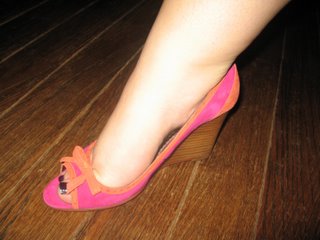 15. Hot pink and orange suede peeptoe wedges from J. Crew. Tall wooden wedge, pink suede with orange trim and tiny bow. Super cute, got end of summer season 2007 so haven't had the chance to wear a lot.
16. Black leather thong-style heels from Target. 1.5" heel, simple. My go-to shoe all summer long. I buy a replacement pair every other year; these were bought in the summer of 2007.
17. Brown stacked flip flops from J. Crew. Have had them since 2004.
18. Black stacked flip flops from J. Crew. Got at the outlet for a song in 2005.
19. Black "Sandy" flip flops from Reef. Replaced my old pair just this summer.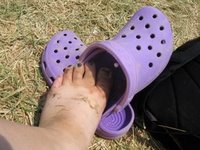 20. Purple Crocs. Only worn in the yard or to as music festival. I promise! I bought them specifically for Bonnaroo this summer.
21. Aqua flip flops from Old Navy. Thin and cheap, but the same color as my bathing suit! I bought them on clearance in 2006.
22. Black crocheted elastic-strap flops from J. Crew. A slightly dressier version of flops, but hardly ever worn because the elastic stretched out and they don't stay too well on my feet. I bought these also on clearance back in 2004… they went with me on my honeymoon!
23. Black leather pointy-toed heeled mules from Steve Madden. Horribly uncomfortable and super tall heels, but make suite a dramatic look with pants so I keep them. But I haven't worn them in years, bought them in 2001.
24. Gray and blue hiking shoes from L.L. Bean. Bought these in 2003.
25. Black and green hybrid shoes from Keen. These have Kevlar lacing, mesh so they can be worn in water, but lots of cushioning and support so they can be worn for long walks. I take them on every vacation. I bought them in 2004 for my honeymoon.
26. Gray and orange sneakers from New Balance. Purely for the gym, the sidewalk, activities. Not the style for street wear. I have had them since the winter of 2005.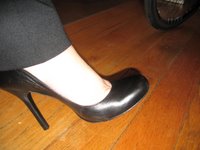 27. Black round-toe "Henri" pumps from Jessica Simpson. They got a bit stretched out this spring so I don't wear as often because they aren't as comfortable as before. However they are perfect for fuller skirts and more retro of styles. I bought them in… I think spring of 2006.
28. Purple satin strappy heels with rosette. 4" heel, delicate straps and a fabric rose on the strap over the toes. Very fun and quirky; I usually wear them with a non-purple dress. I bought these in 2004.
29. Black and silver strappy heels from Nine West. 4" heels, delicate straps and a rhinestone buckle on the strap over the toes. Have had these for about a decade and adore them. Remarkably comfortable as well. I remember buying them at the Nine West store in White Flint when I managed that Express store so we're talking… 1998?
30. Purple Birkenstocks. Yep, I have a pair. Haven't been worn since… I guess the early 90s but I hold on to them because I did adore them so and they ARE comfortable!
31. Beige satin strappy heels. 3" heel tiny bow at foot, very delicate. Considered them as wedding shoes (my dress was ivory) but went with hot pink instead (come on, you must expect that from me by now). Very subtle style that works with any color of dress and are great for summer affairs. Have had since early 2004.
As for where I store my shoes – I have a canvas over the door contraption in my office that holds the majority of the heels. On the floor of the office closet are sturdier shoes like my boots, ballet flats and sneakers. Outside on our deck is a large Rubbermaid box. In there are my slip flops and Crocs. In my bedroom closet I have shoe boxes on the floor that hold my strappy heels/evening shoes so they won't get dusty. The shoes I wear daily (like my Chucks and city boots) end up next to the front door and when they are out of rotation, they go back into the office.
UPDATE: I added the dates I bought these shoes because I wanted you to know I don't buy a whole new shoe wardrobe each season. Yes, shoes break and get stinky and stretch out and get scuffed, but many can last season after season if they are a more classic cut (or an really unexpected style that doesn't follow a specific fad). My pink pointy heels garner just as many compliments now as they did three years ago because they are so unexpected. When I buy my city boots, I usually get a half a decade worth of wear with proper care and maintenance because they are a very simple, streamlined style that works well with pants as well as jeans.