This article may contain affiliate links; if you click on a shopping link and make a purchase I may receive a commission. As an Amazon Associate, I earn from qualifying purchases. 
For full details on the weekend (where I stayed, where I ate, what diapers I put on my daughter's butt) you can read my recap on my baby blog, Me & Emerson Elaine.  Here, I will recap the wardrobe!
I was a bad style blogger – I didn't take any pictures of me in my outfits.  When it's three adult women and one toddler in a single hotel room, the last thing you're thinking about is capturing a picture of your outfit.  However I did get some pictures at different places so you can get the idea…
On the way down I was all about comfort.  I wore my black matte jersey sleeveless dress from Ann Taylor with my green cardigan from Lands End.  Black Reef flip flops and my black coral necklace and minimal makeup.  I was as comfortable as if I were wearing pajamas yet looked pulled together enough to not be embarrassed when we stopped for lunch or checked into the hotel.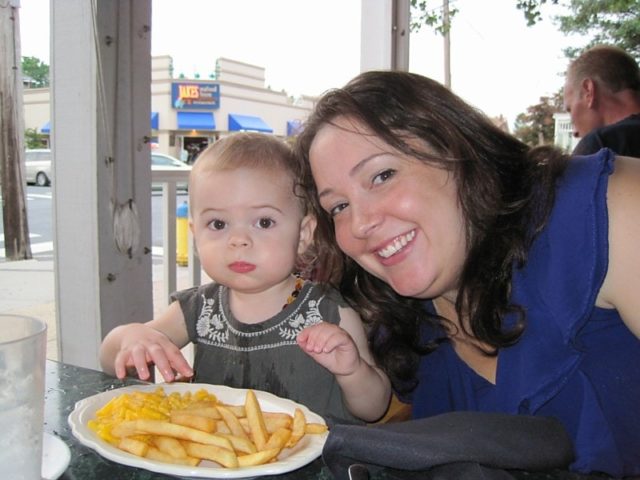 Totally not the best picture of either of us, but you can at least see the top of my dress…
For dinner that night, I wore what I now call My Lilith Fair Dress – purple dress from Gap, the purple belt from Old Navy, and on my feet I wore my brown croco sandals from Sofft.  Rehoboth is pretty varied when it comes to fashion – on the boardwalk it's lots of denim and logoed tees, but  if you head into the outlining streets for cuisine, nightlife or shopping, a sundress is more appropriate.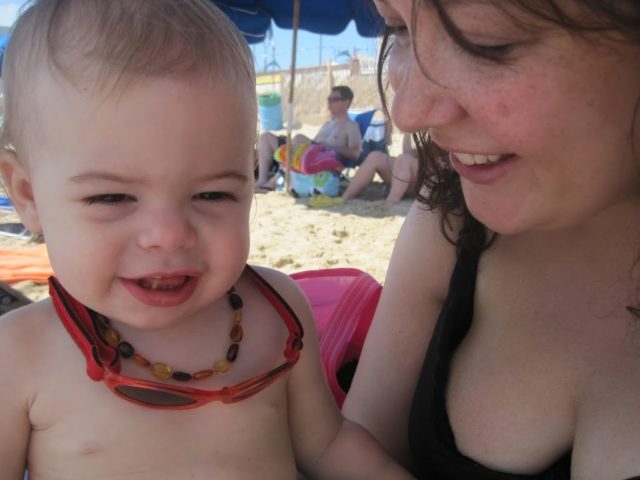 Hello boobies! But a cute mama/baby picture…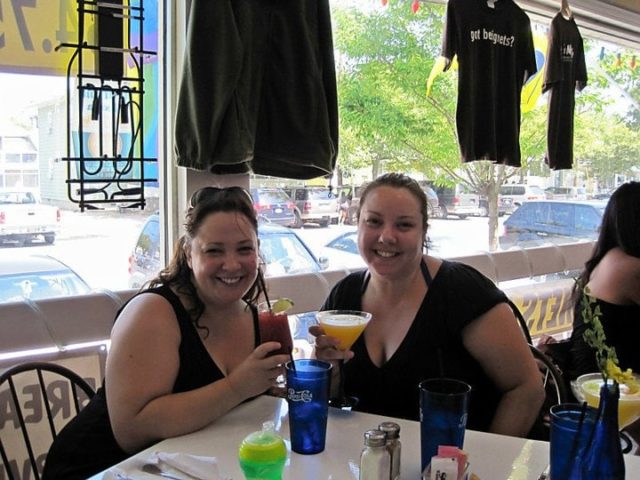 Why a dress is a great coverup – so you can drink cocktails in comfort and style!
The next day, we headed to the beach.  My old MiracleSuit from last summer is now too big, but my old J. Crew suit though it fits, surely doesn't do enough lifting and sucking to look good.  I couldn't find any control suits that were kind to my boobs so I figured since I wouldn't probably be wet a lot, I would stick with my old suit this summer.  Heading to the beach, I put the black dress from Friday on as a coverup, and again wore my black Reef flip flops.  For sunglasses on this trip, I took my Celine black shades that I got on my trip to Miami.
I really like wearing an actual dress as a coverup – when you head into a shop or restaurant you don't look a mess, and shorts will always leave you with a bit dark wet spot on your butt.  And really, if you have a simple stretchy sundress already in your wardrobe, why spend on a separate beach coverup that will only be worn a handful of times?  It's something I call Honeymoon Attire – things you can only wear at resorts you visit on your honeymoon.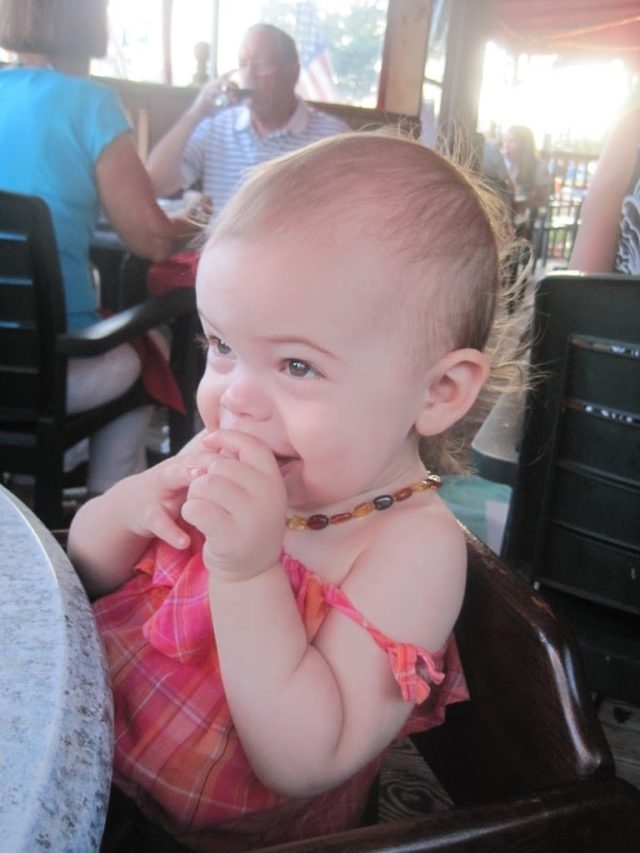 Nope, this isn't my outfit.  No pic, but I think this is a cute pic of Emerson from the same evening…
After the beach, we did a bit of shopping and went to dinner.  I wore my brown and blue print dress from Ann Taylor LOFT with the brown vintage belt, and again my Sofft sandals.
My hair LOVED the soft water in Rehoboth – no product needed, it dried great with some wave and no frizz.  I wish I had such water back home!
And the reason no pictures so far this week?
I thought I broke 4 toes in my right foot from falling down some stairs at Rehoboth.  Went to the podiatrist on Monday and they are just badly bruised.
But because of that my footwear is utterly heinous.  We're talking New Balances worn to the office.
Monday was cute (striped Ann Taylor scoop tee and white pants) but the shoes just made me sad
Yesterday I had to be at work early early early.  Outfit was cute (gray Banana Republic pima tank, leopard cardi and black pencil skirt from Ann Taylor) but the black flip flops killed it
Today it's raining cats and dogs in DC so I am wearing my Duo boots with my dark skinny jeans from NYDJ and my old plum sweater tunic from LOFT.  Not bad, but not inspiring.  And it was dark and early and raining when I left this AM so no hubby to take my pic
Excuses, excuses.  Hope to be back to posting on tomorrow!