This article may contain affiliate links; if you click on a shopping link and make a purchase I may receive a commission. As an Amazon Associate, I earn from qualifying purchases.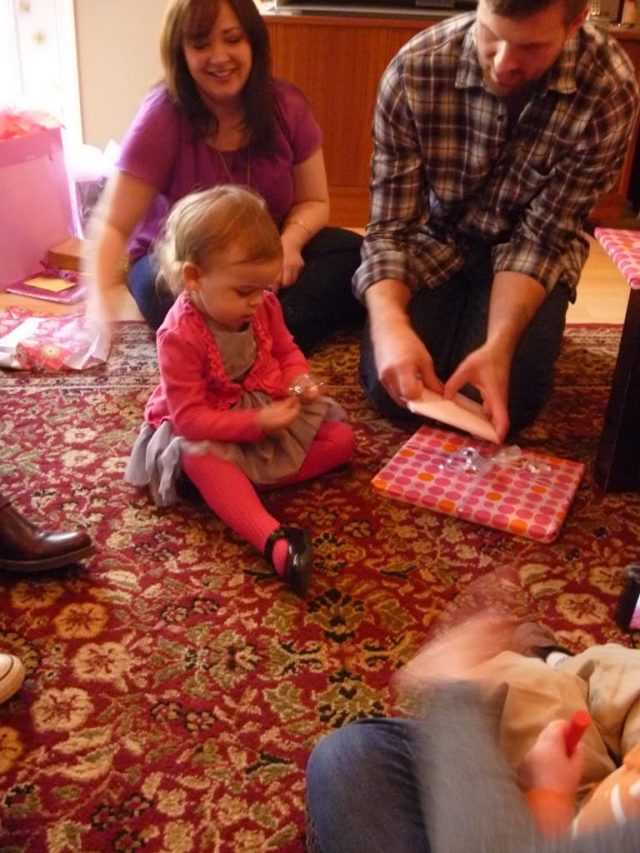 I went to visit my sister's blog and saw this picture. As that I didn't get an outfit picture yesterday, I figured I would share this.
Orchid chiffon layer top – Ann Taylor LOFT (last seen here)
Jeans – Not Your Daughter's Jeans

Necklace and bracelets – Ann Taylor (no longer available)
Husband and daughter are being spokesmodels for The Gap – I think both of them are wearing complete outfits from Gap (except E's shoes, which are Stride Rite via eBay – parents, don't buy shoes full price. There's TONS of kiddie shoes on eBay in new or like-new condition for much much less!).
At E's first birthday, I made a big mistake by wearing a sweater and tank. Running around after a little person, being the Hostess with the Mostess, refilling the food table… well after 30 minutes I was a sweaty, overheated mess and had to run upstairs to change. This year I started off smart with a short-sleeved top. I knew E was wearing pink and gray, so I decided to wear something that wouldn't contrast with it, and thought a solid color would be best so she would be the focus of any photographs that I ended up in. I love this top and haven't found it an easy piece to make winter-appropriate. The ruffles are cool, but look strange with a jacket or cardigan. This gave me a chance to rock it again before it gets too big (wishful thinking!!!).
E's party was pretty fun. We tried to keep it small – mainly family and only a couple of friends who are like family. That being said since we have so much family in the area, we had over 20 folks and six little ones under the age of five! FYI, if you have an open floor plan and hardwood floors and five children between two and five years of age… it ends up being a very noisy party! However, it made me happy we did the remodel because there was so much room for adults to chit-chat, and kids to run and play. My sister has a great post about the food and decor from the party – we did a book theme. I didn't decorate a ton, just used some of E's library and some wooden alphabet blocks for color.
We had a very simple menu since the party started at 2:00 – cake (made by my sister – it was fabulous!), Rice Krispie treats made with M&Ms, chips & dip, veggies & dip, various fruit, Crock Pot mac & cheese (a Paula Deen recipe adjusted with lower-fat ingredients and no eggs), and little PB&J and ham and cheese sandwiches cut into the shape of hearts. We also took a big bowl and filled it with ice and then juice boxes – thought it was a fun little spin on a bucked of beers. 😉 We also had a pitcher of lemonade with lemon slices floating in it. Of course to make a kid's party doable for the adults, plenty of beer, wine and leftover spirits from New Years!