This article may contain affiliate links; if you click on a shopping link and make a purchase I may receive a commission. As an Amazon Associate, I earn from qualifying purchases.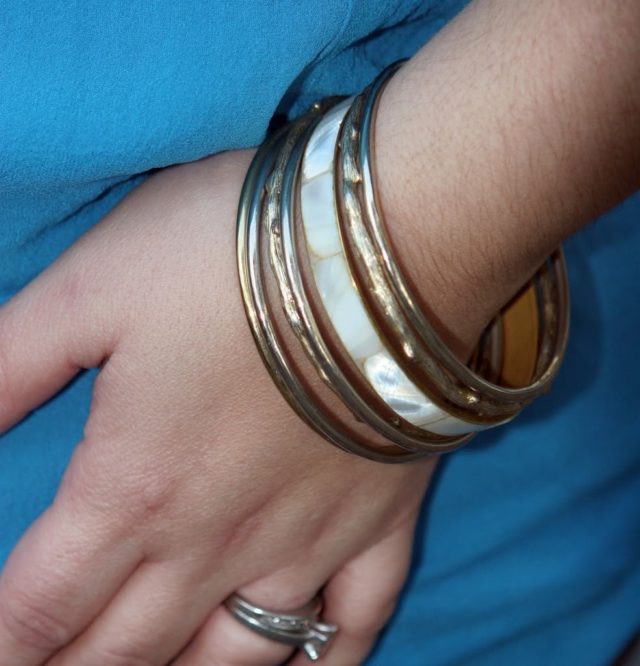 Blouse – c/o Ann Taylor (it's back in stock in the stores!)
Jeans – NYDJ
Shoes – Cole Haan
Necklace – Ann Taylor (similar)
Bracelets – Ann Taylor, Lauren by Ralph Lauren, from a clothing swap
Today half my team is out of the office – makes for a quiet yet productive day of work!
So if you follow me on Twitter you know I am on the hunt for new winter coats – last year's coats are far too big on me. I figured I could keep my Lands End parka for snow and such, but wanted a nicer coat for work that flattered this new figure. This morning I was digging in the much-ignored office closet for the box of gloves and scarves… and saw a wool coat in the back. This closet has all my father-in-law's coats that we inherited, my dress coat, my husband's Navy uniforms… and some clothes of mine from my past that I have held on to. And one is this wool peacoat from Calvin Klein! I bought this coat at TJ Maxx when I was in college – I remember putting it on layaway because even at TJ Maxx it was over $100. Well this baby fits again! It is missing a couple of buttons, but I figure I can purchase all new buttons so they are all the same. And on a day like today, I need a coat but I don't necessarily need to button it up. Score!
I know I have mentioned my photo shoot process to you all before – put Emerson in her carseat, then take about a dozen photos with my husband, he hands me the memory card and we dash off to the Metro to get me to work. Not until my lunch hour do I even see the pictures. Most are great… and some are a bit ridiculous:
Come on, don't we all have to hike up the jeans once in a while?
This weekend should be pretty fun – tonight after work we're doing pumpkin carving with Emerson in the town center. Tomorrow we have swim lessons and there's a pumpkin walk in town – they take the carved pumpkins, light them and put them along a path through the woods. On Sunday is a relative's son's baptism and celebration after. Then my husband and I are going to see Battles at 9:30 Club! What are your plans for the weekend?
Follow Me | Twitter | Facebook