This article may contain affiliate links; if you click on a shopping link and make a purchase I may receive a commission. As an Amazon Associate, I earn from qualifying purchases. 
Black sheath dress – Mossimo for Target (no longer available)
Gray tights – Spanx Tight-end Tights
Black booties – Miss Sixty "Jaiden"
Necklace – Ann Taylor (no longer available – couple years old)
So after Southern Belle's recent rave about MoroccanOil
, I decided to take the plunge. I had $10 worth of Amazon Gift Cards thanks to Swagbucks, and found a $17 bottle at Amazon
that had free shipping. It arrived this weekend. I was ready for some "Kardashian Hair" thanks to what so many people find to be a miracle product for hair.
This morning I washed and conditioned as usual and added a small amount of MoroccanOil
to my damp hair. I then ended up running downstairs to switch the laundry, let out the dogs, eat some oatmeal and my hair ended up air drying sans any other product or even scrunching. This is the result (touched up in some places with a curling iron). I am not impressed so far. My hair does feel softer, but I find the scent to be a bit overpowering (I don't like to smell like anything except Burberry London
and clean skin) and my hair didn't act much differently. However I plan to take this MoroccanOil
through a whole battery of tests – straightening, soft waves, next day, with product, etc. I will keep you posted through the process and see if this product lives up to the hype.
This weekend was nice – Saturday we headed to Annapolis to see my friend A and her twin babies. So sweet and cute! Emerson was impressed by the babies, but more impressed with their swings and Jumperoo
(and the family cats). We then went to a local pub for half-price seafood appetizers (yum steamed shrimp with lots of Old Bay
) and some frosty cold beer. Sunday, my sister came over for dinner and to watch the Grammy's and chat about red carpet fashion.
I am not one to do award show fashion recaps – in this day and age where everyone has a stylist and entire fashion entourage, I find it a bit boring and not a true indication of a celeb's personal style. However I do have to snark on one person – Jennifer Hudson. I LOVE me some Jennifer Hudson, and as a fellow Weight Watcher I find her transformation inspiring. However on the red carpet Jennifer rocked a Versace dress… with a visible bra.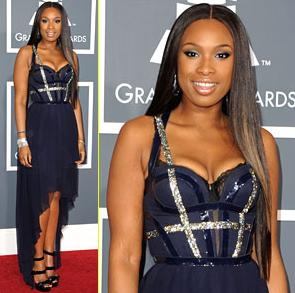 I think it's plenty clear that the bra was NOT part of the ensemble. I didn't understand why she wasn't just sewn into the dress, removing the need for undergarments – that was until I saw her outfit for the Aretha tribute.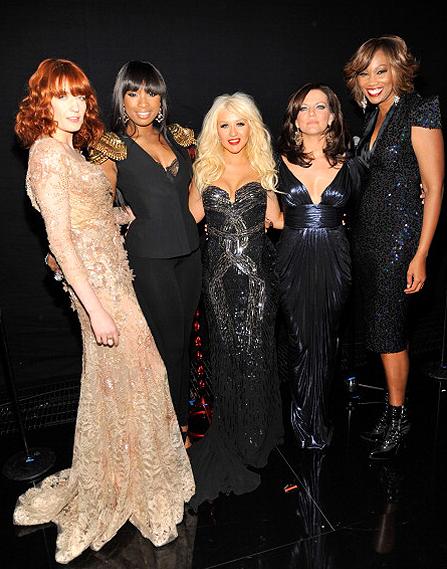 A very purposeful look that included a visible bra. Really Jennifer? You could just don that bra along with the rest of the ensemble before the performance? Was the bra so difficult to change into backstage? (I see Nick Verreos agrees with me)