This article may contain affiliate links; if you click on a shopping link and make a purchase I may receive a commission. As an Amazon Associate, I earn from qualifying purchases.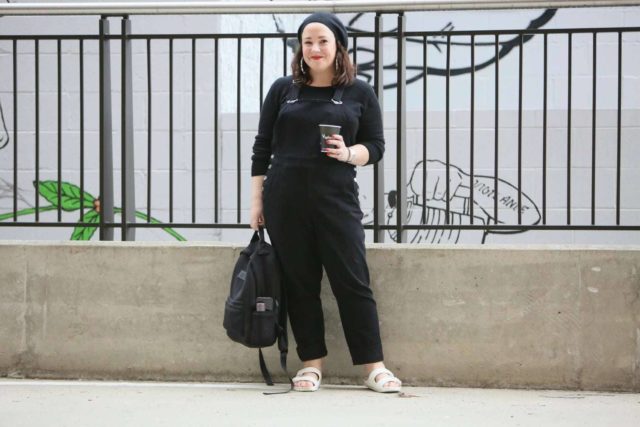 Women, if you want a pair of overalls, get thee some overalls! So many of you email me and leave comments worrying about figure flattery in regard to overalls. Will you look like a toddler, a Weeble Wobble, a try-hard? Can you REALLY wear overalls? Let's be honest for a second. Do you really think you look svelte, chic, and stylish in those jeggings, beat-up suede ankle booties, and long cardigan? How about that activewear that doesn't see a single minute in a gym? I say when you're dressing to work from home, be at home, or run errands about town… wear what makes you happy! If jeggings and tunics make you happy, by all means, rock them. As for athleisure, I too am a fan. But if you've been thinking about something outside your uniform I am giving you permission to try it. Hello, my name is Alison and I am an overalls enabler.  Here I am wearing overalls from Universal Standard.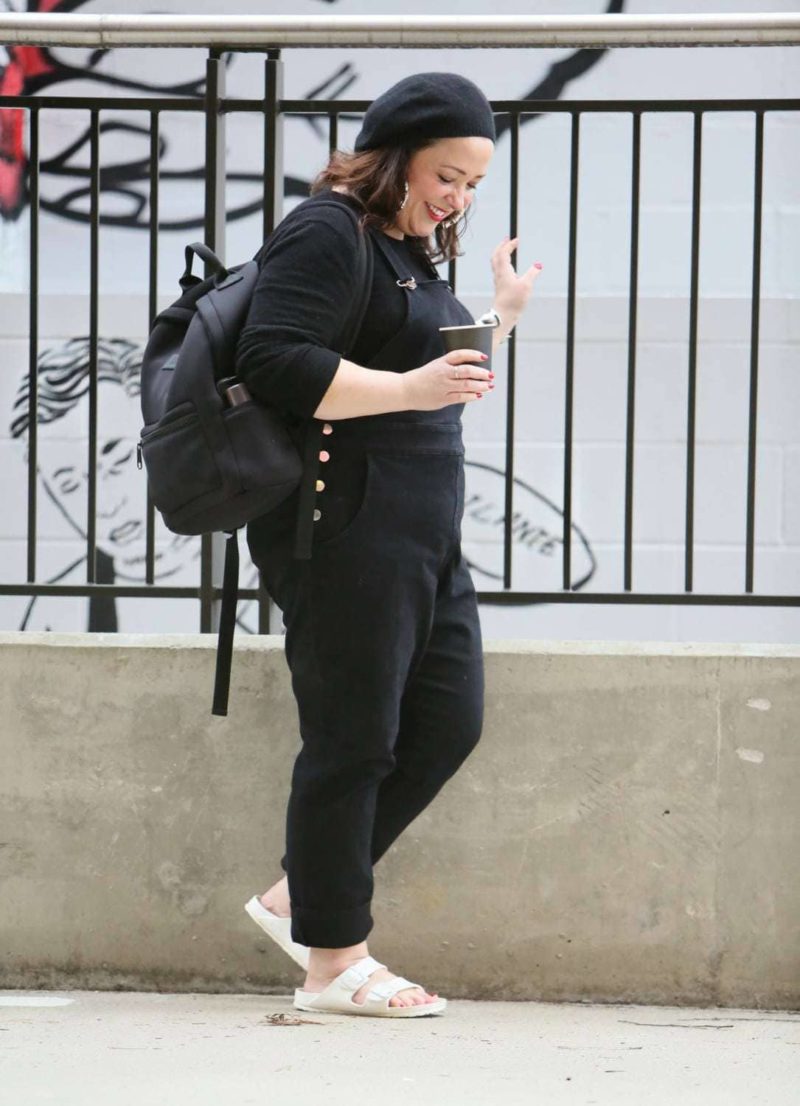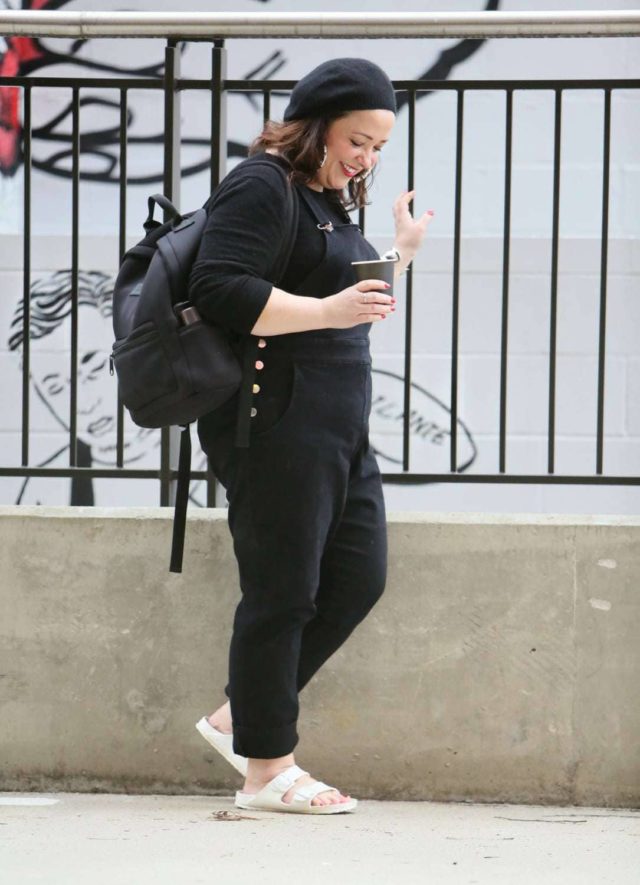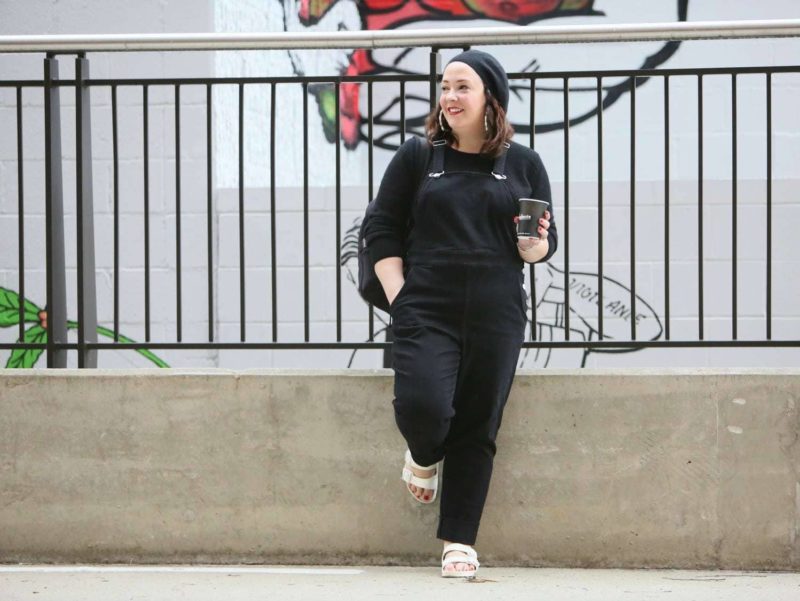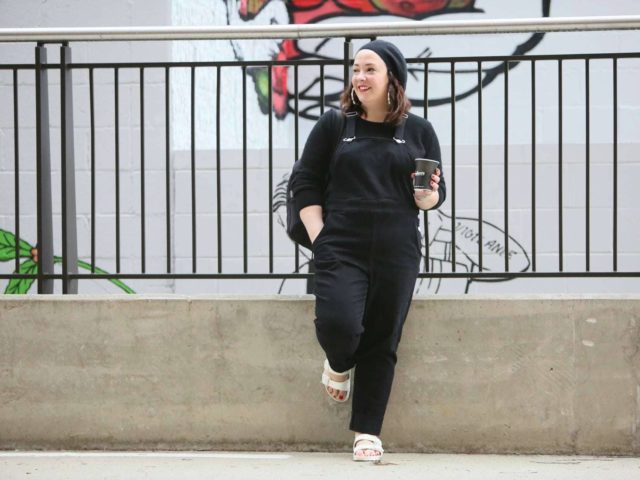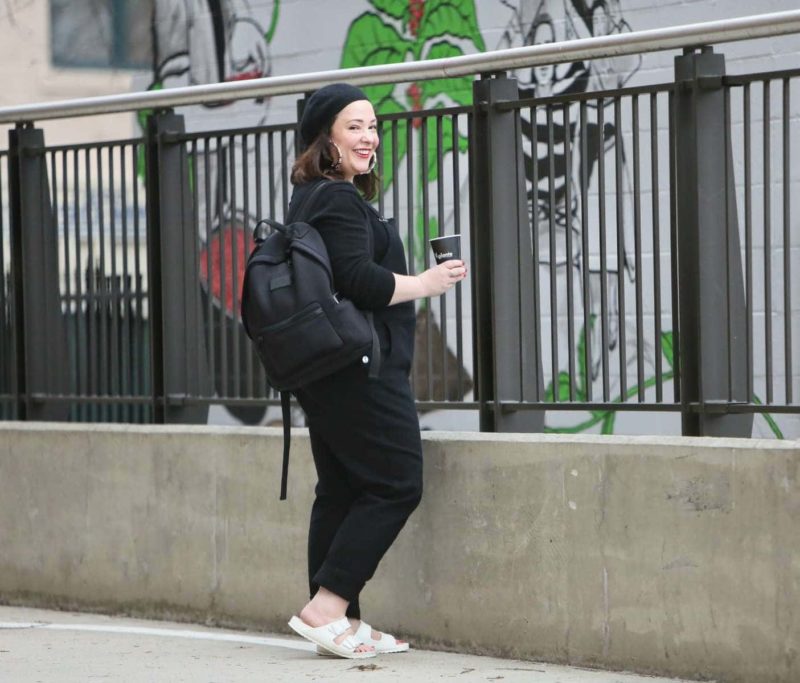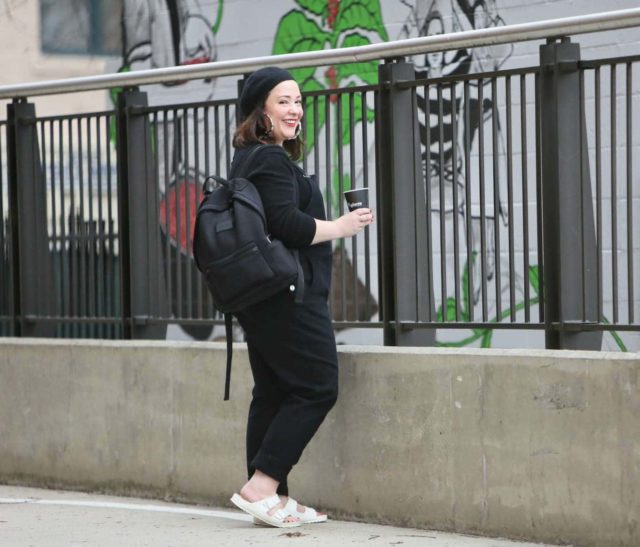 Overalls: Universal Standard (S) | Cashmere sweater: Nordstrom Collection (similar and in a nice range of sizes) | Cashmere beanie: Halogen (similar) | Shoes: Birkenstocks | Earrings: Found at a beauty supply store (same) | Bracelet: Had forever (budget-friendly option) | Backpack: Dakota c/o Dagne Dover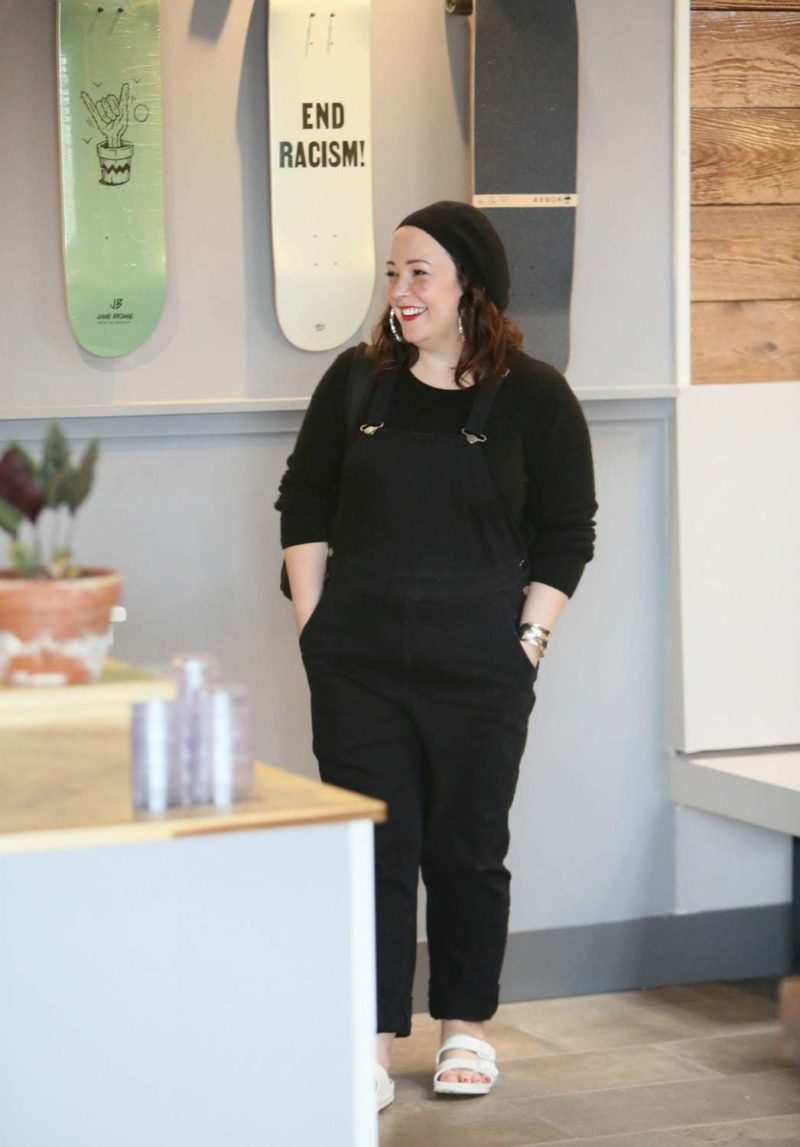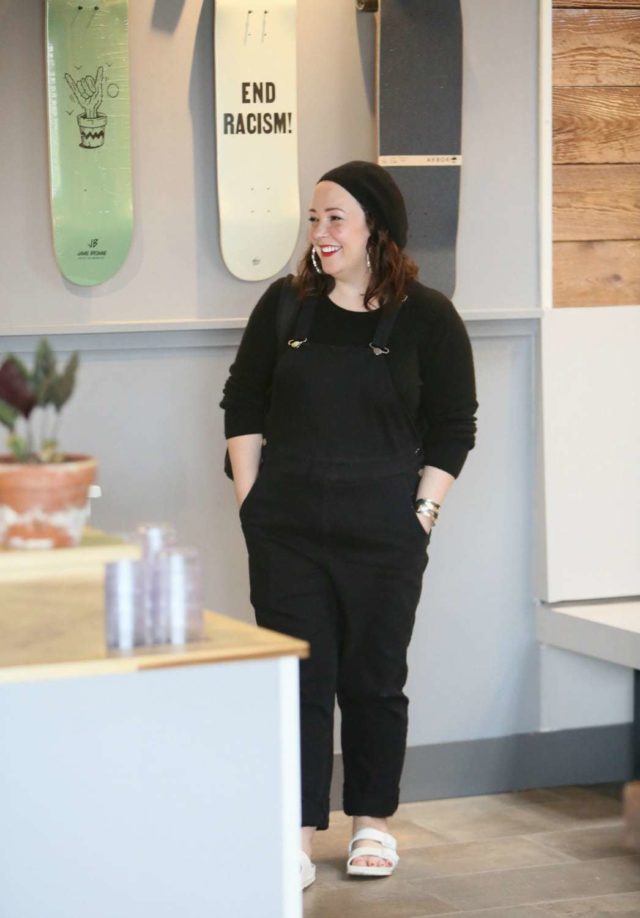 I now own three pairs of overalls. I have a pair from American Rag that came in a Gwynnie Bee delivery and I loved so much I decided to buy them (seen on Instagram). I then got these Universal Standard overalls; you've seen them on the blog before with muddy boots and a sweater, and with a striped tee and engineer boots. These have been washed and dried dozens of times and they are still a rich saturated black and look like new (this is my experience with everything from Universal Standard). My current favorite way to wear these overalls is like this – with a black cashmere crewneck, cuffed a bit short, paired with a pair of slip-on shoes. My feet don't get cold; actually the opposite so these EVA Birkenstocks are a fave now that the weather isn't sub-zero and are always sitting in my house right at the door ready to slide on and head out. I loved these two pairs of overalls so much, I recently acquired my third pair from Carhartt (reviewed here, and seen here on Instagram). I wear all of them weekly. Overalls are my favorite work from home attire.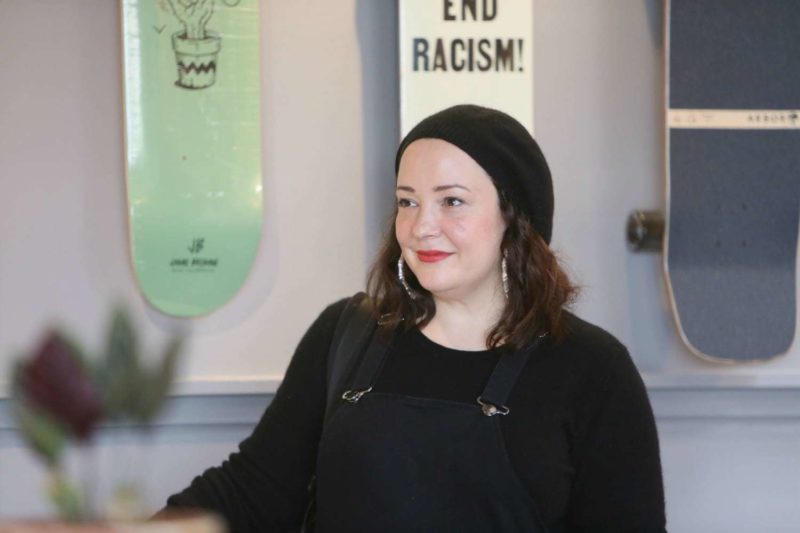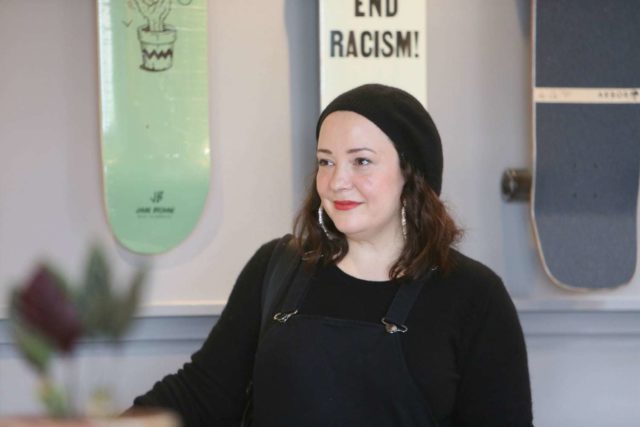 As for the hat… well as I mentioned in my work from home capsule wardrobe, hats are a must when you work from home. They hide bedhead, gym hair, that third-day funk, and roots that will be covered by my stylist this Thursday (totally hypothetical, I am perfect 24/7 and never have roots). I am a silver jewelry girl so I throw some on to feel polished, but overalls make such a statement accessories aren't really necessary.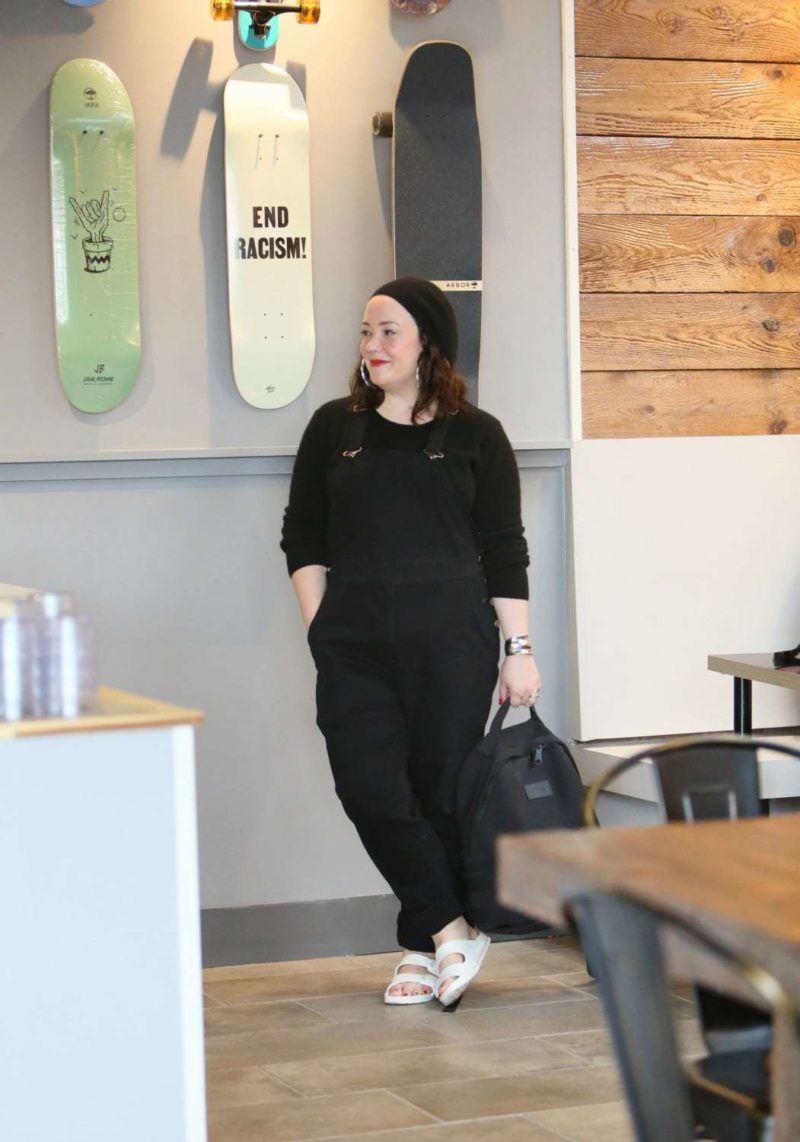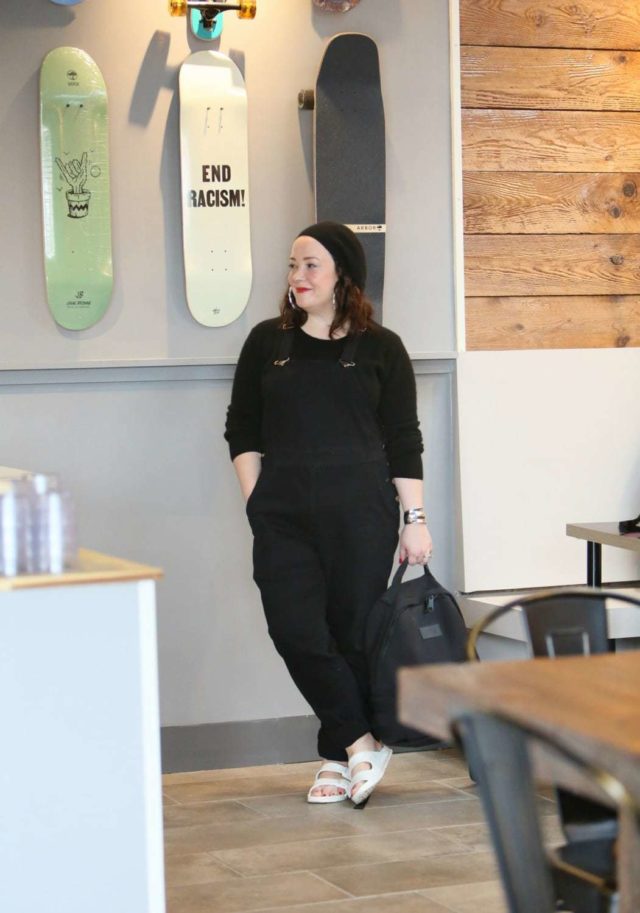 The same goes for makeup. This is my daily face – Dr. Jart's Cicapair in place of any foundation, a bit of Becca Under Eye Brightener covered with Glossier concealer, my favorite tubing mascaras (Almay on top, Blinc on the lower lashes), and my go-to red lipstick. Oh, and brows. I always fill in my brows. But the face only takes a couple minutes, holds up all day so I don't need to reapply if I have an afternoon meeting. Putting on my face each morning makes me feel ready for the day, just as it did when I applied makeup for a day at the office. When you work from home, it's the little things that help you find a schedule, stay on track, and be motivated.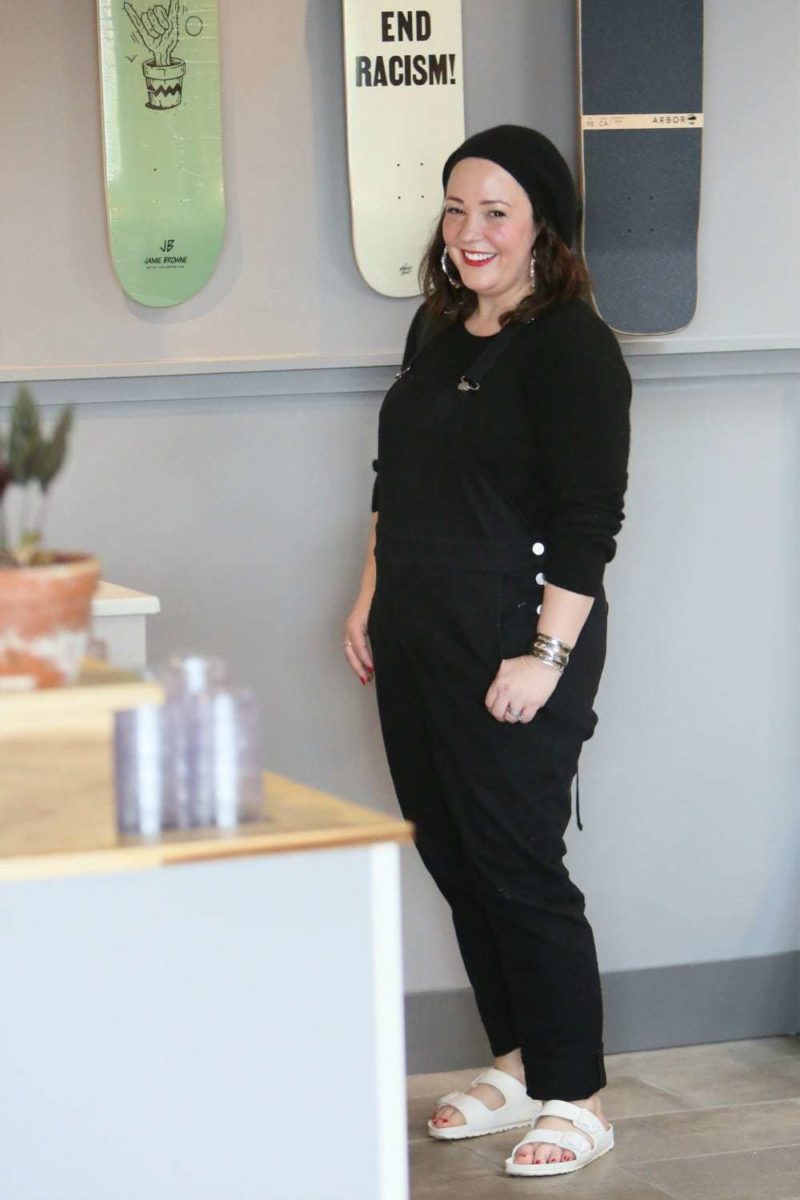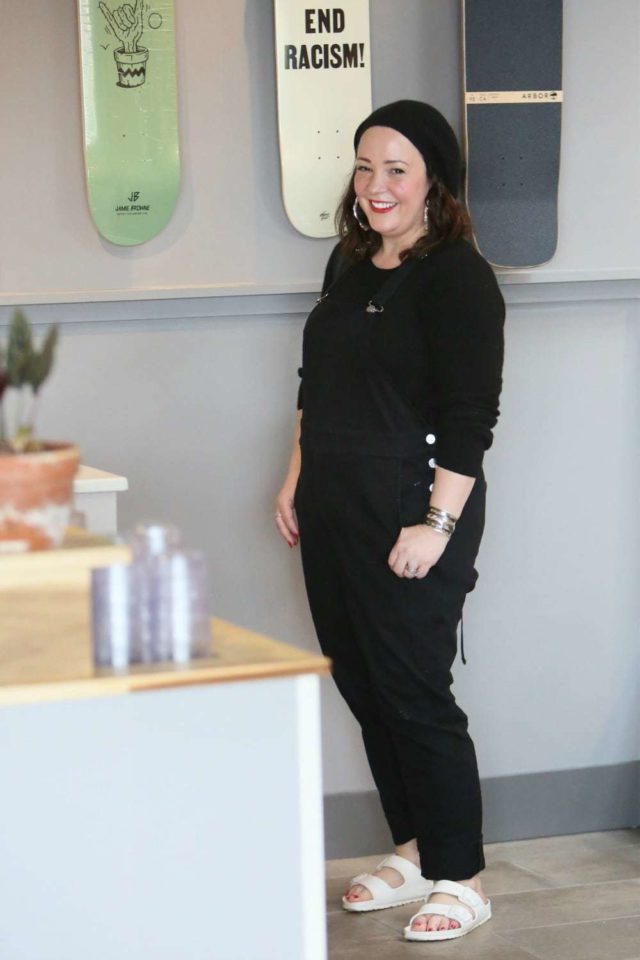 But that doesn't mean you need to wear a suit. I'm clearly all about the overalls, in the house and when out and about.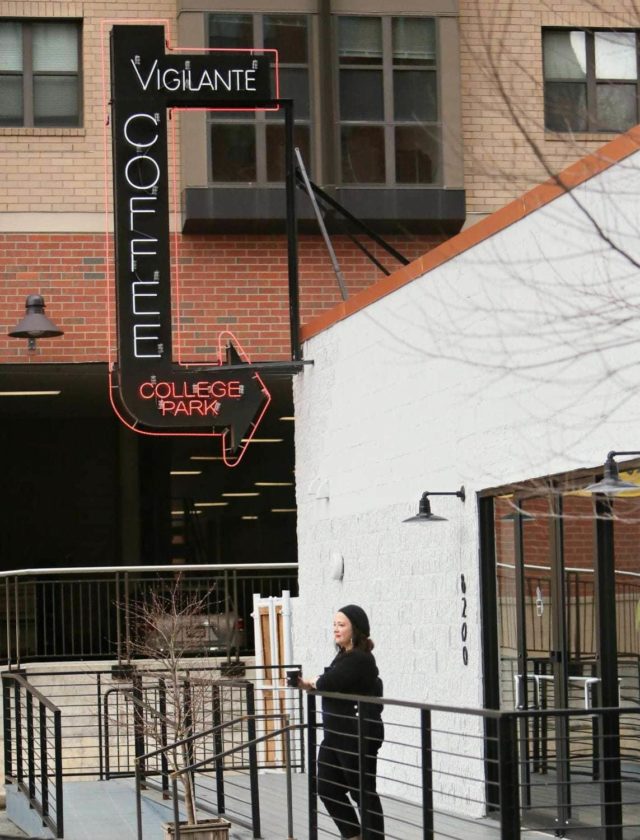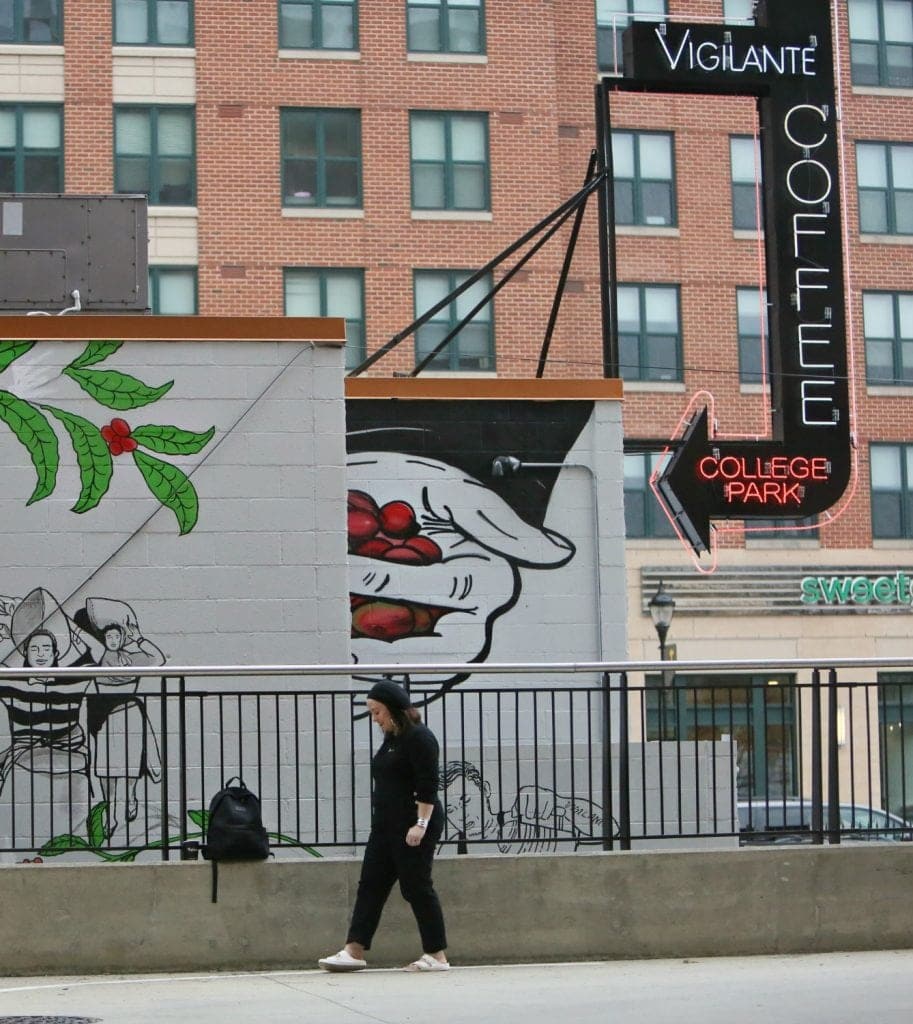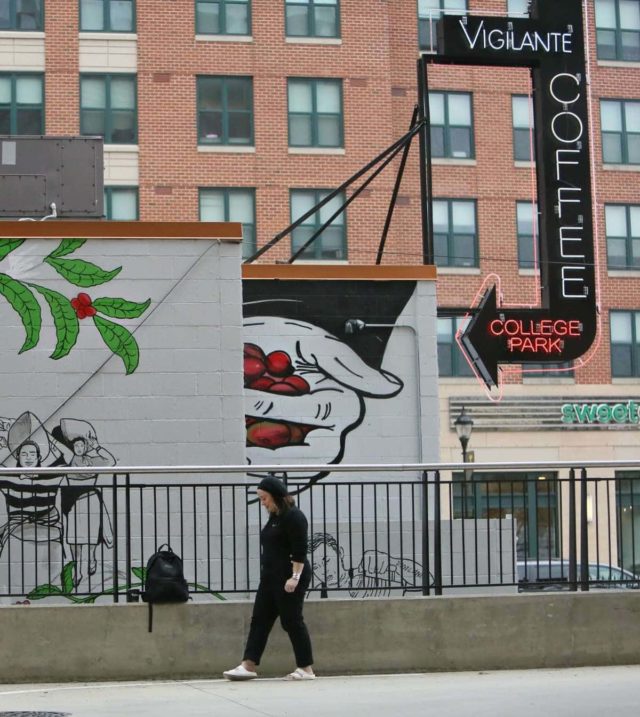 These photos were taken at the new Vigilante Coffee in College Park, Maryland. When I went to the University of Maryland, this building was the liquor store in town with a drive-up window. Nearby was a weird McDonald's where the window was on the wrong side, and some other sketchy establishments. Now, all of those buildings have been torn down and replaced with tall apartment buildings with restaurants and shops on the main floor. Vigilante College Park is tucked away between them all, a little oasis (with a little free parking lot for paying customers!). the interior is small, but well designed to maximize space. Blue tile and wood accented with plants and their signature skateboard decks makes it a charming place to grab a cup of coffee with a friend, or telework for a little while.
SaveSave
SaveSaveSaveSave