This article may contain affiliate links; if you click on a shopping link and make a purchase I may receive a commission. As an Amazon Associate, I earn from qualifying purchases. 
Black 3/4 sleeve shift dress – Mossimo for Target (no longer available – similar idea)
Black tights – Nordstrom
XL paisley scarf – H&M (no longer available)
Black leather booties – Miss Sixty "Jaiden"
Silver cuff
I am so glad I bought this scarf. For a year I had it and never wore it because it was such a crazy size (perfectly square and could be a tablecloth, it's so large). Due to being square it didn't make a good pareo, it's too large to make into a halter top, and not big enough to make into a dress. However over the past year I have gotten pretty creative with it, making it a cummerbund, wearing simple draped handkerchief-style, or knotting in different ways. Some of the best accessories come from the least-expected places!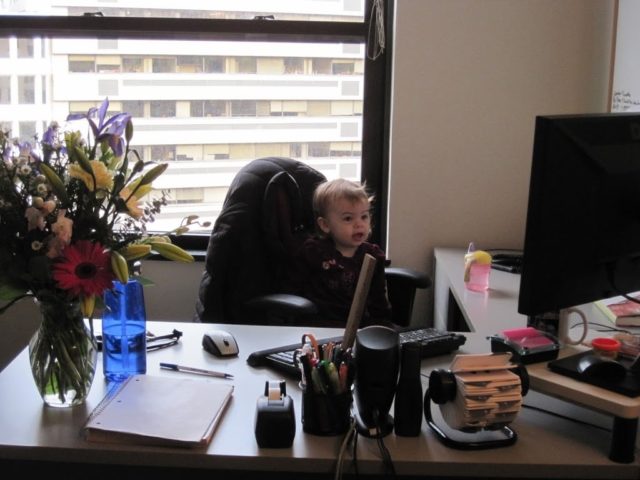 Friday was Bring Your Emerson to Work Day – and yes, I still use a Rolodex!
My birthday was pretty swell. Friday, my husband and Emerson stopped by my office, right at the time that my team surprised me with Georgetown Cupcakes. He also brought me the lovely flowers on my desk. Left work early with my family, and we stopped by Franklin's for an early dinner. Went to bed EARLY on Friday – seriously, I was tucked in bed with my book
by 9pm! How decadent!
Saturday my mom, and sister went with us for lunch – sushi! Yum! My husband and I got all silly and got one of those boats of sushi and a bottle of warm sake and it was utterly delish. The rest of the day was pretty chill – my sister came over, we watched The Town
, my husband made homemade chicken noodle soup.
Sunday, I went to breakfast at a local diner with four of my very good girl friends. After we got all suburban and went to Target and Marshall's and JoAnn's. Maybe it's my age, maybe it's my busy schedule, but I couldn't think of anything more fun to do on a Sunday than roam around Tarjay with my friends, chatting about shower curtains and Easter dresses for Emerson. The rest of the day was pretty relaxing – got to read, do some writing, hang out with Emerson, and my husband made his Buffalo Crock Pot chicken for dinner.
How was everyone else's weekend? Do anything exciting?