This article may contain affiliate links; if you click on a shopping link and make a purchase I may receive a commission. As an Amazon Associate, I earn from qualifying purchases.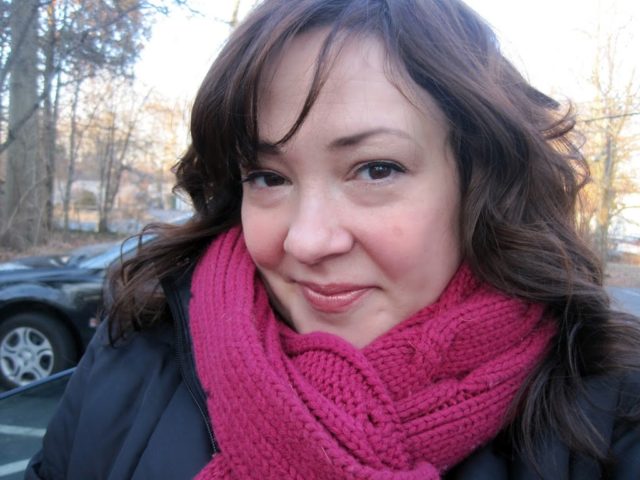 Black matte jersey dress with peacock feather print – Muse (purchased in 2009)
Black tights – Nordstrom
Black leather booties – Miss Sixty "Jaiden"
Brushed gold necklace and bangle – Ann Taylor (purchased several years ago)
Berry cable-knit scarf – Ann Taylor LOFT (last year – also have matching beanie)
Black quilted coat – Lands End (no longer available)
I love how the sun shining on my face makes me look as though I have a tan!  Aaah, the days when the sun is warm and the thermometer doesn't say TEN DEGREES!
I remember wearing this dress last December to my sister's annual holiday party and she pulling me aside to tell me that when I raised my hands you could see the seam of the control top on my tights.  Ack!  Now due to my new size, I can raise BOTH HANDS and not flash anything.  Funny how a few pounds can change not only the waistband of your favorite jeans but the total length and silhouette of each garment in your closet.  It seems each weekend I have to re-assess my wardrobe and decide what fits, what flatters, what to take off the hangers and sell/donate, and what to hold off on thinking it may work in a few weeks.  I am really looking forward to warmer weather and playing with my spring wardrobe!
The hair is really growing on me – I washed it last night, let it air dry for most of the head and just dried the bangs straight.  This morning I took random large sections of my hair and put it in the curling iron, let it cool and finger-combed
Speaking of spring wardrobe, my newest article at Savings.com is up and it's about my favorite trends for Spring 2011 – trends that any woman can incorporate into her current wardrobe.  Check it out!