This article may contain affiliate links; if you click on a shopping link and make a purchase I may receive a commission. As an Amazon Associate, I earn from qualifying purchases.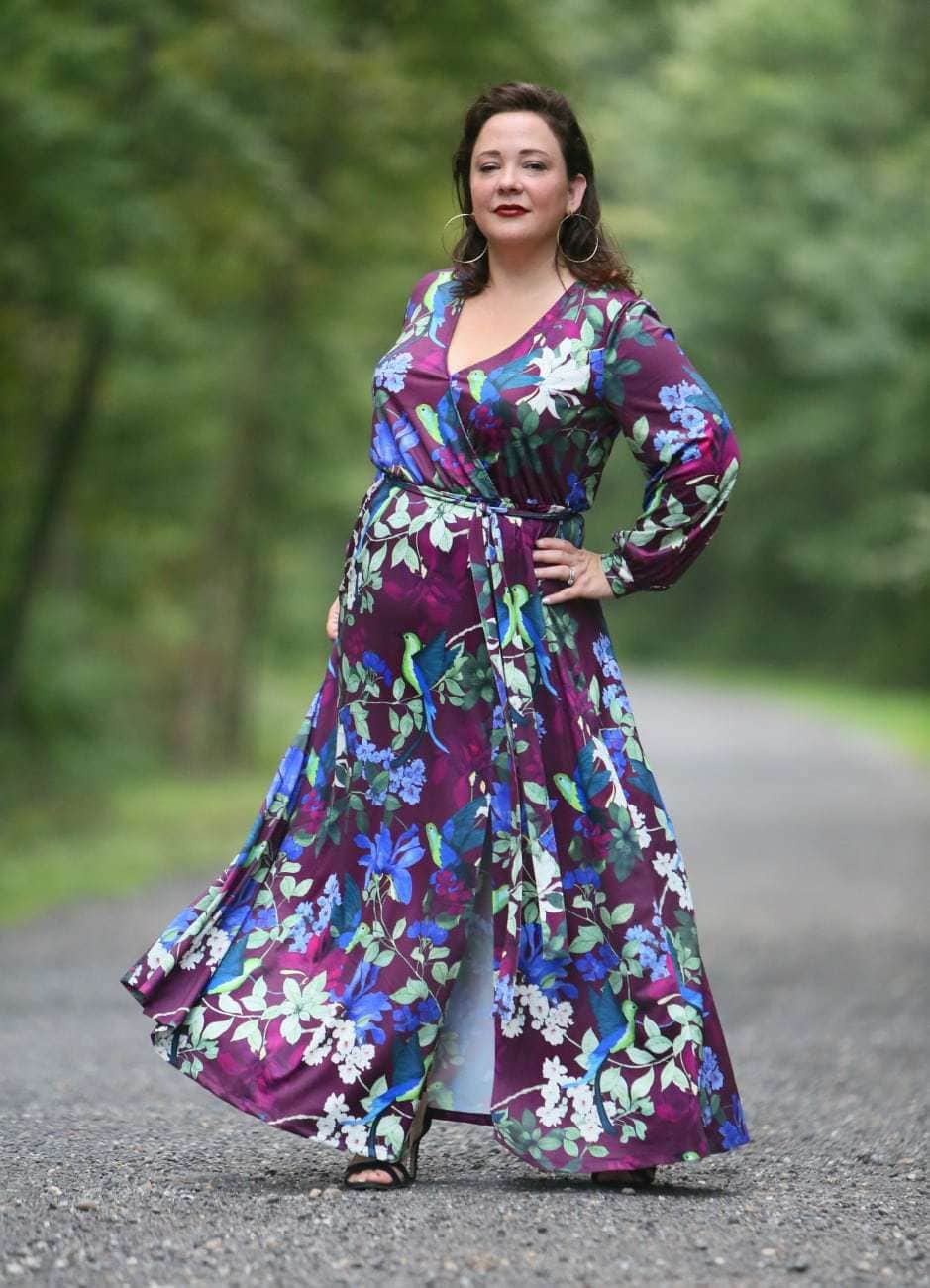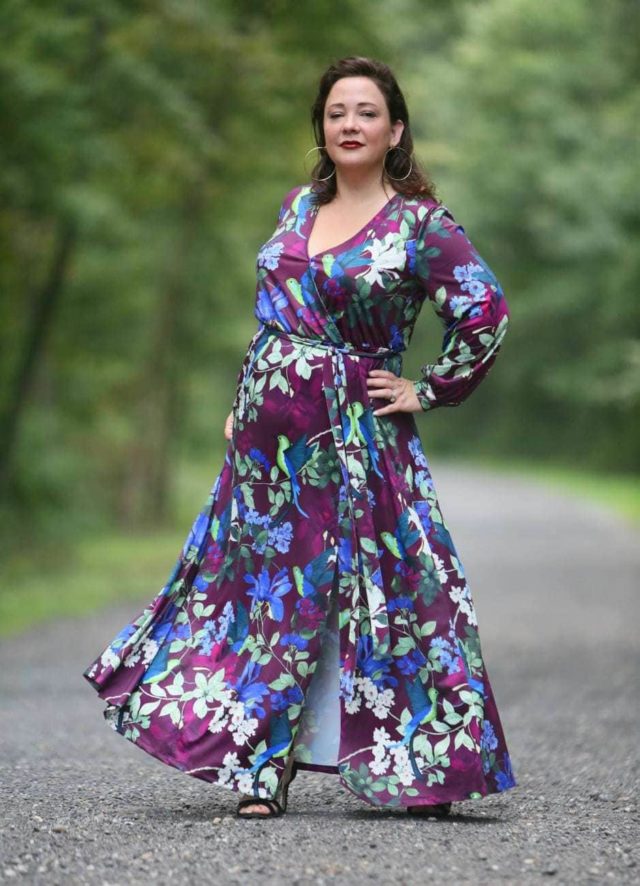 Gotta love a brand that just KNOWS your style.  Earlier this week, ELOQUII reached out and shared this dress saying they thought it was so me.  Yeah, I do love me a floral maxi dress, and I have many an ELOQUII maxi dress in my closet that I positively adore.
This moody floral maxi dress is a perfect way to ring in fall. I had so many ideas on how to style it (stay tuned to see me wear it with a pair of tall leather boots and tights and a fur collar a la how I styled this eShakti maxi dress a couple of years ago! However, for now, I styled this ELOQUII maxi dress for evening.
There are few evening-appropriate dresses on the market that have sleeves. There are even fewer with long sleeves. Men get to wear not only long sleeves but a lined jacket on top! While I wouldn't wear this ELOQUII maxi dress to a Black Tie affair, I think how I styled it below would work for an evening wedding or similarly dressy affair in fall or winter.
Styling an ELOQUII Maxi Dress for Fall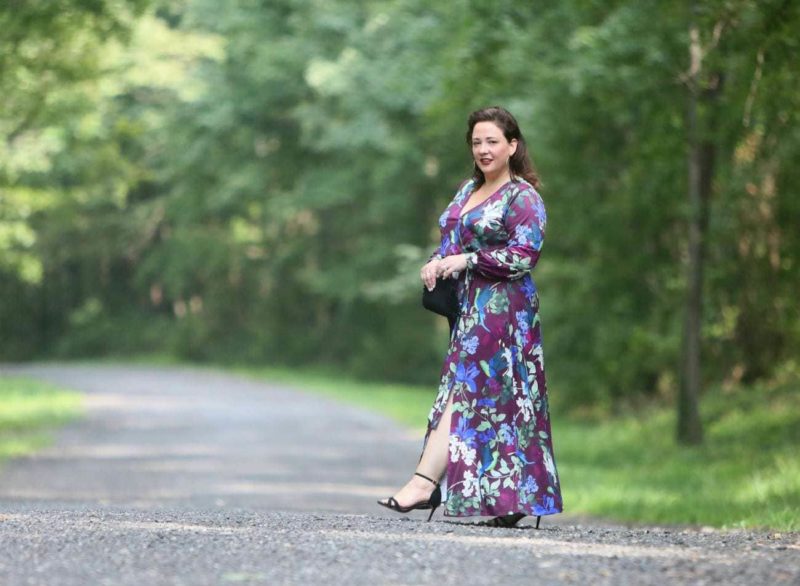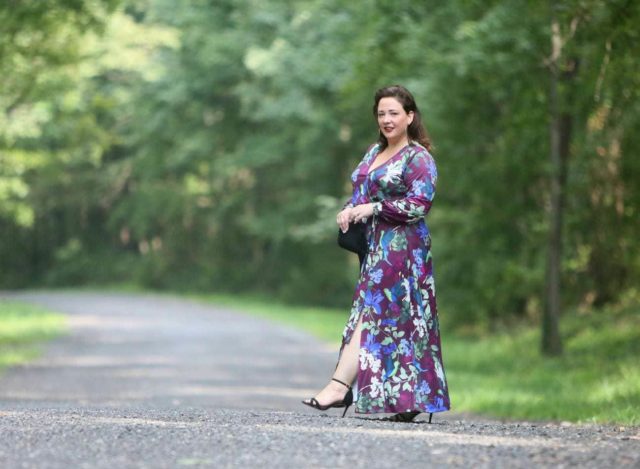 Below I share the links to the pieces I am wearing, or else something extremely similar. If you click the link, a separate browser window will open with the shop page. Items that state c/o were a gift from the brand. If you make a purchase, I may make a small commission. Click here to understand how influencers and blogs make money.
Dress: Printed Kimono Maxi Dress c/o ELOQUII (14) | Shoes: ASOS (old; similar) | Earrings: Large Faye Knockers c/o Jenny Bird | Bag: c/o Talbots (this year's version which has an optional chain and is on sale) | Bracelet: Metal Marvels | Lipstick: It's actually two, NARS Audacious in Bette with L'Oreal in Matte-Traction Red over it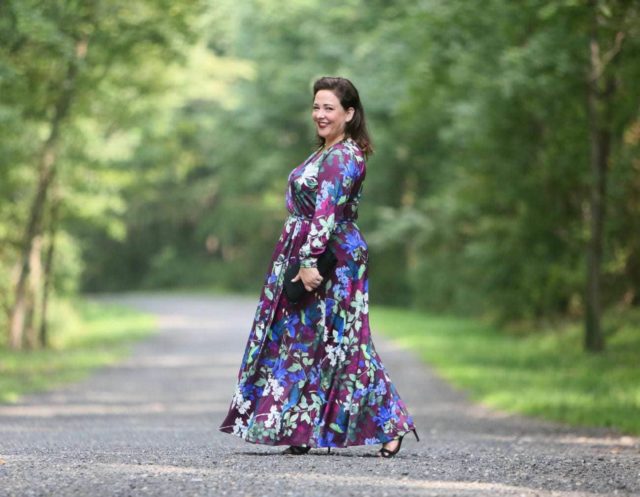 I love a maxi dress almost as much as I do a jumpsuit.  Didn't shave your legs? Throw on a maxi dress! Is it cold outside? Throw a pair of leggings on underneath and some tall boots!  Speaking of boots, maxi dresses are one of those rare garments that look as good with a pair of tall boots as it does with flat sandals. Layer with a leather or denim jacket.  Glam it up with some sparkly jewelry and lots of mascara, or keep it chill with a messy topknot.
While I wouldn't wear a maxi dress to most offices, there are few other places I won't wear one. I think it is an extremely versatile garment, and I love that it is a style that works on a range of bodies and a range of prices too! I find the quality of ELOQUII to be appropriate to the price; I have machine washed another of these dresses multiple times and it still looks and performs like new.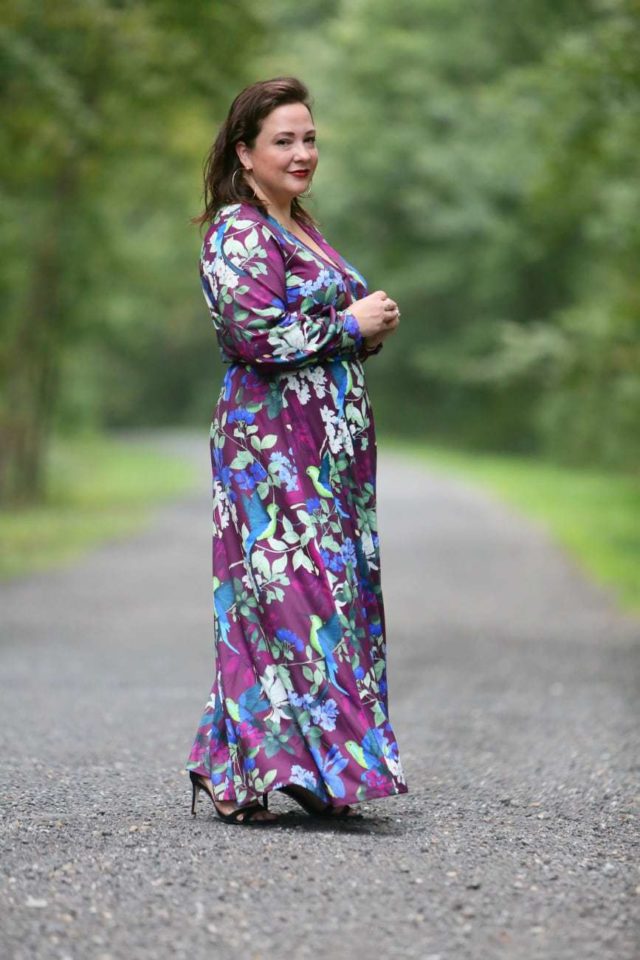 This ELOQUII maxi dress is stretchy, machine washable, and comes in three different prints (visit the site and you'll see a familiar print – yep I had this same dress last winter in a different floral). I love this dramatic floral print on a plum background. This floral is moody and sophisticated and can dress up for an evening event like the theater or even a wedding. I decided to style this dress in a way for such an occasion.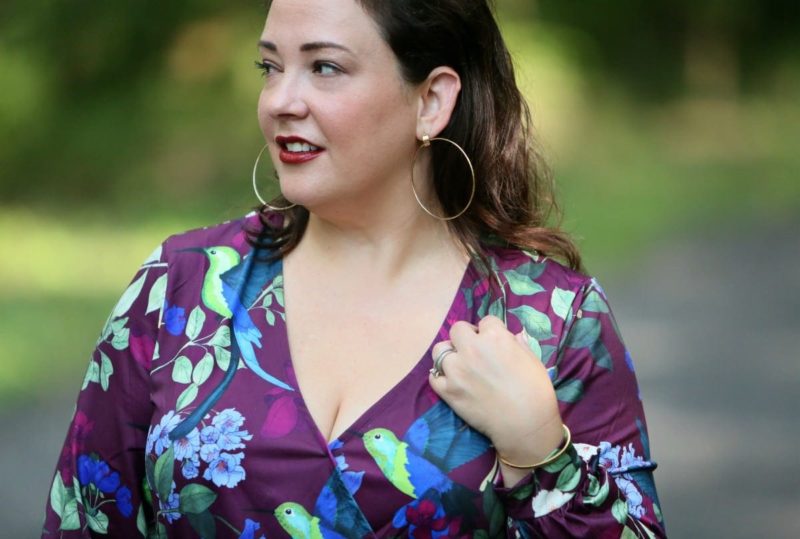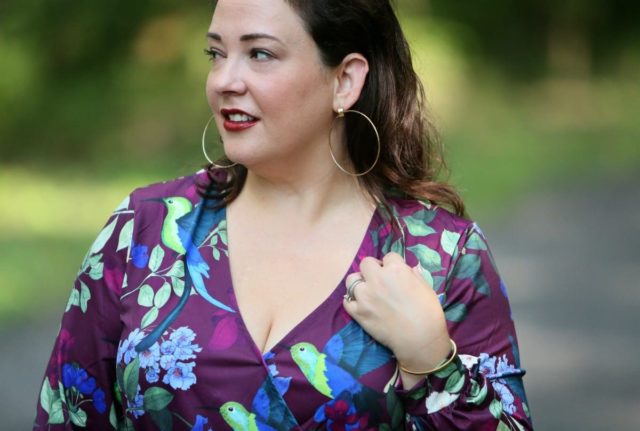 To keep with the moody dramatic vibe, I chose a dark red lipcolor. This actual red is not in the pattern on the dress and I think this is an important detail. It feels more modern to have your lipcolor contrast, not match your ensemble. Pair an orange-red with a pink dress, a cool pink with a coral blouse. It's an easy way to update your existing wardrobe and look!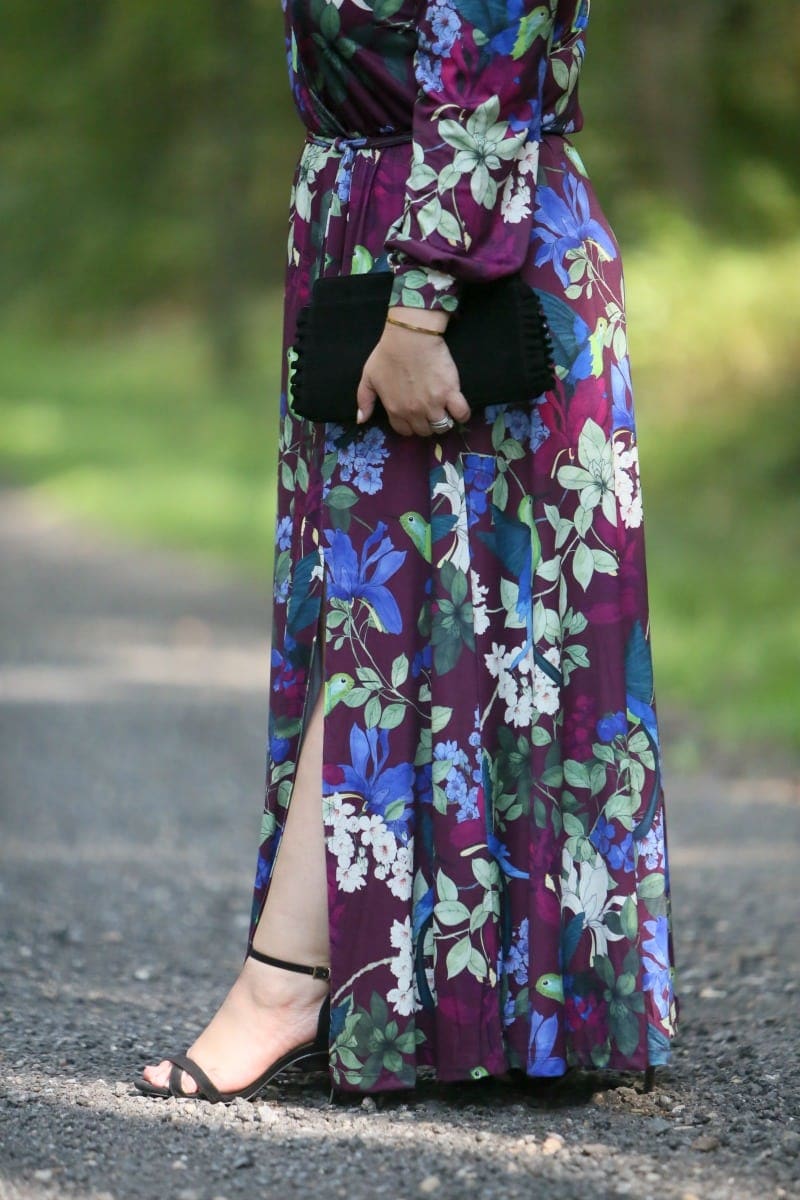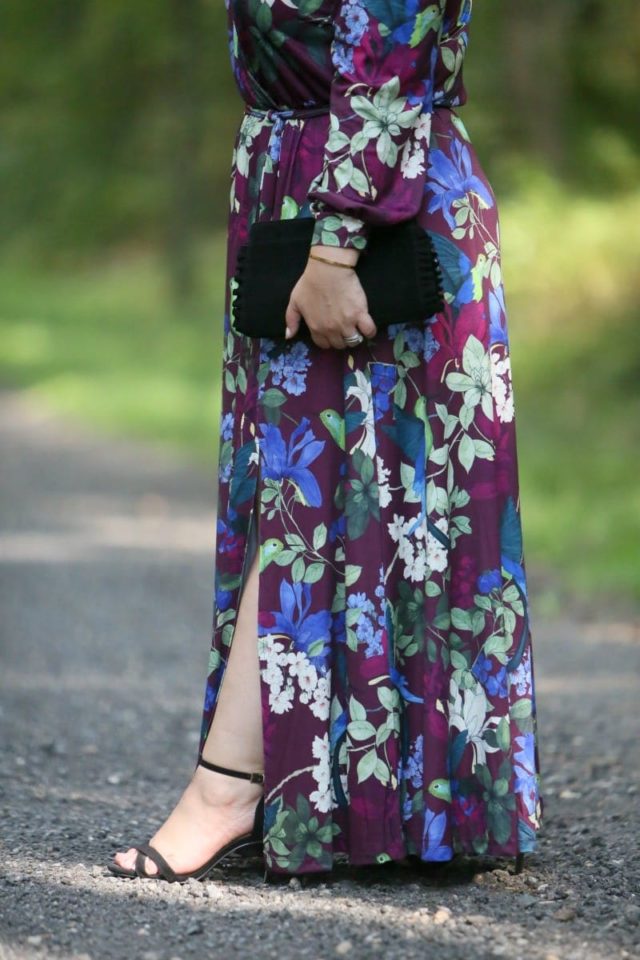 I got this black suede clutch at Talbots a couple of years ago. It's very simple, and I find goes with much more in fall and winter than a similar clutch in velvet or leather. The suede reads more dressy than leather, without being all-out formal/festive like velvet. And also, it goes with my shoes!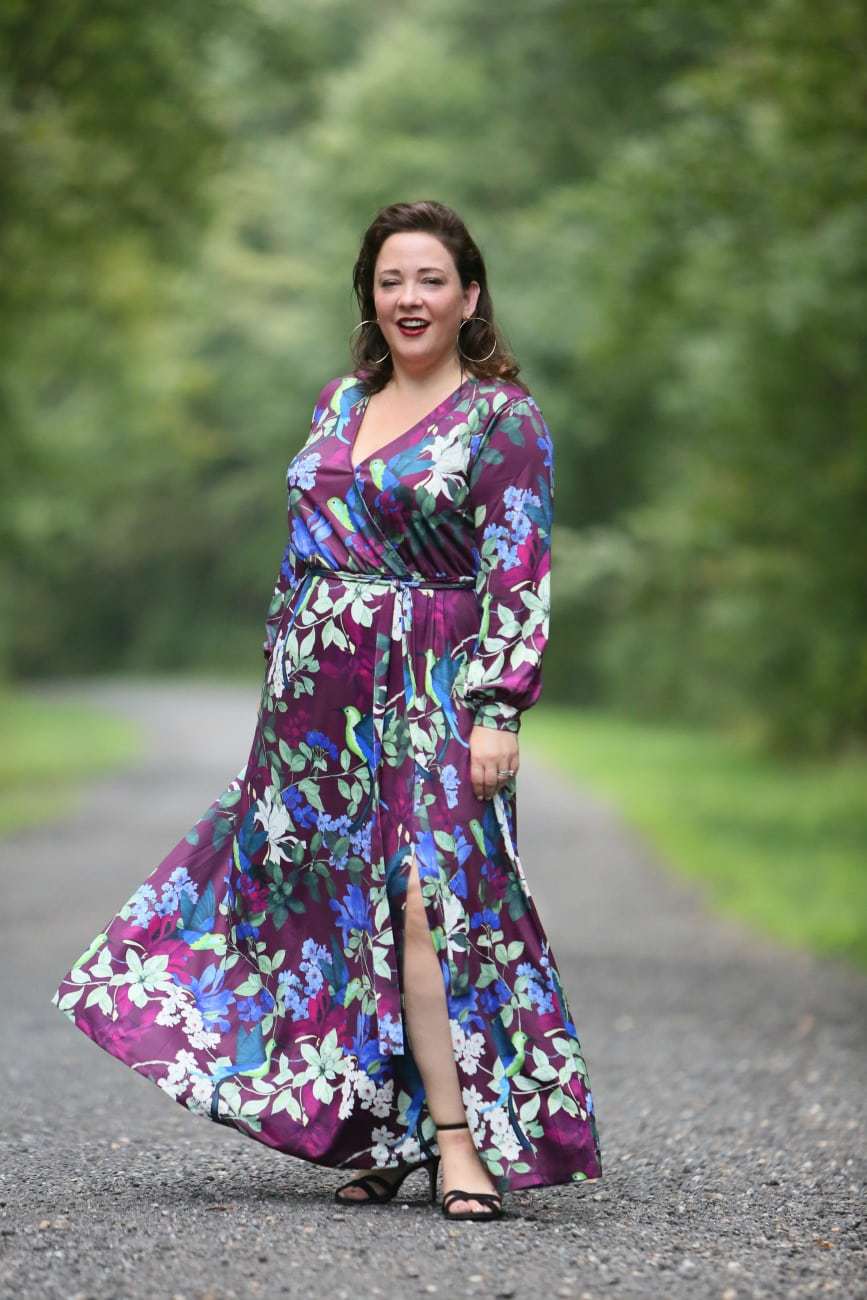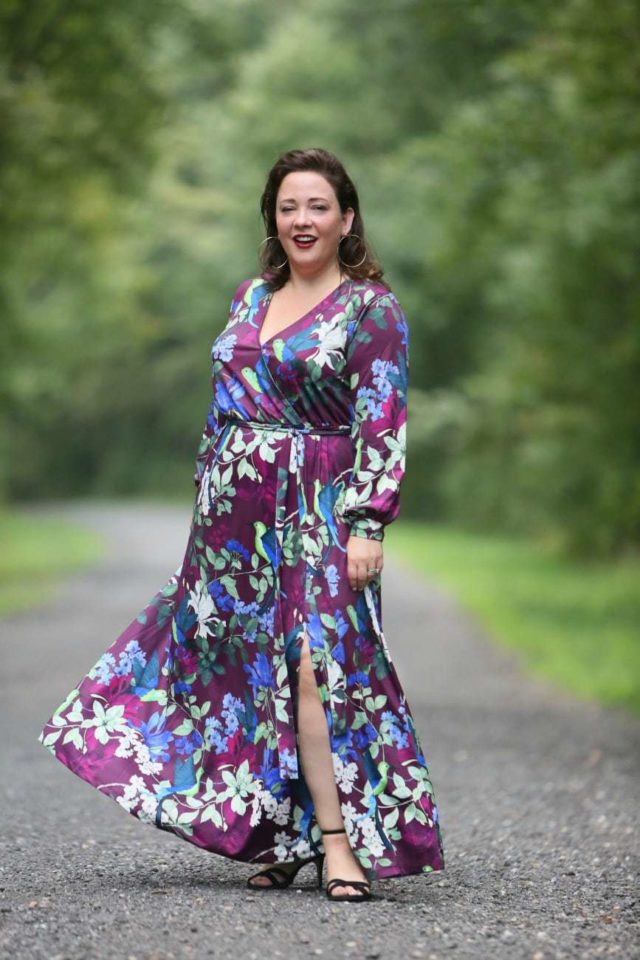 I bought these black suede strappy heels at ASOS years ago. They are such a great resource for budget-friendly and stylish wide width shoes. The delicate shoe lets the boldly-printed dress steal the spotlight and also reads more formal than a closed-toe option.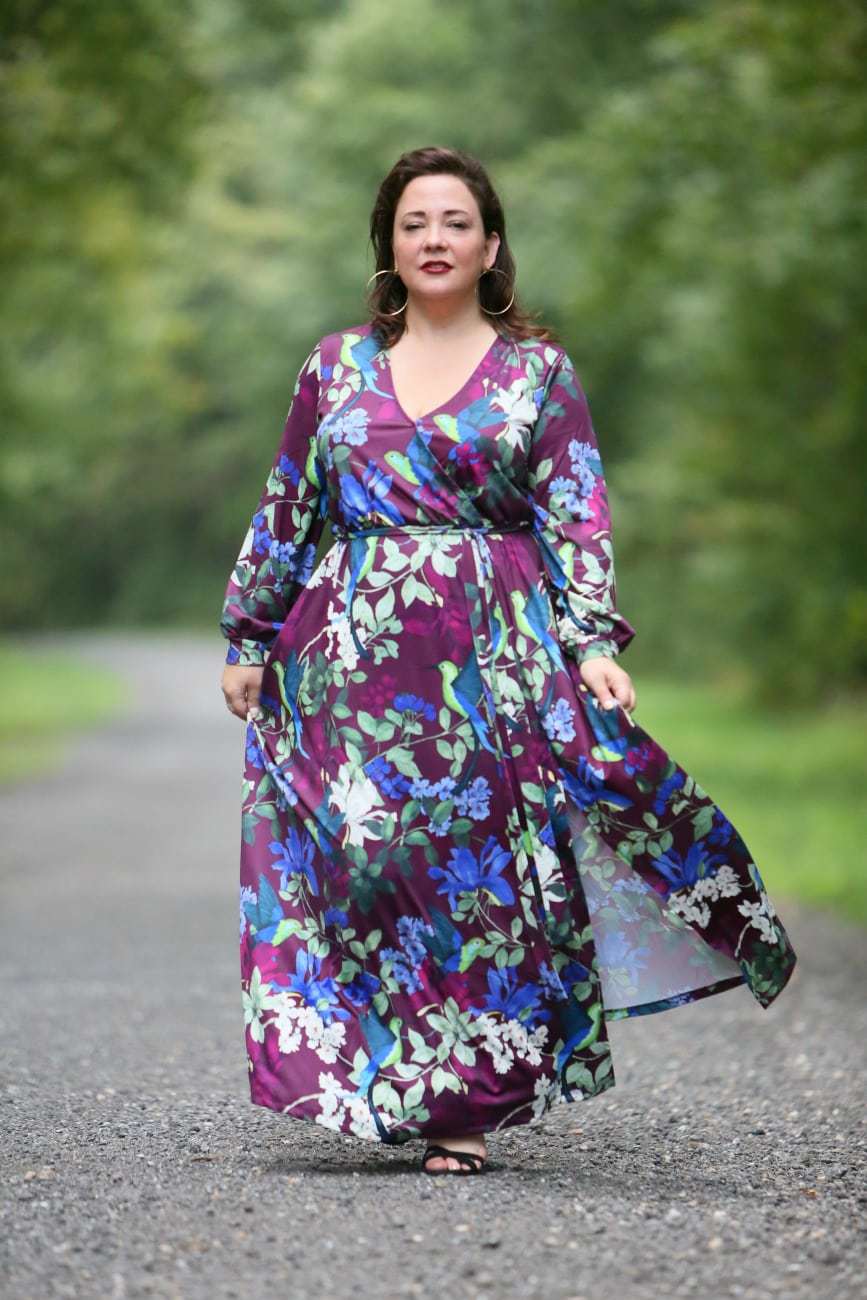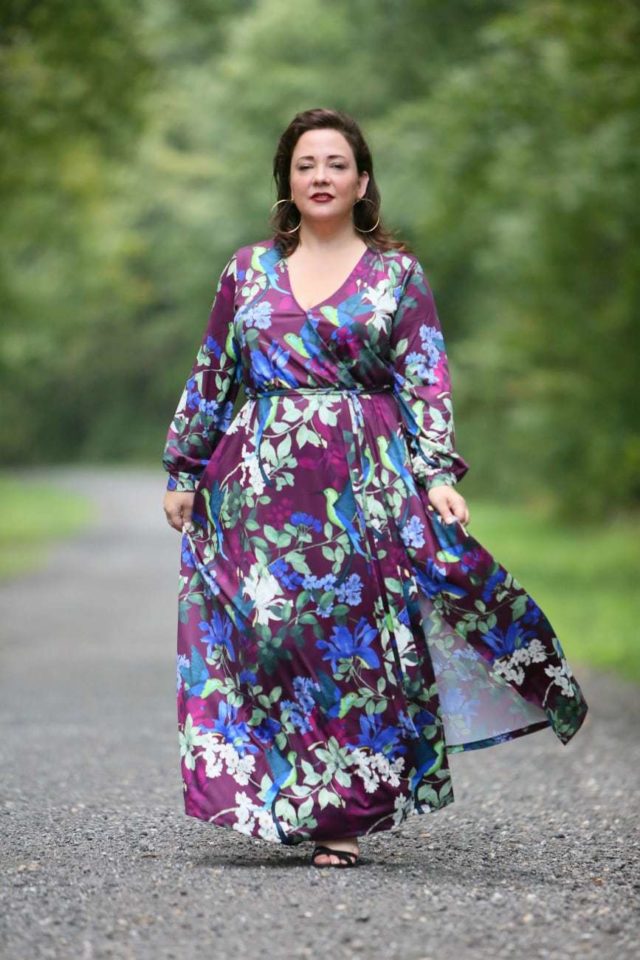 I felt by slicking my hair back and giving myself the subtlest of pompadours, I made this day to night dress feel more formal. Full hair and waves could read more daytime, and with a print this bold (and such a bold lip) I felt retrained hair would balance everything.
The earrings are from Jenny Bird, a Canadian jewelry designer I love. These hoops make a statement without being too big or bold. And your gal Alison LOVES a hoop earring! It made me feel me and gave me confidence to finish this look with an accessory that feels part of my signature style.