This article may contain affiliate links; if you click on a shopping link and make a purchase I may receive a commission. As an Amazon Associate, I earn from qualifying purchases.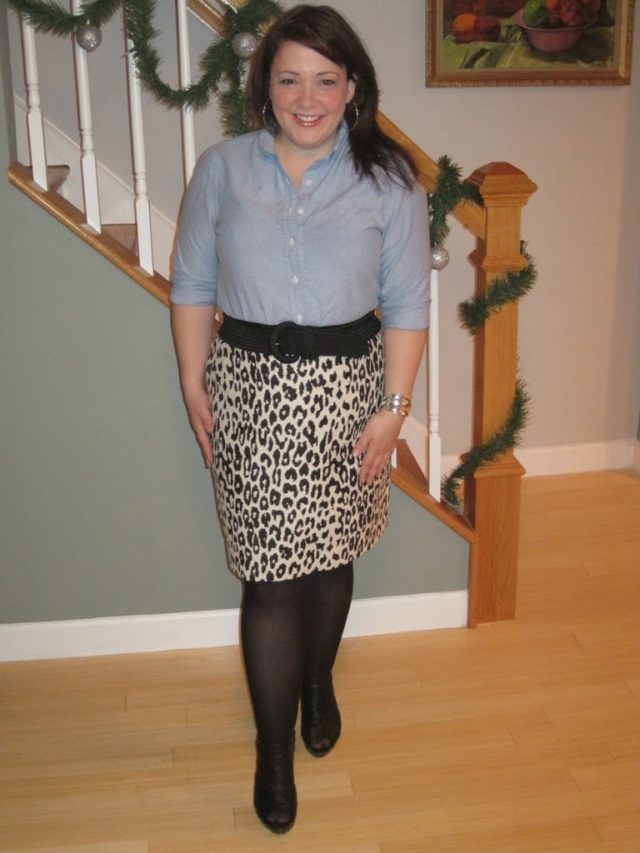 Blue oxford shirt – Lands End Canvas
Black woven belt – Old Navy (no longer available)
Ivory leopard print skirt – Ann Taylor
Black tights – Nordstrom
Black booties – Miss Sixty "Jaiden"
Silver hoops and cuff
I went to Ann Taylor after work on Friday and found this skirt on the sale rack. Pretty cute, and pretty versatile. I was inspired by Style Underdog's fabulous zebra skirt. I used to have a zebra-print skirt from Isaac Mizrahi for Target but sold it a couple years ago when it no longer fit. This is a great replacement, I like the texture of the fabric – easy to dress up and down. I also got a jacket, which I will probably wear tomorrow. On sale as well, and a SIZE 12! Two months ago I was wearing a 16P in jackets, and even then they were too tight in the arms. If this jacket was a 12P it would have fit even better! I am GOING to be back into a 10 by summer, that IS my goal.
I also told my husband if I got down to a 10, I would be interested in going back to Bonnaroo. This last year was fun, but it was hard being overweight. The extra pounds made the heat even more unbearable, made it hard to find appropriate and comfortable clothing, made the walking more difficult. This year is the 10-year anniversary of the festival, and will surely have an amazing lineup. If we DO go, we may splurge for VIP as a celebration to our last year at the fest, and to make it extra comfortable.