This article may contain affiliate links; if you click on a shopping link and make a purchase I may receive a commission. As an Amazon Associate, I earn from qualifying purchases.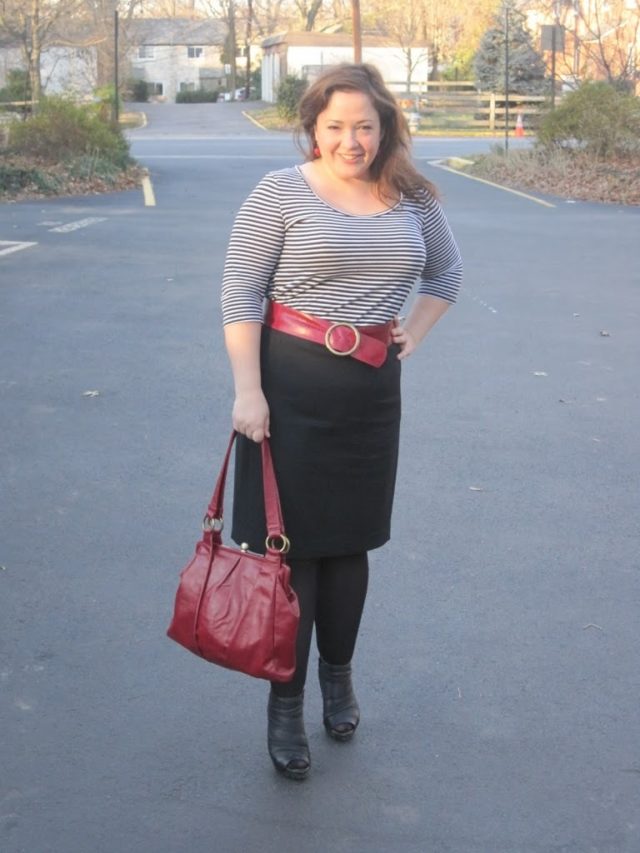 Striped scoop tee – Ann Taylor (no longer available online but I did see on the sale rack in a store)
Black skirt – Ann Taylor (no longer available, but they have similar styles available)
Tights – Nordstrom
Booties – Miss Sixty
Belt and Bag – Hobo International
Earrings – Gift from my mom, she got them when she went on an African safari
I love my husband, and I find him to be a brilliant photographer… when he is on assignment and behind his own camera. He sucks with my little Canon Powershot
. Seriously, this outfit is cute. My coworker C exclaimed, "Cuuuute!" when she saw me, and she sees me every day, has great taste, and only makes such an exclamation when it really is an exclamation-worthy outfit. So, I am trying to figure out a way to have better quality pictures without ruining my quality of life.
I love you guys, I really do, and I want to have great pictures for this blog. However I don't have the time to pose, pose, pose. To find really cool backgrounds, to manipulate them in Photoshop
or another tool. My pictures are taken in about 30 seconds. My husband, Emerson and I head out to my husband's car. We put Emerson in the car seat and turn on the heat. Then I remove my coat and take a picture, sometimes two. I don't even LOOK at what my husband captured until I am on the Metro, sometimes not until I get to work. Then once at work… well I work. I do these posts usually during my lunch break, and I write them up pretty quickly.
My husband and I are considering in 2011 to have him take the pictures with his nice 5D
, and then hand me the memory card. I will have a card reader at work so I can retrieve the pics in that manner. Still no time for manipulation, but at least it's a better quality camera.
But I wonder for those of you who have your own style blogs – how do you do it? How do you find the time for nice poses, nice locations, editing of the photos? Do you do it at night after work and post the next day? Does a partner edit them for you? If you use a tripod and timer or remote, how long do you take for your photo sessions, and where the heck do you take such pictures where the space can be left pretty empty and tidy? Is this a problem for me because I have a toddler? Because I don't work from home? Because I post outfits almost every day? I love blogging, and I want my blog to be pretty as well as informative, but I really don't know how to maximize this aspect of the blog without minimizing quality of life. I appreciate any suggestions or advice from you all!