This article may contain affiliate links; if you click on a shopping link and make a purchase I may receive a commission. As an Amazon Associate, I earn from qualifying purchases.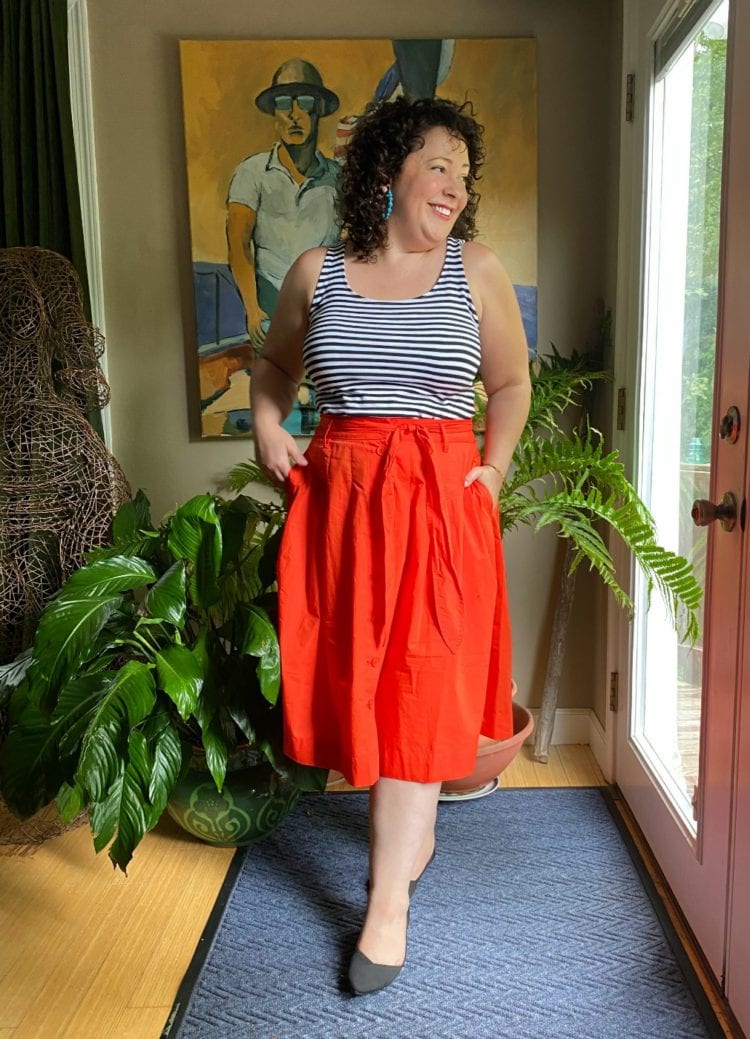 When I performed a closet cleanout earlier this spring, I realized how rarely I wear skirts.  I ended up purging a half-dozen skirts from my closet, keeping only two.  The process made me think a lot about skirts.  I buy them because they look pretty… but I rarely find them something I reach for.  That is until summer arrives and the idea of pants is painful and shorts can feel sweaty and restrictive.  A crisp cotton midi skirt with pockets (and with some lightweight slipshorts underneath) is a fabulous alternative, dressing up simple tanks and graphic tees, glamming up with a lightweight sweater or blouse, and transitioning beautifully into fall with a denim jacket or bracelet-sleeved Breton stripe tee. When I saw this skirt from Talbots in one of my favorite colors (I'm a fan of a red-orange), I had to get it.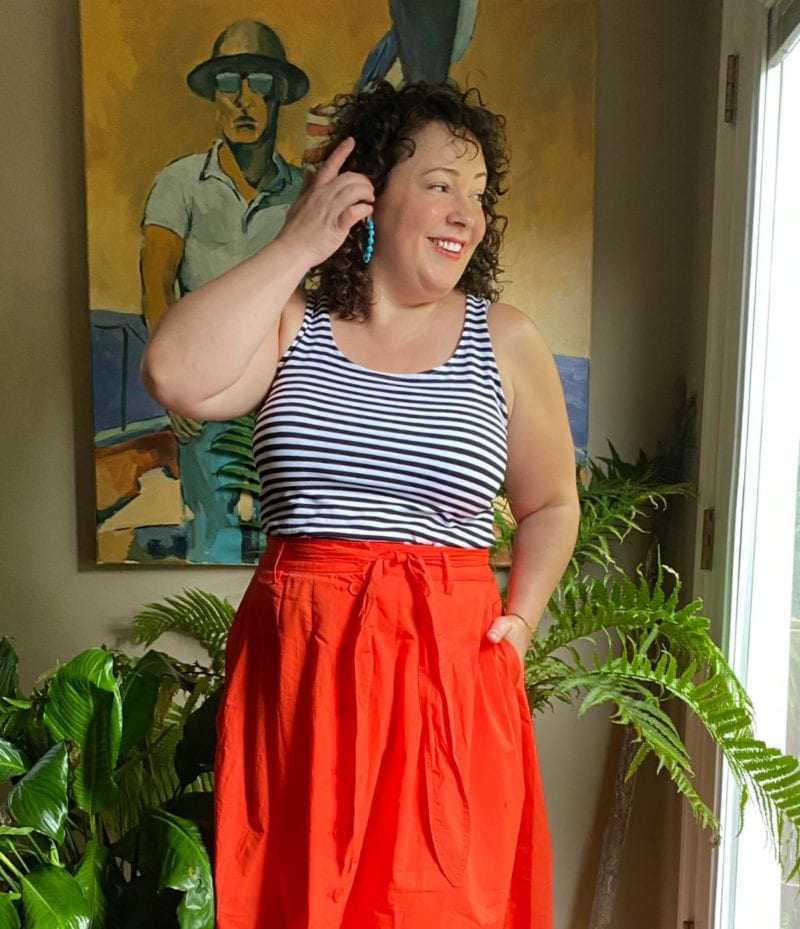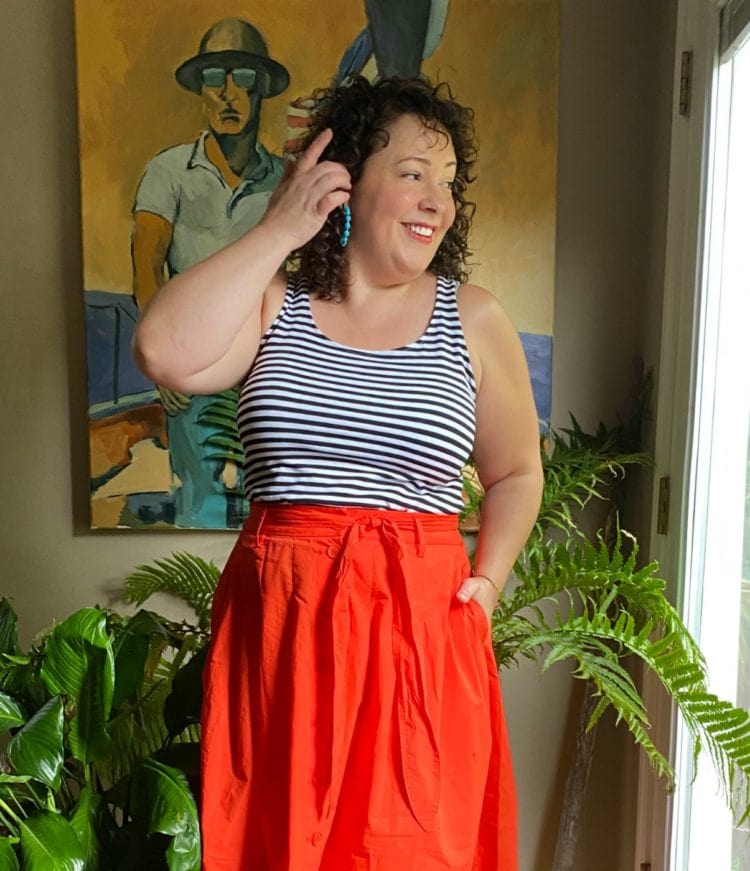 Skirt: Poplin Button-Front Full Midi Skirt c/o Talbots (size 14 petite) | Tank: Cotton Blend Tank c/o Talbots (size Large Petite) | Earrings: J. Crew (sold out; extremely similar) | Shoes: Rothy's | Lipstick: I first applied Fenty Gloss Bomb in Cheeky and then over that applied L'Oreal lipstick in Matte-Traction Red.  This is a favorite way to make a high-impact lipcolor look more transparent while also adding shine.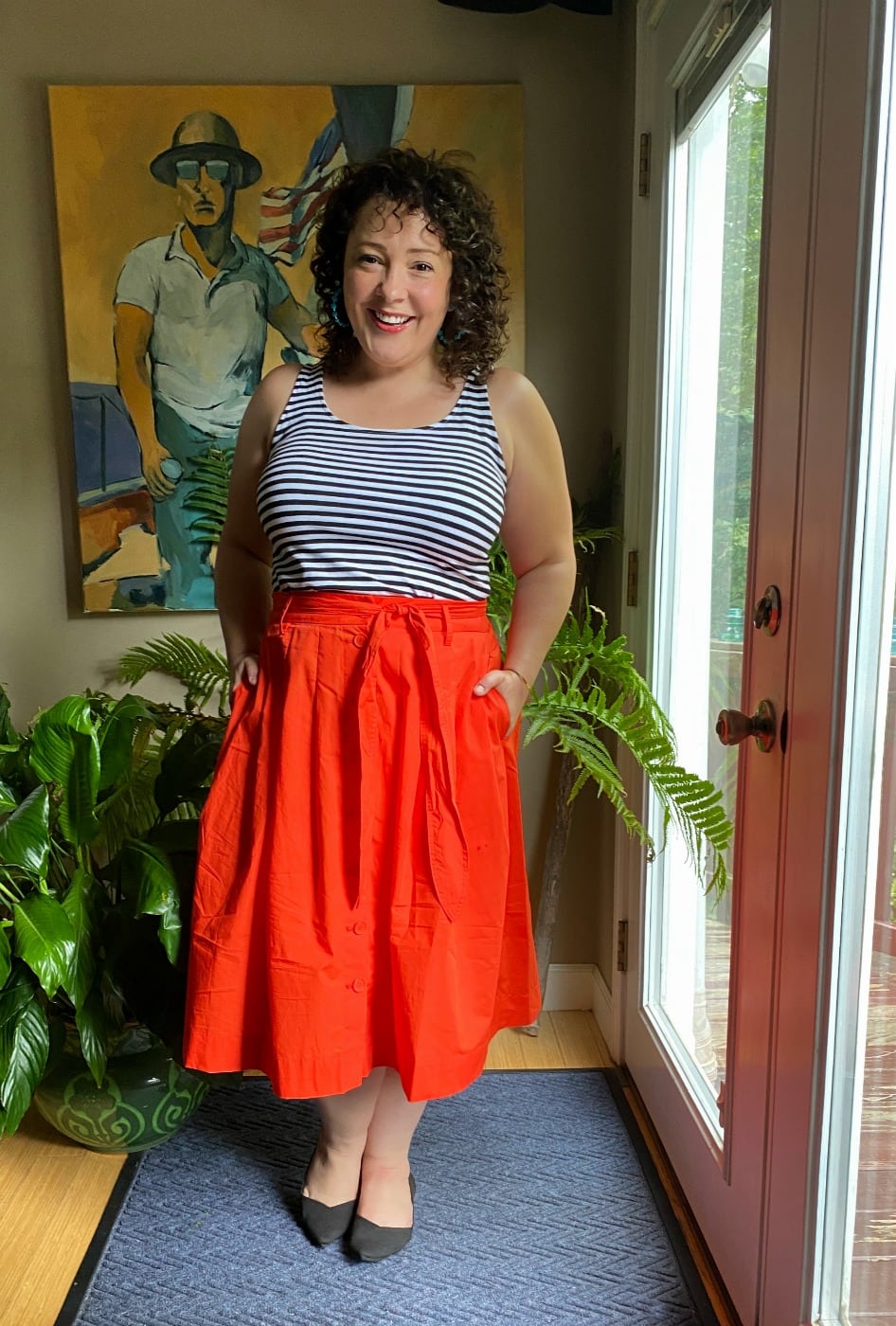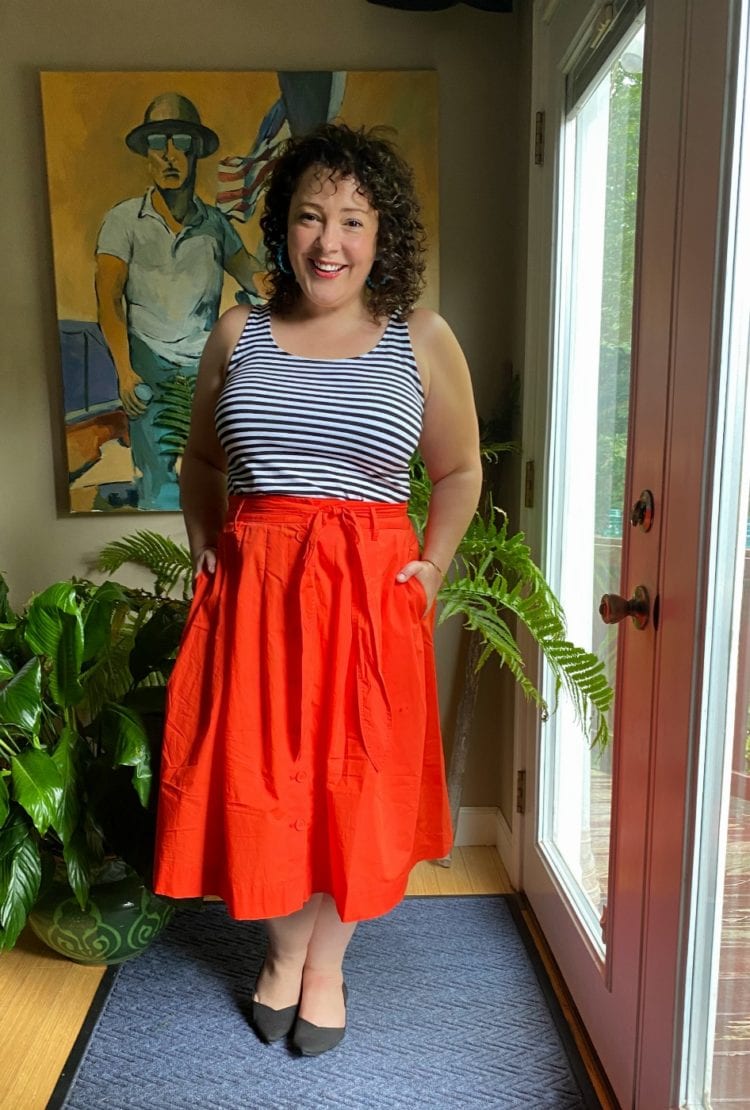 I've worn this skirt with this graphic tee from Talbots, and this graphic tee from And I Get Dressed (the graphic is the same exact color as the skirt).  I've worn it with a Breton tee, with my navy Universal Standard Foundation tee, with my blush-colored linen shirt, and with this tank, also from Talbots, that I've had since last year.  The tank is still available BTW. I've worn this skirt with Birkenstocks, with my Cariuma sneakers, with tan low-wedge sandals (these to be specific, got last year and still love them), and like here, with my Rothy's flats.  I added some hoops with turquoise beads for a subtle pop of color.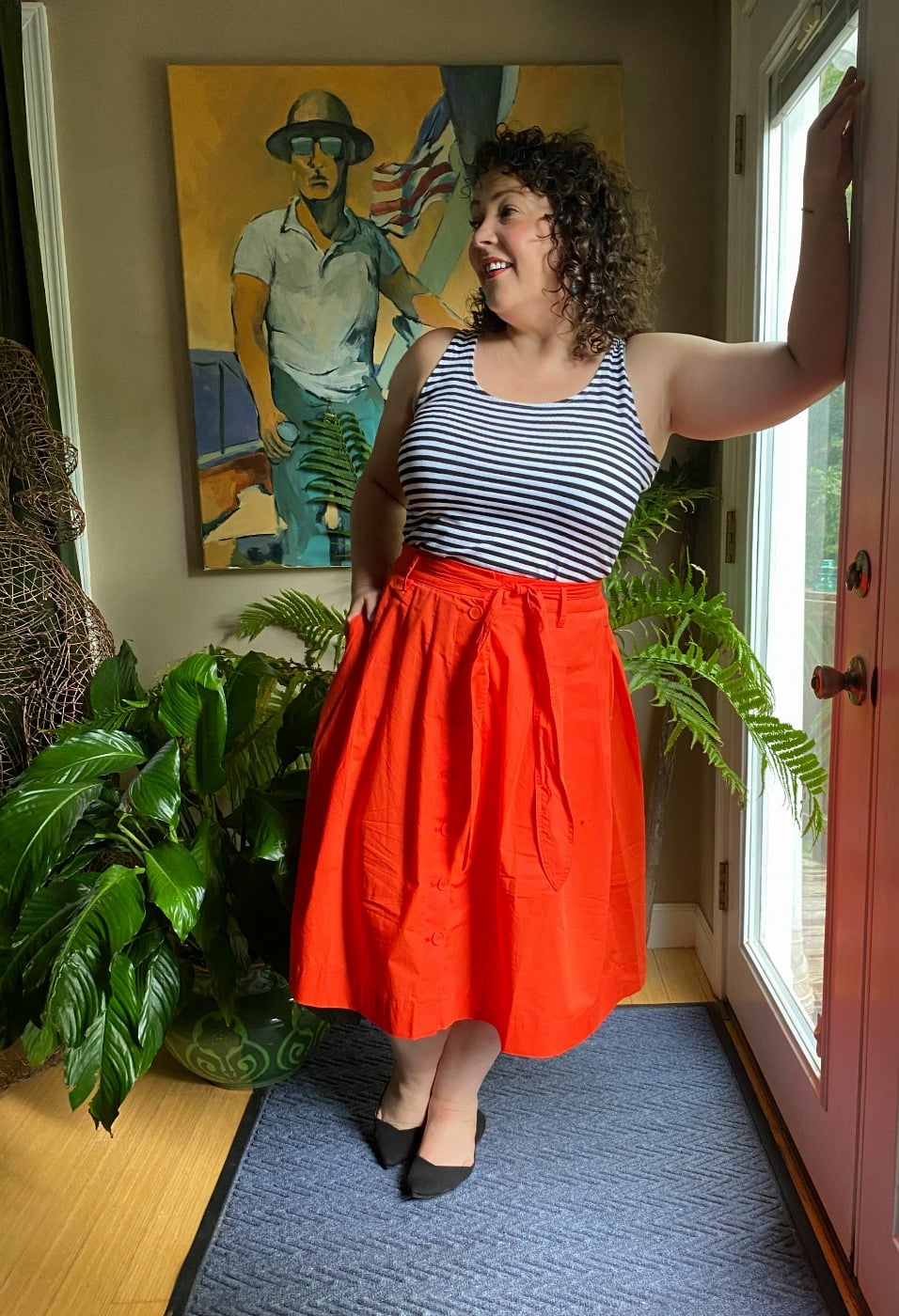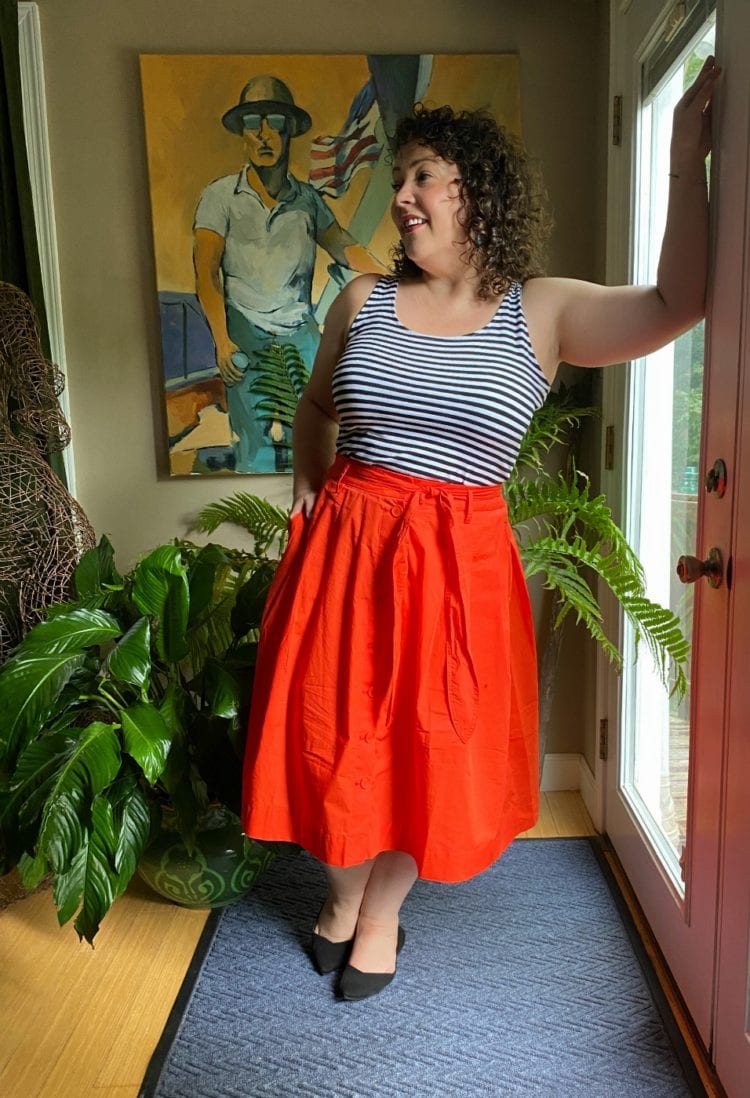 I think such skirts work with a variety of bodies too.  I am short and curvy, and I think a lot of "experts" would say wearing a fuller skirt at this length would shorten me more, add bulk, etc.  The thing is, when clothing is enjoyable to wear, it is always more flattering.  I love this color, I love how breezy it is, and gosh I love the pockets!  I collected more skirts in this style in a range of sizes, colors and prints, and pricepoints below:
Shop Crisp Midi Skirts for Summer: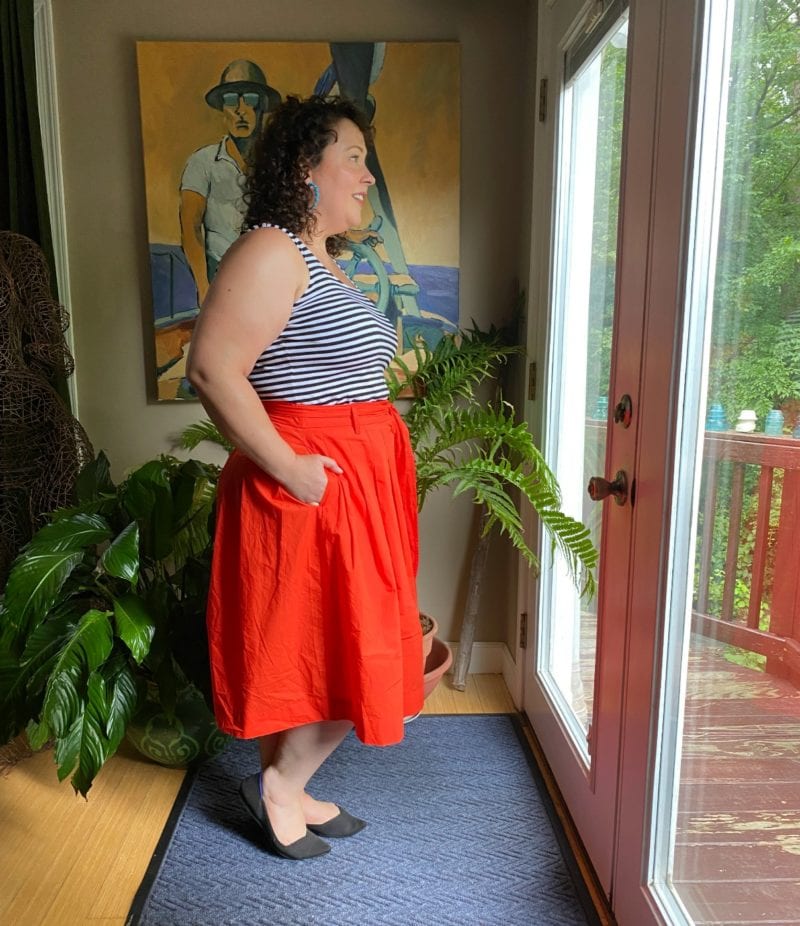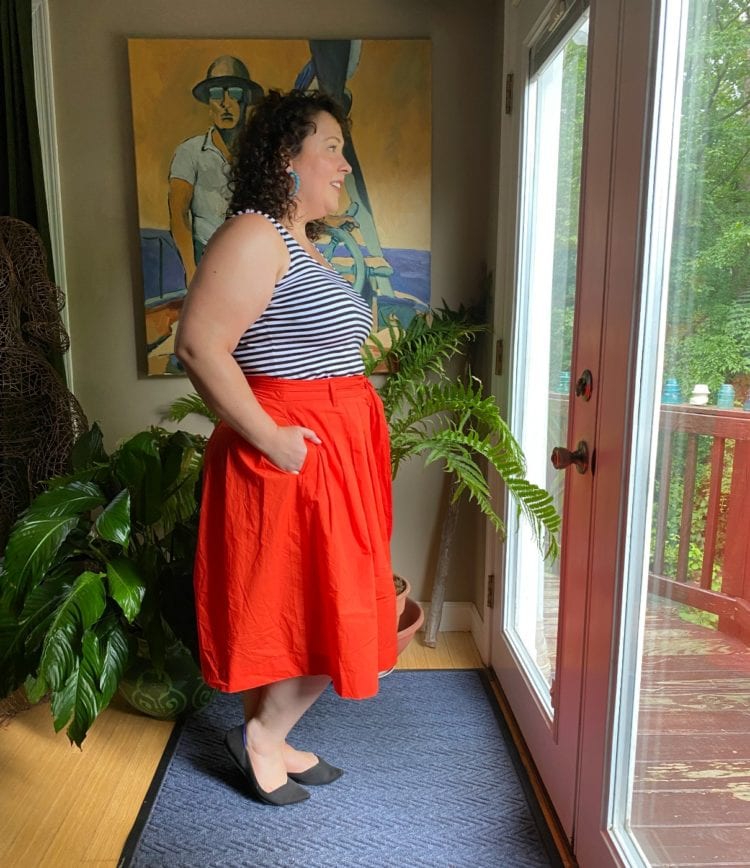 Back in February, we discussed wearing tops tucked in, and in the comments many of you shared that you're "deep not wide."  I wanted to share this photo to show I can relate but still find a tucked-in top to balance the body better than when it is untucked.  I encourage you to switch up your styling; if you haven't been one to tuck in a top you may find you really like the effect, especially with a fuller skirt like this one!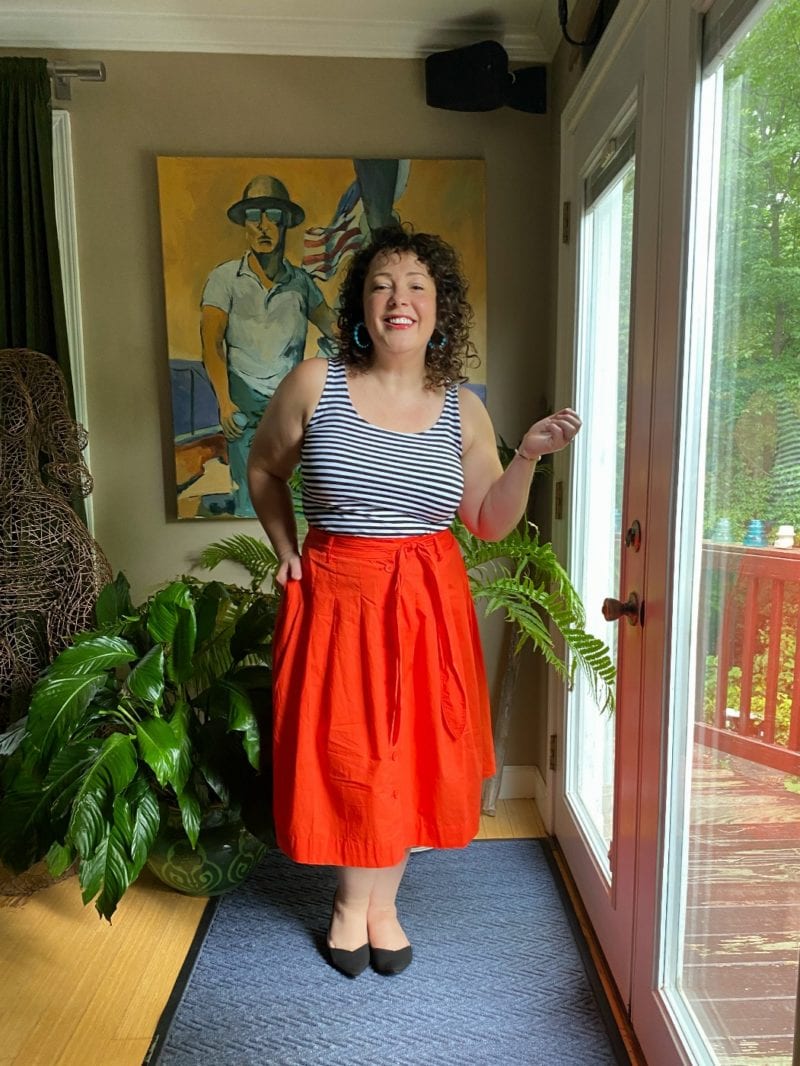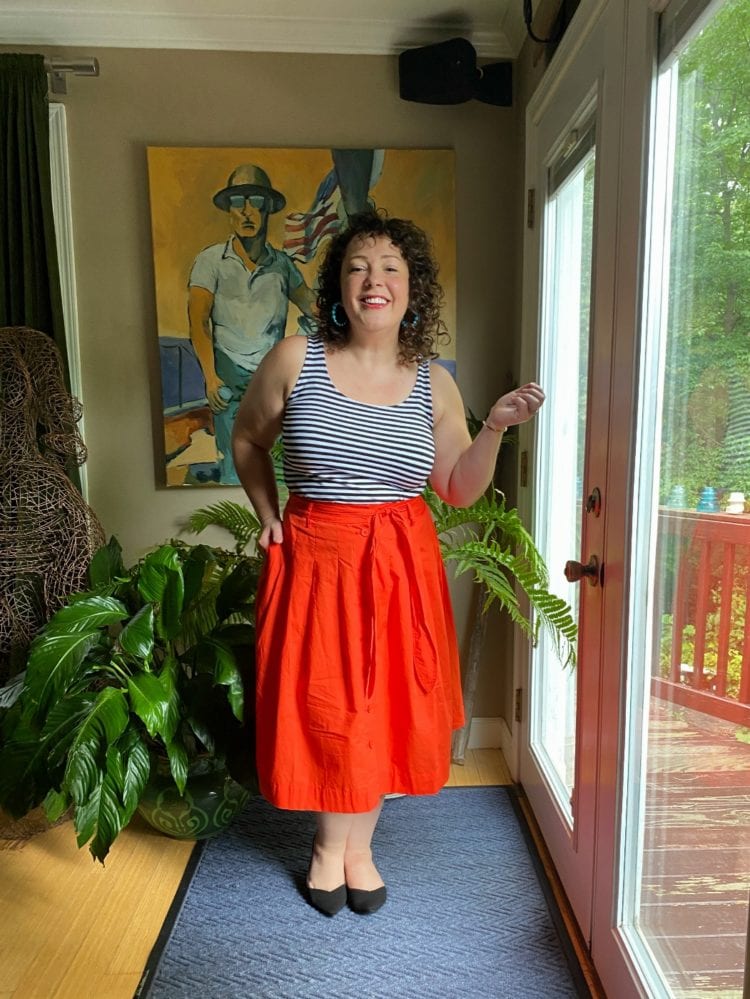 Skirts can feel dressy, but they don't have to be.  I wore this look and the most exciting thing I did was walk a couple of blocks to my mom's yard for a socially distant visit. This was a comfortable look for doing a few chores around the house and working in the home office!
Shop the Look: