This article may contain affiliate links; if you click on a shopping link and make a purchase I may receive a commission. As an Amazon Associate, I earn from qualifying purchases.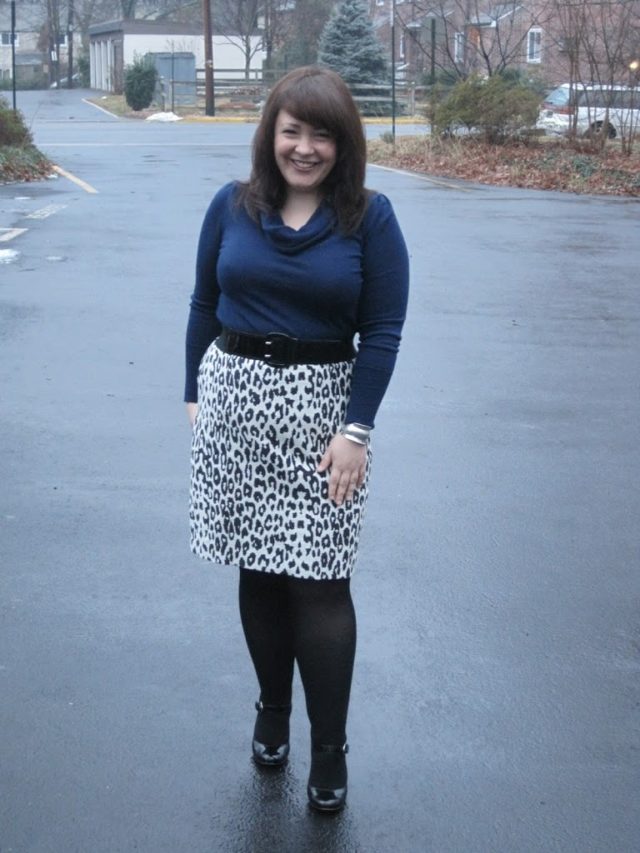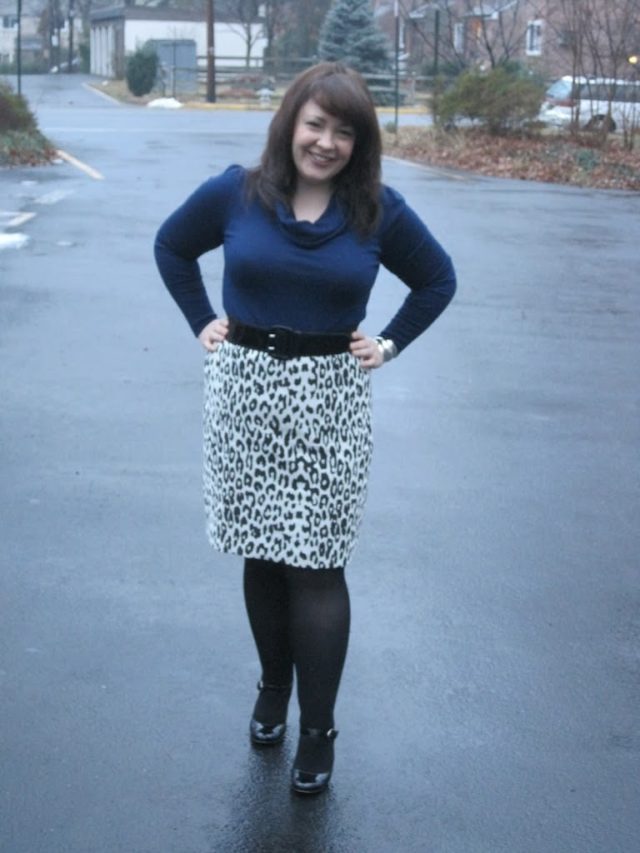 Blue merino cowlneck – Ann Taylor (two years old – similar)
Ivory and black wool pencil skirt – Ann Taylor
Black patent and stretch belt – Ann Taylor (several years old – similar)
Black tights – Nordstrom
Black Mary Janes with red heels – Nine West (several years old – similar)
Silver cuff
Yes, it's an Ann Taylor sort of day! So many people dismiss Ann Taylor, thinking it's just a store filled with boring pantsuits and twinsets. I love Ann Taylor because I can find amazing pieces that are fun, on-trend but classic enough to wear years later. The quality is also stellar.
I purchased this sweater soon after having Emerson. I was very large and excited I could go into one of my favorite stores and find something that would fit my postpartum body. However I did a lot of stretching to the hem of this sweater to get it to cover my waistband – now it's pretty misshapen and rolls up on me. I decided to try it out tucked in today as that I love the color, weight and details (not too deep cowl, puffed sleeves) of the sweater. Tucking in was also a smart choice because horrors of horrors… this skirt is starting to be too big! Man, I just bought it!
Also seeing today that my weight loss is really showing how soft I am. Monday I went to the gym with my sister and I have been trying to do more yoga and crunches and such at home during commercial breaks and in the morning before the whole house wakes up. I hope to fit the gym into my schedule at least twice a week – we have a date to go again on Friday morning.
BTW I totally cut my own bangs last week. I hated the result and have been blending them into my hair, but this morning they kind of work!