This article may contain affiliate links; if you click on a shopping link and make a purchase I may receive a commission. As an Amazon Associate, I earn from qualifying purchases. 
I know, I bet you didn't expect to hear this from me. Allie, the woman who will STILL not condone wearing white after Labor Day, can't get behind socks with dress shoes, believes bras should always be under wraps. The thing is, there are a lot of style "rules" out there that just don't make any sense. The biggest one is,
"You should never mix black with brown or navy."
I was raised following this rule – gosh it took me a long time to even be comfortable wearing a black shirt with dark denim jeans! However over time, I have realized that there is a reason for this rule, but the rule was made seeing everything in black and white (or black and brown – heh heh).
Pairing Navy with Black
Yesterday I wore a navy sweater with a black and white skirt and black opaque tights. I have worn this navy sweater in the past with black trousers and a black pencil skirt.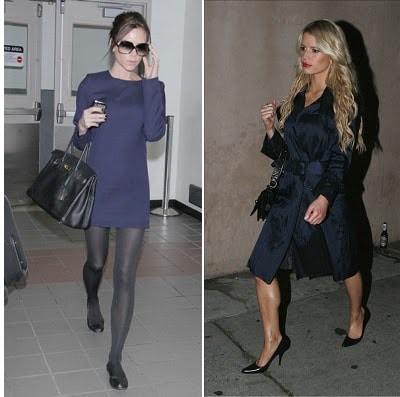 Victoria Beckham and Jessica Simpson show you can look chic while mixing navy with black
I remember seeing a photo of Jessica Simpson from 2006 (see above) – she was wearing a fabulous navy trench with a black dress and heels.  It looked so chic, so simple, and far more elegant than if the coat were red, ivory, or gray.  This photo inspired me to start wearing navy with black.
The reason navy truly works with black is because there is no one shade of navy, the way there is only one shade of black (excluding those black knits in your wardrobe that have been washed far too many times). When your navy garment is closer to blue than black, there is enough contrast to have it look fabulous with black. A deep dark navy WOULD look wrong with black because the colors would be so very similar they would clash (think of that faded black tee in your wardrobe and imagine it paired with your brand-new black gabardine trousers). The more difference there is in the navy and the black, the better they look together.
Fabric variations also help when pairing navy with black. A navy silk cocktail dress with a black velvet sash would look amazing because the contrast in fabrics would add to the contrast of colors. The silk would have the light bounce off it, while the velvet would absorb it, giving new depths to these two colors. I like wearing a black patent belt with a navy dress to have a real contrast in textures, emphasizing the difference between the two fabrics.
Finally, make sure your combination looks purposeful. Wearing a black blouse with navy pants can make you look as though you got dressed in the dark. However if you do things like add a black patent belt and black patent shoes, or a scarf with navy and black in the print at the throat, the outfit is cohesive, obviously thought-out, and purposeful. Again I will mention my navy sundress – I wear a wide black patent belt at the waist and black patent peeptoe pumps so the combination of black and navy looks purposeful.
Pairing Brown with Black
Again, the point is to bring attention to the differences in the colors. This can be done with a contrast in fabrics or textures. I again have to mention a black patent belt – it's the perfect way to make black work with a brown knit dress.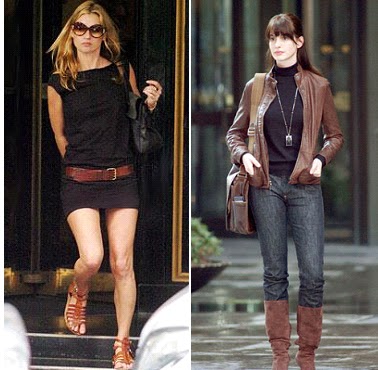 Gisele Bündchen and Anne Hathaway look great pairing black with brown
Brown and black are colors that are often combined in prints, especially animal prints. By having a piece with both colors in it added to your outfit, it really makes a cohesive look. I remember when I was a visual merchandiser, one of my favorite business/public speaking outfits was a dark brown Ponte de Roma knit pantsuit. I would switch out the self-belt for a black leather one and wear a leopard-print scarf at my throat. I also had a brown a-line tee shirt dress I would pair with black shoes and a necklace made of gold and tortoise shell beads. The necklace had a lot of black and dark parts in it, which made the black shoes look purposeful and the ensemble cohesive.
Brown leather is a very popular choice for footwear, outerwear, and handbags, so pairing a black dress with brown boots or a black turtleneck with a brown leather jacket is not as unusual as navy with black. The goal is to make the combination cohesive or purposeful – the brown accessory should be unique and able to stand on its own, and the black clothing should be pretty simple so the focus is on the leather accessory.
I would like to send out a BIG thank you to reader (and Facebook follower) Heather, who tracked down this exact picture of Jessica Simpson.  I searched the Web for eons looking for this photo to no avail, I almost thought I dreamed up this outfit.  Heather found it in less than ten minutes!  Another thanks to reader Annika who found a photo of Jessica a year later wearing this same trench with a white tank!  You guys are awesome!