This article may contain affiliate links; if you click on a shopping link and make a purchase I may receive a commission. As an Amazon Associate, I earn from qualifying purchases. 
When fall arrives in the stores I get excited. I want ALL THE BOOTS! ALL THE SWEATERS! ALL THE LEATHER JACKETS! But I wait. Fall doesn't hit immediately in DC, it's not unusual to be sweating in your Halloween costume and going coatless to your aunt's house for Thanksgiving. However we do get cold spells from early September into December and some years it gets colder far faster than others (by the looks of the holly bushes in my neighborhood, this is going to be a very chilly winter).
So I've waited through the Labor Day sales, the back to school sales, and now that it's October I feel I can properly assess what I currently have to wear, what holes in my wardrobe I need to fill, and what current trends I still love even after the launch of that gosh darn Pumpkin Spice Latte. And so below, is what I am craving for fall 2014: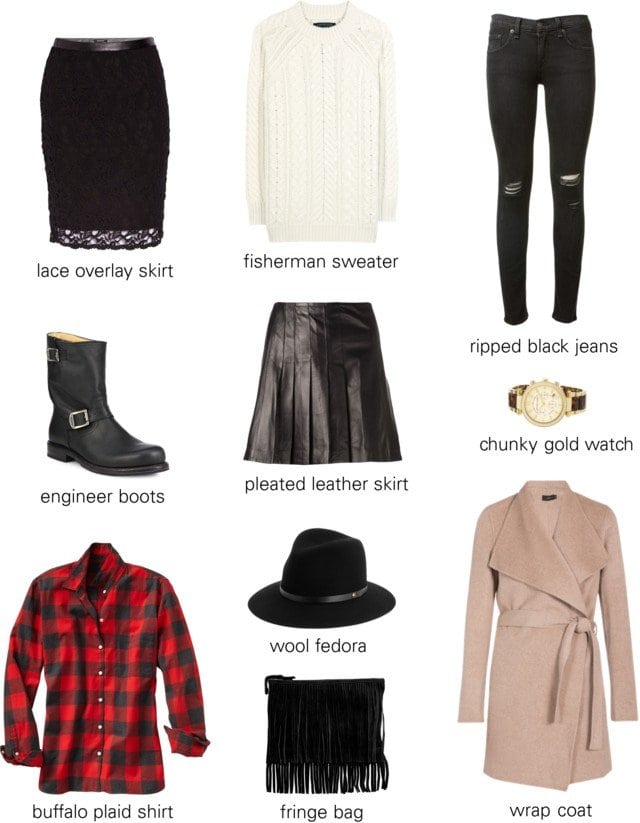 Lace Overlay Skirt
This is one of those items that's hot this fall but can easily be worn for years to come. Fall 2014 I want to pair such a skirt with plaid flannels and band tees, but it can be worn with a lovely cashmere or merino sweater and pumps for work or a networking event, or get glammed up with a silk blouse or velvet jacket and heels for a holiday party. I would like one in black that doesn't have any current trend details like exposed zippers or a metallic finish, though I've got my eye on this navy one from Vince Camuto and considering I'm seriously enjoying navy with black it may be my choice this season.
Fisherman Sweater
This season they seem to just be called cable knit sweaters, but to me they are fisherman or Hemingway sweaters and I want to own one again. In high school I found one from Banana Republic at TJ Maxx and wore it to death. I even wore it through college until one time I couldn't find it. Considering how terrible I was to clothing (can't believe my old roommate Jenn still speaks to me after the time I splattered hot wax all over a top she let me borrow for an Adams Morgan bar crawl), losing a sweater was par for the course. Years later, I found the sweater hidden in my sister's file cabinet, stained with Jungle Juice (tsk tsk little sister!). A bit of Clorox 2 and I wore that sweater again until it literally fell apart.
Okay, TL;DR point is I want another one. I just ordered this one and this one from Lands' End because I want a true classic fit and style that will transcend this year's trend. I'll be wearing it with jeans, but I also can imagine it with a flippy black skirt and tights, paired with a denim skirt like I showed in this post, and I'd love with some skinny cords and boots.
Ripped Black Jeans
We all know by now that I regularly let my inner Lita Ford out to play in the closet, and Lita is loving the return of distressed denim. However I know this is a trend I won't wear often and may not wear after this year, so instead of spending boo coo bucks on ripped black jeans, I'm going to self-distress last year's Old Navy Rockstar Skinny Jeans that have already gotten faded and beat up with wear. I'll be wearing with sweater coats and booties for weekends.
Engineer Boots
I had a pair of engineer boots in the late '90s and loved them but they were cheap fake leather and eventually fell apart. With my wide calves, I can't just go to any store and snag a pair so I've been searching on and off for almost a decade. This year the style of boot is more popular than ever, meaning more opportunities to find a pair that fits. I've been considering the Naturalizer Baldala, the DUO Morton, and the Frye Veronica Shortie; I'll keep you posted if any work out and would love to hear if you have any other suggestions!
Pleated Leather Skirt
Glad to see this trend happening this year because I already own the skirt! I splurged on a pleated black leather skirt from Halogen a couple years ago and have already worn it twice this fall (you can see it one time here). Halogen has a similar skirt this year in regular and petite; if you do order know leather stretches so if it's a tad snug when you buy, wear it around the house for a bit because it will grow (even though it's lined) to fit your figure. How cute would this skirt look with a fisherman sweater?
Chunky Gold Watch
I have a chunky silver watch that Fossil sent me and while it's very pretty, I never wear it. My silver cuff is my go-to when wearing silver, and it's too big to be paired with a watch. However, all my gold bracelets are small. I have the Citizen Ciena and it's a beautiful classic watch, but lately I've desired something more chunky. I like the Slim Runway from Michael Kors because the tortoiseshell keeps it from being too much gold, it's a bit unusual, and very different looking from my Citizen.
Buffalo Plaid Shirt
In 6th grade, my friends and I all had different colored Buffalo plaid flannels; I remember we all had bandanas the same color as our shirts and tied them around one knee and felt terribly cool as we sauntered around the playground. While I won't be wearing a bandana around my knee any time soon, I wouldn't mind sauntering around this fall in Buffalo plaid. I already have this shirt from Gap and have worn it over a tee or tank with jeans and shorts and tucked in with my leather pleated skirt. I love the juxtaposition of plaid flannel with something more elegant like lace or leather, and the boldness of Buffalo plaid. Don't be shocked if before the season is through I've purchased another flannel in a different color (such as this one from J. Crew).
Wool Fedora
This summer I wore my J. Crew Factory Panama hat quite frequently and I see a black wool fedora to be the fall and winter equivalent. I like wearing hats in winter and know this will get much use for the walk to work as well as weekends when I just don't feel like doing my hair. I love the colored wool fedoras (the burgundy ones are gorgeous), but black is more me and more likely to be worn more than one year. Considering this one from Catarzi and lusting for this one from rag & bone.
Fringe Bag
Lita's here and she needs a new bag for her next metal concert. I've always loved leather fringe, but feel it can look very costumey. You can't imagine (or maybe you can since you read this blog) how many times I have ALMOST bought a black fringy hobo bag. One of the things I like best about my Isabella Fiore bag is the fringy tassels hanging off the side. But this season I've seen a lot of small fringe bags, clutches and small crossbodies that won't overpower me with Lita-ness, but let a little bit of her shine. I've been looking at this one from Rebecca Minkoff and this one from Steve Madden.
Wrap Coat
The bathrobe-inspired coats this year are totally making me drool. I've always loved this style of coat and am thrilled they are back in vogue. While I'm usually a black or color gal, the idea of one of these coats in a neutral like cream, tan, or gray makes me swoon. This is the kind of coat that works with jeans, work attire, and can glam up with a dress for a night at the theater or a holiday party. I'm really loving this wrap coat from Lauren Ralph Lauren in cream, and this cashmere wrap coat from Trina Turk is drool-worthy (I love the light gray).  And while not really the same style, this wrap coat/cape hybrid from Ann Taylor is really calling to me…
So now that the fall and winter trends are out and about, which ones are you considering for your wardrobe?