This article may contain affiliate links; if you click on a shopping link and make a purchase I may receive a commission. As an Amazon Associate, I earn from qualifying purchases. 
This weekend recap won't have as many pictures because I forgot my phone in the car for most of Saturday (but check out a full recap here). However I did capture some other fun things!
Friday I found out Brad Goreski was signing copies of his book, Born to Be Brad: My Life and Style, So Far at the Georgetown Brooks Brothers. Even though I was whining about being tired, I just couldn't miss this opportunity; once the work day ended I hoofed my way to Georgetown. The line was long, but I met some fabulous women in line and it ended up being worth the wait. Brad Goreski was so utterly charming and sweet – just as he appears to be on his Bravo show It's a Brad Brad World. Unfortunately the handsome man in the pink tie in the picture above took my picture with Brad, and as you can see even with an Instagram filter, the pic is still blurry and poor Brad's eyes are closed. Oh well, it was still wonderful to meet Brad Goreski! I have yet to read his book, but I flipped through it and love all the personal pictures of him from over the years!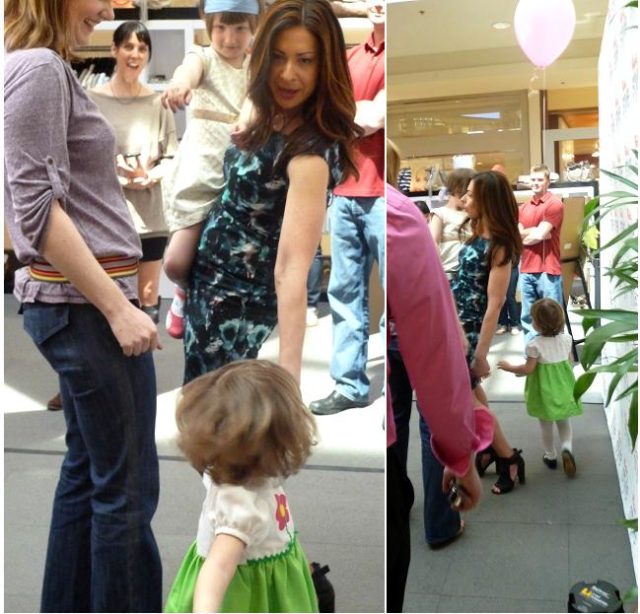 I spent the majority of Saturday at Westfield Montgomery Mall for the Westfield Style Tour, which was a blast. I went with Alison of DC Celine and her little one; Emerson and her Bean had a blast being girly girls – they curtseyed in their dresses, ooohed and aahed over shoes, and Emerson flirted her way into acquiring a pink balloon tied to a mannequin in Ann Taylor. Emerson also showed her wild no-nap side in a very embarrassing moment. While Alison and her little one were having their photo op with Stacy London, I was trying to capture pictures of the moment. Emerson pulled from me, ran under the rope, and started running circles around Stacy London. I was totally mortified, but Stacy handled it well and I think found it a bit funny. And since I already had my camera out…
Sunday was Cleaning Day in the Gary household. Life has been so frantic the house has really taken a hit. We mopped and scrubbed and vacuumed and even steam cleaned the carpets on the main floor. The weather was amazing so we were able to open all the windows and air out the place, bringing in new energy. Last night we had one of my husband's childhood friends and his lovely fiancee over for dinner. My husband made ribs, chicken, sweet potatoes and salad; we dined out on the back deck as the sun set and caught up. It was a lovely way to end a busy yet wonderful weekend!
Follow Me | Twitter | Facebook