This article may contain affiliate links; if you click on a shopping link and make a purchase I may receive a commission. As an Amazon Associate, I earn from qualifying purchases. 
When ordering maternity clothes, a basic rule of thumb is to order your pre-maternity size. This doesn't always work – I am ordering items in Medium (though I haven't worn a medium item since freshman year of college) and though I was a 12 petite pre-baby, I am ordering 10s, 12s and 14s and finding all sorts of fits. That's fine, just as I found which retailers fit my body best pre-pregnancy, so I am having that journey with maternity!
One thing that is really irritating me though are inseams on maternity jeans and pants. Whether I am in my first or third trimester, I am still going to be 5'3". Yes, as the belly (and bum and hips and thighs) grow with each month, fabric from the legs will be used up to accommodate this change. However, that doesn't mean I need an extra 6" on my hems.
I have shopped at The Gap since I was 14. When I was thinner, I got away with the regular length of trousers and jeans. As I have gotten older and curvier, I flip flop between regular length (with heels) and ankle length or petite (which is too short for anything but sneakers and flats). The bigger my tummy gets, the less I feel like wearing heels (the less balanced I am feeling and the less strain my tootsies are willing to take) so I know petite or ankle-length bottoms is the way to go for maternity.
Gap and Old Navy both recently had major clearances so I ordered a bunch of stuff off their Web sites (gotta love free shipping with my BR card and free returns for all maternity wear). As that my job is changing their dress code to a more professional look (jeans only acceptable on Fridays) I was in search of short-length trousers, preferably in black. I found a pair of twill trousers from Gap for around $30 that were 12 Ankle, and a pair for about $20 from Old Navy, also 12 Ankle.
Here are the Gap trousers. IN 12 ANKLE: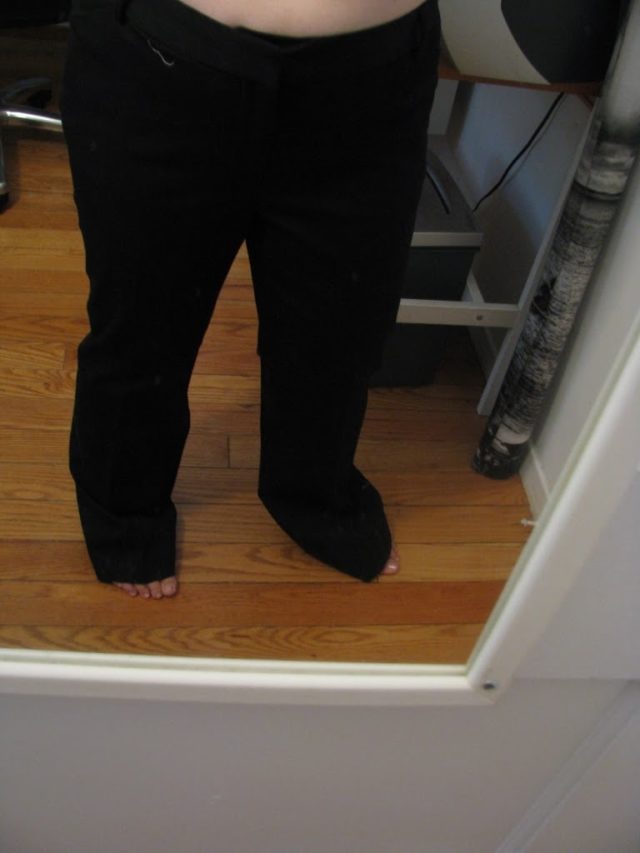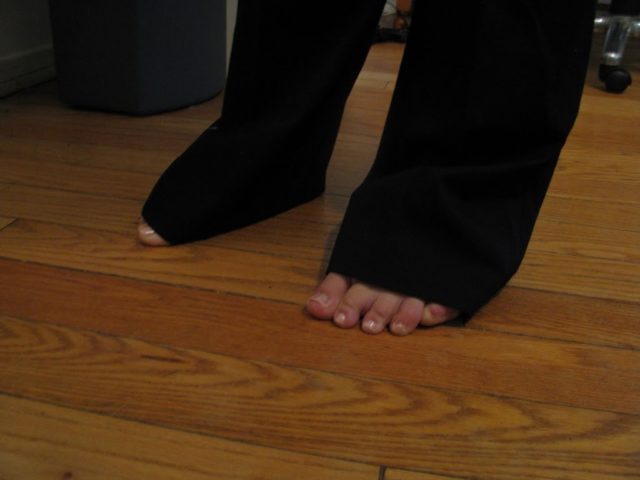 I am not four feet tall. Usually I can purchase from a store off the rack. Ann Taylor, Gap, Banana Republic, J. Crew, all the major retailers I can usually get away with a regular length in a pinch, but always find the petite or ankle lengths appropriate and ready for me to wear.
And here are the Old Navy trousers in 12 ankle: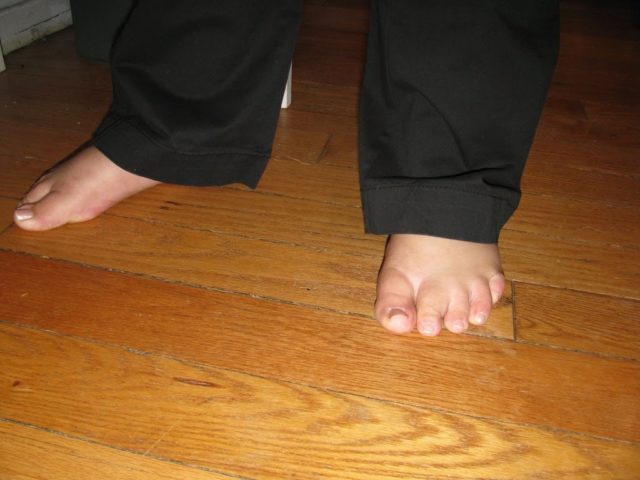 Same retailer, essentially. Rise the same (though different type of maternity waistband), same sort of fit in the bum and hips. Everything the same except the length (and that the Gap trousers are a crisper, darker black which would look more professional and probably wash better).
WHAT THE HECK PEOPLE? When women get pregnant they don't grow a foot in height! Who in the WORRLD would think this is an ankle length on anyone under 6' tall?
I would think this is an error in labeling or from the factory, but this is only one of SIX different petite or ankle-length maternity pants I have tried on from FOUR different retailers that would require several inches hacked off at the tailor. This is what grates my nerves and makes me wonder why retailers just hate all pregnant, short, tall and overweight women. I now have to decide if they are worth it to take to the tailor to make wearable, or if I just return them. The Old Navy pants are not something I would usually wear (not too chic of a cut) but they are cheap and don't require the annoyance and cost of extra alterations. Argh.