This article may contain affiliate links; if you click on a shopping link and make a purchase I may receive a commission. As an Amazon Associate, I earn from qualifying purchases.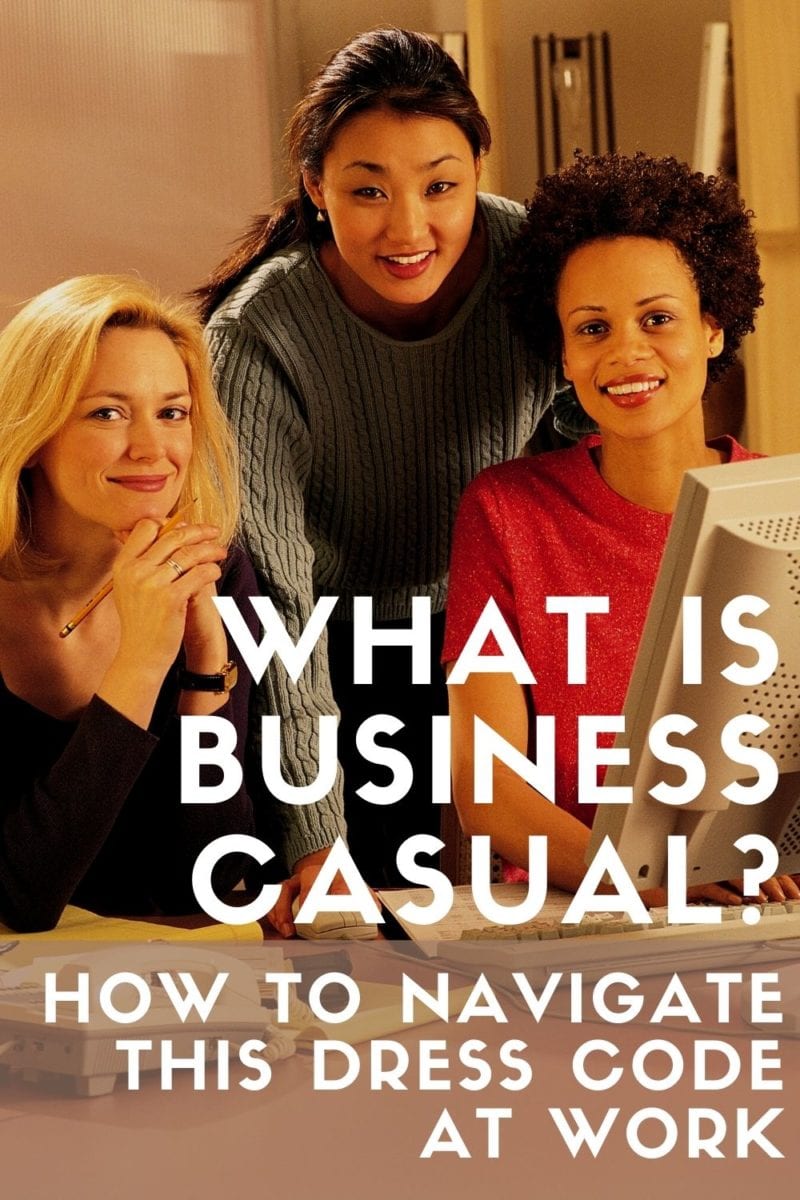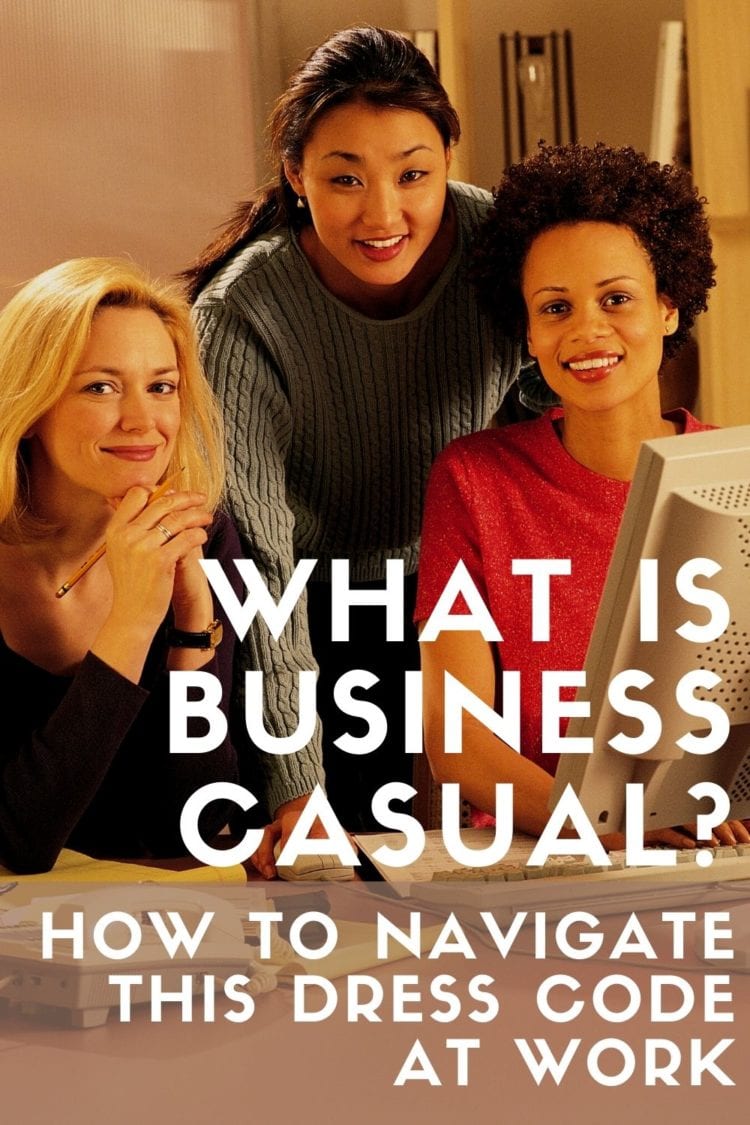 I walk the halls of my office building, observe my fellow women on the Metro, walking to their workplace, and event in the line at Chipotle for lunch and I have come to the conclusion: no one understands what is business casual. Seriously, what is business casual and how do we navigate this dress code, especially as women?
I think this term was created by a man. A man who can just change from suit pants to chinos, a tie to a golf shirt, and look appropriate. Oh, how easy it is to be a man – three pairs of pants, five shirts, a pair of brown shoes and you're done. Yes, there are the more sassy men who don't wear athletic socks, iron their shirts, and own more than one pair of shoes made in the current millennium. But women, we have it tough. What shoes are acceptable? How short is too short? How sleeveless is too sleeveless? What crosses the line into "quick trip to the grocery store attire?"
Early in my career, I was told by a supervisor that I admired and desired to emulate that one should "not dress for the position they have but the position they aspire to have." This caused me to have some idol worship purchasing similar suits, necklaces, and even glasses as this supervisor. After getting over my professional crush, I realized that her motto held true. If you dress like a person of respect, you will be given that respect. If you dress as though you just rolled out of bed, no matter your intelligence or qualifications, you will never gain the same amount of respect from your colleagues. No matter how hard we try to believe that looks do not matter, THEY DO. What separates you from your intellectual equals is often the superficial: the firm handshake, the confident air, the better resume paper, and the attire you chose.
What is Business Casual? How to Navigate this Dress Code
So you have landed the job and your company says that the attire is Business Casual. How do you dress on that first day in the office?
How to Dress Business Casual at a New Job
When it comes to what is business casual at a new job, it's better to be safe on your first day and dress a bit nicer. This shows that you respect your new position and company. You don't want to arrive in a suit and hose, but if you are torn between the chino capris or the lined suiting trousers, go with the latter.
Suggestions for Outfits:
A tailored button-down shirt and lined trousers with boots, mules or pumps. The shirt should meet in the middle. Do a sit-down check to ensure it doesn't gape open. If it does, put a safety pin inside where it cannot be seen, but keeps the clothing secure. Pants should not be tight. If they hug the top of the bum, that's not bad. If they hug the sides and bottom, they are best kept for nights out with the girls. As for shoes, be safe and wear a closed-toe pair. Ensure they are not scuffed, torn or run-down.
Sweater or twinset with lined trousers or skirts. Keep the color a bit more subtle – not always the best to start your career in a lime green silk scoop neck. You will be forever remembered by your sweater, not your attributes. As with the above outfit suggestion, try to keep the clothes tailored but not tight. Again, consider a closed-toe shoe. Your skirt should come just above the knee or longer. Miniskirts are not work appropriate, no matter how casual the atmosphere. It is perfectly acceptable to consider that Business Casual equals No Stockings. If you prefer them, it's is totally fine, but not required.
More casual pants (denim trousers, chinos, or stretch twill) with a shell and blazer. Again, the clothes should skim, not cling to the body. The shell can have a v or scoop neck, but should not show a lot of cleavage. Again, stay conservative with closed-toe shoes. A pair of kitten heel mules are great for the warmer months – they look adorable with jeans, capris, and skirts and don't require hosiery.
Business Casual as an Established Employee
So you have felt out the environment, you have seen people wear khakis, cropped pants, sleeveless tops and open-toed shoes without a blink of an eye. How do you know what in your closet is appropriate and what should be left for the weekend?
Fashion No-Nos No Matter the Office Culture
Spaghetti straps (unless under a jacket/cardigan and the cover is NEVER removed)
Mini skirts
Foam flip flops (there are many leather versions that are just as comfy but more professional)
Low-cut tops (if one can see more than ½" of a cleavage line, the top is too low. Consider changing or donning a camisole under the top)
Backless tops
Casual tee shirts (especially with funny slogans)
Yoga pants, hoodies, athletic tunics, leggings (this is an office, not a gym)
Gym sneakers (some offices accept trendy sneakers, but overtly athletic sneakers should be kept for weekends and the gym)
Midriff-baring attire. It is a safe bet to keep your torso under wraps. Even when you bend over or sit, your entire back (and backside) should be under wraps. When you stretch to get a book off a shelf, your tummy should be completely covered.
Keep in mind that a client, a member of upper management, or even a potential recruiter could see you, no matter the day or time. The one day you come to work in yoga pants and flops will be the day that there is an unexpected visit from the corporate office. And if your office mates are wearing the above, consider how they are seen by the rest of the team. Are they respected as much as the woman in the crisp blazer and suiting trousers?
How to Stay Comfortable Yet Professional
Stretch is key. For blazers, consider ones that are unlined and have at least 5% Lycra. They will stretch with you and keep their shape throughout the day. Same with pants – consider ones with a bit of stretch, they will feel far comfier and look better after eight hours of sitting in a chair. As for tops, a button-down with stretch will move with you, reducing gapping at the bust and creases on the back and elbows. Knit tops are great and comfy on those days where you don't feel that hot. Sweaters in merino wool, cotton/lycra blend, and cashmere blends wear well, maintain their shape and color after multiple washings, and look professional. With shirts, consider a tailored shape. Your boyfriend's wool rollneck from J. Crew that hits to your knees is NOT work appropriate, nor is that cotton sweater you have had since high school that is faded, covered with fuzz balls, and 2" too short on the sleeves.
Business Casual and Jeans: What Styles, Washes, and Cuts are Best for Work?
My job allows jeans every day. Those of us in middle management keep them for Fridays, and keep them clean. Those who wear jeans are usually those in the types of positions where they do a lot of carrying of items or the type that hole up in their cubicle 12 hours a day.
When the jeans do make it to work, keep them on the darker side. The lighter the jean, the more casual it looks. Refrain from holes, frayed hems or very low rises. Jeans can look professional with a nice blazer and shell, a tailored shirt or a twinset. Jeans with Lycra often look more refined.
Basics for a Woman's Business Casual Wardrobe
Twinsets in cotton, cashmere, or merino wool (a cardigan and sleeveless higher necked or short-sleeved any neckline shell are the most versatile – you can remove the top layer without looking indecent).
Denim trousers – a safe and sophisticated alternative to jeans. When you hang them or get them dry cleaned, have them pressed to create a front crease – this will distinguish them from their dungaree relatives. I have always found great denim trousers at Talbots.
Lined trousers with 3-5% Lycra – buy them in black, charcoal, or brown and a lighter color (camel, ivory, khaki). These should be a weight heavy enough to give a good drape, but light enough that can transition from season to season effortlessly.
Heavier weight tailored cropped trousers – I find black to be the most professional looking. In warmer months with knits and oxfords with slides or mules, in cooler months with a blazer or turtleneck and ballet flats for a beatnik vibe.
Stretchy unlined blazers – I have a khaki twill and a denim one. I wear these every week with jeans, skirts, cropped pants, trousers, and even dresses.
V-neck and crewneck sweaters in lightweight fabrics such as cotton, merino, and silk/cashmere. Consider your favorite colors, nothing is nicer than a cheerful color on a dreary Monday.
A dark-colored pantsuit – Always cleaned and pressed for those last-minute client lunches or corporate visits. the pieces can be worn separately for variety and a less severe look, but should always be cleaned at the same time to maintain a consistent color and wear level.
Black ankle boots – can be worn year-round and look great with jeans, pants, and suits. Also, weekend appropriate!
Cotton button-down shirts with at least 5% Lycra – nothing looks smarter than a crisp shirt and a pair of pressed flat-front trousers. These look nice with skirts and cropped pants too. Solids are less memorable than prints and stripes and are easier to wear week after week without feeling like a rerun.
Sleeveless shells with a conservative neckline – if skin is showing on the arms, it shouldn't show on the collarbone. Sleeveless shells can be worn under cardigans or jackets in the colder months, and be worn alone without looking risqué come summer.
Two or three interesting necklaces – A couple of chunky necklaces will add pizzazz and personality to your basic outfit. Target has a wonderful accessory department where you can get some fun beads or pendants at a low price. Chico's also has some really terrific and unique pieces.
Black pumps, low block heels, or structured flats with an almond or pointed toe – it doesn't matter the heel height, get what is comfortable but looks polished. These can be worn with dresses, skirts, pants, suits, and even long enough jeans. Consider insoles so they are comfy for a longer period of time.