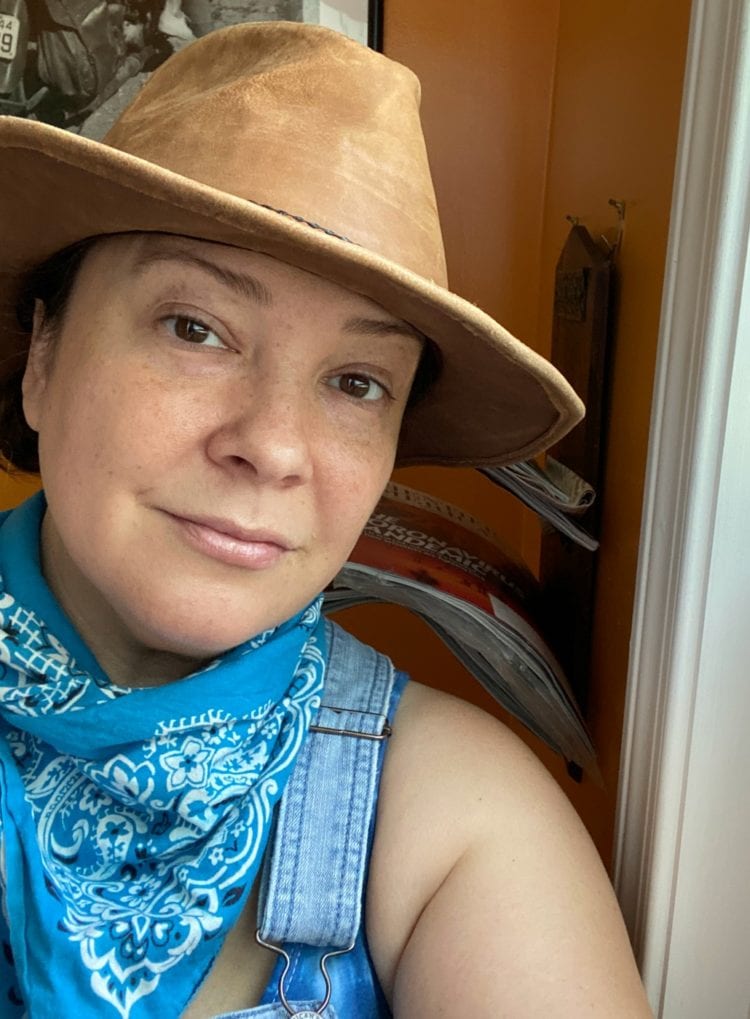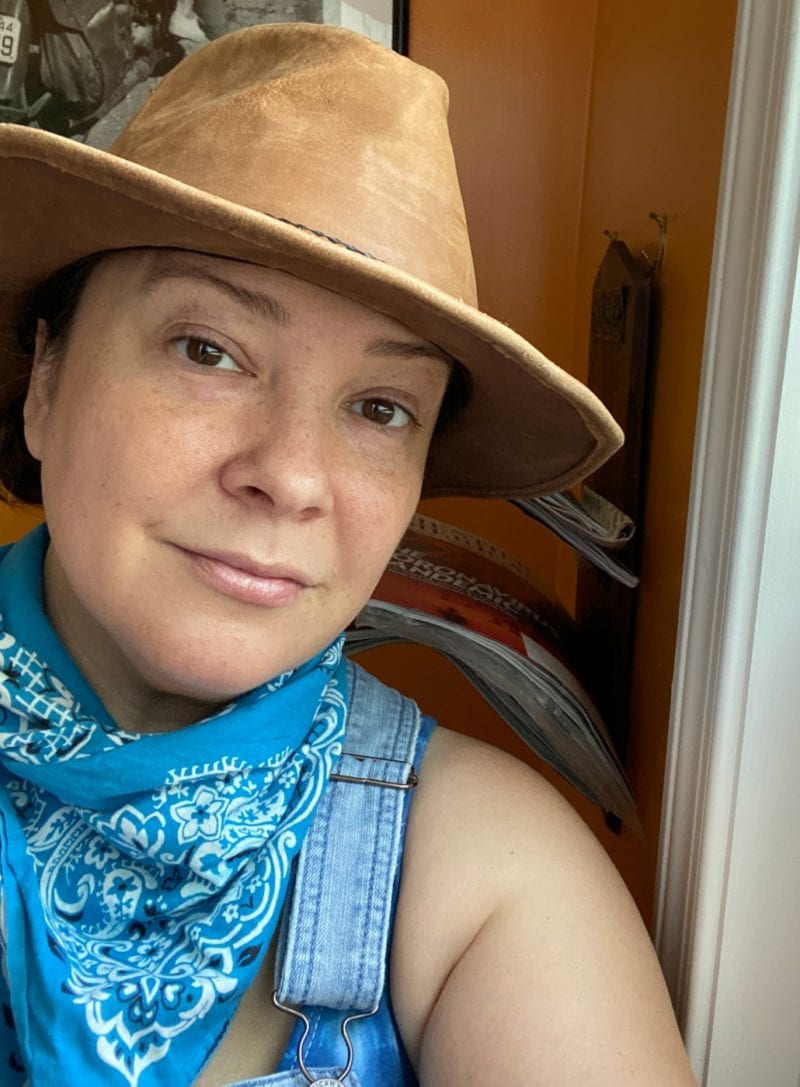 I think all of our lives changed this year. I know mine has. I see it as life before March 13, 2020 and life after. I changed a lot since that date, some not at first by choice, some because I felt I just had to make the most of a really horrible situation. These choices improved my health and have left me stronger. Several of you have commented on the change in my skin, my body shape, my hair, and even my attitude. There were a lot of lifestyle changes over these months that caused the visible changes you've seen in photos and in my videos on Instagram Stories.
My Food and Drink Consumption Changed
March 13, 2020, that was the last Friday of semi-normalness before our area was ordered to shelter in place. Our daughter attended her last day of school, I used hand sanitizer after filling the gas tank, and I got a feeling of nesting I hadn't experienced since my third trimester of pregnancy. While the news was saying it would be two weeks of sheltering in place, my husband and I felt it would be more like three months. My husband went to the grocery store and Target to stock up on necessities preparing for at least 12 weeks quarantined in our home, but items we'd use if we were wrong and back to normal after 14 days. Along with cleansers, sanitizing wipes, and toilet paper; he filled the pantry and refrigerator without a list, with what he thought would be tasty and able to go the distance in regard to shelf life or versatility. He is vegan so everything he bought was plant-based. He doesn't drink alcohol, so he didn't buy a single bottle of wine or case of beer.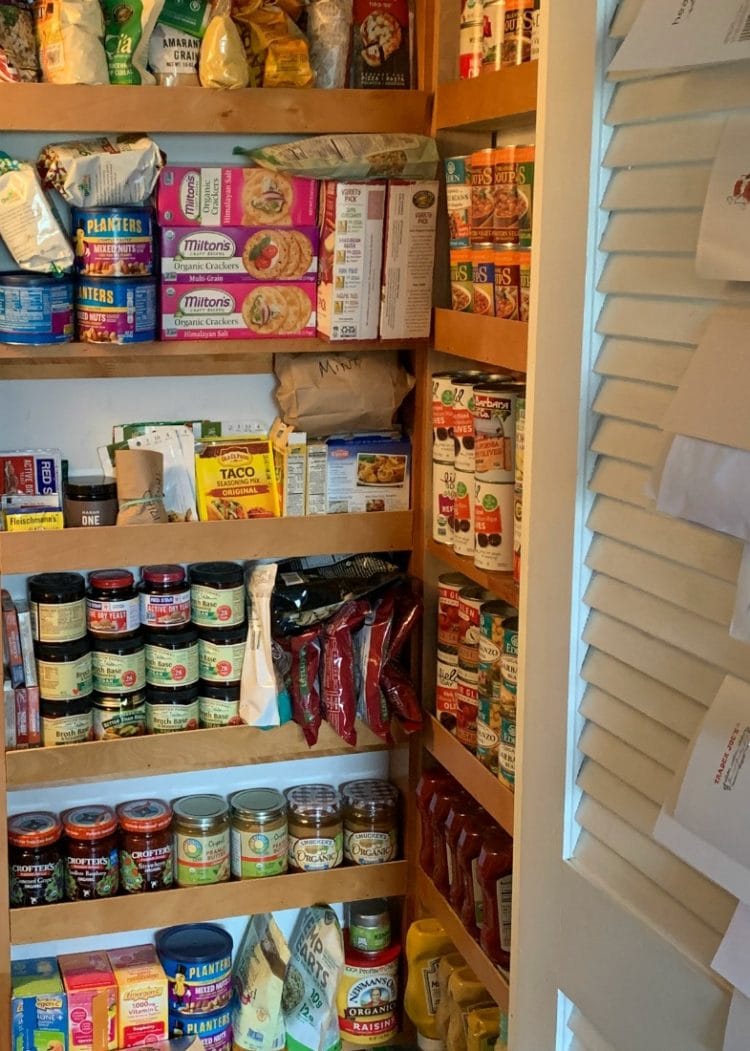 Our home was mostly plant-based before the pandemic. My husband, the primary cook of the household, wouldn't prepare animal-based food products, but my daughter had mozzarella sticks for her lunches, I'd occasionally buy a block of feta or blue cheese to add to dishes, she and I would order sushi, orange chicken, and Pad Thai for takeout, and we'd pick up a bag of Doritos and order pepperoni pizza delivery for sleepover play dates. My daughter and I also ate animal products outside the home at friends' houses and restaurants. But being unable to leave our homes, we three became completely plant-based.
My husband has always been one to try different things to tweak his quality of life and his health and I often go along for the ride because I have done my skeptical research and can see benefits. Yoga, meditation, vitamins, superfoods, even a grounding sheet for our bed, I was down. But when he cut out all alcohol and all animal-based products I was out. I was okay with alcohol not being in the home, but I couldn't imagine not going to brunch, a blogger event, dinner at a kickass restaurant, or a drink at a bar with a friend after an especially awful or awesome day without at least a glass of Prosecco. And cheese? How could I or why would I want to quit cheese? I'd pretty much cut out chicken and pork over the years and kept beef to a really kickass steak or tartare at a restaurant, but how could I abandon sushi? And Maryland crabs?? In Maryland, summer isn't summer without at least one crab feast.
But the pandemic changed all that. No crab feasts, no blogger events, no drinks at the bar after an awful or awesome day. And for our household, it was replaced with a sober, plant-based existence.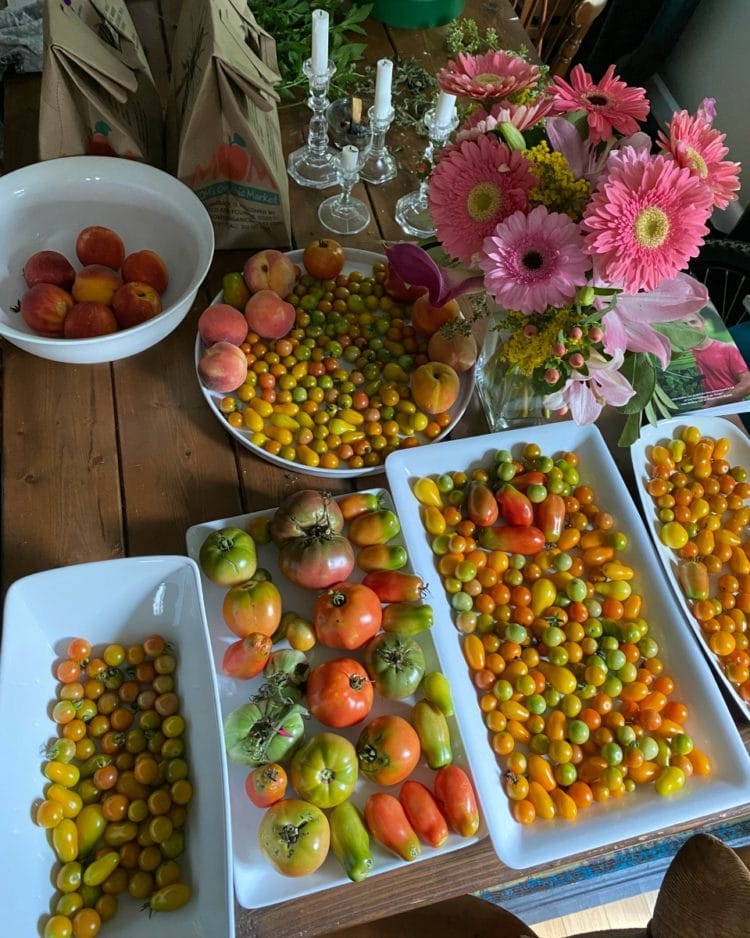 The Results of This Change
Well, the first result was dreaming about Sauvignon Blanc and seared scallops. And then it was Coca Cola and 7-Eleven nachos. But after the first two months or so, the cravings diminished. I found by eating less of that food and having fewer opportunities to indulge (no driving by restaurants, listening to commercials on the car radio, watching less network TV and more streaming without videos, no social occasions, etc.) I desired it less.
That being said, I didn't suddenly become some person who only eats when they're hungry and has mastered portion control. Two days ago I ate an entire family-sized bag of salt and pepper crinkle-cut kettle chips and the week before my period I filled a salad bowl (not the individual one but the one that you put on the table for everyone to serve themselves from) of spaghetti with plenty of Smart Balance, salt, pepper, vegan parm, and some crushed red pepper and consumed all of it around 3am while binging Netflix.
But physically, I changed.
The lack of dairy and/or lack of alcohol took away the dark circles under my eyes that have plagued me since I was a child. My skin looks brighter, became less oily, gets fewer hormonal zits, and my pores are less visible.
My hair is less greasy. I couldn't go more than one day without washing or I'd be an oil slick; now I can go 4-5 days before I have to shampoo and even then, it's not as greasy.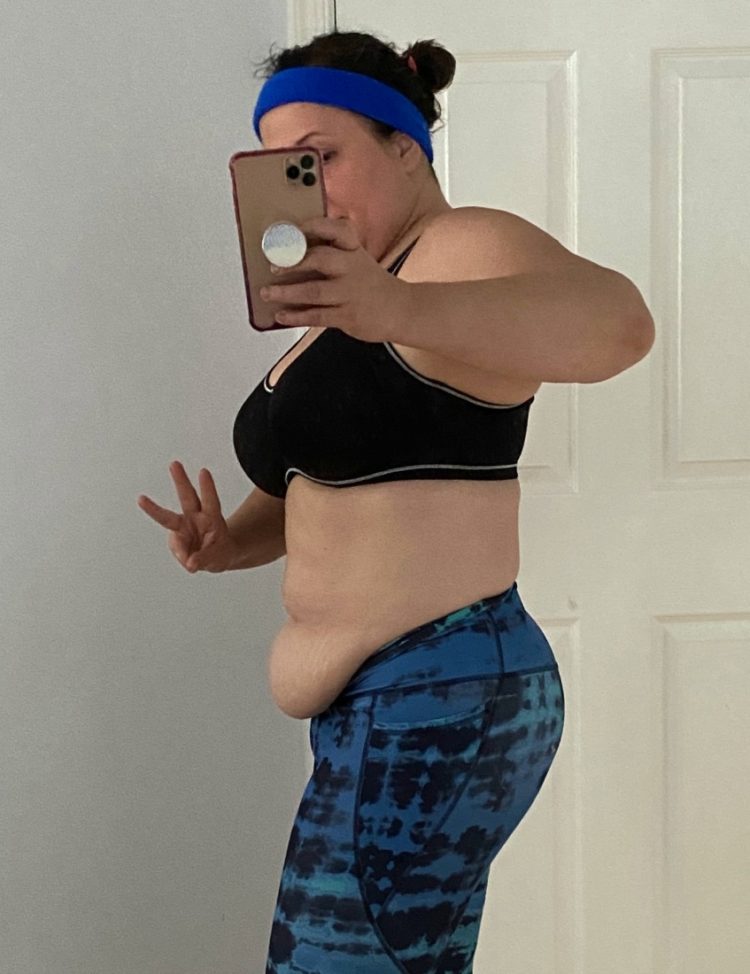 My stomach is deflated. I won't say it shrank because it didn't, all the skin is there still, but it's not as firm and round. The ab muscles I've built over the years are now more visible, and my pants are all loose because it's as though my stomach was a balloon and someone put a pinprick in it.
My Fitness Routine Changed
At the end of 2017, I quit my job in Corporate America to be a full-time blogger and I also signed up for personal training at a gym. From December 2017 to March 2020 I went to this gym five days a week, focusing on weight training. This was the first time in my life where I stuck to any sort of fitness routine longer than a couple of months. I enjoyed getting strong. I didn't care about losing pounds or inches, and didn't really lose a lot of either, but my body impressed me with its strength, agility, and flexibility that came with a regular fitness routine. It helped me create a healthier relationship with my body and come to respect it.
The last couple of months I wasn't feeling it at the gym. I loved the gym, adored my trainer, saw results, but was ready for some change. However, I didn't want to make a switch until I had something else I could commit to; I didn't want to lose all that I had gained from the experience.
My husband and I decided to get a Peloton bike. While my husband was a bike guy, even riding his road bike nightly on a trainer in our bedroom, I hadn't been much of a rider since getting pregnant in 2008 and never attended a spin class. I didn't know if this would be something I liked, but with the pandemic on the horizon, we felt it was a smart choice so we could remain active while staying indoors. The bike arrived just at the start of the pandemic.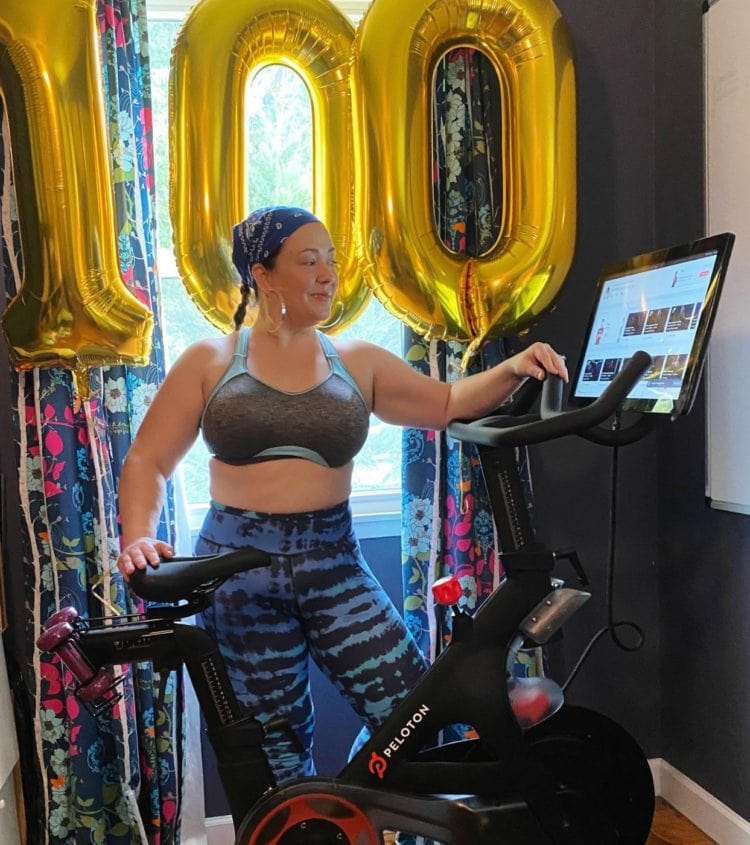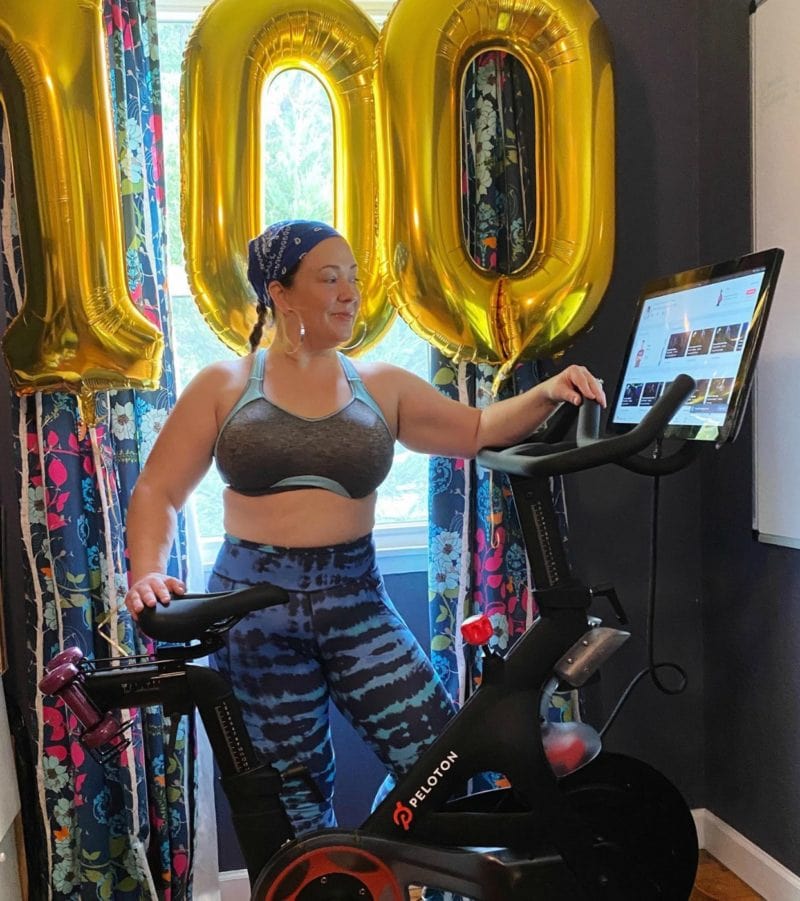 This past weekend I completed my 100th Peloton ride. I've also completed over 30 Peloton strength classes, 20 stretching classes, and over 20 guided meditations. The days I don't ride I feel stiff and achy which makes me get on there even if I'd rather be doing anything else.
But sometimes that time on the Peloton is what I really really want during this pandemic. When you're stuck in your home with other personalities you need a way of escape. And if you don't have any alcohol in your house, sweating your ass off with a pair of earbuds closing off the world and blasting you with music and motivation is a good alternative.
The Results of this Change
In the past 16 months, I have been everything between 186 pounds and 201 pounds. The last day I went to the gym at the beginning of March I was 196 pounds. At the time of writing this I am 191 pounds though people keep asking me if I've lost weight and saying I look smaller. I'm proof that the number on the scale doesn't mean much.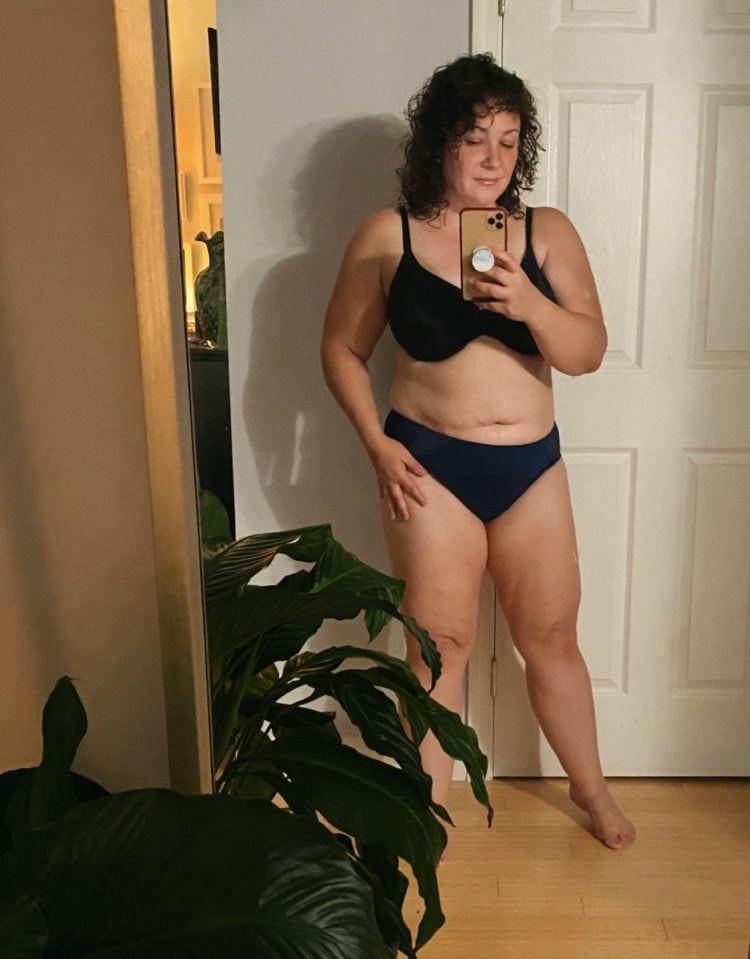 My body is very different since switching from weight training to cardio. My face has thinned out, the whole top half of me from neck to arms to torso seems leaner, and there is more loose skin. My thighs are bigger; pants that were loose before now cling. My calves and ankles are leaner and look more muscular. My butt is higher and bigger practically square from the new muscles from riding a bike several days a week.
I've always been a sweaty person and super self-conscious about it. I resisted group classes and events where I would be the weird person with sopping wet hair and streaky mascara after only five minutes of dancing or spinning or even mingling in a crowded bar. I thought I sweat a lot; I've never sweat as much as I do on the Peloton bike. After just a 30-minute ride, there are puddles on the mat under the bike and I could wring out the headband or bandana I'm using to keep my hair out of my eyes. But unlike social events where such sweat would embarrass me, I now find it a sense of pride. And I've seen by allowing myself to sweat, really sweat, it has done a lot for my skin. My complexion looks amazing. I have a glow even on days when I don't ride. My pores appear smaller, I get fewer breakouts, I think my skin looks younger.
My Sleep Changed
I used to wake up by alarm at 5:30 so I'd have gone for a mini-breakfast at least an hour before I would be at the gym for my training session. Now I don't use an alarm knowing my body naturally wakes no later than 7:00. With this life at home, I don't need to be up before 7:00. I can scroll through email and social media in my pajamas while making my coffee. I can flip open my laptop on my kitchen counter to review a contract or schedule a Zoom before the microwave bings letting me know my oatmeal is ready. I work out later in the day and can do so because I don't need to drive to a gym. I can change, get in a 30-minute ride, shower, dress, and eat my lunch all within an hour because it's all within 1,400 square feet.
I've worked hard to improve my sleep and will be sharing a separate post on this topic in the near future.
My Daily Routine Changed
Before the pandemic, our family had a rigid schedule. We all woke to alarms and had places we needed to be at certain times. We lived by the dry-erase calendars in the kitchen and matched them to our Google calendars on our devices. My husband taught yoga three times a week, our daughter had activities after school every day of the week, I usually went to at least one blogger event a week and regularly worked at coffee shops, The Wing, and other locations. Weekends were packed with Girl Scouts, sleepovers, photoshoots, visiting relatives, and events with friends and neighbors. We carefully choreographed our life to make it all work.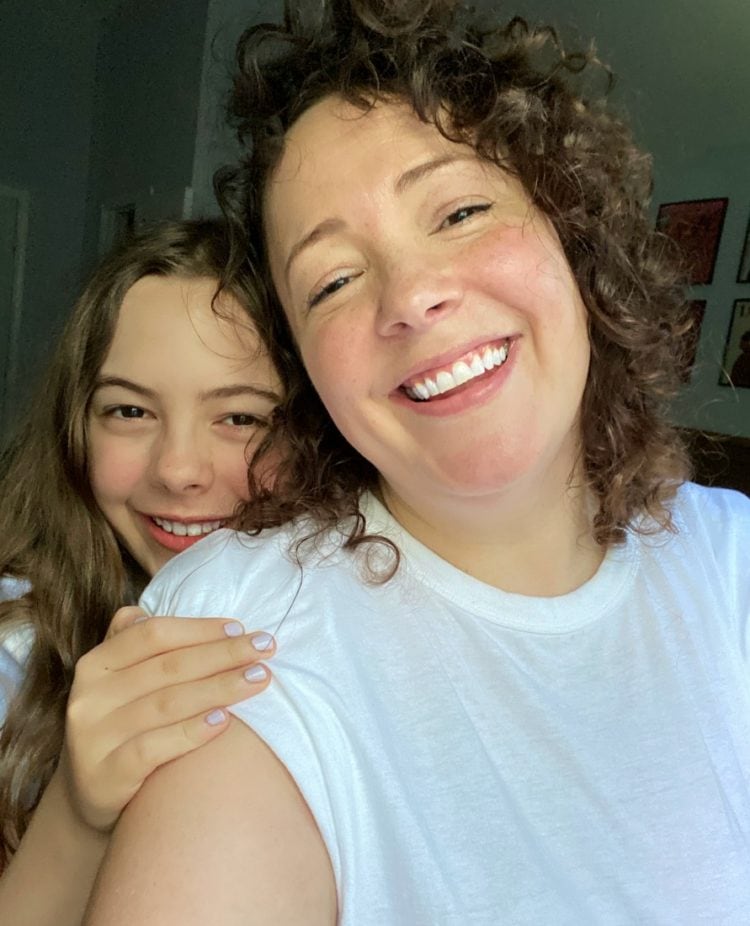 And now? My daughter has piano lessons by FaceTime one evening a week and we go to visit my mom in her yard one day a week and there isn't any other consistent appointment we need to adhere to. Instead of synchronizing calendars, we each write out a to-do list in our individual notebooks and cross it off, using them as a kind of journal to track what we need to do, what we've done, and how things are. I still maintain the same work hours and soon our daughter will be back to distance learning and with it a variation of the routine we created the end of last school year which took place at home.
My Beauty Routine Changed
As a fashion blogger and Instagrammer, I would put makeup on every day, even if I didn't have plans. Photoshoots, Instagram Stories, blogger events, Zooms, and in-person meetings with brands, it just was part of my routine. Gym, breakfast, shower, change, do my face. But now? I go most days without makeup. I'll put it on for a shoot, or a Zoom video call, or occasionally when I feel the need for a pick me up or when I got inspired by something I saw online. But most days it's just a lot of moisturizer.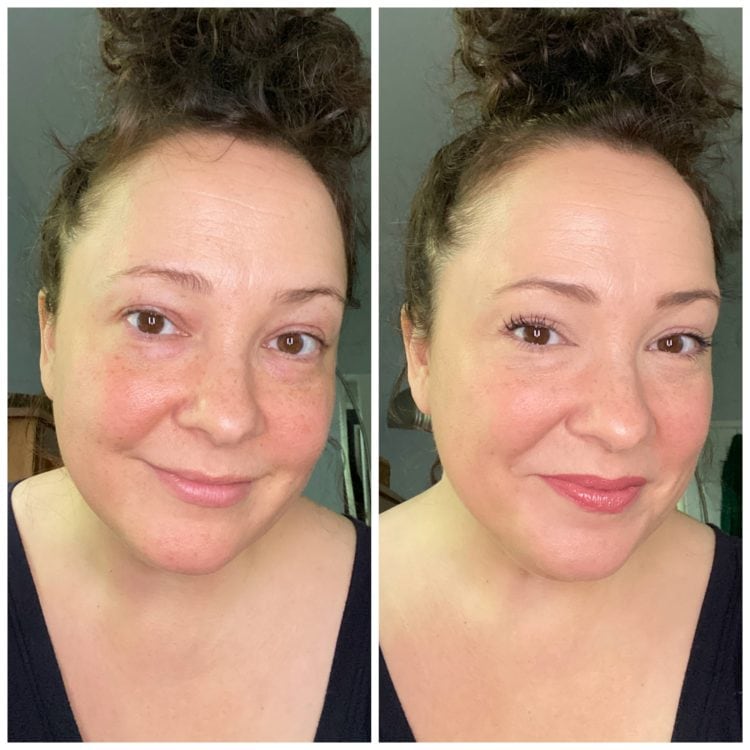 And speaking of moisture, I think I drink more water because I'm not leaving the house so I have quick access to my own bathroom. Hell, I can take my laptop or phone with me and continue my writing. Parts of this piece may or may not have been written on the throne. But let's get back to the topic.
My hair is happy with me at home. While I wash it just as often as before thanks to sweating my booty off on the Peloton bike, I have only used a hairdryer once or twice in the past five months and no other hot tools. My hair is air-dried, regularly given a moisture mask, and left to its own devices, which seems to be shiny ringlets. I've had time to try things – see if I wanted to grow out my gray, try a new line of hair products, see if I can French braid my own hair. My hair was always something that stressed me out – too thin, visible roots, limp, frizzy, in need of a cut. Now because I've let it sort of do its thing, it's a part of my appearance I worry very little about.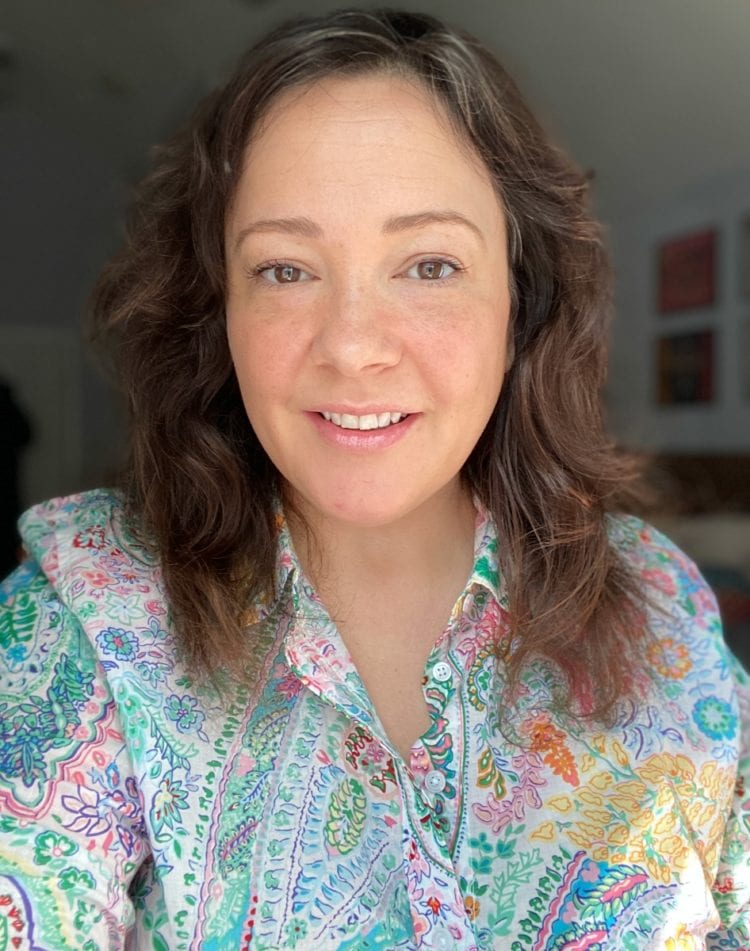 I used to get powder dip acrylic nails every 2-3 weeks and a pedicure every 4-8 weeks. I have chewed my nails and cuticles since I was little and this process kept my hands looking less grody for photoshoots and product promotion and also made my nails too thick and strong to nibble them or the skin around them. I haven't been to the nail salon since February. While my daughter and I had a spa day one time a few weeks ago where I painted her nails and she painted my toes with pink glitter, that's the only TLC my fingers and toes have experienced. While I miss having someone rub my feet and wrap them in hot damp towels, I find the lack of manicures freeing. Yes, I have resumed chewing my cuticles which is gross, but I do love having back that time in my life as well as the money spent on the mani/pedi upkeep.
The Biggest Change
The relationship with my body has been the biggest change over these five months. As long as I can remember, I have felt I was too big. Size 2, size 16, didn't matter I felt that if I was smaller I would have a happier life. Weight training really helped me come to respect my body and understand that size does not determine strength or value. However, I did still have issues with my body. My job really made the relationship with my body difficult. While I would feel confident and want to motivate others to normalize their bodies, I'd also have to scroll through 300 photos of me at a shoot, seeing my body from all angles and have to tailor it down to just a handful for a post and social. I'd see candids from events I attended where I felt I dressed fierce and looked amazing but the photos would show someone that looked like a lumpy mess. As my size went down with working out, so did my traffic and my income, making me question my job, my body, my size, my everything.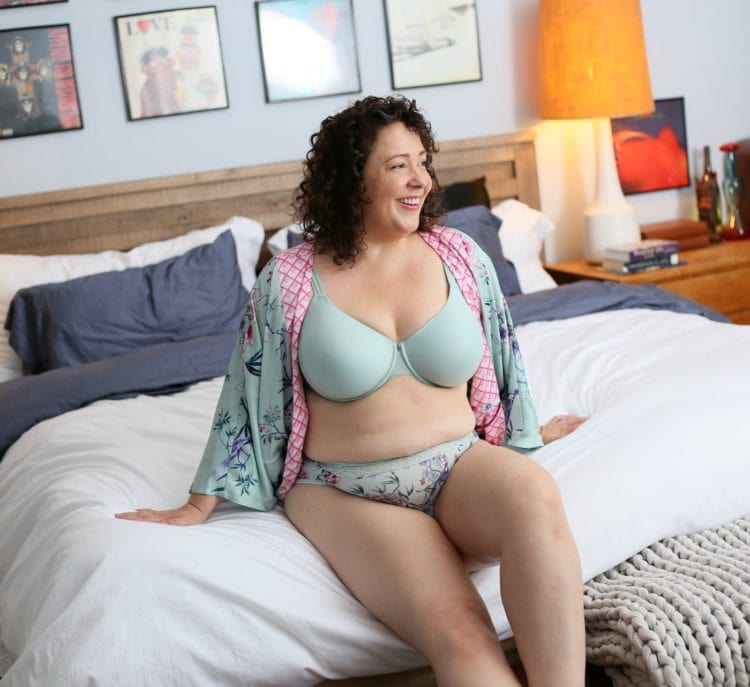 But being home, there wasn't all this external pressure. I let myself be comfortable in elastic waists and stretchy knits, I packed up all my shapewear and let my feet spread in Birkenstocks. I wasn't being weighed daily at the gym, I wasn't attending events where I had to be "on," I gave myself a mental vacation from it all. And that along with the diet, activity, and beauty changes, did me a world of good. I gave myself time to see my body in the mirror in whole, not just a belly and cellulite and saggy skin. I also gave myself days at a time where I never took more than a quick glance at my reflection as I went off for my day. I took regular selfies to remember how I felt and what I thought of myself at that time, taking them when I felt strong or sexy or beautiful or vulnerable. I both got into a more intimate relationship with my body and disconnected from this constant focus on it.
I hate this current existence for us. It's tragic and terrible and unhealthy on many levels. But being forced into this situation with the circumstances I had – the bike, the plant-based husband, the lack of alcohol, the ability to slow down… it has been truly transformative. Like most of us, I may not be feeling the most secure mentally with our new normal, but with the physical changes I've made, I feel better prepared for whatever the future holds.