This article may contain affiliate links; if you click on a shopping link and make a purchase I may receive a commission. As an Amazon Associate, I earn from qualifying purchases.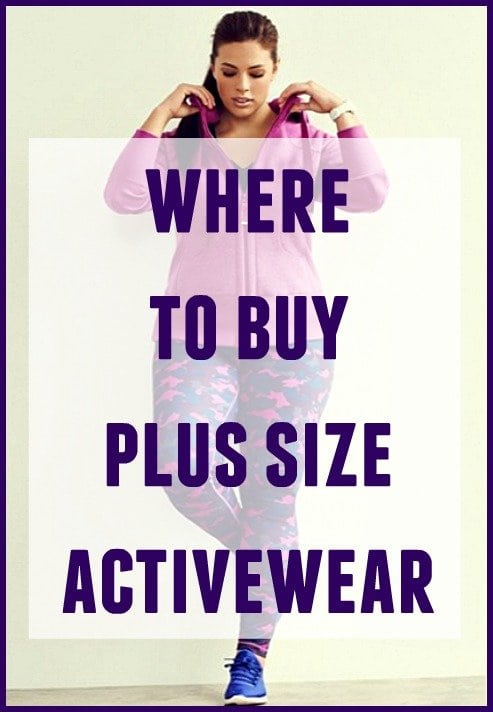 Many of you have reached out asking for resources for plus size workout clothing and activewear. Luckily, selection has improved in the past couple of years. Gone are the days of wearing men's sweats or items that lack performance; many brands offer high quality, hard working athletic gear in extended sizes. The best of the best:
Zella is a brand sold only at Nordstrom and it is my JAM. Cute, functional, on trend, and reasonably priced. I also find their line to be consistent in sizing. Nordstrom offers free shipping and free returns so it's easy to try in the comfort of your own home to find the right pieces. Check Nordstrom Rack where sometimes you can find pieces from Zella on clearance; I also stock up on Zella during the Nordstrom Anniversary Sale. Their selection changes seasonally but I have been super pleased with their ruched tops and leggings. I have two pairs of these pants and they're great for everything from lounging to kayaking. I find the line runs a bit large; order your regular size and if unsure, you may wish to size down. Zella is available in regular and plus sizes up to 3X.
The older I get, the less I shop Old Navy. Okay, sometimes you can find a real gem there but in general, the stuff is crap. The fit is off, sizing is inconsistent, manufacturing and fabric quality is often awful. I'd rather wear the same shorts every day all summer long than again blow $100 on several pieces at Old Navy that each will disappoint me in some manner before Labor Day. However, their activewear is pretty great. I've bought leggings and yoga pants from Old Navy that are still looking new years later. Their tops are cute and fun without a huge pricetag. I also like that they go up to size 4X.
Lands' End was one of the first to offer plus size activewear and they continue to offer basics up to size 3X. While their line isn't full of the latest fashion trends in athletic wear, the collection continues to be highly rated for fit, quality, and purpose. Speaking of ratings, one of the best things about shopping at Lands' End is the customer reviews. Extremely detailed and often by repeat shoppers, the reviews can really help you find the pieces that will best work for your body and activity.
Previously known as Junonia, Juno Active has been making quality performance plus size activewear since 1995. Available in sizes XL-6X, JunoActive specializes in equipping the plus size woman. The line isn't cheap, but that's because they make quality pieces that are meant to last. While they have leggings, shorts, and cute tops, JunoActive is also great for padded bike shorts, moisture-wicking underpinnings, and other necessities to be comfortable while being active. I have a pair of bike shorts from them that are almost a decade old and they still look like new.
A family-owned business based out of California, Rainbeau Curves has been making activewear and dance apparel for over 30 years. They focus on creating fashion for curvy women who have an active lifestyle. I haven't tried Rainbeau Curves but friends and many of you have raved about this line for quality, fit, and customer service. They go up to 5X/32 and have a way to send questions to their fit director to get custom advice and support for shopping their line. All this, and reasonable prices!
Columbia is one of the few high performance outdoor apparel that makes plus sizes. Led by a female Chairperson, Columbia has been based out of Portland, Oregon for over 70 years. Their plus size line goes up to 3X. Columbia isn't where to find cute outfits for the gym. However if you're hiking, camping, skiing, like spending time active outside, or are planning a vacation with active elements… Columbia is for you. Above I have links to Columbia items found at Macy's and Amazon.
Imagine a plus size activewear brand that doesn't size up from a skinny fit model, but has a size 16 fit model. That's Lola Getts. The whole goal is to support and flatter a curvy figure, from the fabrics chosen to the placement of stitches. All this and the line is made in California.
Available in sizes 14-28, JustCurves creates awesome activewear, tees, hats, and other gear Their OneDer Suit is utter brilliance to be able to focus on working out without your leggings sliding down or your top riding up. While I love the activewear, I'm also a fan of their message tees. Inspiring and attractive, and shaped to fit a larger and curvy frame.
Sold at Bare Necessities, Nordstrom, Zulily, and many other retailers (including their own website), Marika Curves sells up to 3X/24. Selection at different retailers seems to vary drastically; I've found the best selection at Nordstrom (I own this tank from the line) and Bare Necessities (they also have the best shipping and return policies).


My picks are above; click the image to shop it at the retailer's website. It's not an extensive collection, but Marika Curves does a good job of creating plus size activewear and athleisure basics at good prices and with some fun details.
Katie K. is an activewear line made by a personal trainer who believes women size 2 two 24 should have a beautiful, high-end option for clothing for exercise or a casual day out. Made in NYC, many pieces have a UV rating of 50+, anti-chafing properties, and/or moisture wicking properties.
Lane Bryant's activewear line, LIVI Active is pretty great. Plenty of reviews for good quality, fit, as well as style. While LIVI Active has plenty of gear for the gym, they also have athlesiure pieces that are minimalistic chic, perfect for the yoga studio or a weekend run to the market.
Do you have a plus size activewear brand you love? Share in the comments!