This article may contain affiliate links; if you click on a shopping link and make a purchase I may receive a commission. As an Amazon Associate, I earn from qualifying purchases. 
As I am minimizing, I am paring down my clothing palette pretty much to black, gray, white and denim. I enjoyed your post on why you promote black and agree that it is the most versatile color out there and a perfect choice for a small wardrobe. My question is around the flattery piece – if you don't have a good eye for color and its effect (which I don't), how can you decide whether it is flattering or not? I just turned forty and don't know if it's 'aging' me. Also, I have dark hair and fair skin and always thought black was fine for me, but I've been told I am a "summer" and thus should stick to gray or navy instead – but neither is as easy and versatile as black IMO. In particular, I'm moving away from navy because it does not support my minimizing goals. Should I keep the grays by my face and the black elsewhere? Or just throw on some extra lip gloss and forget it!?!
What a great question! I think many readers will have their own opinion on this subject and many are far more expert on one's colors than I. Readers, I look forward to your feedback and advice for this woman.
And now my opinion, which is only that and not gospel.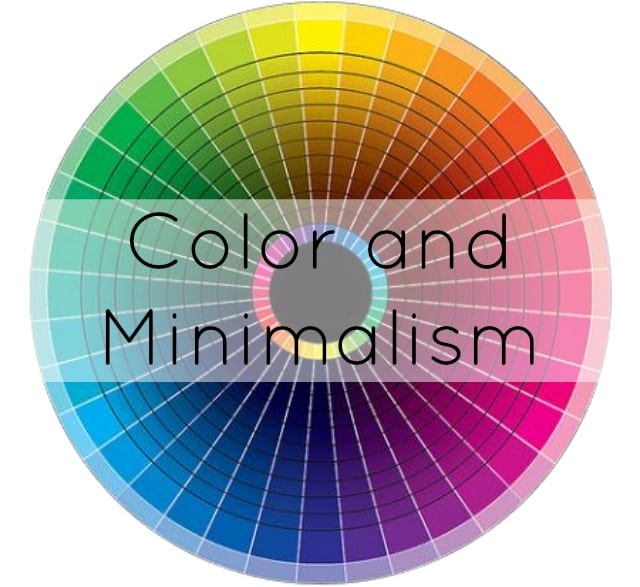 When I was little, my mom got the book Color Me Beautiful. I can recall many rainy afternoons spent in her bedroom with her and my sister, draping different colored garments from her closet around our necks to see if we were Winters, Springs, Summers, or Autumns. We decided that I was a Winter, like my mom. We looked best in colors like emerald green and cobalt blue. To this day, if you think of my mom you likely think of blue, her favorite color and her wardrobe signature, usually paired with black or white and silver accessories.
Though it was clear I looked better in emerald than olive, I so wanted to be an Autumn. I loved (and still do) orange and neutrals like cream and khaki. In high school, I dyed my hair red and wore brown-toned lipstick to better carry off pumpkin and plum, and in college tanned my skin to a crisp to look better in neutral shades and orange-red.
After college, I worked in apparel and was surrounded by every color in the rainbow and plenty of opportunity to try them on and get instant reaction from strangers who didn't have to be polite. I found that the color mattered more than how it worked with my skin. I got bold, wearing copper eye shadow, pale pink dresses, brown turtlenecks, coral lipgloss, and seafoam green sweaters. Sometimes it was obvious that I'd look better in another shade (hello seafoam green), but I was having fun and played it up with makeup and accessories and learned from my experiences.
And now I'm 39 and I don't have the budget or the time or the desire for a rainbow closet and 30 different colors of eyeshadow to make crazy colors work. Like you I am heading towards a more minimalistic wardrobe and color palette of predominately black, gray, and white. I've noticed that the older I get the more I am faded, from the color in my cheeks to the brown of my hair, and some colors just aren't as flattering as they used to be. Black is one of them. Black used to look elegant and sophisticated with my fair skin and brunette locks and I carried it off with NARS 'Orgasm' flushed cheeks, lots of mascara, and a lipgloss close to my natural lip color. Now black seems more edgy and rocker, and I find myself reaching for a wine or red lipstick to add what I feel to be a necessary pop of color to keep from looking tired or unfinished.
Yet I continue to purchase black because I like it. I like it better than navy, even though navy adds a natural glow to my cheeks. I like it better than gray, which often makes me feel gray. I like it better than brown, which makes me feel more gloomy than gray. I like how black shows off detail and texture, how black is timeless, how black is versatile, and how black does give me a bit more of an edgy feel (an especially nice feeling when you're otherwise feeling very Suburban Soccer Mom or Office Drone).
I think we all make compromises when it comes to style. It may be because of our budget, because of our lifestyle, because of our figure. We want long Rapunzel locks but our hair is thin so we choose a shorter cut with volumizing layers. We long for Manolos but our budget has us stick to a similar style by Nine West. We choose certain cuts of clothing that may not be our dream style but flatter our figure best, and other times we choose what our heart loves not giving a damn about whether it whittles a waist or lengthens a leg. I make a compromise for black; I love it so much and find it so appropriate to my personal style and lifestyle that I sacrifice the best my complexion can look.
What color you wear, what color you choose to have your hair, whether or not you wear makeup and what colors and type you apply, these are all your choosing and there is no universal right or wrong answer. The same holds true for any aspect of fashion or style. What is right is what feels most right to you. If having a simplified wardrobe and color palette makes you happy and makes style more attainable or fun, that is what matters. Who cares how youthful or glowy you look if you spent an hour agonizing over an ensemble or end up going over budget to find coordinating outfits for each day of the week?
Own your choices, own your opinions, and know no style advice is gospel. Take what speaks to you and works with your lifestyle, figure, and budget. Try, fail, and learn from your experiences. A stylish woman knows herself and listens to her heart, and that confidence is more flattering than any color under the sun.