This article may contain affiliate links; if you click on a shopping link and make a purchase I may receive a commission. As an Amazon Associate, I earn from qualifying purchases.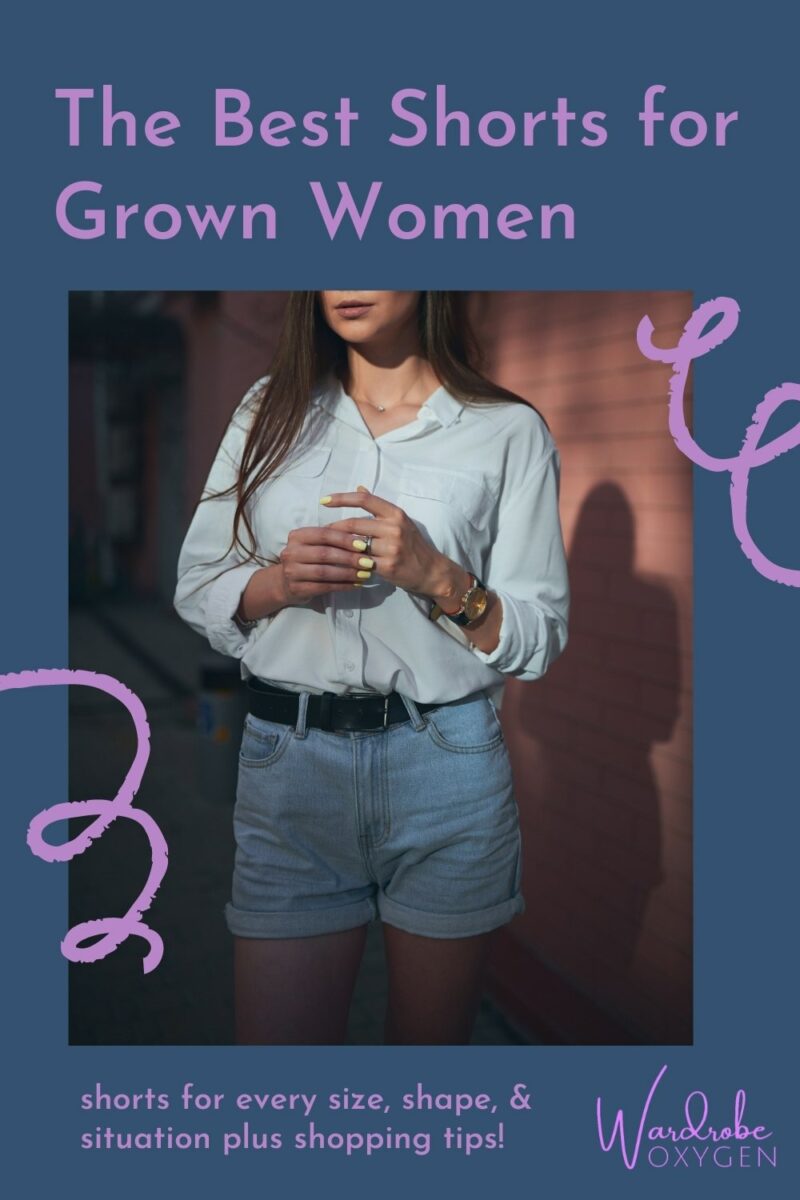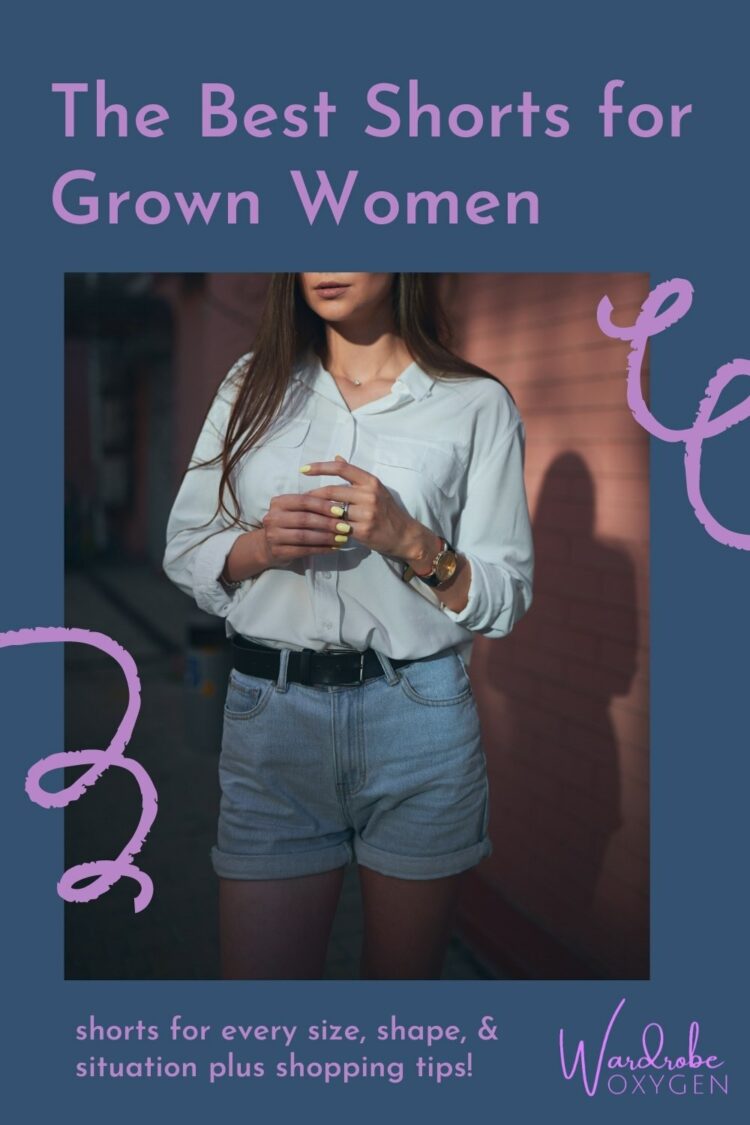 What does a grown-ass woman wear in the summer? Whatever she wants to wear! I know some folks are not comfortable in shorts, and that's okay. Do what makes you feel good. But if you're hot and uncomfortable because you feel you will be judged for your legs, stop letting the thoughts of those who don't care about you and don't improve your world cause you to overheat.
Below I share what I find to be the best shorts for grown-ass women. Different lengths, leg shapes, waistbands, sizes, fabrics, and styles so you can feel comfortable and look the way that makes you feel good this summer. And by the way, not a single pair of shorts are over $100 (most are less than $50) and all of them are machine washable and easy-care. Let's have fun this summer, let's not stress over staining, stretching out, or dry cleaning our shorts!
What Length of Shorts is Best for Grown-Ass Women?
This really is determined by your height, shape, and comfort level. As a petite size 14 woman with a curvy frame, I find shorts that are 4″ to 5″ in length to be long enough to prevent chub rub while still hitting at a length on my thigh that makes me feel confident.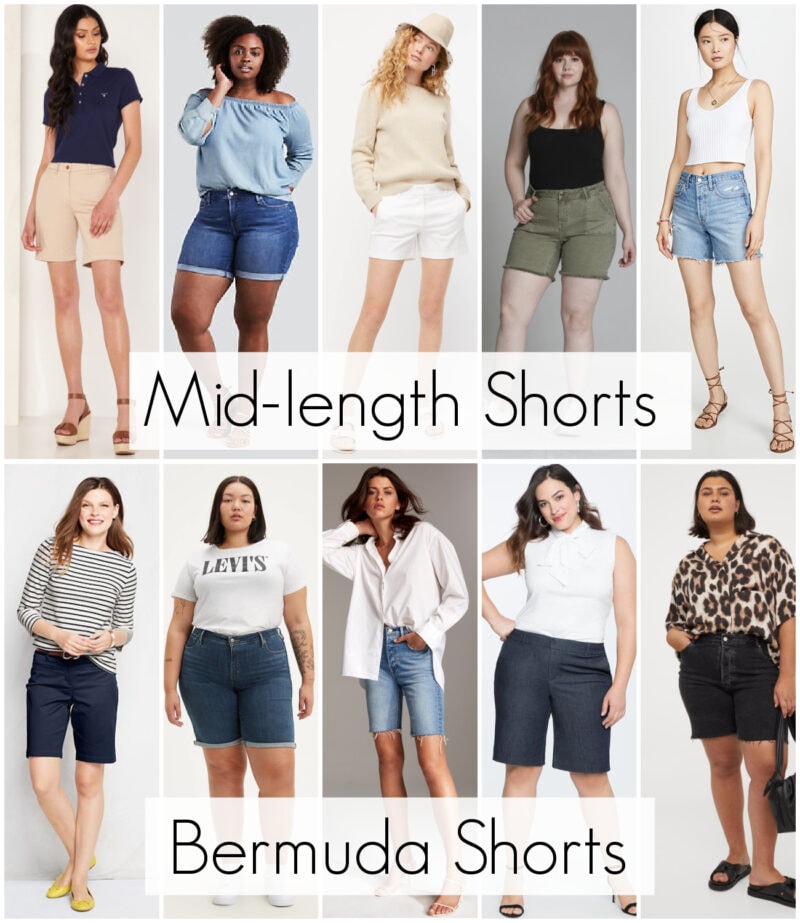 Below are the two most popular length of shorts for grown-ass women, but honestly wear whatever length feels good to you:
A mid-length or mid-rise short, which has a 4″ to 7″ inseam (length from crotch to hem) is the most universally popular short length regardless of height, size, and age. If you hold your hands to your side, a mid-length short will hit near the tip of your longest finger. Such a length of short can be a straight fit, pleated, cuffed, full, or fitted and looks good with tucked-in, fitted, and loose tops.
A Bermuda-length or long-length short is a great choice for those who prefer to keep their thighs completely covered while still looking stylish. A Bermuda short usually has a 10″ to 12″ inseam with a straight fit that is perenially classic and looks fresh with tucked-in and loose tops.
While in the past the specific length, cuff, fabric, and silhouette of a garment determined whether it was stylish or not, these days you can wear most anything and it will look great. Choose comfort, style with confidence, and that combination can always look great!
The Best Tip for Great Fitting Shorts
My best tip for getting great fitting shorts? Go up a size. Are you usually a size 14? Buy a size 16. Are you usually petite? Consider choosing regular. While that same brand in jeans may be perfect in your regular size, you truly don't want the same fit for shorts. With a bit more room, shorts will be less likely to ride up, will hang a bit at the hips giving you room to bend and stretch, while still achieving the same aesthetic.
Don't like having to size up in shorts? Cut that darn tag out! Nobody needs to know what size clothing you wear. And let's be honest, women's clothing sizing is so incredibly inconsistent that number in your shorts has absolutely nothing to do with your figure, your value, your style, your appearance, or anything else. You're perfect, it's the shorts that are the problem, and sizing up may make you like them more!
What Are the Best Shorts for Grown-Ass Women?
I do not believe that a certain age determines what length or silhouette of shorts you should wear. Every body looks great when wearing what feels good. For some that may be a 2″ inseam, for others they may prefer something that skims the knees. Some like a fuller leg, some feel most confident in a trim silhouette. I separated shorts by basic categories: denim, linen, twill, athletic, casual, and dressy.
I did not separate by body type or size, however with each pair of shorts I will share the size range available and details about fabric, length, color options, etc. I hope within each category you can find a style that is right for your unique and fabulous grown-ass body.
Do note that I refuse to share a pair of shorts that does not have pockets. It's 2021, women deserve to be able to be as unencumbered as men. Whether you want pockets to hold your keys or just to have something to do with your hands, we all deserve pockets in our clothing!
The Best Size-Inclusive Denim Shorts for Women
Denim shorts are a summer staple, but they can often be as hard to shop for as swimwear. Too tight, too short, too heavy, too whatever… when you find a great pair of denim shorts it's sometimes worth it to buy two pairs! Below I share the best denim shorts for women; these are shorts that continuously get great reviews from women of all sizes, shapes, ages, and personal style aesthetics. Numbers 1-3 are the top row, 4-6 the middle row, 7-9 the last row of the collage: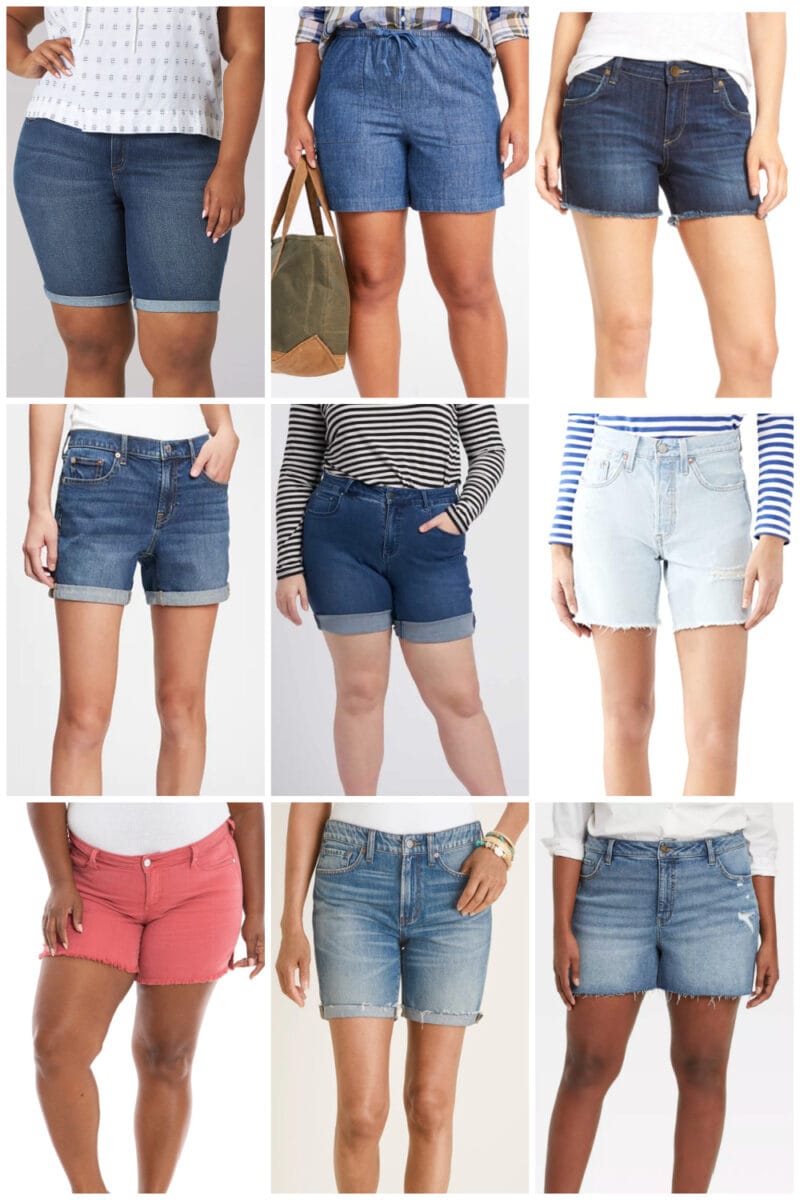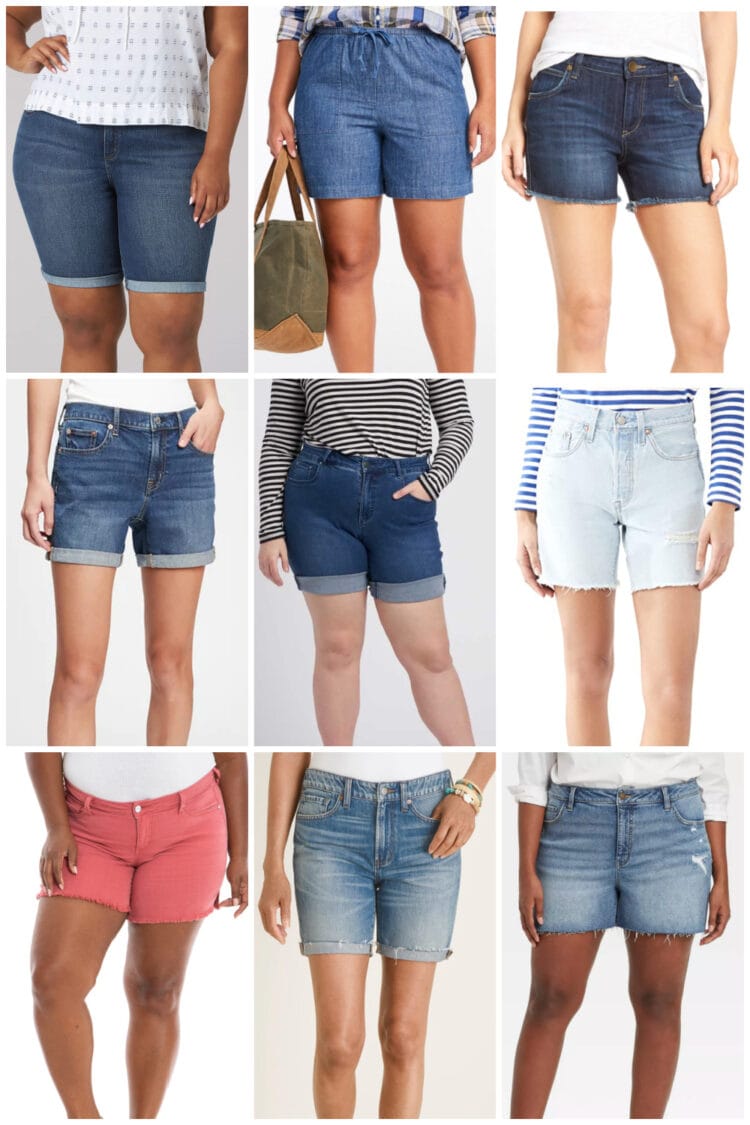 The Best Size-Inclusive Linen Shorts for Women
Linen and linen-blend shorts are a summer staple for their breathability and relaxed rumpled chic effect. Yes, wrinkles can be stylish when it's a fabric like linen! Linen shorts are usually a fuller silhouette as the fabric can stretch if pulled taut. I had trouble narrowing this category down to just 9; I have all the highly-rated linen shorts in the carousel below this list.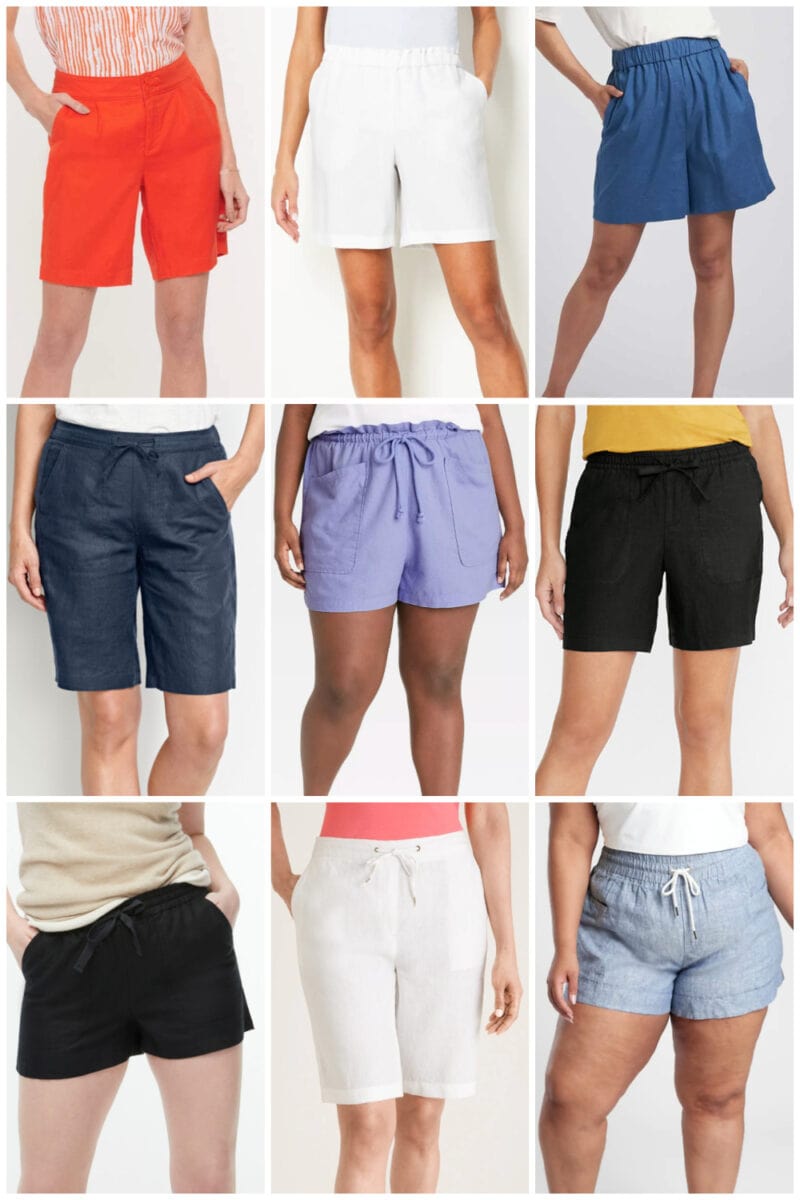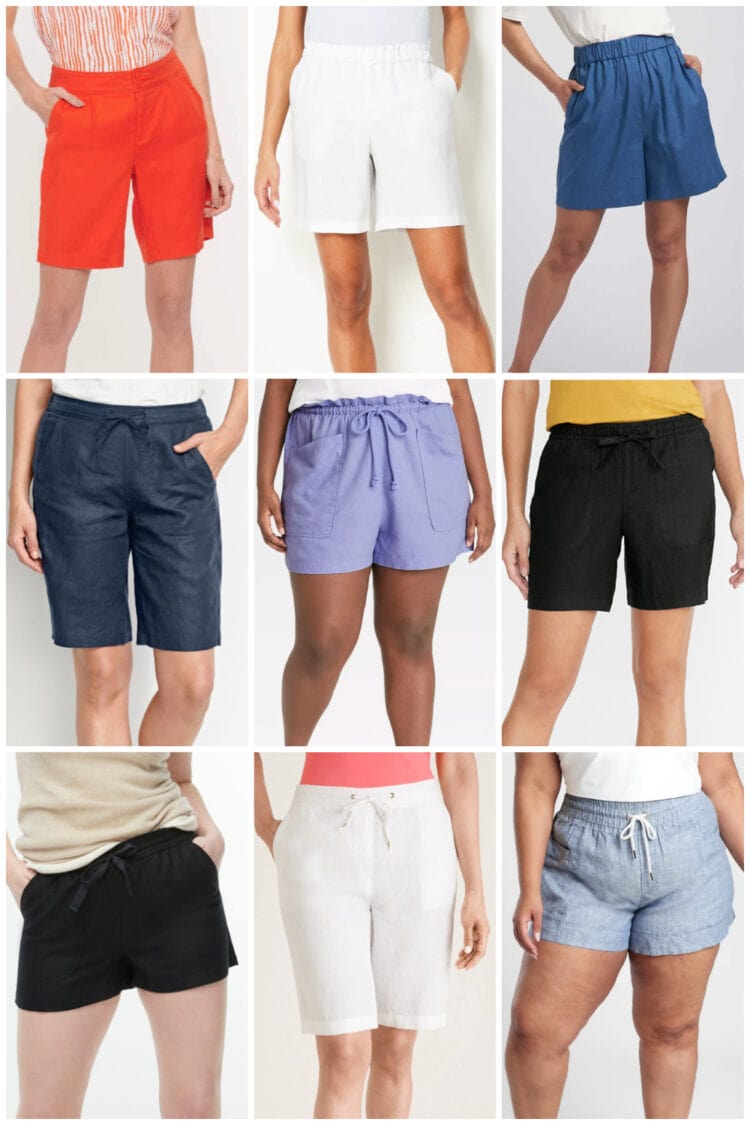 The Best Size-Inclusive Active Shorts for Women
I know I am not the only one who wants to spend this summer outdoors after a year of being cooped up. And after a year of being cooped up I want activewear that performs, offering comfort and function over whittling my waist or lengthening my legs. Below I share some of the best active shorts for women in misses and plus sizes: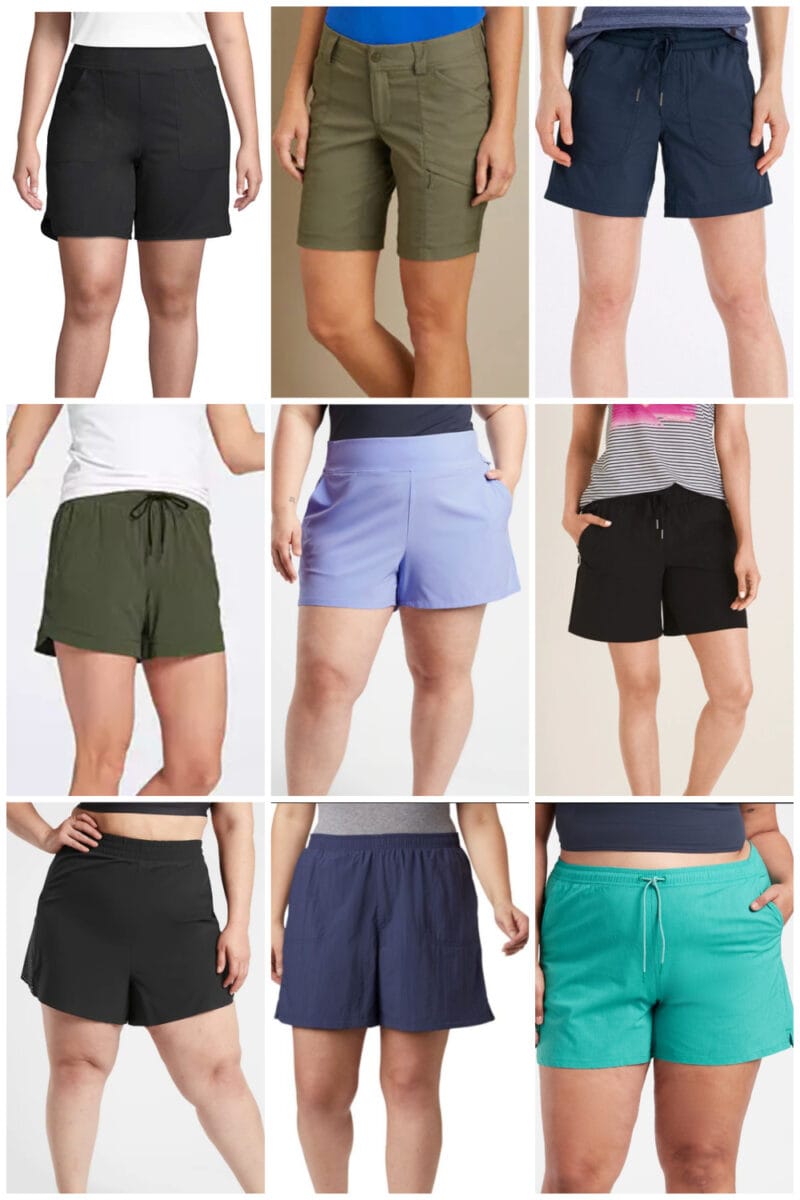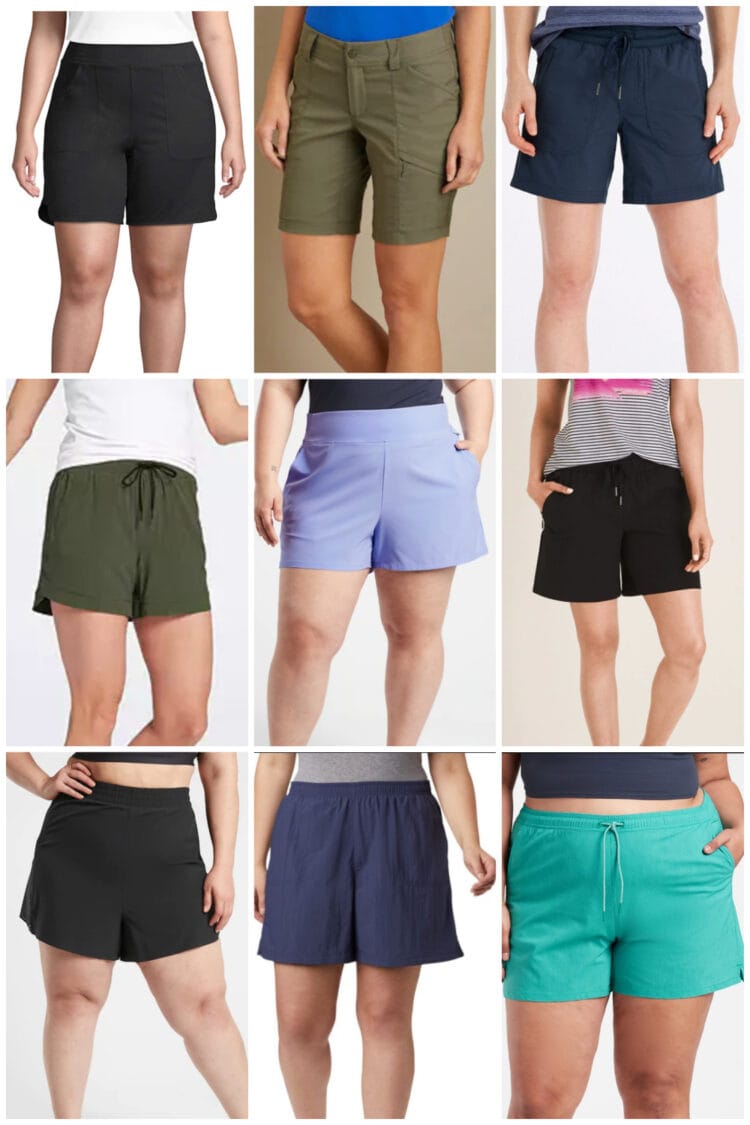 The Best Size-Inclusive Chino Twill Shorts for Women
This is another category where I found amazing chino and twill shorts, too many to fit into my nice little collage. I encourage you to check out the carousel below the list for all the great twill shorts I found. But these are some of the best: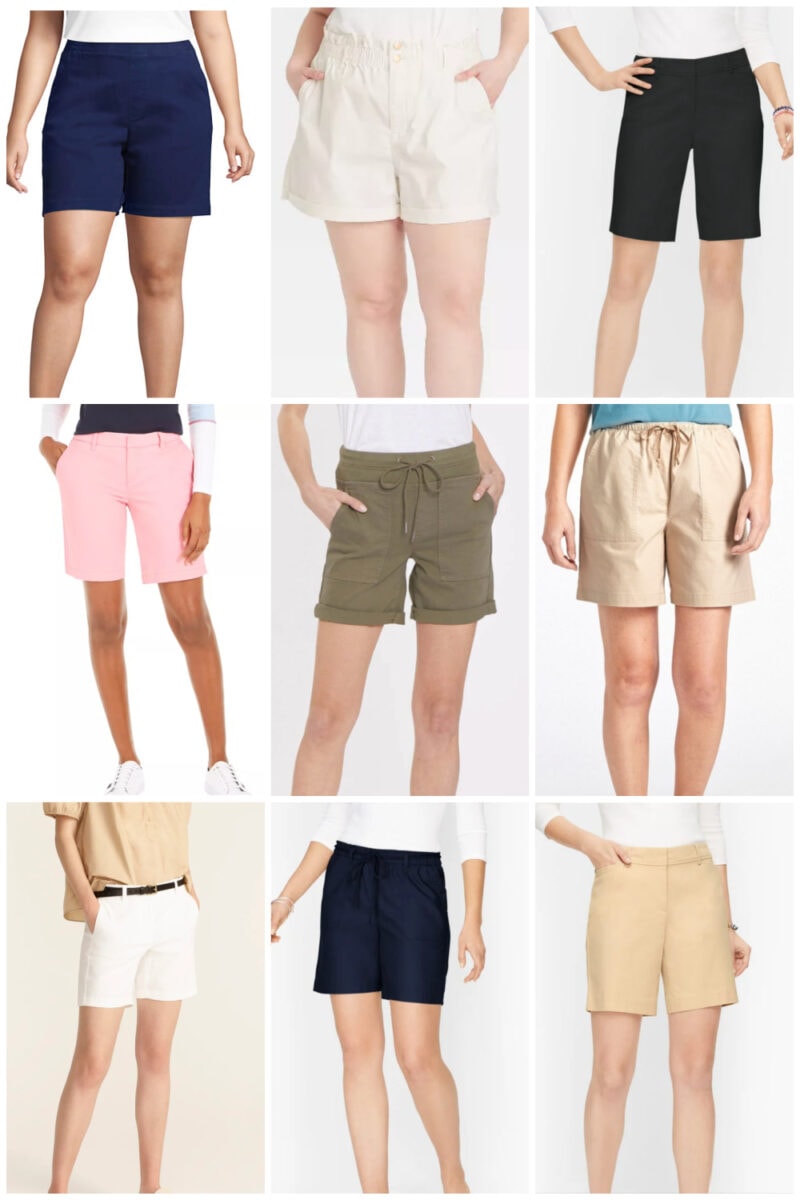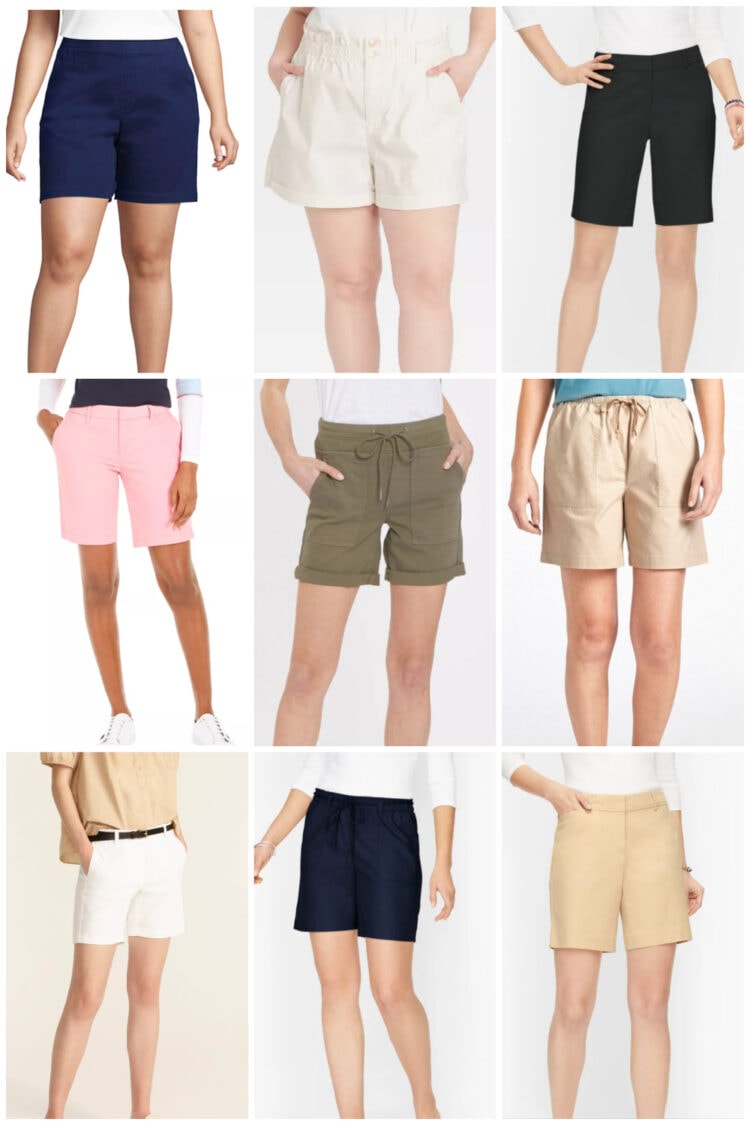 The Best Size-Inclusive Dressy Shorts for Women
The majority of shorts for sale this season are athletic, relaxed, denim, linen… a very casual feel. But sometimes you need a polished dressy short to wear to an outdoor summer function with a blouse or camisole and dressy sandals. For some, the workplace may be creative or more relaxed and permit dressier long shorts in place of trousers. Below are the best dressy shorts for women in a great range of silhouettes, sizes, and colors: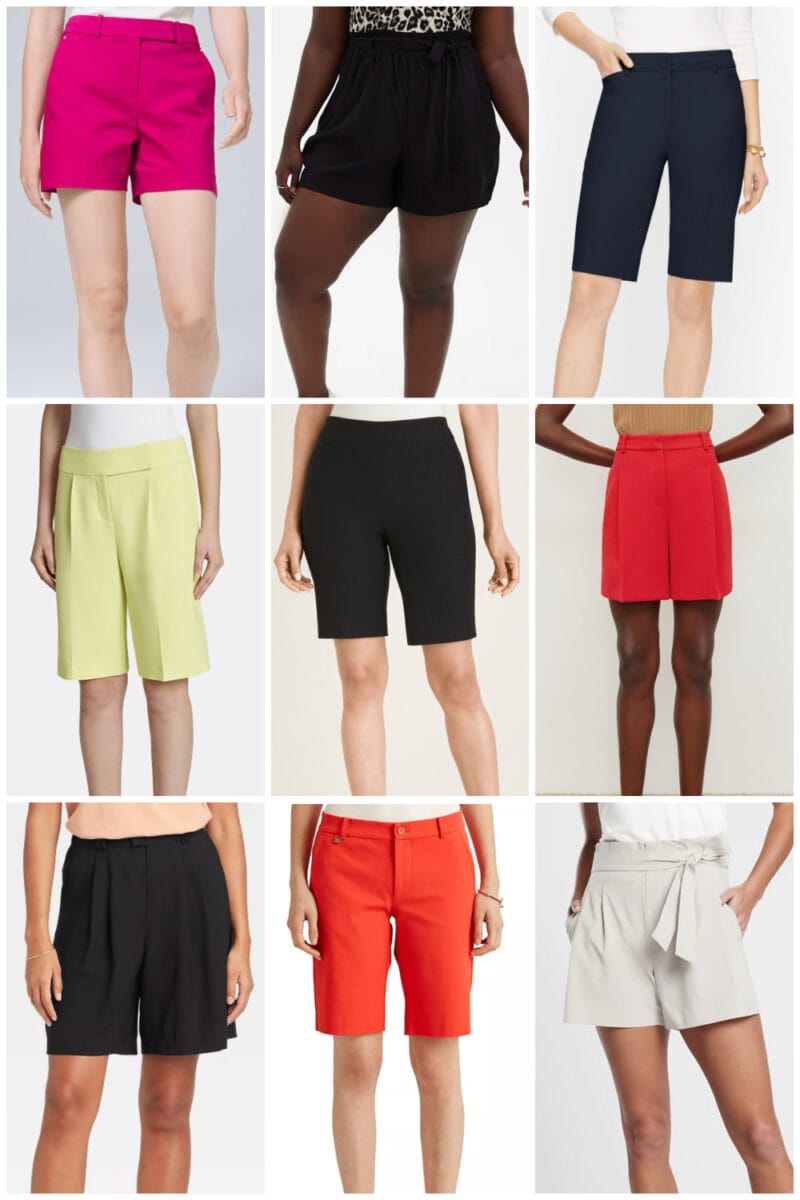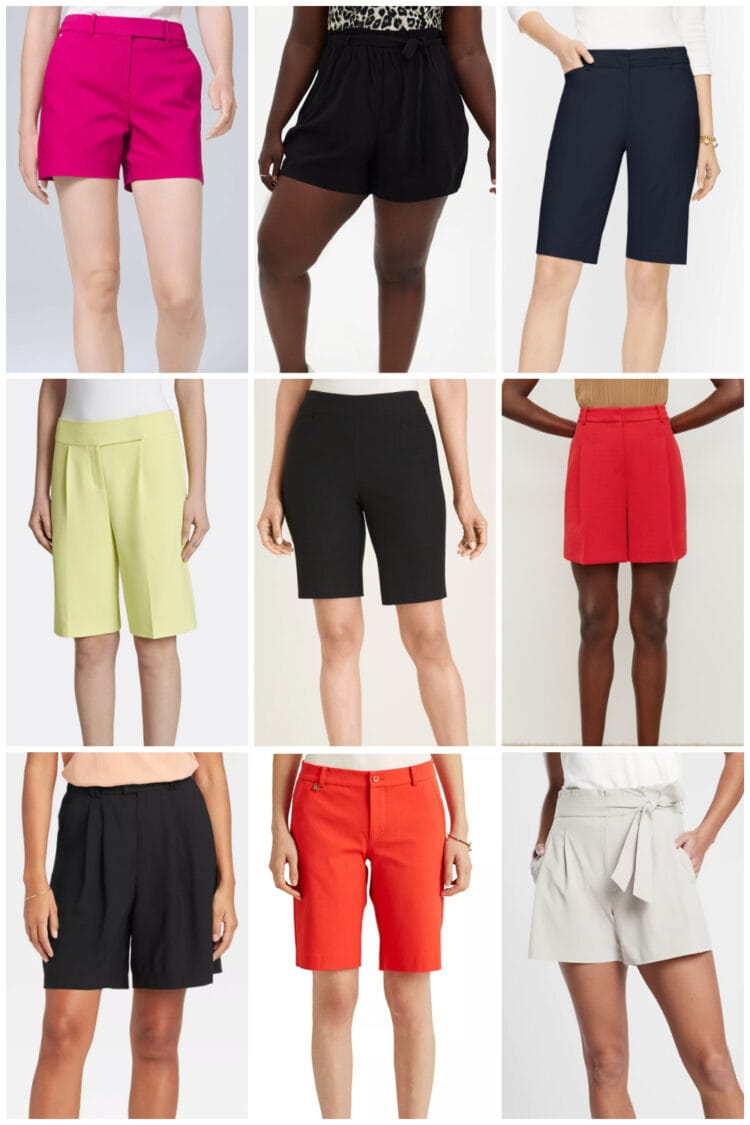 What About Skorts?
After trying a couple of highly-rated skorts that left me disappointed by quality, design, and fit, I decided to order several from different size-inclusive brands and do a proper review with photos. Click here to read my review of the best skorts for grown women, based on over 10 pairs I wore for activities, including photos.
In Summary…
The best shorts for grown-ass women are the ones that give you the comfort and confidence to get out in the world and enjoy yourself this season. If shorts aren't your thing, that is totally cool and I respect you knowing yourself. But if you have been curious about wearing shorts this summer, I hope this guide to the best shorts for grown-ass women proves helpful!
If you know of a great pair of shorts that aren't listed here, do share in the comments! Your recommendation may be exactly the thing another Wardrobe Oxygen reader has been looking for!