This article may contain affiliate links; if you click on a shopping link and make a purchase I may receive a commission. As an Amazon Associate, I earn from qualifying purchases. 
I'm a size 16 and a 35yo full time professional. I want to embrace a minimalistic wardrobe but every blog I find about minimalism is written by someone young and skinny without a real job. Is it possible to be minimalist when you don't fit in Rick Owens or look good in leather leggings? Can a fat grown ass woman be a minimalist?
I LOVE YOUR LAST QUESTION! Let's get straight to the point! And the answer is YES. YES WE FAT GROWN ASS WOMEN CAN BE MINIMALISTS! And so can us grown ass tall women, short women, slim women, curvy women, and everything in between. Minimalism isn't Isabel Marant wedge sneakers and Rick Owens. Minimalism is a concept, and a concept that can work with any size AND any personal style.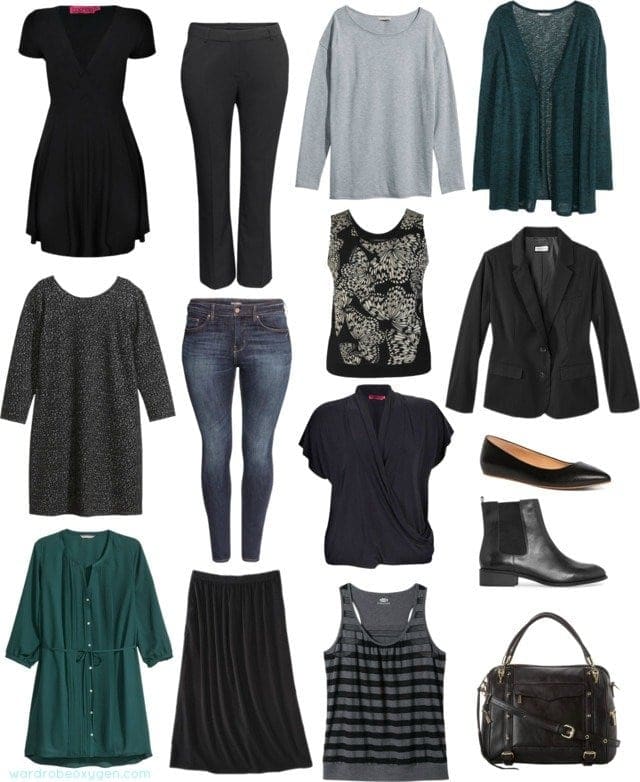 Scroll and Shop Similar Looks:


This pared-down capsule is of all plus sized pieces (and quick vent to plus size retailers, I know your clothes look better on a model but us bloggers and magazine editors would love the pieces on a white background sans bodies for collages like this, please do it more often and we'd feature you more often!). Simple pieces, simple color palette, styles that won't be passé in a year. It may not be Rick Owens, but it can provide you with outfits appropriate for a Business Casual office as well as an outside of work life.
One thing to consider with minimalism is quality. The fewer pieces you own, the more often they will be worn. Not only that, you want a piece to last more than one or two seasons, you want to build a life wardrobe. There's been many an article in the past year (like this one and this one) about how plus size women won't drop money on designer clothes and more often than not women say their reason is because they feel it's not a worthy investment. Either they feel they won't stay this size, or they don't feel their current body deserves expensive clothes. If you want to pare down and have a minimalistic wardrobe, the only way to be successful is to buy the best you can within your budget. The best quality, the best construction, and befriend a tailor for the best fit. Quality, not quantity.
Minimalism fashion blogs… well all us blogs that spew fashion advice have a bias to a certain aesthetic or body type, usually their own. It's hard to provide advice for that which you are not familiar. We hope to inspire, to get you to start thinking in a slightly different manner and find your own answer.
When I think of a blogger who inspires me with her minimalism discussions yet has a different personal style from me, I think of Grechen at Grechen's Closet. While we're not that different in age, we live in different parts of the country, have different jobs, different home lives, different body types, and different personal styles. Yet I read her posts on minimalism and always get ideas, inspiration, and aha moments.
Another blogger that inspires me to think smaller in regards to wardrobe is Janice at The Vivienne Files. Her choices aren't always what I'd wear, but she makes me think about what I already own, how to restyle it with different colors, different accessories, give my current pieces new life, and how to be more choosy with what I buy in the future. Her advice is the type that can benefit anyone, regardless of age, figure, or personal style.
I also gain insight from personal style bloggers who may not embrace minimalism but either have a similar shape as me, or have a similar lifestyle. Even if we don't have the same personal style, through them I learn about new brands that may better offer what I'm looking for, but also they have me think about pieces in my wardrobe more differently, seeing versatility I never saw before.
While I don't post my outfit every day here on Wardrobe Oxygen, I show most of my outfits on Instagram. Photographing my outfits and being able to see quickly in a grid on my phone what I wear, what I gravitate towards, and what I enjoy most has helped me greatly in minimizing my wardrobe. While I may have purchased the prettiest blouse ever, I may never wear it because it's too complex. However, I'll see how I can style my cream cable knit sweater in five different ways without tiring of it or how I was really lacking a pair of pointed toe ankle boots in my closet. Use yourself for inspiration, take a step back, examine your wardrobe but also your personal style with a fresh eye and see how your can start achieving minimalism with what you already own and enjoy.
As usual, I rambled on and on but my point is YES FAT GROWN ASS WOMEN CAN BE MINIMALISTS! You can do whatever the hell you want fashion wise, you can make it work, but you may have to look harder for inspiration. But I do believe the best inspiration is yourself. Trust your gut, know your life, and dress the part. Keep me posted on your journey!