This article may contain affiliate links; if you click on a shopping link and make a purchase I may receive a commission. As an Amazon Associate, I earn from qualifying purchases. 
A month ago, I had the opportunity to learn more about the partnership between Stacy London's Style for Hire company and Westfield Malls. This weekend, I had a chance to see this partnership in action.
Style for Hire has created a pop-up shop in select Westfield malls (right now Westfield Montgomery in Maryland, Westfield Trumbull in Connecticut, and Westfield Garden State in New Jersey though it will eventually be in more locations) called the Westfield Style Lounge. The shop is stocked with fresh fashions from various retailers within the mall and is staffed by a Style for Hire stylist and an assistant. These certified Style for Hire personal stylists offer free 15-minute style consultations to help you shop for a specific event, update your wardrobe for the season, or just offer a fresh eye to your current personal style. The Style for Hire personal stylists do NOT work on commission, so you know you will receive honest feedback and quality suggestions.
This Saturday I had the pleasure to meet with Lisa Tumbarello, Style for Hire personal stylist at the Westfield Montgomery Style Lounge. She walked me through a typical style consultation, and then answered all the questions I had about Style for Hire and the Westfield Style Lounge.
The Westfield Style Lounge Experience
One can either schedule an appointment for the Style Lounge from the Westfield website (preferred method), or if there is availability, can do a walk-in appointment (right now the Style Lounge is only open on weekends at Westfield Montgomery). The consultation begins with a conversation – what are your style needs, what are your favorite parts of your body and what do you see as trouble points, what is your personal style. I really liked that one's normal personal style is considered as many stylists and fashion books forget this important detail.
Getting my picture taken for my Westfield Style Lounge personalized style prescription
Checking out the selections in the Style Lounge closet
Once the stylist understands you and your fashion needs, she will pull pieces from the style closet. The closet is updated every few weeks with fresh fashion from across the mall. Style for Hire makes sure that the pieces chosen are in-stock at the mall, are versatile yet fit the current trends of the season. When I visited they had a great variety of retailers including Gap, Banana Republic, Sandwich, Michael Kors, White House Black Market and Clarks. Most of the brands the Westfield Style Lounge features have extended sizes (tall, petite, plus), and the stylists know the mall inside and out so can suggest other retailers who will have similar pieces in your specific size.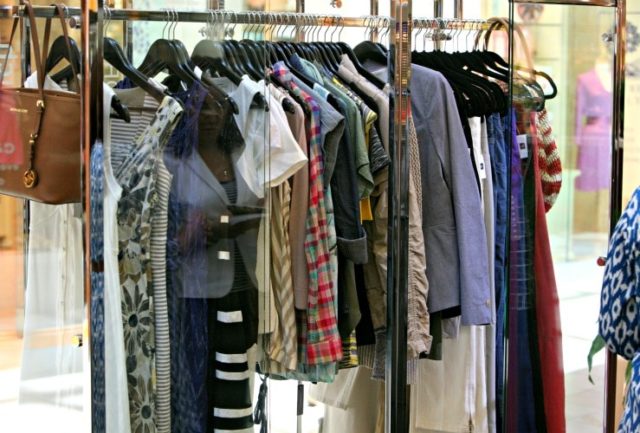 The Westfield Style Lounge closet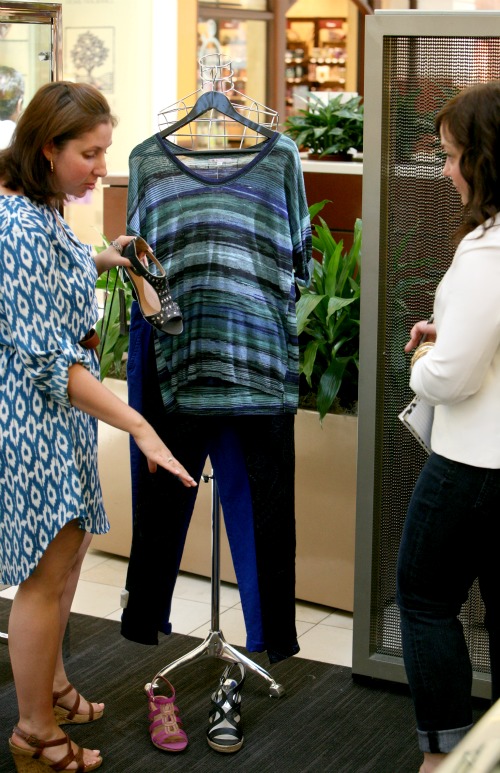 Lisa explaining pattern mixing and shoes that feature style as well as comfort
While the stylist pulls pieces and creates ensembles on the dress form, she gets to know your tastes and educates you on good silhouettes for your body and how to incorporate trends. Lisa pulled a simple white ponte sheath from Banana Republic, mentioned how the seaming would flatter my figure, and paired it with a coral beaded necklace and pair of purple wedge sandals to show how pops of different colors is on-trend and takes the simple dress to another level. She also showed how to mix patterns in a subtle manner that would be wearable even on weekends to the grocery store.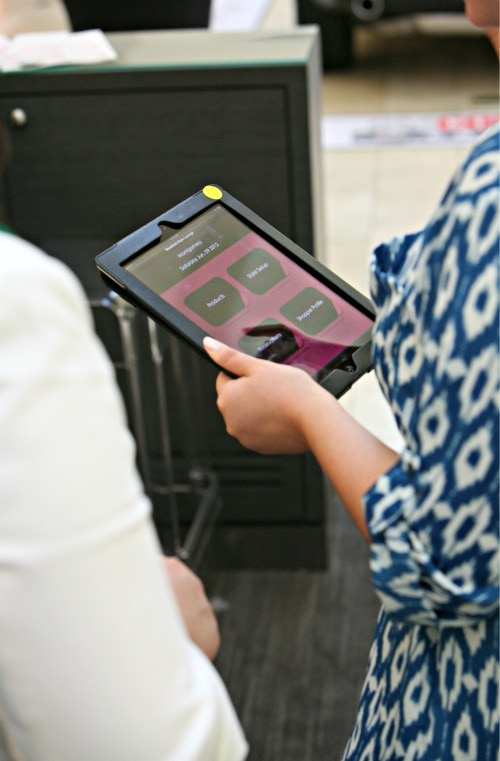 The Westfield Style Lounge app
Entering my fashion choices into the Westfield Style Lounge app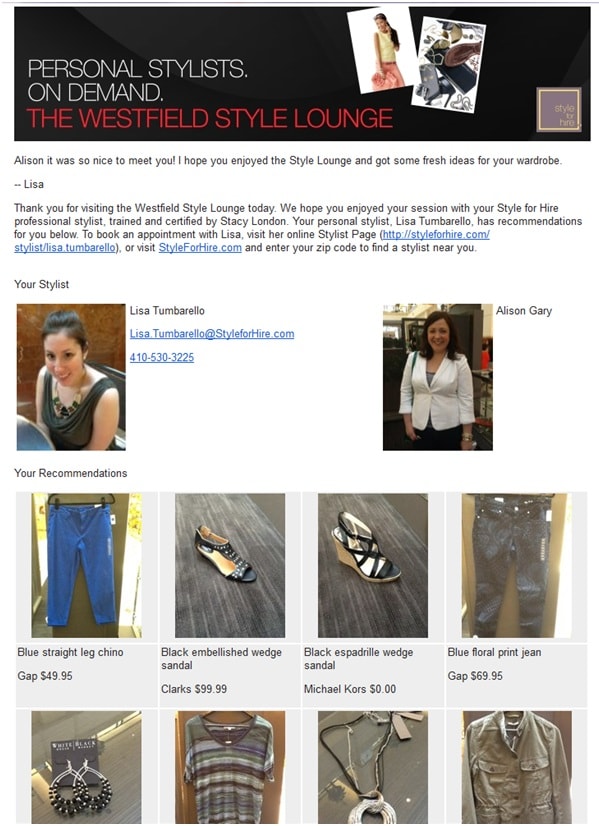 Sample email from the Westfield Style Lounge
When you find pieces you like, the assistant will note them on an iPad. At the end of the consultation, the pieces you liked will be emailed to you or printed out for you on-site. The printout has your stylist's name and contact information on top; below you will find photos, retailers, and prices of all the items you liked. You can then head to those stores and show the staff your print-out for easy shopping.
If by chance there is not an appointment after yours, you can easily have access to a free Stacy London-trained and certified personal stylist for up to an hour who can even leave the shop and go shopping with you. However, I couldn't believe how much we were able to accomplish in just 15 minutes. With the Westfield Style Lounge, personal stylists are no longer for the rich and famous. And if you like your consultation at the Westfield Style Lounge, you can book that Style for Hire personal stylist for an additional session. Your personal stylist's contact will be on the top of your email and printout; you can go to the Style for Hire site to learn the rates for the stylists, times of availability and services offered.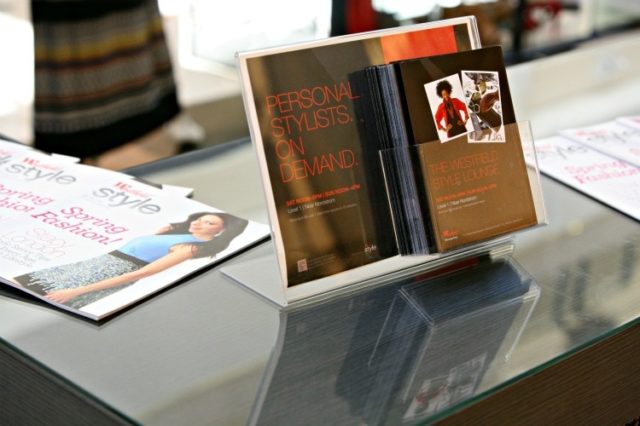 The Westfield Style Lounge is located on the main floor on the Nordstrom wing (right in front of J. Crew). The Lounge will remain in Westfield Montgomery Mall until the first week of July, and will hopefully return come fall. You can learn more about the Trumbull and Garden State Westfield Style Lounges on their websites, and you may see a Style Lounge coming soon to your nearby Westfield mall!
Style For Hire
Lisa made a fantastic point about the price of a personal stylist – we have all purchased that fashion mistake. Maybe it was a suede fringe jacket, or a pair of flatforms, maybe it was a delicate lace blouse when you're more of a wash-and-wear woman. One session with a personal stylist is about the same price as one fashion mistake, yet it will provide you with ideas and education to be a better shopper, work with what is already in your closet, or dress for a specific event. Style for Hire also offers Shopping Tourism – you and a group of friends can book a stylist to give you a tour of the best boutiques in a city. What an awesome idea for a bachelorette party! Men, don't feel left out – the Westfield Style Lounge and Style for Hire assists gentlemen with consultations, personal shopping, and closet audits.
Style for Hire personal stylists rage in price from $65 – $250 based on level of experience. All stylists are trained and certified by Stacy London, so you will receive a well-educated stylist and a consistent experience. On the Style for Hire website you can read the bios of the stylists to find one whose personality best fits you. The site also has reviews from previous customers which helps you find the perfect personal stylist.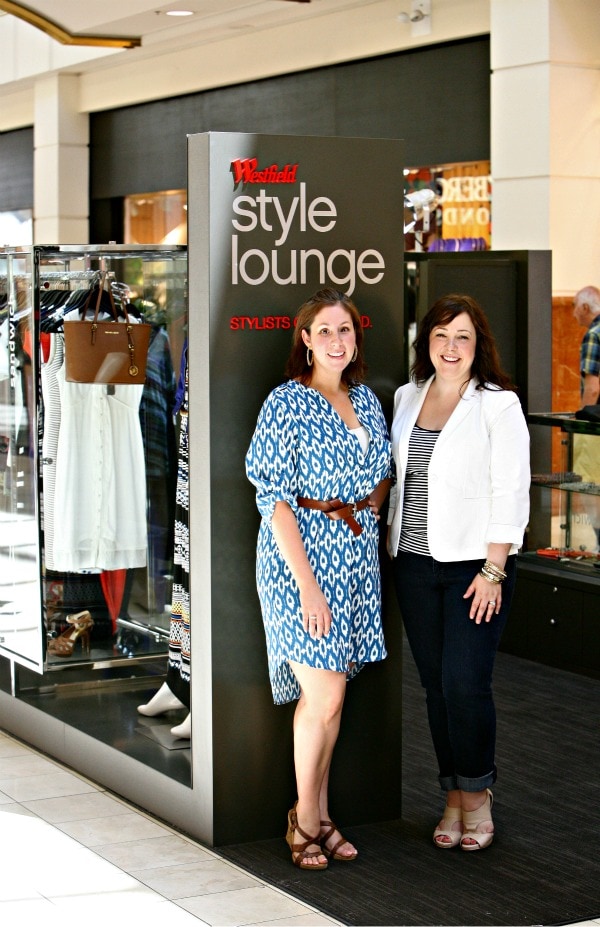 Lisa Tumbarello works full-time as a personal stylist for Style for Hire, and travels from the Pennsylvania border to Northern Virginia. She works with any budget, and told me she has even taken clients shopping at thrift stores to show them how to buy a quality wardrobe on a budget. I really enjoyed my time with her – she's extremely warm, personable, and real; I felt I could be honest with her and receive honest feedback in return. If you feel that you could use a little extra assistance with your personal style or shopping for an upcoming event, consider Style for Hire.
Note: I did receive a gift card from Westfield. However, the decision to write this post and all ideas expressed within are entirely my own.
Follow Me | Twitter | Facebook