This article may contain affiliate links; if you click on a shopping link and make a purchase I may receive a commission. As an Amazon Associate, I earn from qualifying purchases. 
Reader Laurie asked:
I am wondering where you shop for swimwear. I have a body type very similar, although I've got quite a few years on you (55). I am in decent shape, would like a tank suit with medium high cut legs, but need a D cup underwire, if possible, or at the very least, good support for the girls. I don't want to look 18 but I also don't want to look 80 – difficult to find that middle ground. Any suggestions?
Hey Laurie:
Swimsuit shopping can be one of the most horrific experiences for a woman. Suits that have proper support often make one look heavier and older than reality, and cute suits usually don't have the proper fabric or cut to flatter anyone but a pre-teen. As with any purchase, I recommend going for quality with a swimsuit so it fits, flatters, and maintains its shape and condition after many seasons in the sun, sand and chlorine.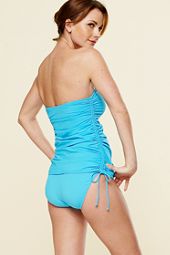 My favorite place for swimwear is Lands End. They have a really extensive collection; you can shop by body type (minimize shoulders and bust, tummy control, minimize hips and thighs, plus size, petite, tall, maternity, even mastectomy suits) or by cut (leg height, bra type silhouette). I bought one of their faille tankinis in 2002 for a trip to Jamaica and that suit still fits, has maintained its shape and elasticity and also the color. Can't say that for many suits these days!
I love this adjustable bandeau swim top
from Lands End; it can be strapless, halter, or regular straps. The side rouching is adjustable so you can have a gathered top or more of a swim dress. UPF 50 swim protection and specially made for a D-cup figure. This is part of a mix and match line so you can easily find a bottom that flatters your figure. Black is a safe bet, but I think a color can be more fun and less looking like "I wear black because I don't like my body." Try a hot pink or aqua for a pretty yet not teeny-bopper hue.
How about a custom suit? This halter tank can be made by Lands End to your specifications. I am adoring the Coastal Green color too!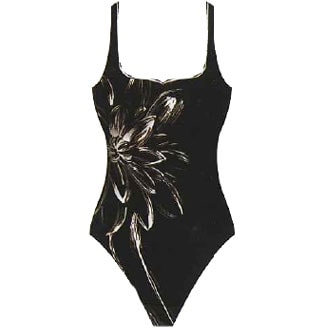 Another place I have had luck at is the store Everything But Water. You can shop by designer, silhouette or even D-cup online, and I have found the stores to have a very good selection year-round. This pretty black one-piece by Christina with a flower design is quite elegant.
In the past I have found many cute suits from J. Crew, however this year their D-cup line has dwindled to boring one-pieces and a handful of bikini tops. Pretty unfortunate and surprising as that so many companies are starting to see the need for the not-your-average-size suit.
I have been pleased with the suits at Athleta. Known as a place to buy activewear, Athleta also has a large selection of street wear and swimsuits that are great for kayaking, or even lounging at the pool.
I love Athleta's halter one-piece. Simple, elegant, flattering and made for the larger busted woman with a floating underwire and shirring. Their quality is awesome; a suit like this can give you years of wear.
Hope this helps, good luck with your search!