This article may contain affiliate links; if you click on a shopping link and make a purchase I may receive a commission. As an Amazon Associate, I earn from qualifying purchases.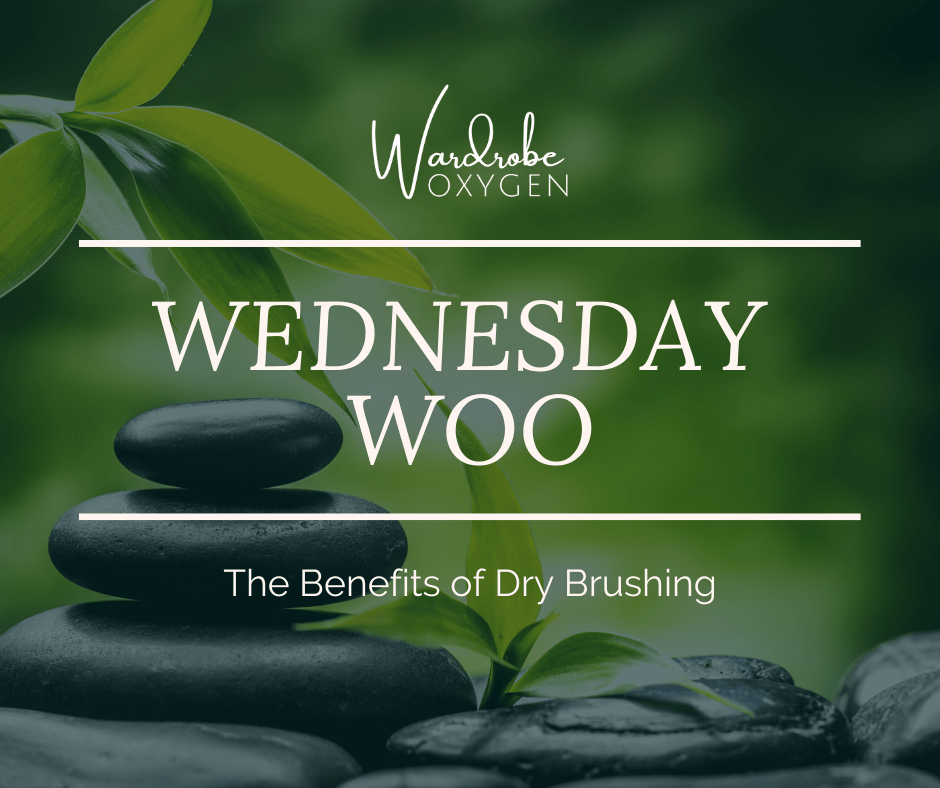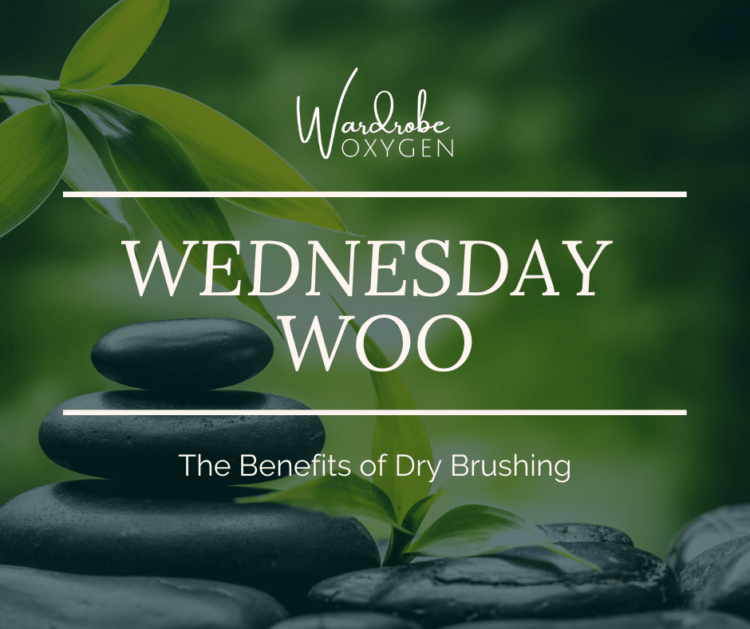 I'm a bit into woo. Not the "woo" of drunk girls at a bar on a Saturday night, the woo of those who are into more crunchy or alternative techniques for health, wellness, and relaxation. Don't get me wrong, I am all about modern medicine and a huge supporter of vaccines. However, I love to also try out different ways to improve sleep, health, and focus on top of using tried and true scientific methods. I am not a doctor or an expert, and especially now it's important to adhere to what medical professionals suggest for our safety and health. However, we all have a bit more time and a bit more stress and maybe some of my favorite "woo" methods may be an enjoyable addition to your routine. I'll have a post on Wednesdays called Wednesday Woo.
Today's Woo is about Dry Brushing
I've been writing about the benefits of dry brushing for many years (here's a post about dry brushing from 2016). It was 2014, I was on disability, feeling sorry for myself and decided to give myself a sunless tan to feel cute. Researching ways to prevent streaks, several articles I found recommended dry brushing to exfoliate the skin before applying sunless tanner. I don't know how I completely forgot about how awesome dry brushing is! In a past life, I was a trainer for the retailer The Body Shop. My job required me to try and become familiar with every product the company carried which included their body brush. I sold many of those brushes and educated managers up and down the East Coast about the benefits of exfoliation and body detoxification with a simple product used for just a few minutes each morning. However, after leaving that company I also left the routine of dry brushing. But over a decade later and a decade older full of painkillers and chemicals from surgeries, the detoxification and skin improving properties of dry brushing sounded mighty appealing.
Doing more internet research on dry brushing, I came across the eBook The 10-Day Skin Brushing Detox. Back in 2014, I bought the eBook on Amazon, but in 2020 the book is available at AbeBooks, Apple Books, and the paperback can be bought on eBay. The book isn't necessary, but it really helped me understand the benefits and the method for brushing the body. I bought a body brush that is no longer available; however, The Body Shop still sells the one I originally used in the '90s. Many companies carry body brushes with shorter handles; I find the long handle necessary to get the back and all parts of the body. And to truly get the benefits from dry brushing, you need to be able to brush your entire body.
I start with my left leg, brushing from the tips of my toes up to my hips, the side, and then my rear. Then the other side. I then do my arms from tips, to shoulders, putting focus on my elbows which get dry. I then brush my neck from face down, circles from the middle of my breastbone out to my arms, light brushing over the breasts, brushing from below the breasts to the abdomen, counter-clockwise on the abdomen, then from the pubic bone up. I then try to brush my back, with no specific direction since it's not that easy to access. When I started dry brushing, I used a light touch, finding the brush rough and scratchy and the whole experience uncomfortable. But with time I came to love the feeling and was able to add pressure. I am on my third body brush since 2014 as they soften with washings and you really come to fall in love with the rough brush experience each morning.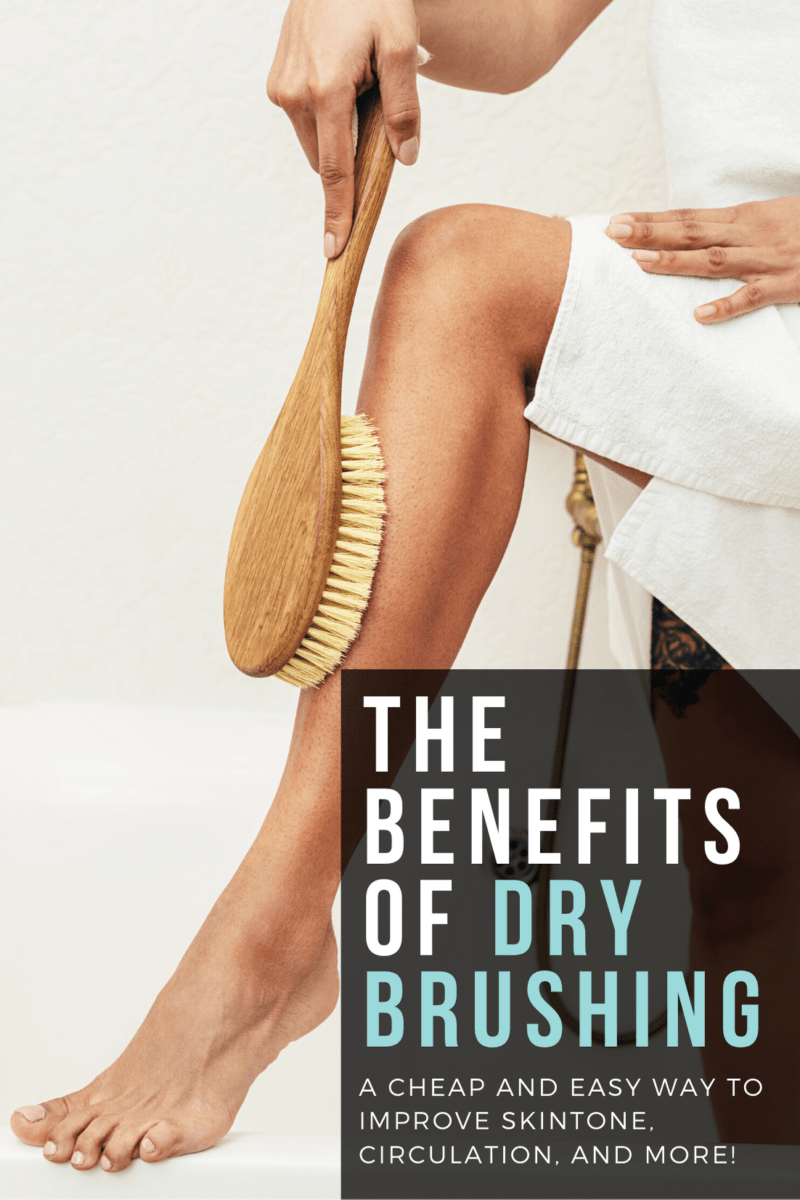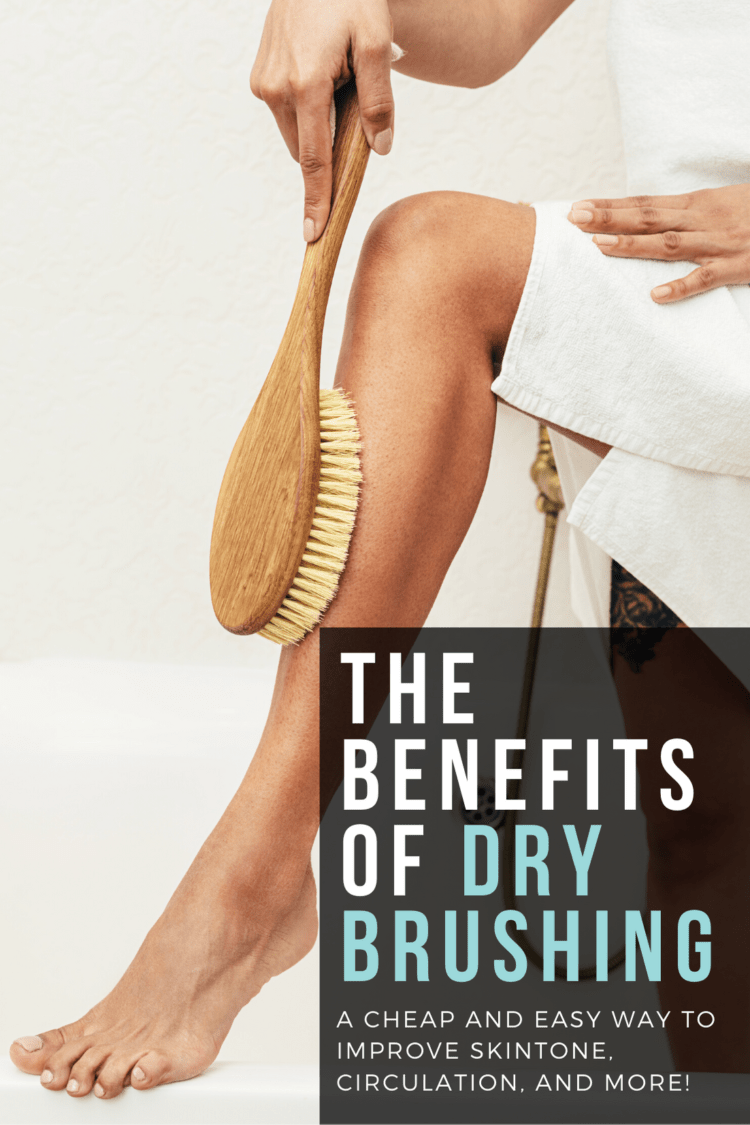 The Benefits of Dry Brushing
The external benefits: Your skin needs less moisturizer – if you forget to lotion up after a shower it's not as noticeable. Your skin will look tauter; I notice this most on my thighs, hips, and upper arms. You will have a glow, thanks to better circulation, and that glow lasts all day. Fewer ingrown hairs and if you have Keratosis Pilaris it can help reduce it without inflammation. Since dry brushing increases circulation, it also increases collagen production, offering better looking and stronger skin. Many find their appearance of cellulite is reduced. Dry brushing also supposedly helps prevent spider and varicose veins. And yes, dry brushing really helps with an even application of sunless tanner.
The internal benefits (AKA the woo): Dry brushing is a traditional ayurvedic practice to promote lymphatic cleansing and detoxification. Many say this is bunk, but this is the kind of centuries-old woo that it won't hurt to try and has proven non-woo benefits. Dry brushing has been proven to improve circulation, improve skin tone and texture, and I find I get a boost of energy from it. If I don't dry brush in the morning I feel as though I only drank half my cup of coffee at breakfast. Also if you're someone who is always cold, dry brushing is a great way to warm up when you wake up; I always feel a bit electrified after a good dry brushing session. This also feels amazing the day after a hard workout or extra-long hike.
Some dry brush after a shower with a bit of oil on their brush. I find the best way to ensure I make it a daily habit is to do it in the morning without any fanfare. Use the toilet, strip, dry brush, and then go on with my morning routine. Totally fine to do it just before a shower or bath, or not. Seriously, it's one of the cheapest and easiest woo things out there. Do not dry brush if you have irritated skin, a rash, sunburn, or sores. I think this is the only woo I have stuck with, and after six years of woo-ing it with the dry brush I can't imagine not having it part of my day!
Shop the Post: