This article may contain affiliate links; if you click on a shopping link and make a purchase I may receive a commission. As an Amazon Associate, I earn from qualifying purchases.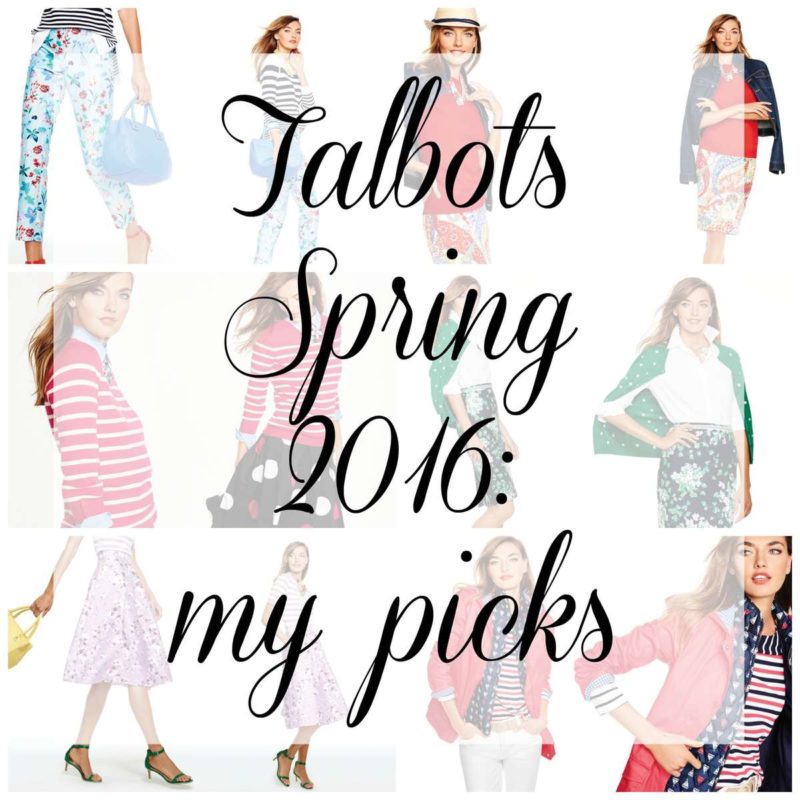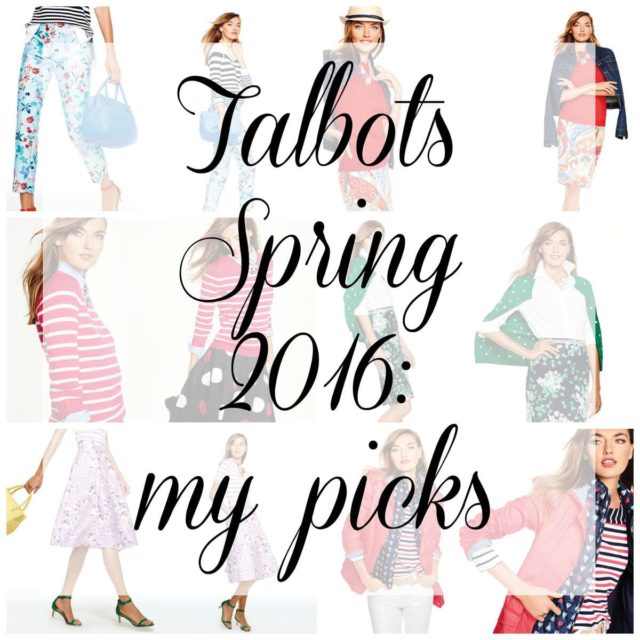 It seems each season I share Talbots' lookbook here on the blog because they just style things so much better in there than on their website. This spring, they sent me their lookbook and I was… underwhelmed. It felt like a cheap version of the old stereotype of Talbots – twee patterns, overly bright preppy colors, dated accessories like statement necklaces that can now be found at discount retailers for $10.  While lots of the individual pieces looked great, the concept they're selling me… I'm not buying.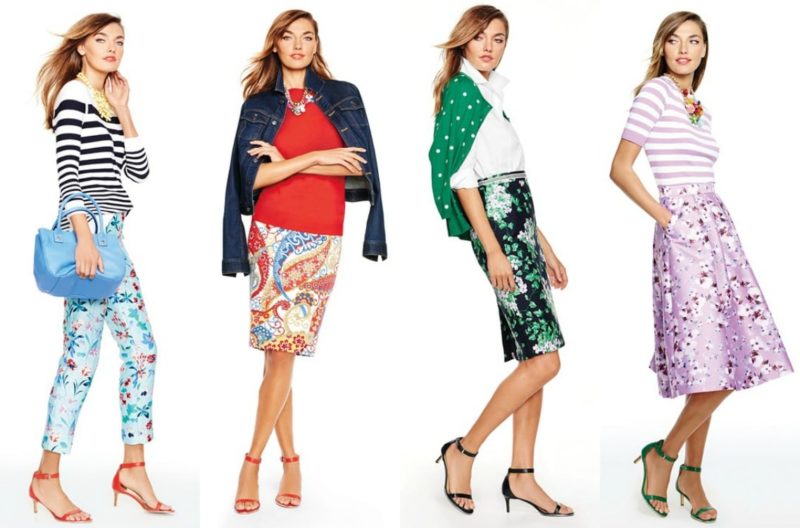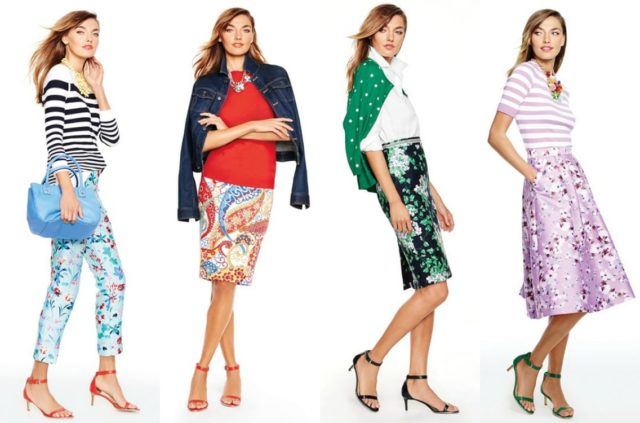 Here's some images from the lookbook.  At first glance you may ooh and aahh – so pretty!  What yummy colors!  But remove the pretty model, the specific poses, put on a pair of shoes you'd actually wear to work, and envision on a woman who isn't model tall and model thin.  Now what do you think of the looks?  Is it as lovely? Doesn't it look a lot like what bloggers (myself included) wore a few years ago?  Seriously, the look on the left I wore in a different color combo in 2012 AND my pants were Talbots!  I just feel the lookbook was styled as such a miss so instead, here's the pieces from Talbots' Spring Collection that are currently available and I find cool and versatile, and my suggestions on how to style them. I like sharing Talbots because of their extensive size range (regular, petite, women and women petite), their quality for the price, and how their pieces stand the test of time.
My Picks for Jackets and Tops:


It looks like denim but it's Tencel Lyocell which means it's lighter weight, has a nice drape, and a hint of give. Denim and denim-like blazers are back this season, and this one is a casual classic option that I think is more versatile than a lot of the trendier options at other retailers.  Here's a few ideas:
My Picks for Dresses, Pants, and Jeans:


Having a dress like this in your wardrobe is so smart. Wear to the office with pumps, to a wedding with a metallic heeled sandal and fun necklace, pair with sandals and a denim jacket for the weekend. The fabric is seasonless and great for travel as it will repel wrinkles and spot clean beautifully. I think navy is a great alternative to black – less harsh yet just as versatile (and yes, you can pair with black shoes – patent leather would be a lovely choice!).
Another perfect dress for everything. A reviewer says she wore it to a cocktail party, but it's also perfect for the workplace (add a cardigan if you wish to cover your arms), and would be great for travel with a tote and some comfy sandals. While I still feel the navy is versatile I can't help but love the Ultramarine Blue!
I believe in the power of sparkly tops. Going to a friend's for pizza and wine? Keep comfy in jeans but add a bit of a festive touch with a metallic knit top. Add some elegance to your ankle pants and flats for brunch with a shimmery sweater. And then glam that same piece up with cigarette pants and heels or leather leggings and mirror-finish pumps! This sweater gets the job done and gosh, it would be fab with some distressed boyfriend jeans or a pair of well-weathered cuffed denim shorts and some low-profile canvas sneakers. Or glam it up with slim white jeans and metallic sandals. I'd also love it half-tucked into some grey jeans and either slip-on sneakers or even a sexy heel!
I don't want a short short, but I feel frumpy in something that grazes my knees. The Weekend Short is 7" in regular and women, 6" for women and regular petites; that perfect length that prevents chub rub, doesn't ride up into your crotch, covers what you want covered, but doesn't look matronly. Even better, these are infused with spandex so they'll move with you. Nine colors available so you can get your neutrals or indulge in a statement or on-trend color. I'm a fan of Rosemary which is an elegant alternative to khaki, and Sun Kissed Coral which looks great with denim and chambray, Breton stripes, black, white, olive, and other colors like turquoise, mint, and bright pink.
My Picks for Shoes and Accessories:


I have a love/hate relationship with belts. I love how they can finish a look, but I hate how that usually causes the eye to be drawn right to my midsection. And I hate how most belts have gold buckles when I usually wear silver jewelry. Sometimes I just want to cinch a look without creating a statement. So when I saw this belt, I got really excited. A leather belt with a leather-covered buckle! Perfection! It comes in five colors and is 1" wide meaning it's not a skinny belt but it still will slip through all your belt loops. Wear the same color as your trousers or slip over a dress in a contrast color to emphasize your waist!
The ankle strap barely-there heeled shoe trend isn't going anywhere – it's so flattering and versatile. This version from Talbots has a more wearable 2.5" heel and memory foam footbed. They come in seven colors and the selection is pretty perfect – Jute is a nice neutral for day or evening, Magnolia Pink would be a great alternative to Jute for those with very fair complexions, there's basic Black and Navy, but also a green and tomato red that would be that perfect pop of color for spring.
Of course, such a shoe works with dresses of most any length and silhouette, but this is also a shoe that looks great with jeans and pants. Pair with ankle jeans (like the Flawless Five Pocket in Dodger wash) to upgrade even a simple tee, wear with ankle pants, or have peek out of classic length trousers or bootcut jeans.
Square silk scarves are back in style and this one is 100% silk and reasonably priced. I love the color combination of this scarf, it will go with denim, with dark red, with pastels… well let this customer review tell it because she owns it and is selling it better than I:
"First, this is a biased review because I am a huge fan of smooth, shiny silk charmeuse scarves, especially large square ones, which is what this is. This scarf is simple enough to be very useful. It goes beautifully with any of the dark reds like burgundy/cranberry from last season. It also pairs beautifully with blues from medium to a light, powder blue, and of course black or white. The only thing to be aware of, and it was not a deal-breaker for me, is that the backside is definitely lighter/washed out looking compared to the front. The can be overcome by artful tying."
Last Fall I picked up one of Talbots' Crossbody Bags and it's such a good purchase. Their leathergoods are great quality, and their bags are smartly designed. This one looks even better than the one I got because when you remove the detachable strap you have a very on-trend clutch purse. This is brilliant for travel because your hands are free, the style makes it impossible for pickpockets, and a quick remove of the straps gives you an evening bag. Four colors available; you can't go wrong with black but I am partial to Pomodoro!