This article may contain affiliate links; if you click on a shopping link and make a purchase I may receive a commission. As an Amazon Associate, I earn from qualifying purchases.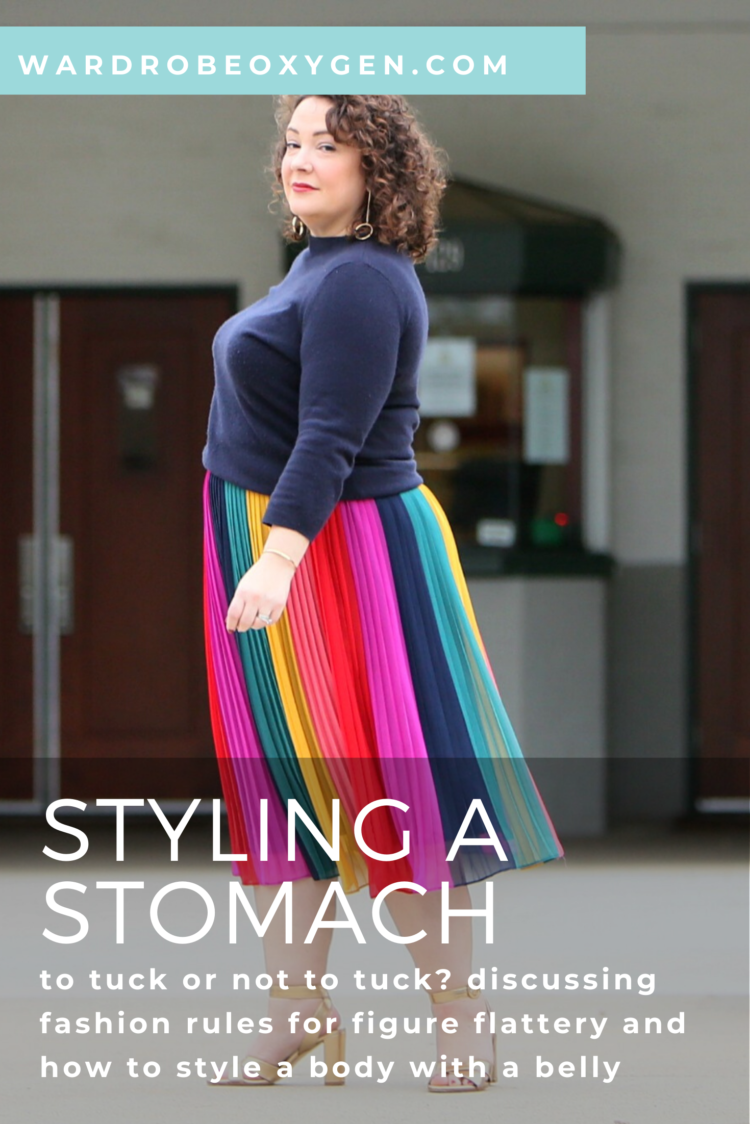 Women have been lied to all their lives. Wear dark colors and you'll look slimmer. Horizontal stripes make you look wider. Bootcut pants will balance big shoulders and make you look more proportional. Untucked tops will balance a short torso and will also hide a round belly.
Styling a Stomach: To Tuck or Not to Tuck?
Since childhood, these style rules have been ingrained in us. These rules are geared towards making our bodies appear slimmer and longer with curves only in the places deemed by society to be acceptable and those acceptable locations keep shifting.
One decade it's hips and breasts, another decade it's just the rear, another decade, and not a single curve is acceptable. It's harder to keep up with than eyebrow trends. And like eyebrow trends, we often look back at photos of our past selves with regret.
Some style rules can distract or emphasize, but no wrap dress or even pair of Spanx will give you a different body. Take a stroll through your Facebook timeline or flip through a family album. Heck, even use Google Images to search a public figure and a single year (so it's a similar size and age) and scroll through images of that person.
What stands out? Is it how trim they look in that black dress versus the green one? Is it how proportional their body looks with that top that hits exactly at the perfect place on their hip? Is it how their shoulders look much more narrow in that photo wearing bootcut jeans than in the one where they resemble a linebacker in the same top styled with skinny jeans? I am betting it's none of that.
What stands out is its color, cool details, and silhouettes, its fun prints, and more than that… its smile. Happiness and confidence are more flattering than any fashion rule-following garment.
When To Tuck In Shirt?
Tucking in your shirt is a skill that comes with practice, and it can be hard to tell when you're doing it right.
But here's the thing: you don't have to only tuck your shirt in when you're wearing an undershirt, fitted shirt, or another layer of clothing underneath. (If you are wearing an undershirt, make sure that you fold it into a sharp diagonal crease so that the two layers don't bunch up together. You can also properly tuck your undershirt into your underwear to stop any bunching. A good underwear tuck can make or break your outfit, so don't be afraid to give it try!)
If you're not wearing an undershirt or another layer of clothing, then it's okay to wear a shirt untucked. In fact, some shirts are meant to be worn untucked! Polo shirts are one example of this—they look best when they're left out so they can drape naturally over your body. So, no need for a military tuck here!
Tucking in a dress shirt is also acceptable if that's what the occasion calls for (e.g. if you're at a military event). But otherwise, leaving dress shirts untucked is generally considered more stylish than tucking them in because it allows them to hang loosely on your body without bunching up around their edges.
Octavia Spencer's Figure-Flattering Style Uniform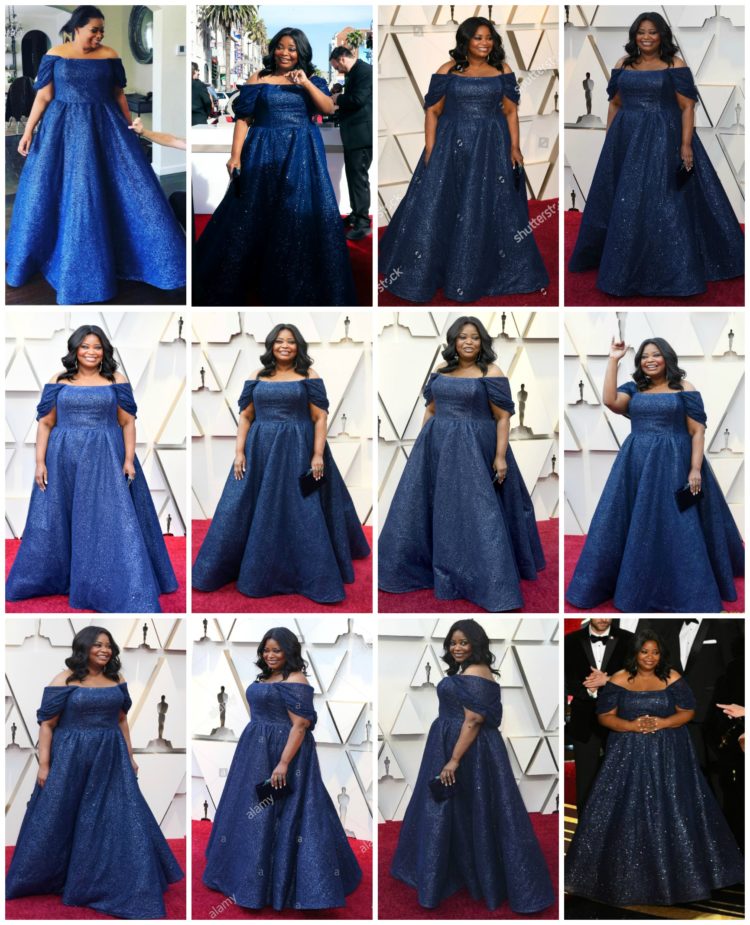 I adore Octavia Spencer. She is a talented dramatic and comedic actress who has earned many well-deserved awards. She is an activist, a producer, and even a children's book author. Octavia Spencer is 48 years old, 5'2″, and has a shape that I, and likely many of you can relate to. For the 2019 Oscars, she wore a sparkly blue gown by Christian Siriano.
This is a traditionally "flattering" fit and flare silhouette paired with off-the-shoulder detail creating the effect of an hourglass. The column of color keeps the eye moving and the sleeves drape to strategically hide the widest part of a woman's upper arm.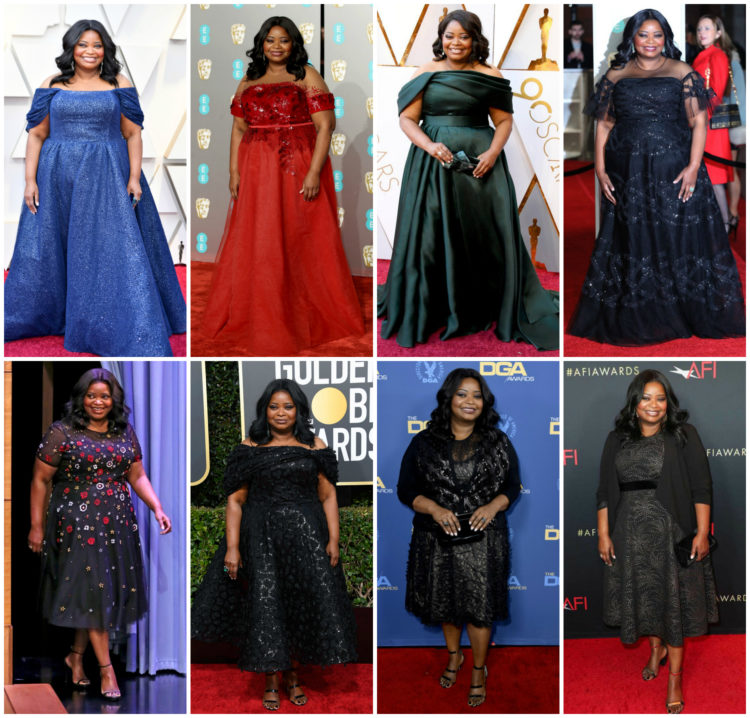 Octavia, like many of us, finds a silhouette she feels good in and sticks to it. She wears the fit and flare silhouette in a variety of lengths for both the red carpet and more casual events, especially when she knows she will have to sit down at some point.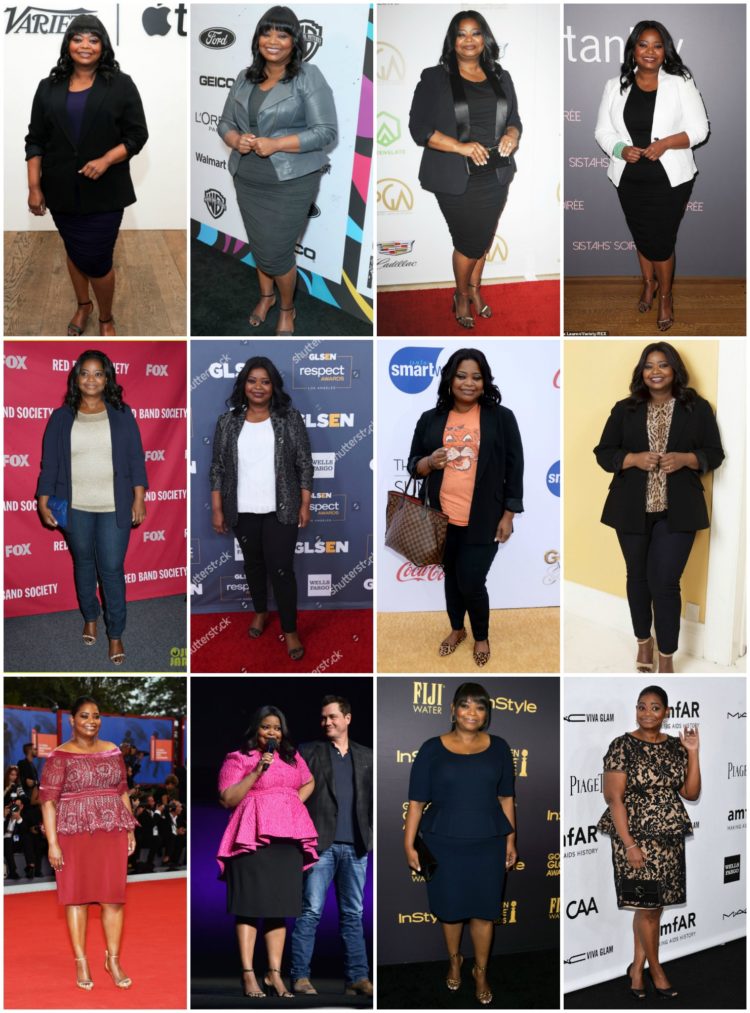 Spencer has a few silhouettes she repeatedly wears that tick off the style rule boxes for figure flattery – longer jackets over tucked or untucked tops with skinny pants or jeans to hide curves, blazers cut to nip in at the waist over fitted but strategically gathered and shirred dark-colored dresses to make the figure recede, or a peplum top with a knee-length straight skirt or cigarette pants to create an hourglass shape and camouflage the stomach.
Searching for these images, I often found them associated with articles on how to dress in a "flattering" way when you're "heavy" or "bigger" in a certain part of the body or providing tips on how to "look five pounds thinner."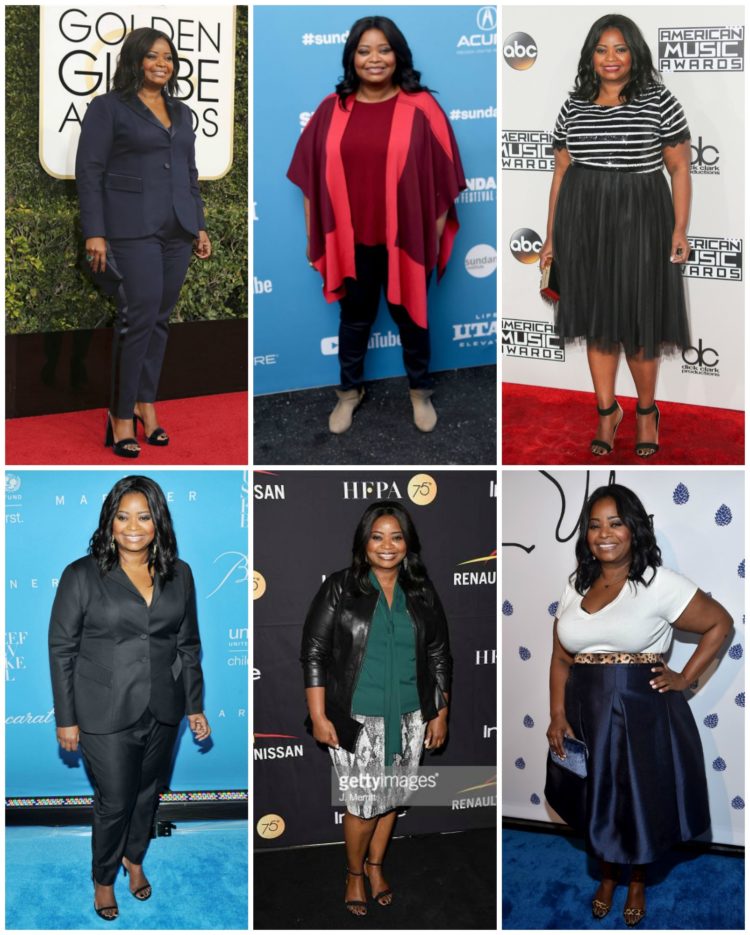 But when searching for images of her style in the past year or two, I found the occasional outfit where she broke those style rules and the results are quite… dare I say flattering? She wears a suit with the jacket closed instead of open over an untucked top. She doesn't employ a column of dark color but instead breaks up the line of her body. And she wears a fitted top tucked into a skirt… a look very similar to the outfit I wore on the blog.
This outfit post received many emails, comments, and DMs asking how to wear such an outfit when you don't have a defined waist when you have a belly, or when you're short. The concept of a tucked-in top with such a figure goes against every single rule yet Octavia Spencer shows it can look great… even when paired with rule-breaking horizontal stripes.
Styling a Stomach: The Tummy Torture
Our stomachs are the body part most quickly affected by hormones, diet, sleep, illness, injury, posture, and pregnancy. We have babies, we lose babies, we go through menopause, we go through hysterectomies, we gain weight, we lose weight, we have a fitness routine and then we get injured, we have undiagnosed allergies and illnesses that cause bloating and digestive problems.
Who cares about our neck dear Nora Ephron, we feel bad about our stomach and it rarely has to do with age or even size. We suck it in with control garments, hide it under tunics and shift dresses, we choose colors that we hope will make it disappear, and even change our posture to hide it.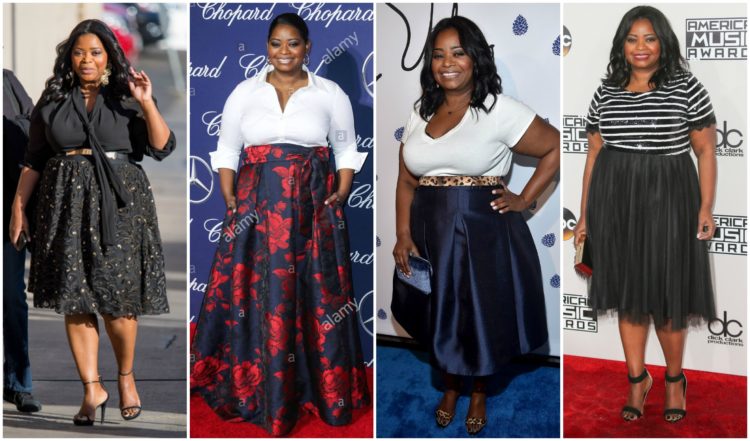 The way to look stylish is not to try to hide, but to work with what you have. And you have a waist, but it isn't necessarily where your belly button lies. Look at the four looks Octavia Spencer is wearing above. Instead of trying to achieve a waist near her navel, she highlights her ribcage, which is where she goes in and where she can define space between her bust and her midsection.
No, these looks don't make her look five pounds younger or five inches taller but you can't say she looks bad in them. In fact, the switch-up from her uniform is refreshing and fun. You're not noticing her stomach, you're noticing the whole beautiful package.
How To Tuck In Shirt Different Ways
I challenge those of you who haven't had any good tuck tips to try it this month and see how it feels. Start off slow with one of these methods:
Try knotting a T-shirt.
This could be in the center or off to the side. If you go to my Instagram account, you'll see circles at the top and one is titled, "T-shirt Knot." I share how I tie my shirts in a more streamlined fashion. You can try this alone or do it under a jacket or blazer.
Try the French Tuck.
Also known as the half tuck, it's a trend that has been around for a while but became extra popular thanks to Tan France. This is where you just tuck in 2-3" in the front and leave the rest untucked so only a portion of your lower half is exposed. Some prefer this tucking right in the center, and some like it better when tucked in off to the side so play with it and see what feels and looks right on you. A high-low hem tunic is a great gateway garment into half tucking as it's easy to tuck the front part to the side slits and leave the back untucked.
Tuck in a fitted top into wide-leg pants or a skirt with volume, and pull your pants over the crease.
Instead of using a long top to cover your midsection, try a looser bottom that doesn't cling to your lower half. If you're looking for wide-leg pants to do this with, go with a high waist that will start above your tummy therefore not segmenting it at the waistband. I recommend either stiff denim that works a bit as a corset or going in the opposite direction with a lightweight non-stretchy fabric that has a drape. I write this while wearing my glen plaid wide-leg trousers from Universal Standard which do a great job of skimming the midsection and rear without looking dumpy or ill-fitting.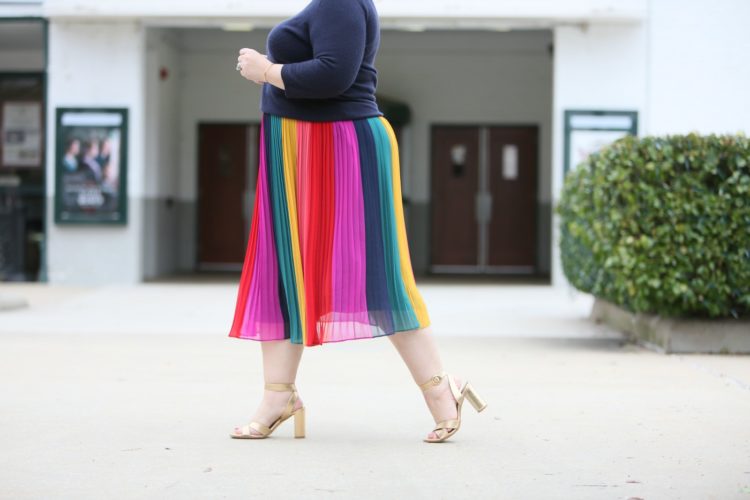 Don't Compare Your Everyday to Another's Highlight Reel
For this photoshoot, like most photoshoots we have for the blog, my husband took literally hundreds of photos. And like most photoshoots, I deleted 90% of them. Some, because I had a weird face. Some, because they were blurry because I was moving. But a lot of them? It was because of my stomach.
This is my site and I get to control the narrative. I am not ashamed of my stomach, but I'd rather choose the photos where I feel the most comfortable and I think they best showcase both me and the clothing. I have soft curves like many of you, and an outfit like the one above doesn't camouflage my midsection or make it look smaller than it is. A photo is taking a second in time and making it last forever. 
While my stomach was more prominent in some photos, it's not as obvious when I am a moving, laughing, sitting, hugging, chatting person. While you may not take hundreds of photos of yourself, you do a similar thing when gauging your appearance by your reflection in the mirror. You are usually still, and after years of helping women get dressed, I'm guessing you have a certain pose you do in front of the mirror that you never recreate in real life.
Your belly is not as important as you think it is, and wearing what makes you happy will make you look a hundred times better than any fashion rule.