This article may contain affiliate links; if you click on a shopping link and make a purchase I may receive a commission. As an Amazon Associate, I earn from qualifying purchases. 
When I was a baby, I had curly hair. As I got older and my hair got longer, I forgot that I had natural ringlets, and instead cursed my frizz. When I was in middle school, I took my waist-length hair to a salon, armed with the latest issue of Teen Magazine that featured Tiffani Amber-Theissen with a long layered style. I left with a dated flippy feathered look thanks to my natural curl and raced home to sob uncontrollably in my room. I soon cut it off into a bob, which stayed curly thanks to a lot of L.A. Looks gel.
I kept a variation of this look through most of high school (barring the time I chopped it all off to look like the lead singer of Roxette), the intensity of my curl dependent on what damage I did to my tresses with box dye and Sun-In. Since then, I have had stylists from time to time coax out the curl, but it never was actual ringlets without using crunchy crispy hair products or a hot tool. My hair is fine, but there's a good amount of it. It can get weighed down easily, go frizzy easily, part in the middle and feather a la my middle school head quite easily. To get my hair curly took too much time, it was far easier to take a dryer and round brush to it.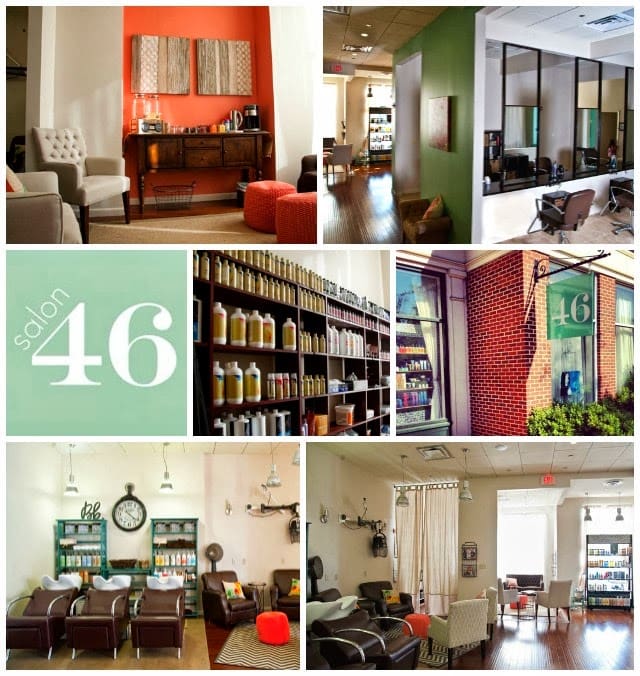 The beautiful and serene Salon 46
Salon 46 in Alexandria, Virginia contacted me regarding their one-year anniversary. They were having a party to celebrate, and wanted to know if I would like to get a cut and color and attend their bash. Considering my last sponsored hair experience I was a bit hesitant. However, with some Googling and Yelping, I found Salon 46 received rave reviews and stylists who were expert in dealing with all forms of curly hair. I decided to take a chance and check out a popular salon in NoVA.
The plan was to have my hair done before the party, but my schedule has been so weird with the government shutdown, we couldn't find a time that worked. Instead, I arrived early the day of the party and had them style my hair. My stylist was Bridgid, who from my online sleuthing I knew to be an expert with curly hair. Bridgid was so nice and down to earth, and as a fellow Curly Girl, she knew how to take my rainy-day Kip Winger frizz and turn it into big sexy curls for the evening fete. While being styled, I got a chance to know some of the other stylists and was thrilled to find them all so friendly, so open, so welcoming. This is not a salon of snobs. The salon itself is gorgeous, decorated in soft mint and coral in a clean and airy yet cozy manner. They offered me a glass of wine while I was styled, and after I made myself comfortable next to their fireplace and rested my feet on an adorable crocheted pouf.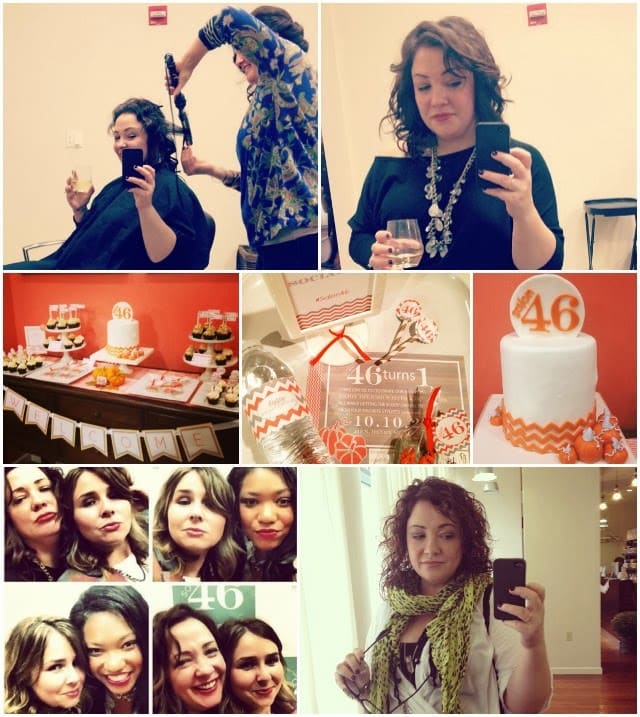 Top row: Getting my hair styled for the party.  Middle: The salon decorated for their anniversary
The party was a blast, it was fun to meet so many of Salon 46's loyal customers (all who had magnificent tresses) and get to know the staff better. We dined on yummy appetizers, they filled the hair washing stations with ice and beer, and offered a sangria bar with each one named after a hair color.
The next day, I returned to Salon 46 for my cut and color with Bridgid. We chatted the day prior about what I wanted, and I said I looked forward to re-finding my natural curl. The curls seem to work pretty well in the humid summer months, but when the air gets cold and dry my hair is rough frizz instead of ringlets. I also mentioned how I was thinking of adding some lighter tones to my hair which I thought may be more flattering to my 38-year old pale and dry skin. Other than that, I left it in her capable hands.
Bridgid took her time and clearly explained what she was doing and why, how she was styling it and what products she used. She cut off about an inch, and removed a lot of heaviness to let the curls spring up. She painted on highlights and used a demi color and glaze for even color and shine. She taught me how to twirl segments of damp hair with product, pinching the ends, and working in a zig-zag manner to coax out curl but not end up with a flattening obvious part. She dried my hair with a diffuser, but said the curls would be even better if I gave them time to air dry. When she finished, my head was a mass of springy, glossy curls. Curls I hadn't seen before without curling irons and far more shiny and natural looking than anything I had before.
I told Bridgid I do like to still do my hair straight or wavy, so she cut to make it work no matter the texture. Since my visit to Salon 46, I have styled my own hair straight once, wavy, once, and curly twice and can do a pretty good job of replicating what she did thanks to her training. It's fun to have curls in winter, something I don't think I experienced since I was a baby.
I had an amazing experience at Salon 46, and know you would too. If you live in the DC/NoVA area, check them out online or on Facebook. They have plenty of parking in back and are Metro-accessible.  Tell them Alison from Wardrobe Oxygen sent you, and if you're a Curly Girl like me, be sure to ask for Bridgid!
Follow Me | Twitter | Facebook | Instagram