This article may contain affiliate links; if you click on a shopping link and make a purchase I may receive a commission. As an Amazon Associate, I earn from qualifying purchases. 
As you know, I worked for The Body Shop for two years in the stores and for almost two years as an at-home consultant. The Body Shop is a company that sells great products, but more importantly has beautiful ethics and has done amazing things for people and communities all around the globe.
Today Dame Anita Roddick, founder of The Body Shop died of a brain hemmorage. She was 64.
Anita Roddick was an amazing woman. I never got the chance to meet her, but when I worked at the stores, she was known to randomly visit shops all over the world and attended many of our conferences. One year she sent her most recent book to each shop manager and wrote a personal message to each of us inside the cover.
Considering how much I admire this woman, I know I would ramble on and not clearly explain the beauty, strength, and vision of this woman. Instead, please visit this link for an article from the BBC about her death, and to learn more about this amazing woman.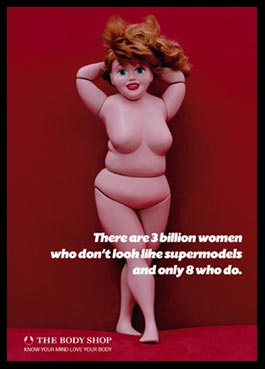 One of my most favorite Body Shop campaigns was the Ruby Self-Esteem campaign. Banned in many cities and countries, but one I will always love. I feel this campaign fits with my reason for my blogs – not all women are supermodels or built like one, but all women can be and are beautiful. From Anita:
In 1998, The Body Shop debuted its self-esteem campaign, featuring the generously proportioned doll we dubbed "Ruby." Her rubenesque figure graced windows in The Body Shop windows in the UK that year, along with our slogan, "There are 3 billion women who don't look like supermodels and only 8 who do." She went on to appear in stores in Australia, Asia, and the United States, where she captured the imaginations of consumers weary of the rail-thin heroin-chic of the beauty industry's advertising messages.
Ruby was a fun idea, but she carried a serious message. She was intended to challenge stereotypes of beauty and counter the pervasive influence of the cosmetics industry, of which we understood we were a part. Perhaps more than we had even hoped, Ruby kick-started a worldwide debate about body image and self-esteem.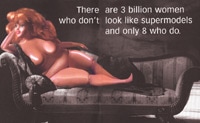 But Ruby was not universally loved. In the United States, the toy company Mattel sent us a cease-and-desist order, demanding we pull the images of Ruby from American shop windows. Their reason: Ruby was making Barbie look bad, presumably by mocking the plastic twig-like bestseller (Barbie dolls sell at a rate of two per second; it's hard to see how our Ruby could have done any meaningful damage.) I was ecstatic that Mattel thought Ruby was insulting to Barbie — the idea of one inanimate piece of molded plastic hurting another's feelings was absolutely mind-blowing.
Then, in Hong Kong, posters of Ruby were banned on the Mass Transit Railway because authorities said she would offend passengers. (Granted, Ruby often appeared without clothes on, but like Barbie, she had no nipples or pubic hair.) Of course, the much more seriously offensive images of silicone-enhanced blondes in other ads were permitted to stay on the trains.
And there, in a nutshell, is my relationship with the beauty industry. It makes me angry, not only because it is a male-dominated industry built on creating needs that don't exist, but because it seems to have decided that it needs to make women unhappy about their appearances. It plays on self-doubt and insecurity about image and ageing by projecting impossible ideals of youth and beauty.
Leonard Lauder, son of Estée, once refused to advertise in Ms. Magazine (back when they still accepted ads) because, he said his products were meant for "the kept woman mentality."
I think it is a moral imperative that The Body Shop, as a cosmetics company itself, continue to buck the industry on issues of self-esteem, and to expose the cruel irony of the myth that a company must make a woman feel inferior in order to win her loyalty.
Ruby, who still watches us from posters throughout The Body Shop's offices, won't let us forget.