This article may contain affiliate links; if you click on a shopping link and make a purchase I may receive a commission. As an Amazon Associate, I earn from qualifying purchases.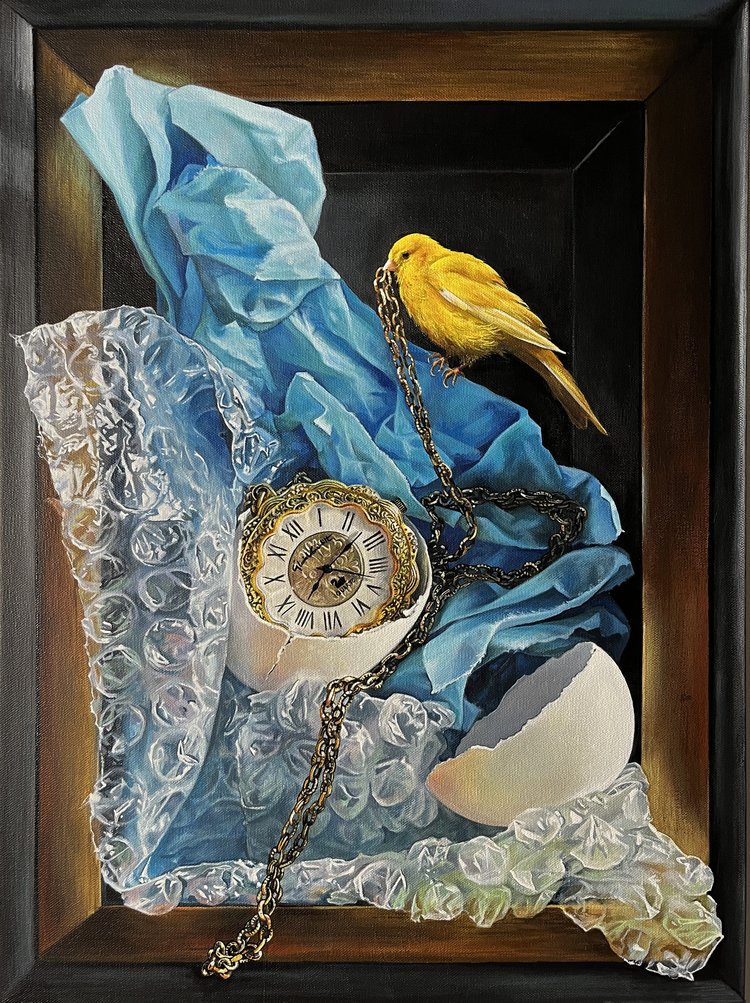 Around 2pm yesterday, I decided this would be my last Weekend Reads of 2022. I planned to have another one for next weekend, but I am ready to head into vacation mode with my family. While my daughter has school this coming week, if I don't focus on work I can focus on ensuring we all have a happy and peaceful winter break together. While I know I will have at least one other post between now and 2023 (it's a sponsored post, it's a brand y'all know I love, and it's about a sale I know a good number of you will be happy to know about), I am not going to make posting beyond that a priority. I also will be paring down my social media usage.
I know we all don't have this luxury to ramp down for the holidays. I worked many years in retail, years where I didn't have a day off between the Wednesday before Thanksgiving and the second weekday after New Year's and most of those days were doubles. I had a job for a few years in Corporate America where almost the entire office took off between Christmas and New Year's. However, my department provided a service that was often needed during that week so I'd have a skeleton crew with me in, working in the dark because our movement wasn't enough to keep on the motion-powered lights. I've been there.
And I am so proud to have built a business where I can take time off. It's scary AF. This field is getting more and more competitive, our attention spans shorter and shorter. Any moment away is a moment of potential irrelevancy. But breaks are necessary to decompress, rest, and restore.
I hope you are provided a couple of times during these remaining days of 2022 to sit back, relax, maybe read one of the articles below, read a book I am also reading, watch something I enjoyed, and listen to music. Wishing you warm mugs, quiet mornings, smiles from strangers, restful nights of sleep, and unexpected moments of beauty and awe. I am so grateful for this community and I cannot wait for a fresh year of creativity, innovation, inspiration, and connection with you.
Weekend Reads
Reducing anxiety has now been proven to lead to a reduction in cancer metastases. Women are more anxious than ever. A conundrum. (Ladyparts)
Doctors say hormone changes during perimenopause are a likely culprit and can cause brain fog, depression, anxiety. There are ways to cope. (Washington Post – gift article)
Sunday is the annual showing of The Sound of Music on ABC; they have a viewing party on Facebook if you wish to participate!
Maybe we're too hard on Momfluencers. (The Cut)
Consumption. (Bobbie)
Michelle Obama's fashion Declaration of Independence. (New York Times – gift article)
Taunted for being Black, a student fought back, civil rights complaint says. The 30-second fight derailed her life. (NBC News)
How I discovered a love for ballet as an adult. (NPR)
"Grocery Shopping With My Mother." A poem by Kevin Powell. (Literary Hub)
The obvious answer to homelessness and why everyone's ignoring it. (The Atlantic)
Have you checked out the Target Future Collective with Kahlana? Great colors and wearable silhouettes!
Beaches and billionaires: Inside DJ Kygo's quest to become the Gen-Z Jimmy Buffett. (Forbes)
Oregon governor commutes all 17 of state's death sentences. (AP)
'Luddite' teens don't want your likes. (New York Times – gift article)
New non-hormonal drugs to treat hot flashes could arrive in 2023. (Mental Floss)
I don't need this blue metallic trench coat but dang if I love this blue metallic trench coat.
How a Hello Kitty guitar became the hottest Stratocaster. (The Guardian)
How to become a stylish duo? Look to Anna Wintour and Bill Nighy at 73. (WA Today; thank you Kate for sharing this in the WO2 Community!)
Been there, experienced that. You better believe I read this article: Several studies support the claim that gender bias in medicine routinely leads to a denial of pain relief for female patients for a range of health conditions. (Washington Post – gift article)
Celebrity promoters sued over Bored Ape NFT endorsements. (The Hollywood Reporter)
Maternal death rates in states that restricted abortion were 62% higher than in states where abortion was more easily accessible, new research showed. (NBC News)
What the Respect for Marriage Act means for LGBTQ, interracial families. (Washington Post – gift article)
Scientists have discovered that snakes do have clitorises, shattering a long-held assumption that the females didn't have a sexual organ. (BBC)
The mindf*ck of midlife. (The Cut)
For over three decades, Judith Thurman has captured the often ineffable pull of fashion and beauty like few others. (New York Times – gift article)
In Florida, poorer communities fund scholarships for wealthier kids. (Orlando Sentinel)
Doesn't an article like this come out every five years? Old people don't understand young people, young people don't understand old people so they have to learn a new way of communicating in a mixed-age environment. Though I have noticed myself, my teen also hates ellipses. I think it's because it looks to that generation like someone writing a text but not sending it yet. (Washington Post – gift article)
Thinking through "time spent alone". (Culture Study)
Siouxsie Sioux to return to stage for first time in 10 years. (Dazed)
What could you write if you weren't afraid? (The Atlantic)
After a pandemic dip, the number of married couples "living apart together" has started to rise again. And women, in search of their own space, are driving the increase. (New York Times – gift article)
Personal finance influencers were charged with fraud in an alleged scheme encouraging their followers to buy stocks they planned on dumping. (Buzzfeed News)
In time for holiday get togethers and getaways: get your free COVID tests. (CDC)
Speaking of which… is it COVID, flu, or RSV? (New York Times – gift article)
And for you to bookmark and send to all your friends: How to take your own measurements. (Mendy)
Sales Worth Checking Out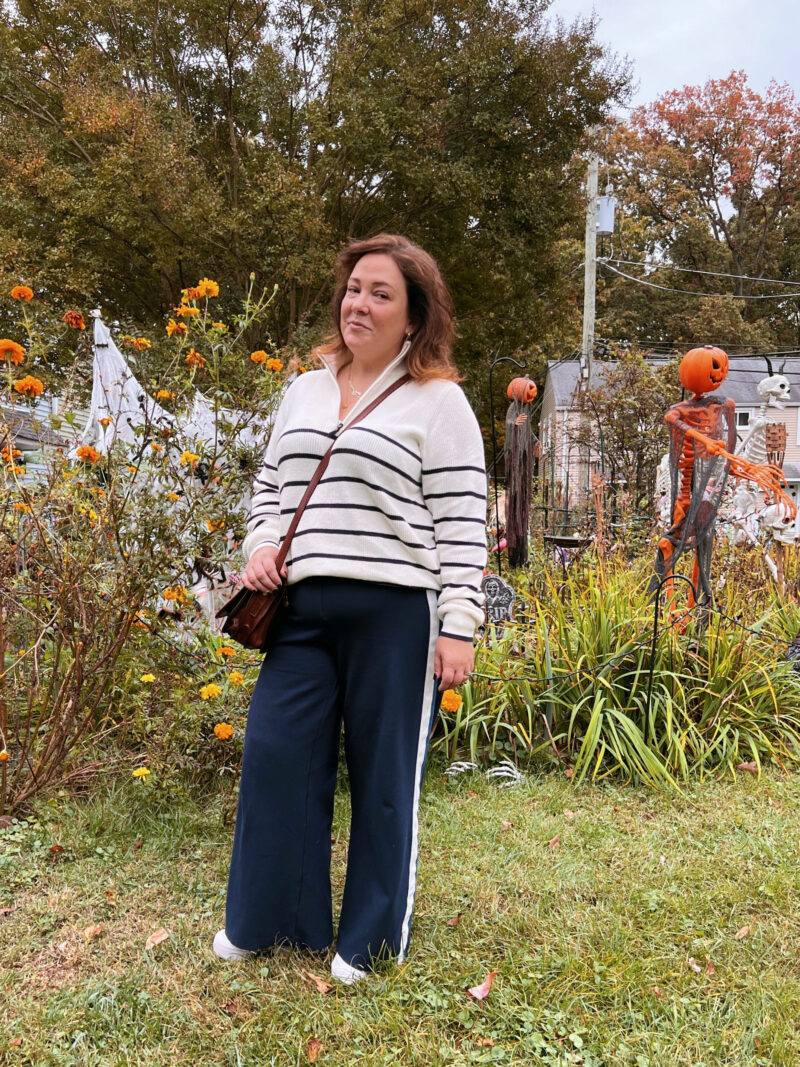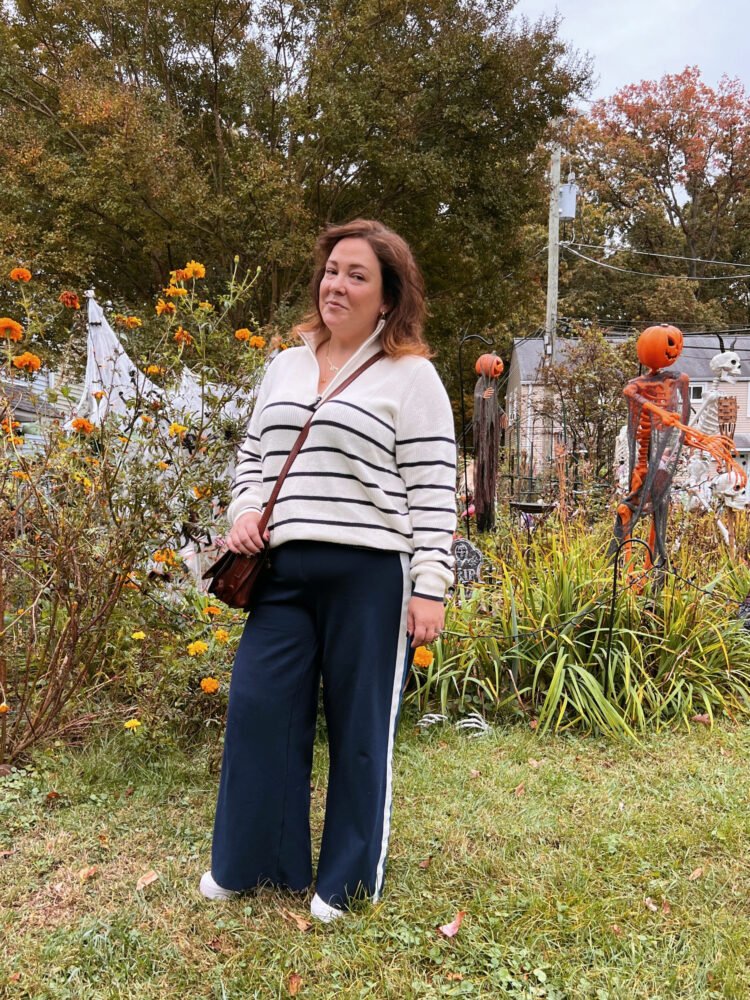 Universal Standard: Ponte pants only $60!
Universal Standard is having a flash sale where most of their ponte pants are $60. This sale is only through this weekend. This is redonkulous good, and I myself will be shopping this sale! You can save up to $118 on these very high-quality pants that feel like loungewear but look like workwear (or even night outwear) and come in sizes 00-40. If you want to see me wear six pairs of the Universal Standard ponte pants, click on this link. But I'll break down what I regularly wear:
My personal favorite ponte pant from Universal Standard is the Stephanie. I have them in navy with the stripe on the side as you see above, and I have them in dark red, which you can see in this blog post. Do note at 5'3″ I don't find the rise a problem, but I do need to have these shortened. They're unlined but stretch; most dry cleaners have a serger machine and can do this alteration.

The stripe ones don't have pockets which I miss, but I love them enough to wear them all the time. This time of year, they're most worn with cashmere and merino turtleneck sweaters in black and gray, but I also wear them with Breton sweaters, even if the colors don't match the pants. For example, I have a La Ligne x Target sweater that is a different navy with red stripes and I combine them and I think it looks cool, and not so matchy-matchy dated. I also wear all my cream Breton sweaters with them, and often wear my white and blue Saint James Breton and then over it wear a denim jacket or some sort of sweater coat/cardigan.
The dark red ones are worn like regular wide-leg trousers. They have a flat front and the pockets zip closed for smooth lines. I wear them with sweaters, with blazers, with graphic t-shirts, you name it. Red is surprisingly versatile; sure you can wear neutrals but don't be afraid to pair with magenta, with purple, with teal, with navy.
You may want to get two pairs; one to keep nice for work (they sometimes match with ponte jackets from other retailers making a comfy suit), and one pair to wear for hanging out. If you plan to put them in the dryer, expect them to not look as nice and shrink a bit (size up).

The Laid Back Joggers (seen in this blog post) are elevated joggers you can wear out of the home. I am usually an XS in US but for these I preferred them in S to have them not so snug on the bum. I like these with a boyfriend blazer, t-shirt, and sneakers. I also wear them with sweaters and lace-up boots.
The Smart Signature Ponte Pants (also seen in this blog post) are pretty fantastic work pants, weekend pants, anytime pants. The fit is clean and professional, the fabric is elevated, these are a great ankle pant to wear with most anything. In the winter I like wearing them with a sleek ankle bootie that comes up under the hem (I know I keep talking about them, but these Naturalizer boots are perfect for such situations).
I know many of you have Universal Standard ponte pants, feel free to share your feedback and fit tips in the comments to assist others in the Wardrobe Oxygen community!
Nina: Up to 50% off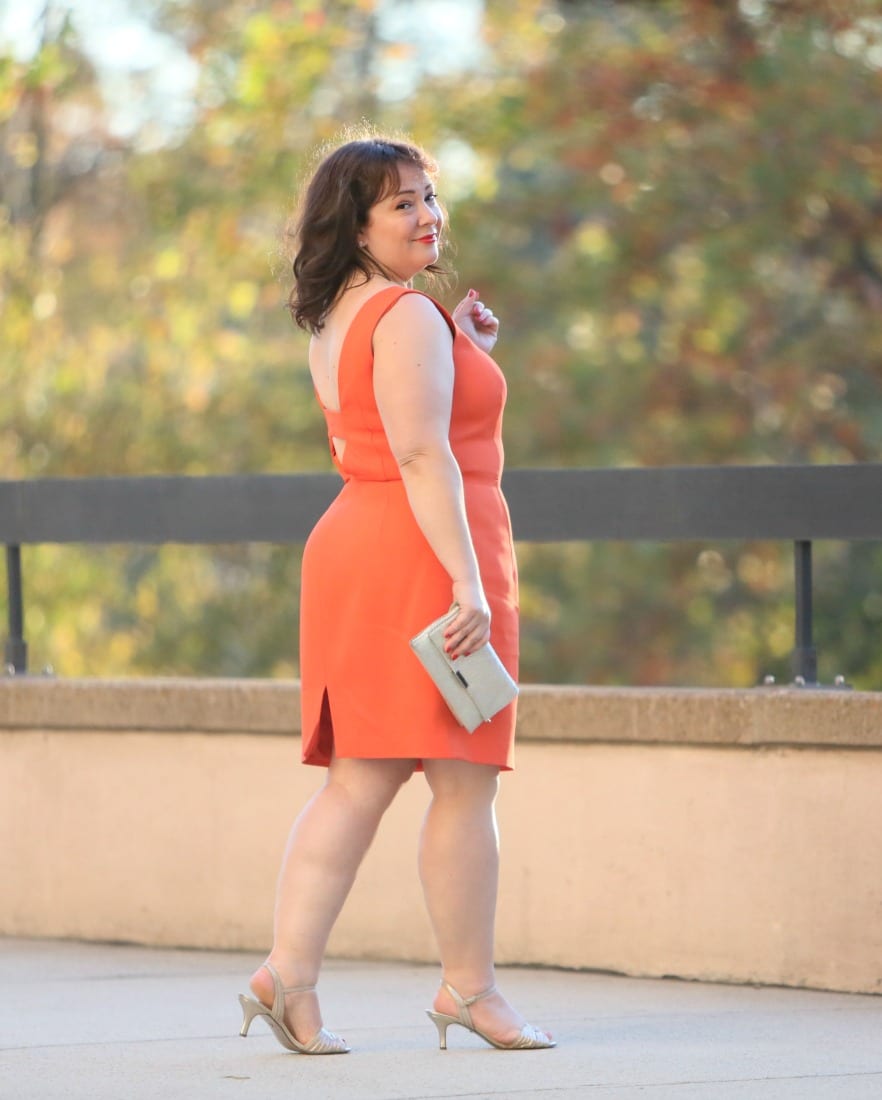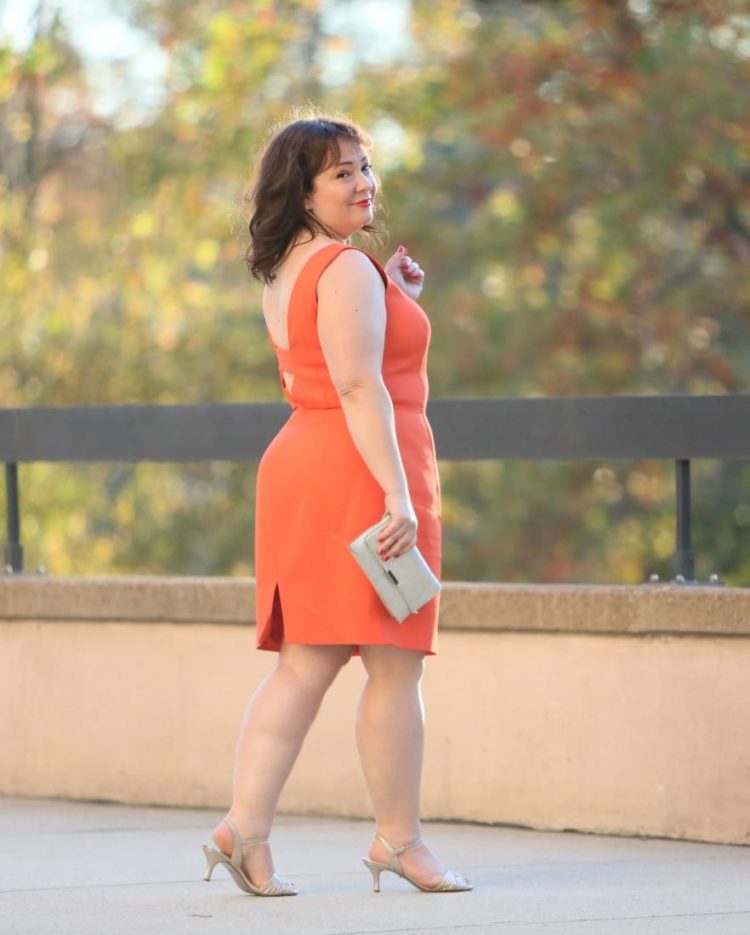 Nina Footwear has been a style staple since the 1950's. Stanley Silverstein worked in his dad's Cuban shoe factory after a stint in the Army; his brother Mike worked in handbag manufacturing. Their first store was on Prince Street in SoHo; I recall an episode of The Marvelous Mrs. Maisel when she was shopping and admiring shoes by Nina. Nina still continues to make quality shoes, handbags, and some other accessories, and they continue to be sold at reputable stores like Bloomingdale's and Nordstrom. I have been a fan of Nina for years because they carry wide widths in cocktail/formal footwear and provide styles that both incorporate the latest trends and transcend them.
If you are looking for a new evening bag, Nina is having a ridiculously good sale on their website, which offers free shipping and free returns on US orders. The selection is bigger than at the department store websites, and the prices far better. I actually own this very bag and paid full price, I have been wanting this bag for a while, I think this bag would be great for a cruise or a tropical vacation or if you live in a tropical climate. Nina also makes shoes and this pump is a classic, comes in medium and wide widths, and so many cool colors and prints and it's on sale under $80.
Talbots: 50% off your order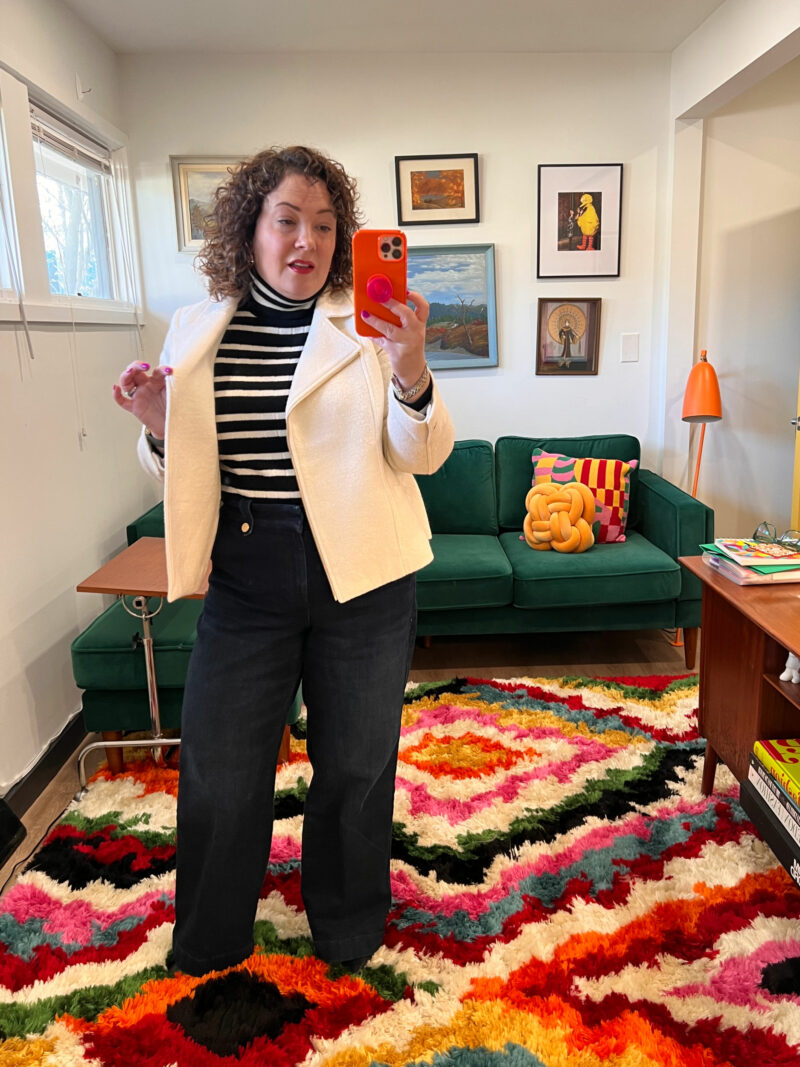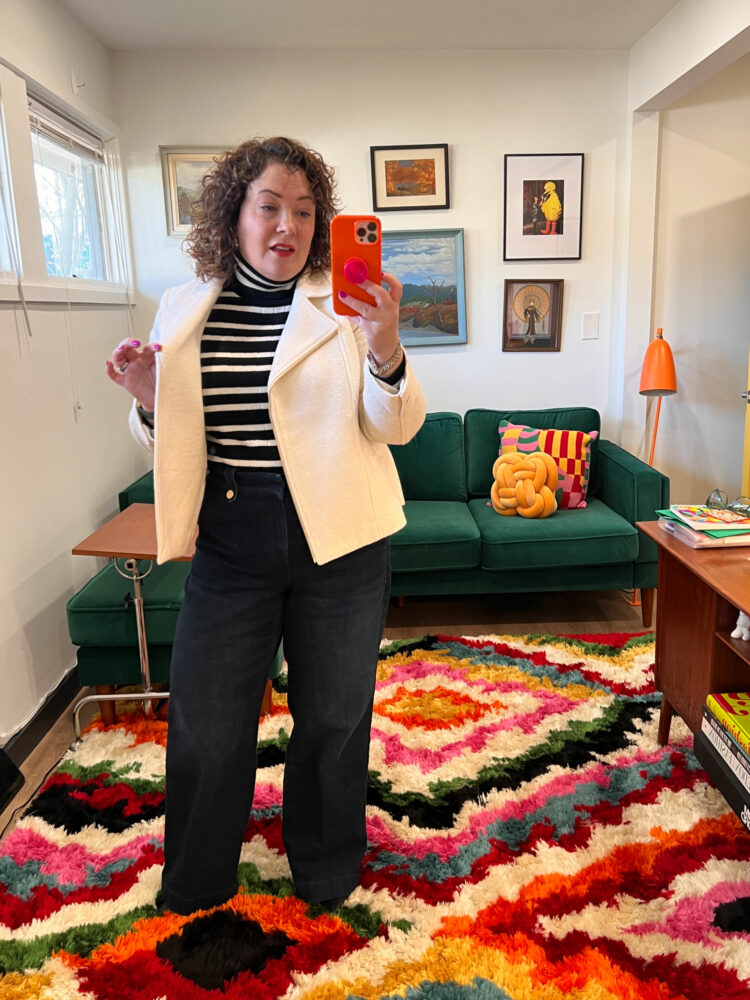 I think it's clear I am a fan of Talbots, especially this time of year. Amazing cashmere, chic yet cozy occasionwear, great-fitting jeans, festive attire, and some of the best holiday accessories. This is a sale not to miss. I appreciate that Talbots is one of the few retailers that carry plus size petites in a good percentage of their collection.
Hear/See/Read
I've got you covered with LOTS of possible things to watch over the holidays! Some good, some not so good, but a LOT of variety!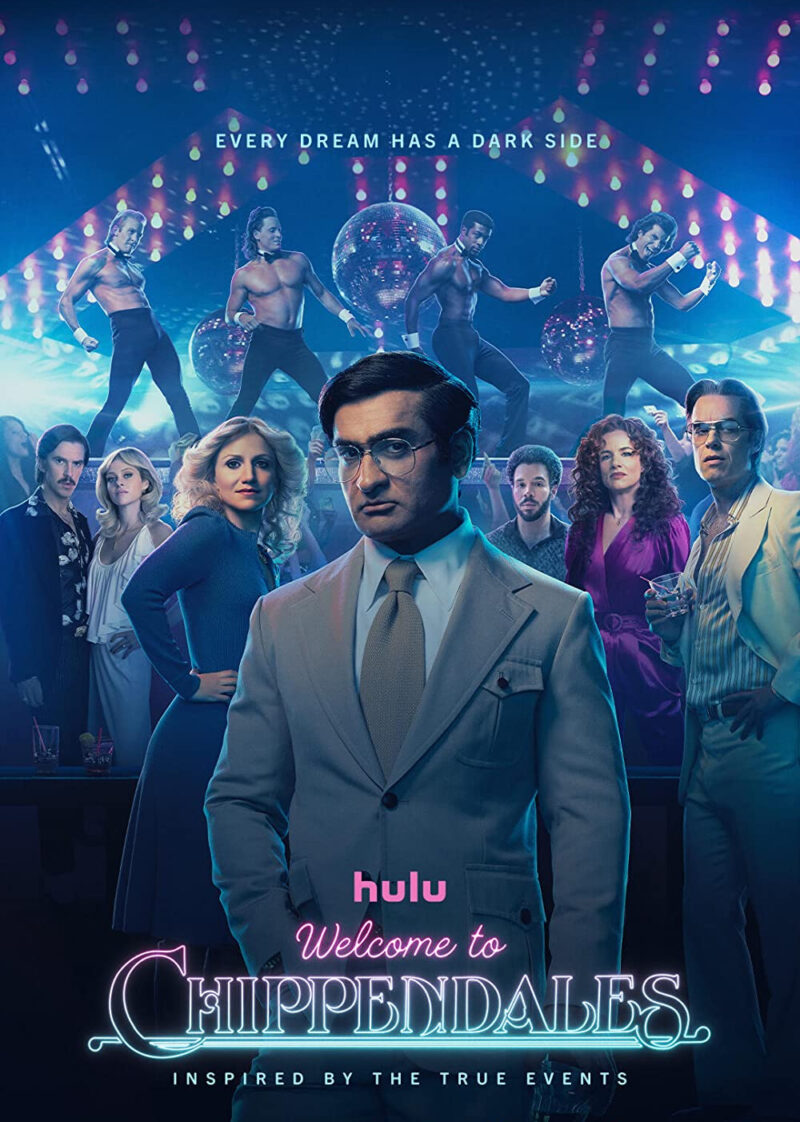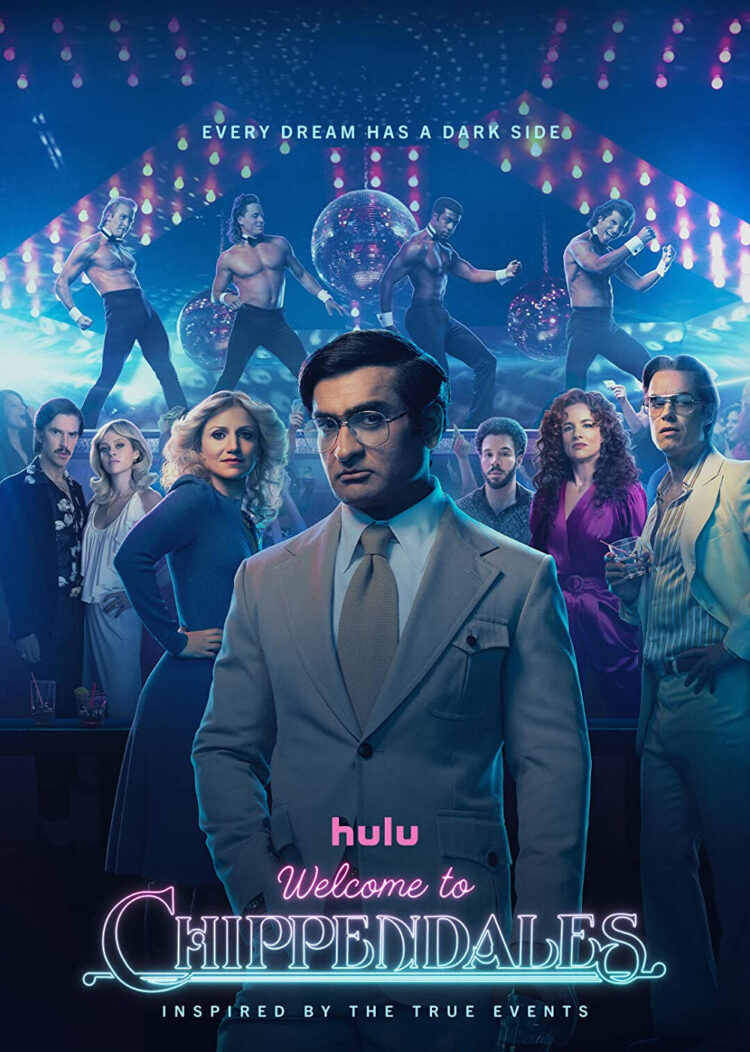 I recently had an intense day and the best way to decompress from it was to go to my room, lock the door, and watch some mindless TV. I opened Hulu and saw, Welcome to Chippendales a new series starring Kumail Nanjiani along with folks like Murray Bartlett, Juliette Lewis, Annaleigh Ashford, and Andrew Rannells. Not a shabby cast, and I knew that this would have accurate fashion and decor from this period in America so I dove in.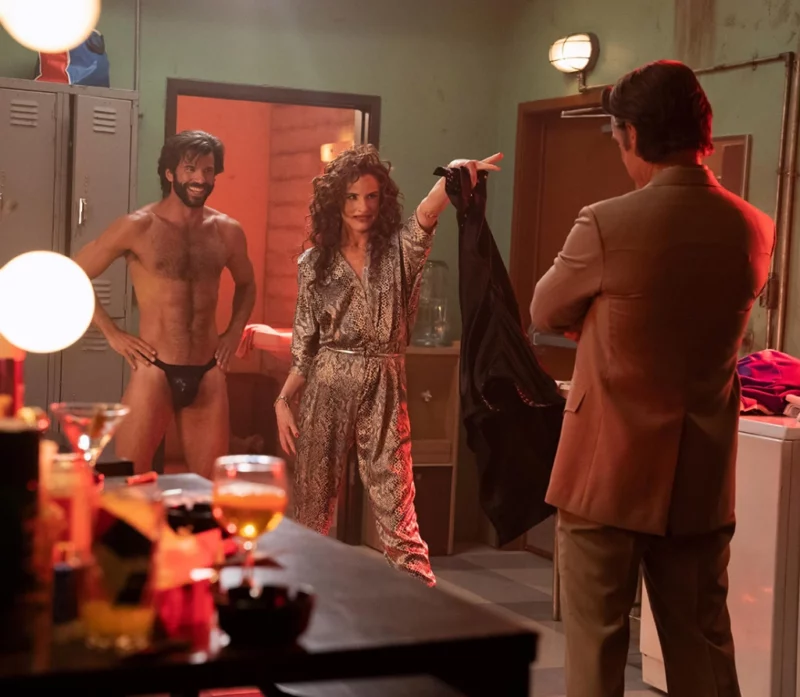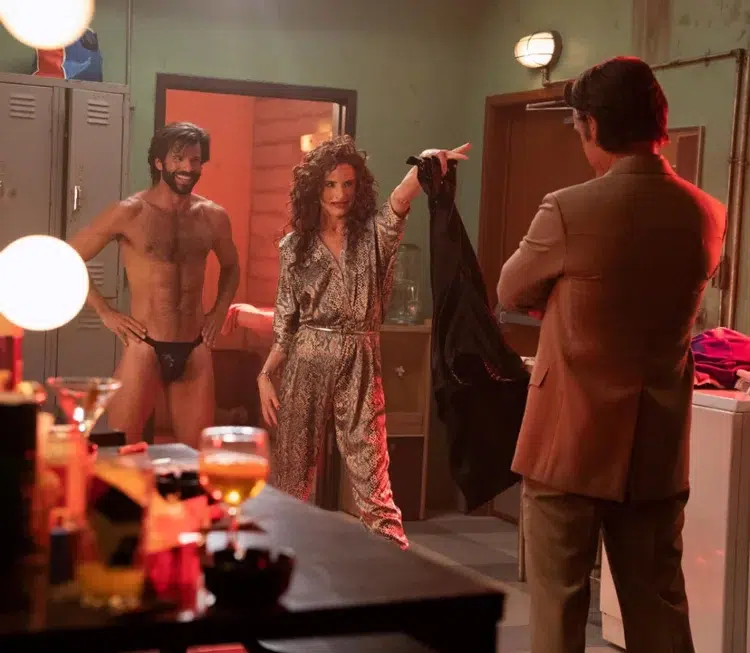 Eh… this is great acting, and yes some accurate fashion and decor for the time, but it's really working hard to make the story big enough for multiple episodes. Man decides to not go into the family business which causes strive with his parents. Man makes some bad decisions, some good. He makes money. The money changes him. And even without finishing the series and knowing how the story ends, I can pretty much guess what happens next and it isn't pretty.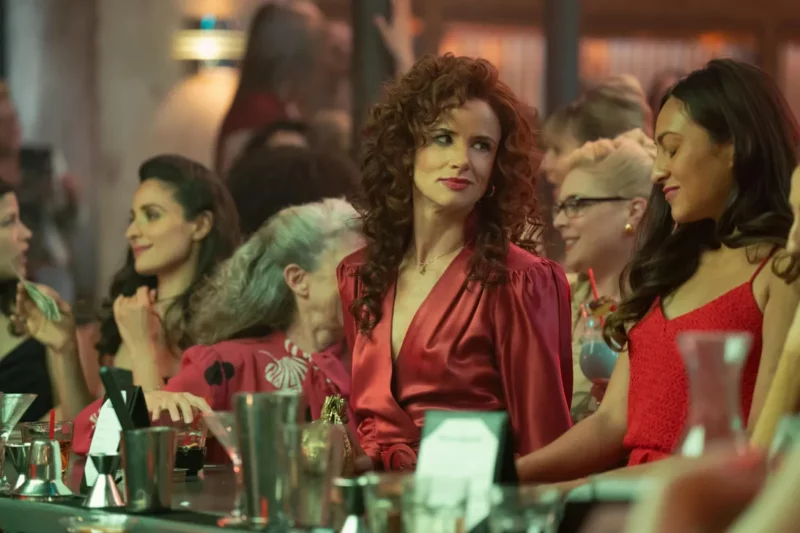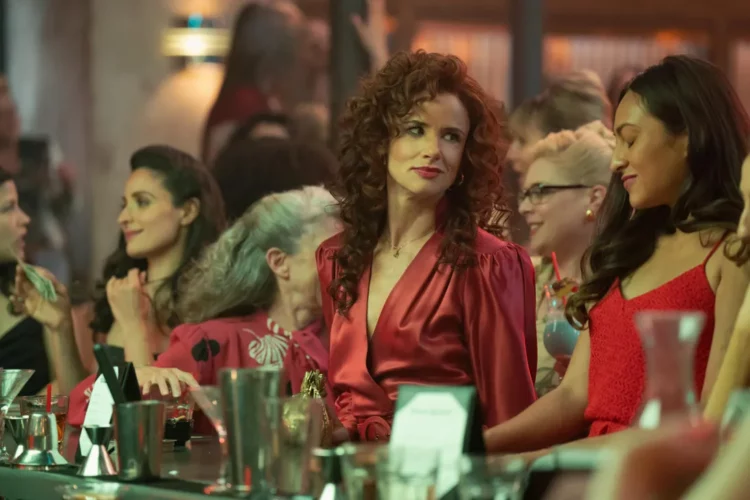 Go ahead and Google to know the story if you don't remember it being in the news or the 2000 TV movie starring Naveen Andrews. It includes murder, hit men, arson, and suicide. It is juicy enough to hold its own next to series about cults and con women but it's no The Dropout or even the corny Hulu series, Under the Banner of Heaven. But Kumail Nanjiani impresses. Known as a comedian, Nanjiani says so much with the most subtle of facial expressions. And when I read this piece on NPR, it made me even more impressed by the actor. But that doesn't mean you need to watch this. There is better content out there, though it was a nice distraction at the end of an intense day.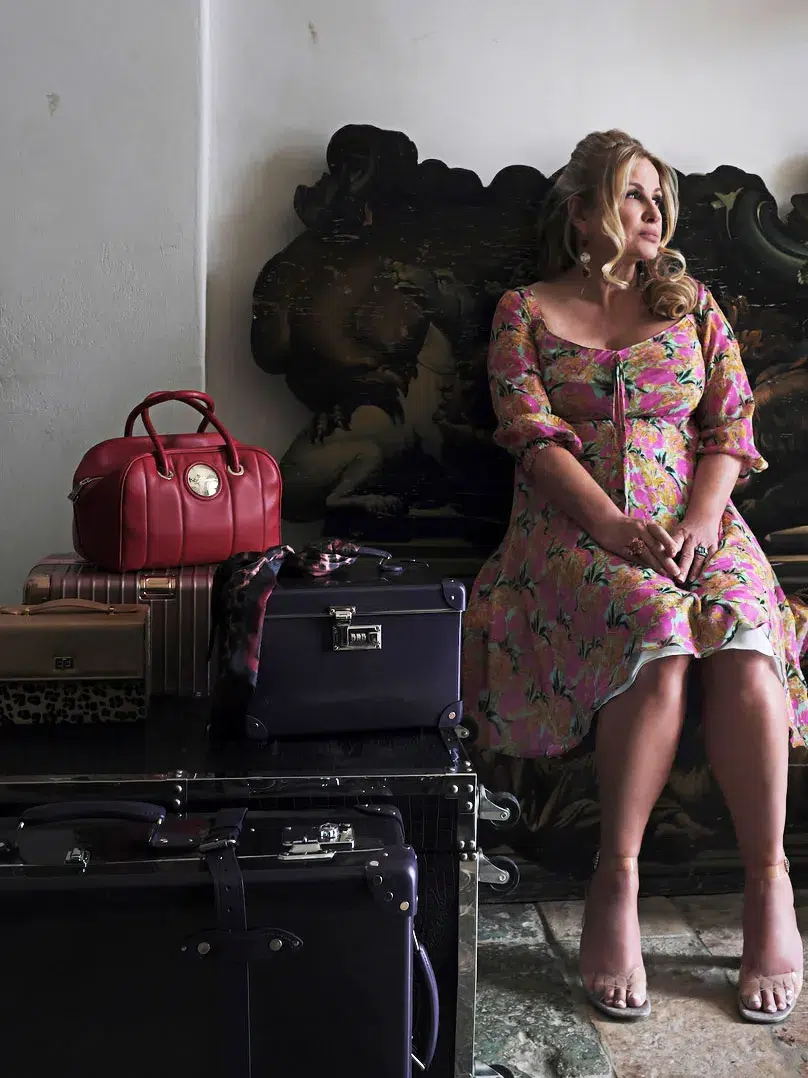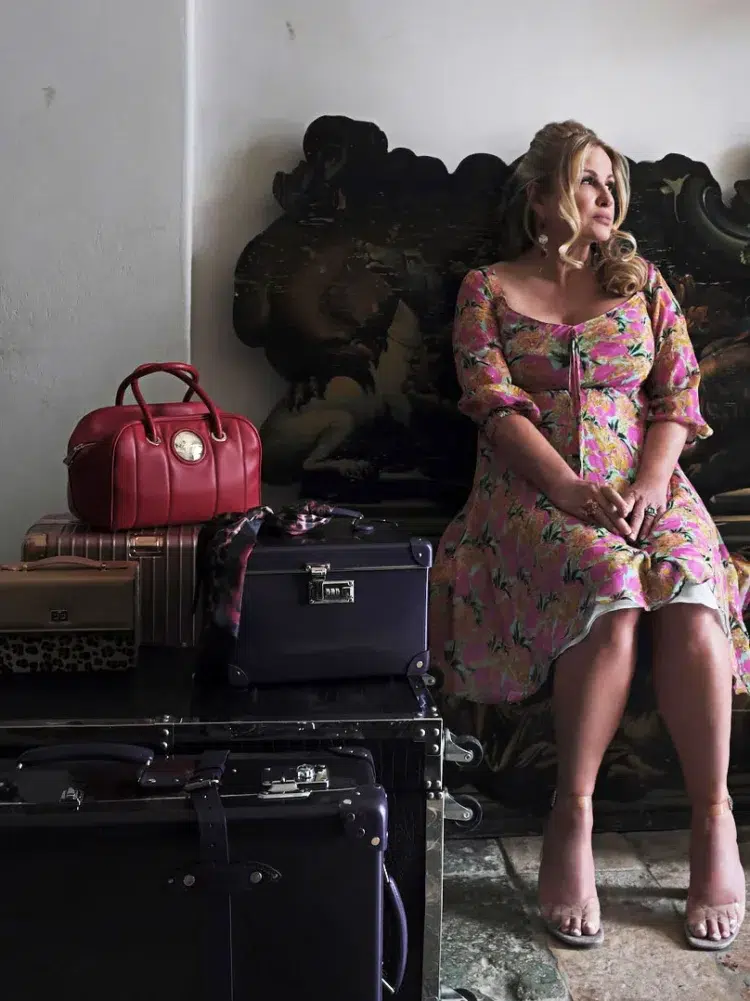 We finished The White Lotus. My husband preferred Season 1, I found Season 2 to be more complex, disturbing, and thought-provoking. There is nothing I can say that others haven't already said. I really enjoyed this show, and if you haven't watched it you may wish to include it. It's not too dark, not really violent (except for what happens to "the gays"), good fashion, beautiful locale, and a great show to watch with others to discuss like a Book Club. The White Lotus (both seasons, no need to watch one to understand the other) are on HBO Max.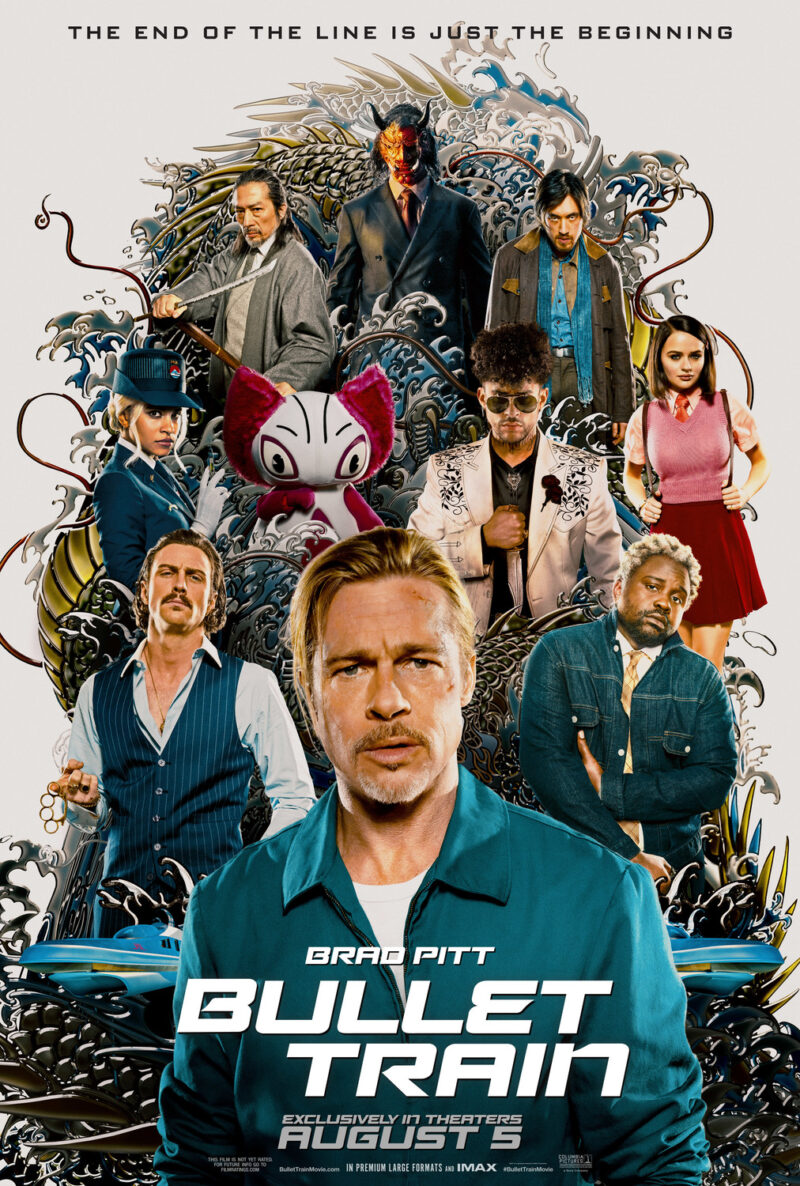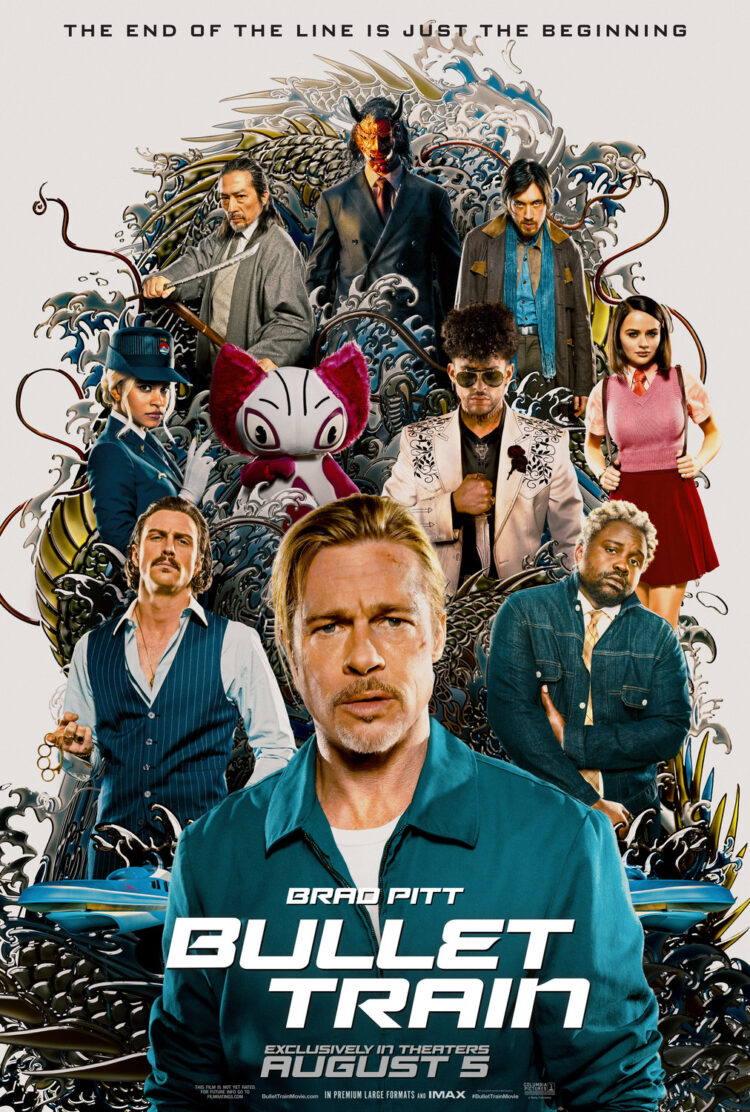 There are some celebrities you feel a connection to. Maybe you listened to their album during a breakup, maybe you had their poster from an issue of Tiger Beat on your bedroom wall, maybe they were the first person to make you feel something during that specific scene in that movie, maybe you feel you grew up with them. Well, one of those celebs for both me and my husband is Brad Pitt. So we just had to watch Bullet Train, which is currently available on Netflix.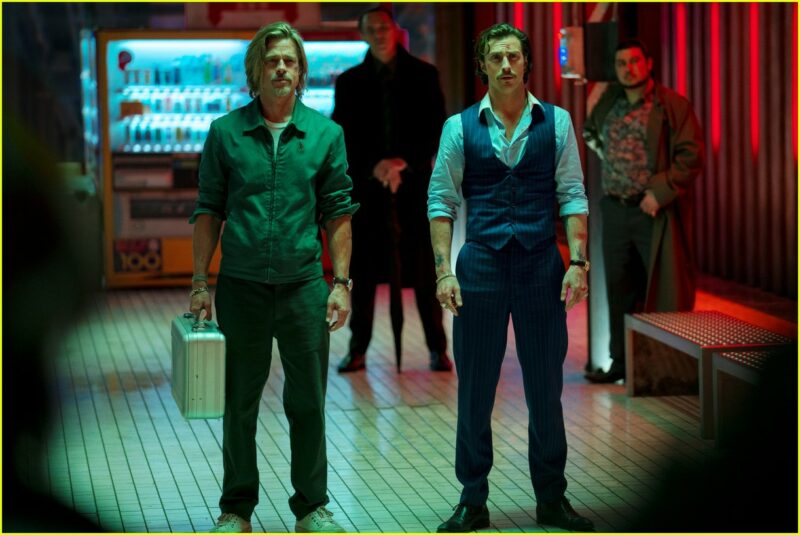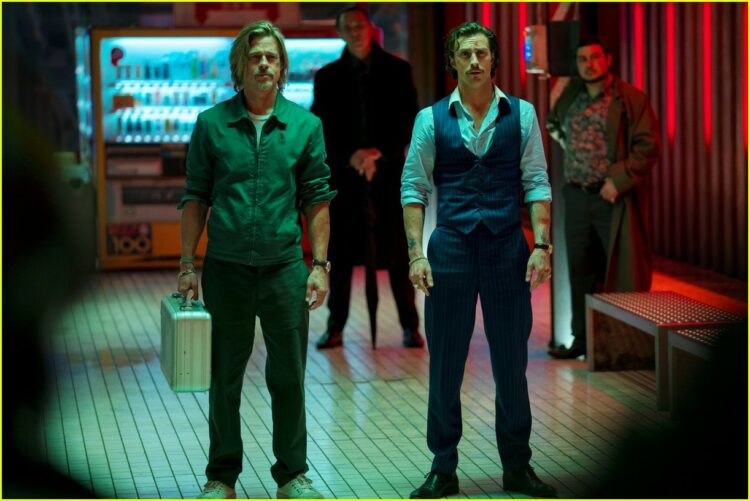 I felt like each time we paused the movie to let out the dog or use the bathroom or get a beverage there was still an hour left. We both felt like if this movie came out a decade ago it would be the most talked about film all year. But now… I dunno, it was the kind of film we could pause to let out the dog, use the bathroom, and grab a Limoncello LaCroix and not feel pressed to race back and see what was going to happen next.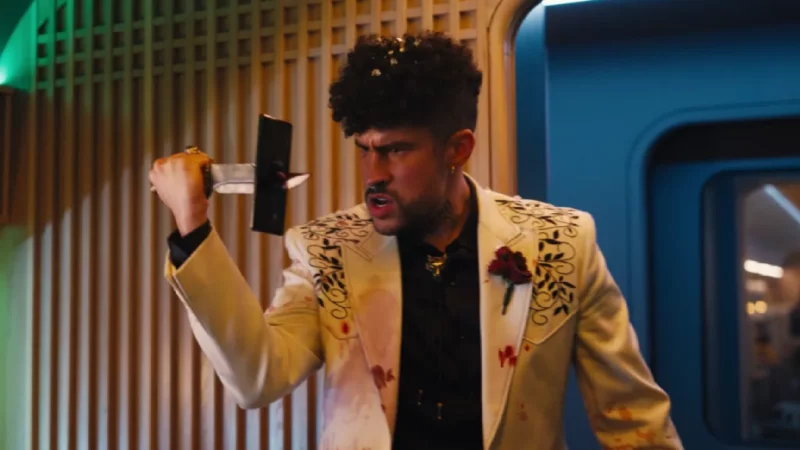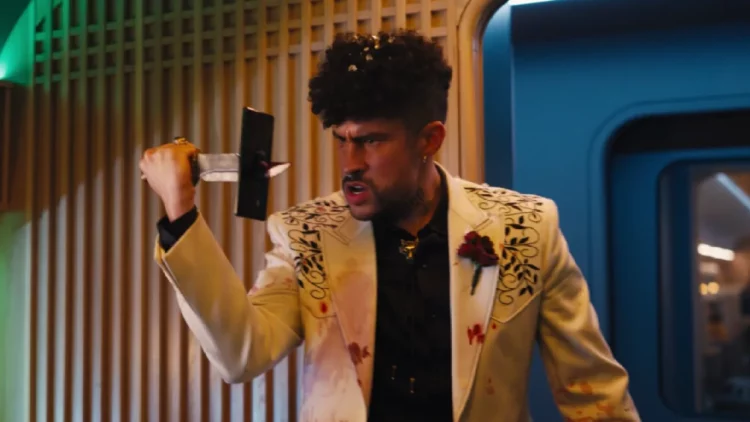 We knew. We knew Brad Pitt would save the day. We knew who killed whom. We knew who would be killed, who would sacrifice themselves, and who would be surprisingly connected in a way that didn't surprise us. It felt like Quentin Tarantino and Guy Ritchie collaborated on this film while both were engrossed in other independent projects. It was pretty, it was firey, it was bloody, it was action-packed, and it was… fine.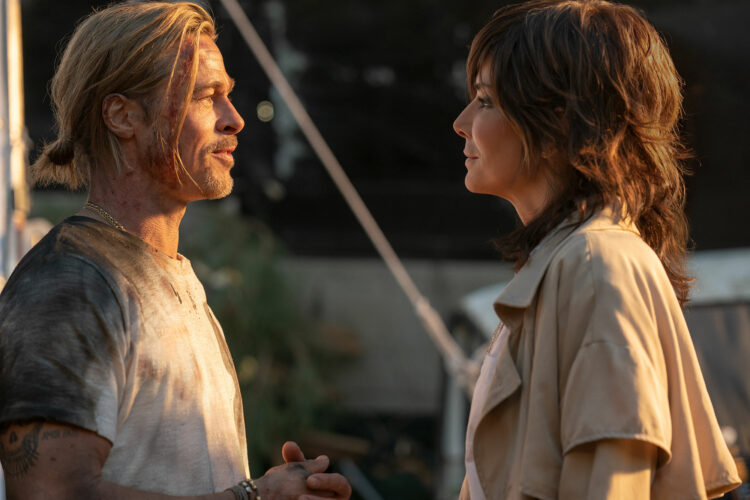 And then Sandra Bullock shows up at the end with a face as stiff as it was in The Lost City and it adds nothing to the film except another well-known name. The end felt so rushed. Here's this beautiful, sarcastic, frozen woman with this badass haircut swooping over one eye, and then it's over. At least they didn't kiss.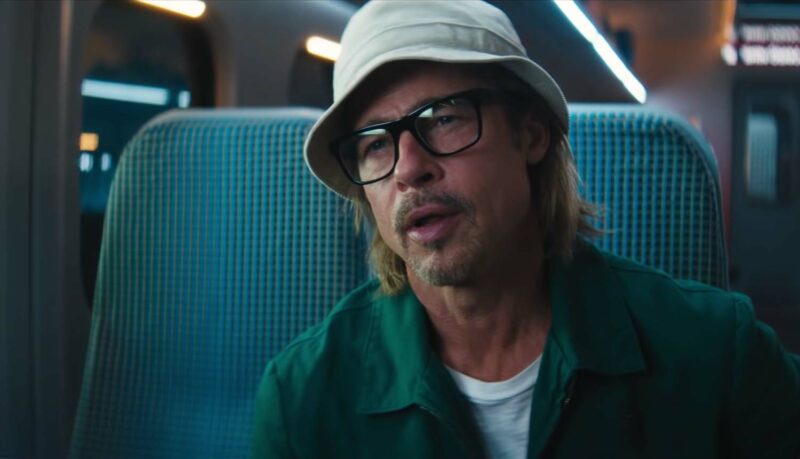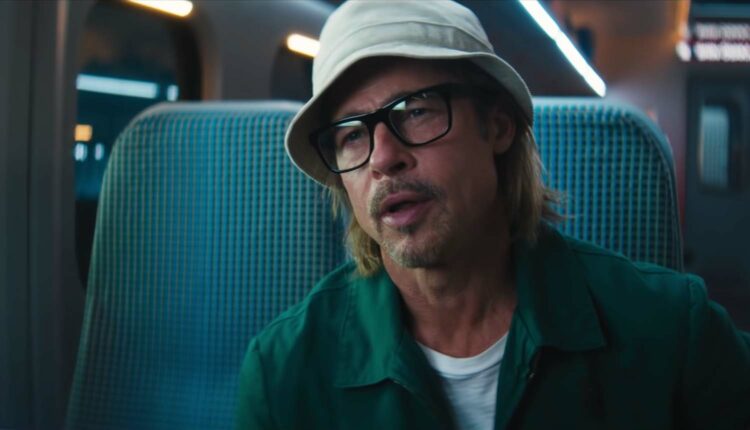 But you know what? Brad Pitt's voice sounds like an old friend and he looked great – not taut or tan or filled, looking like Brad. There was no sex and no sexual innuendo in the whole film, which was refreshing. We now have a new codeword for untrustworthy folks because of this film. The cast was great, and like I said, if it came out a decade ago or so, it would be seen as a great film. But in this time of content overload, it just didn't pack enough of a punch, even with Brad Pitt, to be memorable.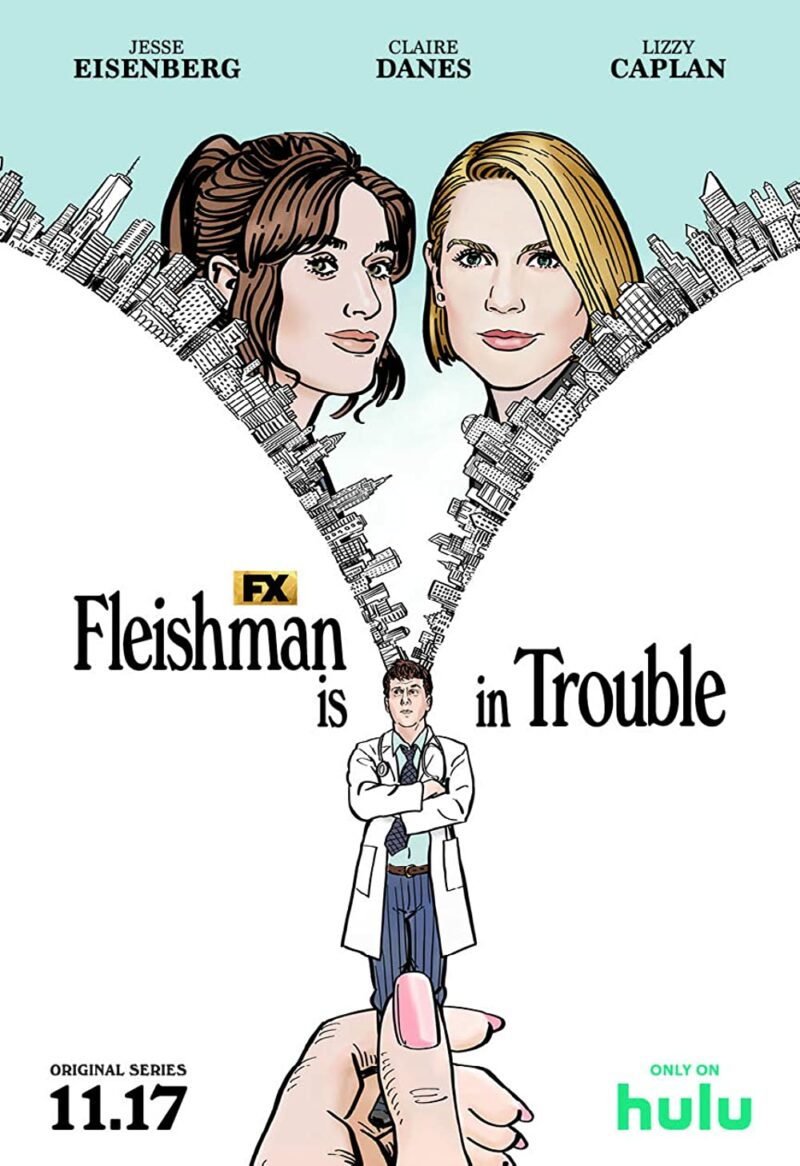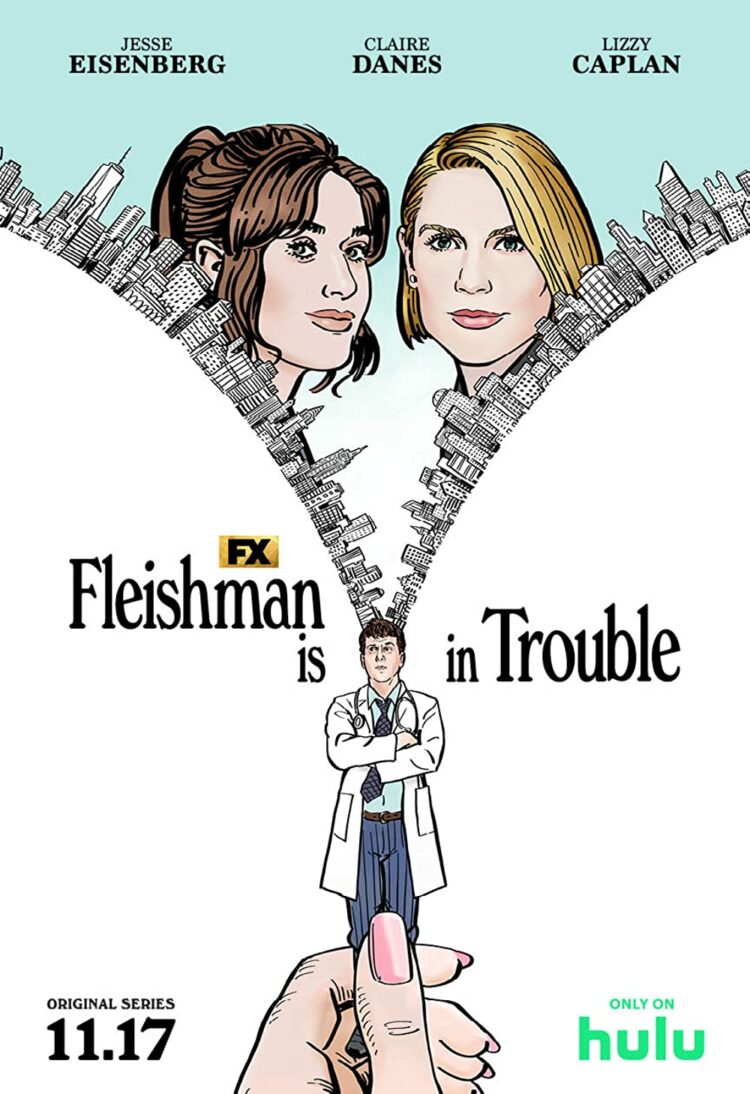 With The White Lotus over, we as a couple needed a new show to watch and took up Fleishman is in Trouble, playing on Hulu. To be honest, I wasn't interested in seeing this. Every time I look at Jesse Eisenberg I see Mark Zuckerberg thanks to his performance in The Social Network. And it's about a 41-year-old dude using dating apps after a divorce. I already saw Uncoupled on Netflix earlier this year, I've reached my annual quota of dumped white middle-aged dudes. But when my husband suggested it, I was intrigued as I didn't think it would be his type of show. Spoiler alert, we both like it.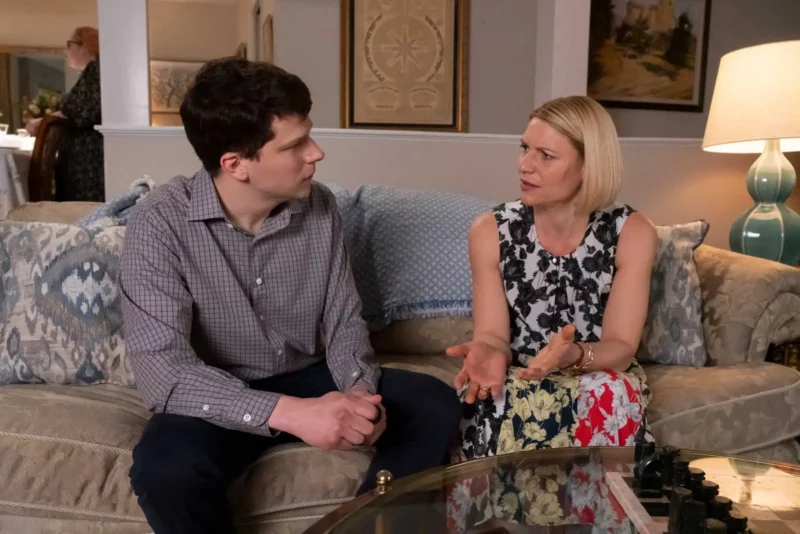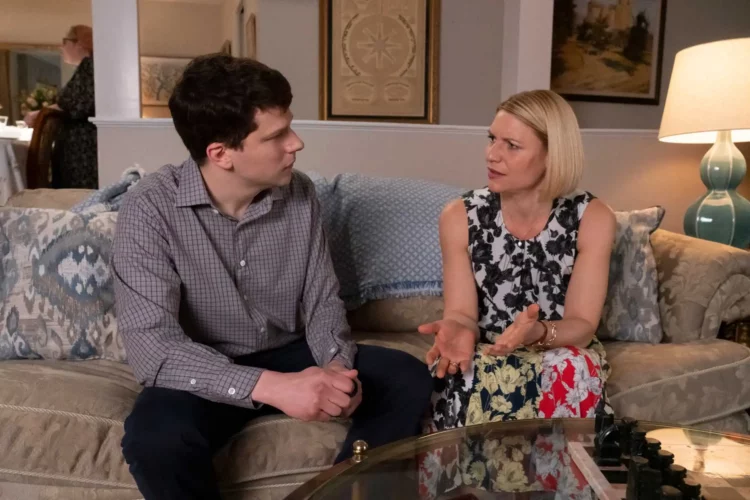 Fleishman is in Trouble isn't just a straight Jewish version of Uncoupled. It is carefully written where sometimes it feels a little too real, Caplan's narration is a well-scripted addition (much is directly from the novel this show is based on), and the cast is that perfect mix of talented nostalgia. You've got How I Met Your Mother, you have The O.C. and Gilmore Girls, you have Eisenberg, you have Lizzy Caplan, and you have mother fucking Claire Danes who is Beth March and Angela Chase and Juliet and Carrie Mathesen and Temple Grandin.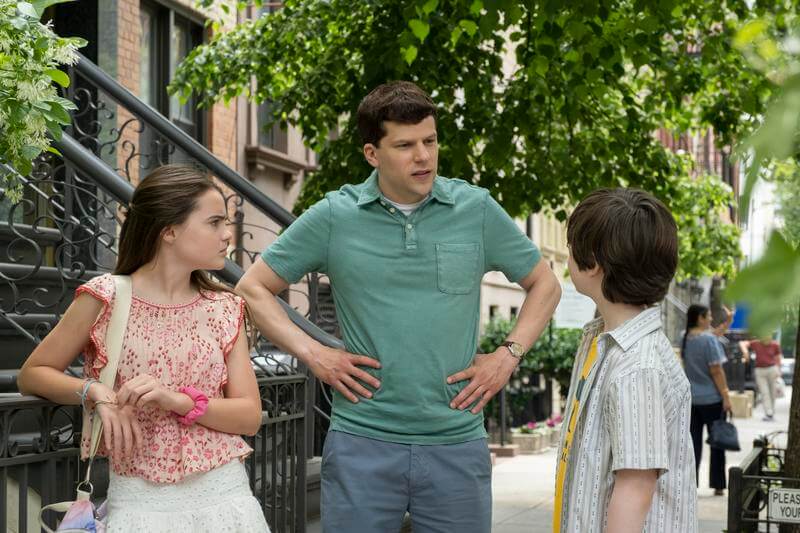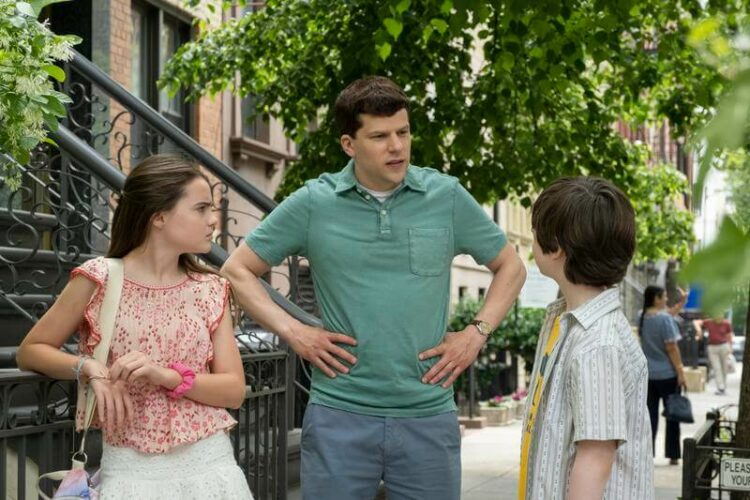 But it's not just the stars of Fleishman is in Trouble that shine. Every supporting role is nuanced. Meara Mahoney-Gross plays Fleishman's 11-year-old daughter and damn that kid better win some awards. I'd say if I had to compare this show to anything, instead of it being like Uncoupled, it's more like Reality Bites 20 years later, NYC edition.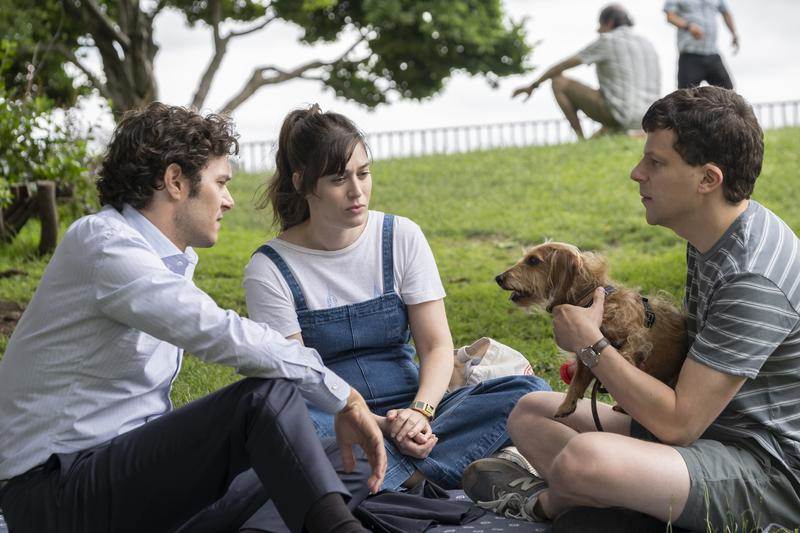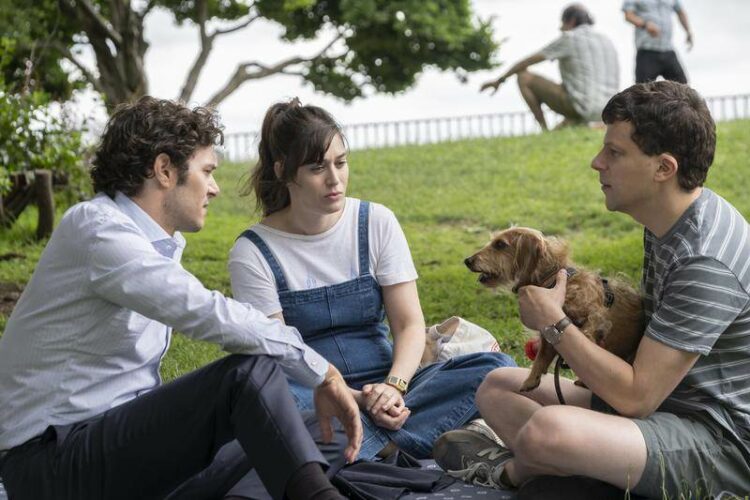 And using that comparison, like Reality Bites I feel Fleishman is in Trouble isn't necessarily the best show to ever show, but it might be one you'll think about years from now.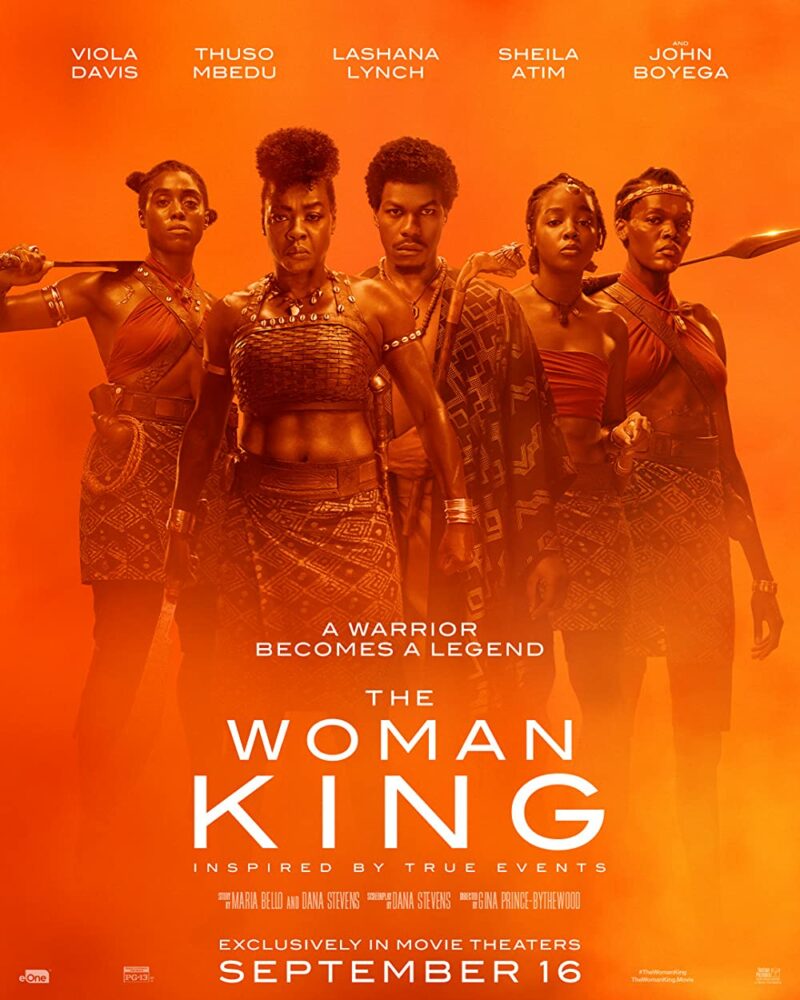 Whether you're comfortable at the theater or are down for $5.99 for an on-demand film, you MUST see The Woman King. Karl and I rented it yesterday as a celebration of my deciding to phase in Vacation Time and it was amazing. Starring Viola Davis as Nanisca, the general of an all-female army of the West African kingdom of Dahomey, The Woman King is a beautiful, action-packed, heartfelt movie based on history.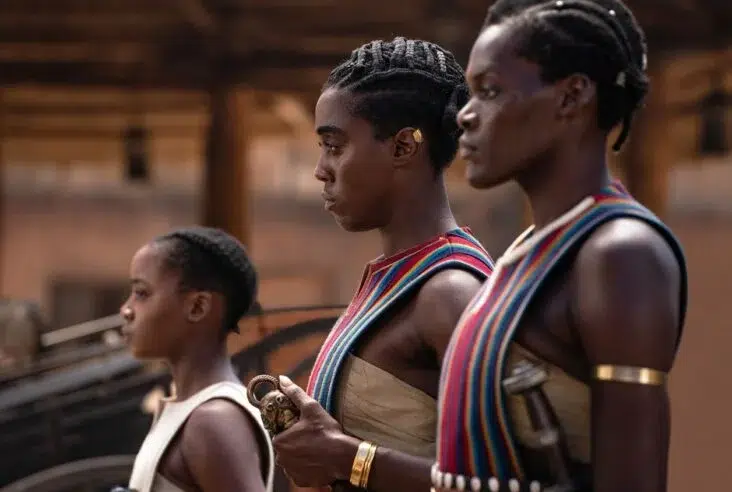 Sure, Viola Davis is the star, but the entire The Woman King cast is phenomenal. Thuso Mbedu was amazing but Lashana Lynch stole every single scene she was in. Honestly, everyone was amazing. This is a Braveheart-esque film, of war and triumph, loss and loyalty, fighting for what is right, and the many facets of love.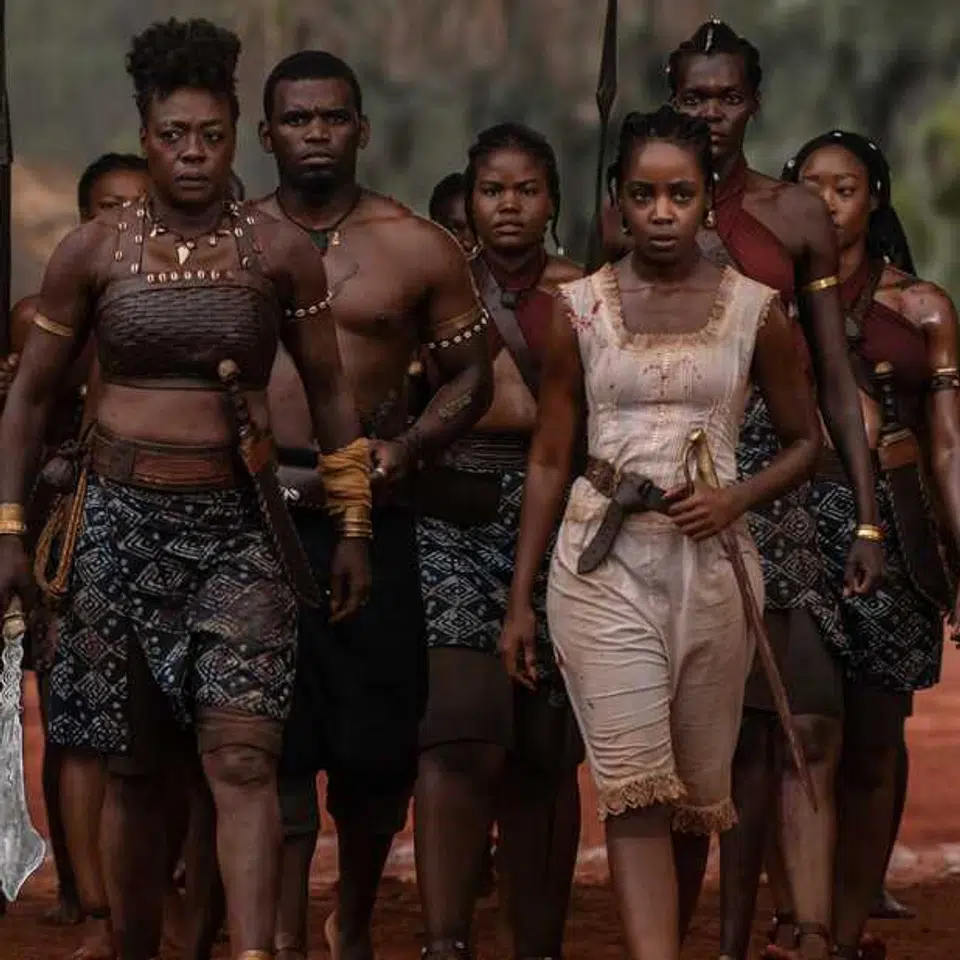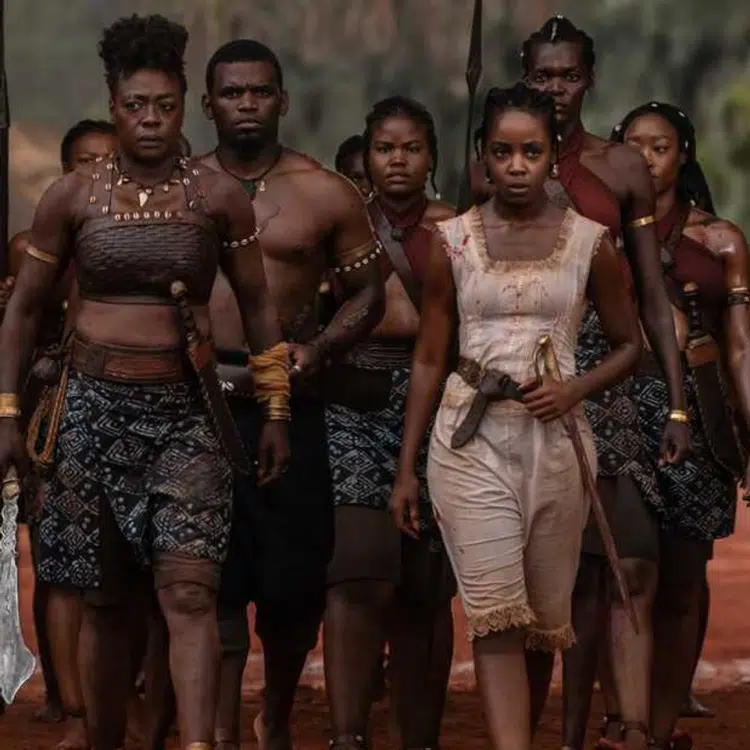 While this film is violent and there are characters who are seen dying, I think this is a film you can watch with your tweens and teens. I think it's an important story to see on the screen, the acting is phenomenal, it is so inspiring to see these women work together and show that sometimes a mouse can overtake an elephant.
For Your Entertainment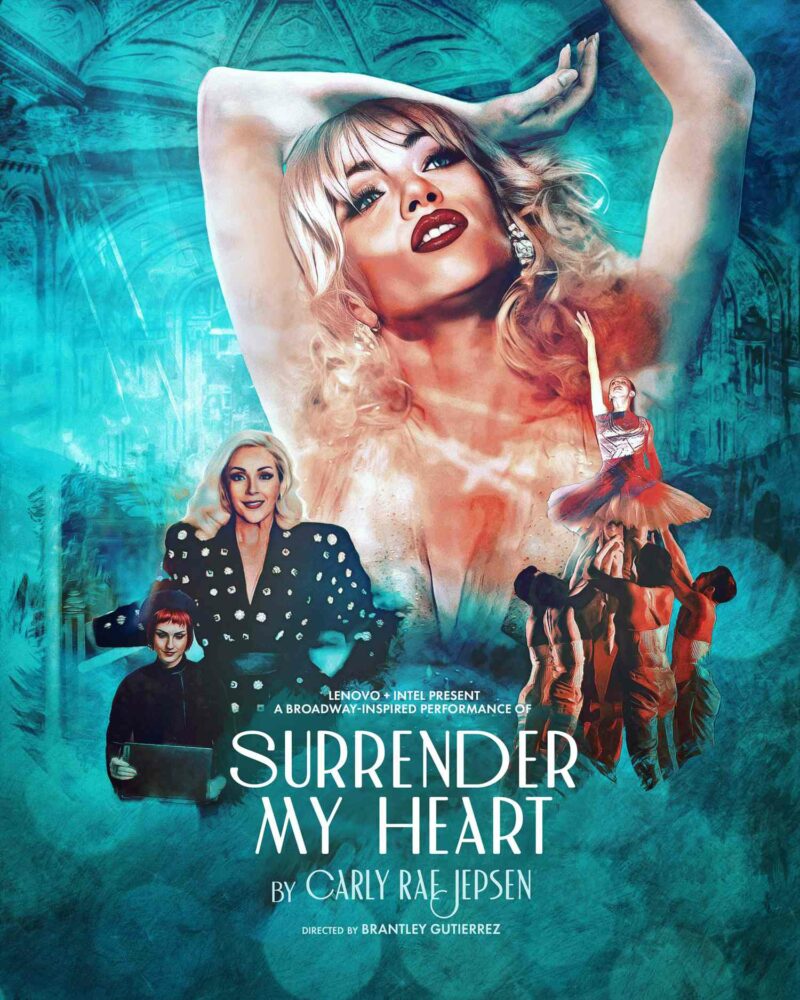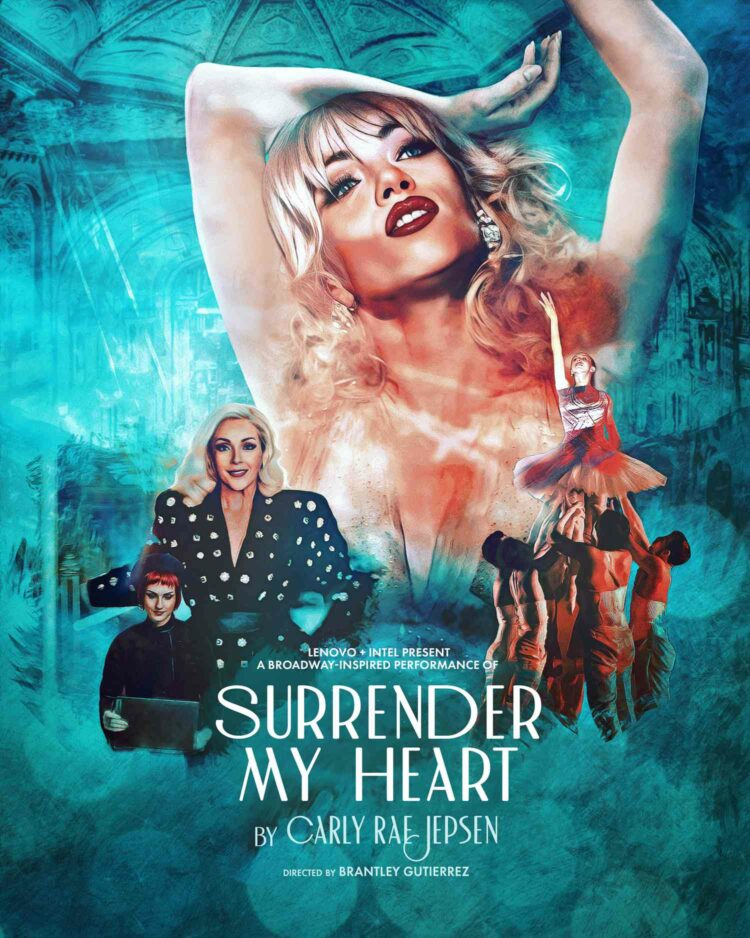 It's worth it to suffer through the blatant Lenovo product placement for this six-minute video of Carly Rae Jespen's "Surrender My Heart." The song is only three minutes, the rest is a piece starring Jane Krakoski who is so fabulous (when she collapses I laughed out loud). And this skit gives context to the video, you see it more like a performance. And the song? The caption for the video on YouTube has the lyrics, in case you want to look them up. And props to an artist ensuring accurate captioning on their music video.