This article may contain affiliate links; if you click on a shopping link and make a purchase I may receive a commission. As an Amazon Associate, I earn from qualifying purchases. 
Almost a decade ago, I asked for the Lands' End Squall Parka for Christmas. Always one to have a wool winter coat, I realized I was in desperate need of something a bit more water-repellent, wind-repellent, and durable. Be it scraping ice off my windshield, shoveling the front walk, going for a long walk on a sunny but blustery winter day, I knew the Squall Parka was a good bet.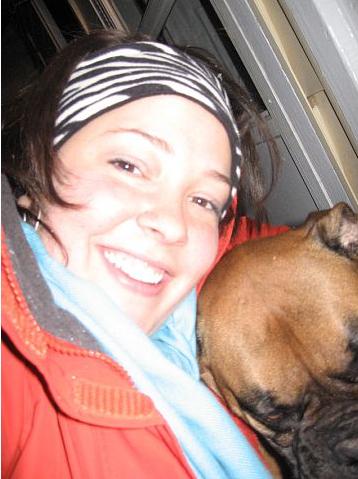 Wearing my Squall Parka in 2005 while snuggling with my dog Ruckus
I chose a rusty orange color, which I thought was fun and modern. I forgot that a little South Park character wears a parka in the same color. Every time I wore it, someone called me Kenny. But I didn't care – that coat was fantastic. It kept me warm, but I had flexibility, breathability, and I loved that I could throw it in the washer and dryer. I still have my Squall Parka, and choose it when I take the dogs for a wintry walk, or want to play with Emerson in the snow.
When I started working in DC three years ago, I realized I needed a good commuting coat. Something that could cover my rear when I sat on cold stone park benches, kept my legs warm, yet was able to be shoved in a bag if the day got too warm. My first day of work was a cold November Tuesday, and I stood on a street corner next to a woman in a dark olive quilted coat that came to her lower thigh. The quilting was brilliant and changed at the torso to whittle the waist. Stand collar kept her neck warm, and it look fantastic paired with an ivory scarf and knit cap. I asked her where she got her coat, she said Lands' End.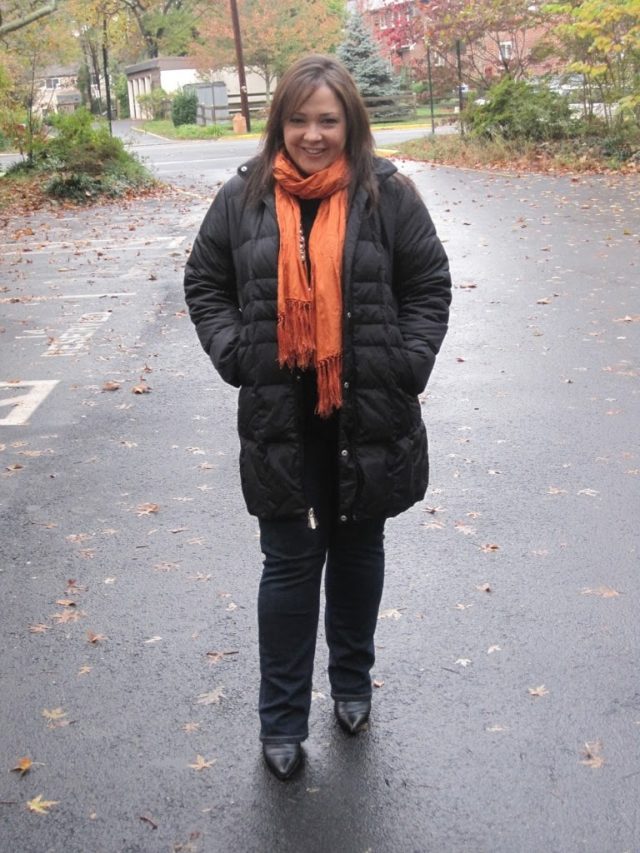 Earlier this year in my now-discontinued Lands' End Down Commuter Coat
Again, I headed to Lands' End where I got their now-discontinued reversible Commuter coat (most similar current coat is the Women's Chalet Down Coat). It came in olive and a couple other colors, but I chose black because I knew it was more appropriate to my personal style and wardrobe. The coat had one side that was smooth, another that was quilted. Lightweight, but warm since it was made of down. Water resistant. Pockets that zipped up (on both sides too!), and easily washed and dried in the machine. I loved this coat, and still do. It's the perfect commuter coat for a mid-Atlantic state like Maryland where the winters are cold but not frigid, and there is often a chance of precipitation that is more likely to be rain than snow. I wore this coat almost every day until I got pregnant, and even wore it often then, though left open with a pashmina covering the belly. I was happy to know that this coat was still a classic style that would treat me and my wardrobe well this winter.
Lands' End sent me their Luxe Down Coat, and I have to say I was a bit nervous. A furry collar and a belt on a quilted coat? I was sure to look like the Michelin Man. I loved the ivory and gray colors, but thought it would be a bit too marshmallow for my petite and curvy frame. Since I already had a black coat from Lands End, I decided to choose Spice Brown. I don't normally wear brown, but thought the brown would look nice with my hair (and the coat's furry collar).
I loved that I could choose this coat in petite. I am not always a petite in clothing, but with coats, I often find the sleeves too long and the shoulders drooping. With past experience with Lands' End, I knew that my size 12/14 body would be best with a Petite Large.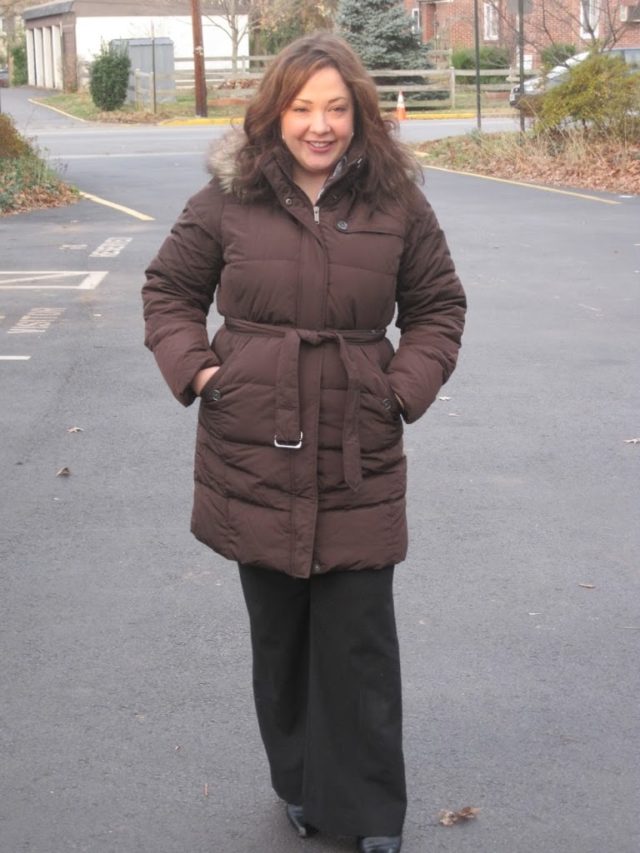 My sizing guess was accurate – the Luxe Down Coat fits beautifully, even with a thick sweater. It is much warmer than my other Lands' End down coat – so much so that I couldn't really wear it until recently. The belt is long, but that is so you can tie it instead of buckle it. The fur is removable, as is the entire hood. The coat has deep pockets so your gloves won't fall out, and knit wrist cuffs to block the wind and snow.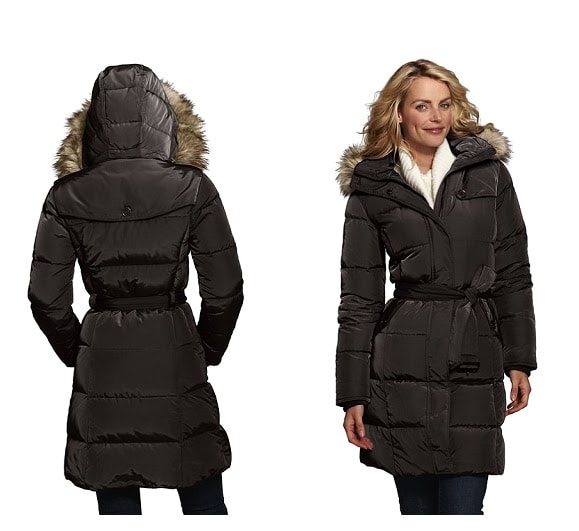 The brown is a nice shade – deep and chocolatey. The faux fur trim is nice quality and doesn't shed. I found the belted quilted style to be relatively figure-flattering, even being a thick coat. As with my other down coat, this coat is shaped at the waist, not a straight up and down silhouette. I think the belt really keeps me from looking like the Michelin Man, and it does a good job of preventing the wind from flying up the hem of the coat. This coat is pretty much the same length as my other Lands' End down coat, which is a great length for pants as well as skirts. I have worn the jacket open and have either removed the belt or loosened it in back to take up some of the slack and not have the ends drag.
Sometimes you don't know what you will love until you try it on. If Lands' End hadn't sent me this coat, I would have never considered a quilted belted winter coat. And now I am a huge fan.
Shop My Picks for Lands' End Outerwear: