This article may contain affiliate links; if you click on a shopping link and make a purchase I may receive a commission. As an Amazon Associate, I earn from qualifying purchases.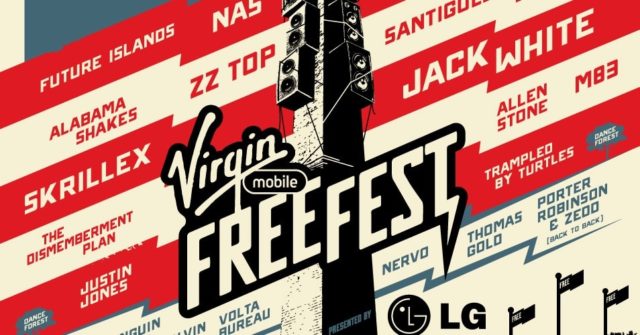 Each year I clear my calendar for when Virgin Mobile FreeFest tickets are available. It's a mad scramble using my SmartPhone, multiple browsers, and Facebook but I usually score at least a pair. And each year, something comes up where I end up not going. This year I didn't score tickets… but I actually attended!
I kept trying to win tickets, entering contests weekly. It seemed all my friends were going and it would be great to go with them. The thing was we didn't have babysitting available for the whole day and through the night. So when my sister asked if I wanted to be her date with her extra ticket, Karl said I should go and he'd stay home with Emerson. As it drew closer to FreeFest day, more friends were bailing due to work schedules, family emergencies, and other conflicts. It ended up being me, my sister, and our friend Tiffany who went together.
What I Wore: I wanted to be comfortable for 10 hours straight so I worried more about comfort than style.  I wore my blue-gray Old Navy Vintage V-neck, Karen Kane jeggings, my black DUO riding boots, and in my bag was a cotton plain shirt from Lands' End Canvas.  When it got super windy I put a bandanna (vintage Vision Street Wear) on my head.  Aviators, silver jewelry, and last minute switched from my crossbody to my festival backpack (smart decision).
My sister wanted to arrive in time to see Allen Stone. While I had heard his name, I couldn't place him and didn't care one way or another whether I saw his show. We had a late start but arrived before his set, and was able to get a place down center in the Pavilion for it. And I am so glad we did. Allen Stone looks like a grown up Napoleon Dynamite with his oversized glasses, toothy smile and long blonde curls, but he sounds like a young Chris Robinson (from the Black Crowes). While he did two covers (a great rendition of Tell Me Something Good and a bluesy yet hokey version of Bob Marley's Is This Love), what really stood out were his original songs. Great voice, great songs, great energy… Allen Stone has a new fan!

Who I Saw: I bumped into Tammy from A Loyal Love, Emily from Capital Style, and we met Jason Holt (the drummer for Allen Stone)
After Allen Stone, we headed for the Festival Stage which was in a field back behind the ordinary Merriweather Post Pavilion grounds and caught the majority of the Portugal. The Man set. I know I have Portugal. The Man on my iPod, but I haven't really listened to them in a while and was pretty impressed by their set. Enough that I added more of their tunes to one of my Spotify playlists. I got pretty close during their set and after they finished I was right on the rail and planned on staying for The Dismemberment Plan, but my friends were hungry so we went to grab lunch.
Who is that short person behind the guy in the furry red hat?  Oh yeah, that's me in the audience at Nervo!
It was around 4pm and I really wanted to see Santigold so we headed back to the Festival Stage. We ended up passing through the Dance Forest and Nervo was on stage. There was a perfect path from the grass right into the crowd and without any wiggling I ended up almost on the rail. The show was super fun, though the crowd was young enough to be my children. We didn't care, we danced and jumped and had a blast. However, I decided to leave so I could get a decent spot for Santigold.
This is where I made a major festie mistake – I left without my friends and without a way of contacting them. In just three hours, I had completely drained my phone battery just trying to get reception. I guess this was also a major festie mistake by Virgin – their festival WiFi was practically nonexistent. I was able to get it once at 1:30 or so, and never again. There was no reception for my AT&T phone, and same for those I met who were on Verizon, Sprint, and T Mobile. Maybe it was a calculated plan by Virgin to get people switch to them as their provider? Anyway, with a dead phone in my back pocket, I hoofed it back to the Festival Stage.
Being alone and a woman over 35 has its advantages at a festival. No one messes with you because you could be their mom and you must be cool to be at a festival, and if solo it's easier to wiggle into a crowd without pissing anyone off. At Santigold I had tall boys regularly see me behind them, and offer me the space in front of them to see better. Within minutes I was only about 10' from the rail on the left side of the stage. I hadn't see Santigold live before and have loved her for a while. She didn't disappoint and she still has a big fan in me.
The fabulous Alabama Shakes
After Santigold, I decided to head back towards the pavilion since I figured at least my sister would want to see Alabama Shakes and they were already playing. I wandered a bit and decided the best chance to see someone I knew would be to stand at the bottom of the lawn, center, right along the sidewalk. I saw fellow blogger Tammy from A Loyal Love; she let me borrow her phone to text my sister my location, but she didn't get it or didn't see me. I decided them to enjoy the show and a bit of people watching. Alabama Shakes rocked it, but I didn't expect otherwise. I saw them at Rams Head Baltimore a few months prior and I recommend seeing them to anyone – truly awesome.
After Alabama Shakes, I decided to stop looking for my friends and just have fun riding solo. We all were adults and knew where the car was, we had all attended many shows and festivals in the past so I knew each of us would likely see the solo experience (I later learned that Debbie and Tiffany got separated soon after losing me) as a blessing and adventure. I headed back to the Festival Stage to catch part of Nas' set… but soon left. While Nas sounded great, the crowd totally sucked. A lot of jerks, a lot of drunk kids, a lot of aggression. I decided to just wander. I got a beer, moseyed through the lawn, soaked up the atmosphere. I walked past the pavilion where ZZ Top was ready to perform and thought… there's no other show I REALLY have to see so maybe I'll check out the situation to get in the pit for Jack White.
I ended up in line along the right side of the pavilion for Jack White with some hardcore fans and ended up catching ZZ Top's set. I wouldn't have normally stayed for ZZ Top but was glad I saw it. Those guys are PROS. Their set was tight, they understood their crowd and played the right songs at the right time. They sounded amazing, and I knew my father in law would have been pleased that I saw the performance. I also met some nice people in line and had the opportunity to use my age to my advantage.
While standing in line, some guys started walking right past us, wiggling between our line and the seats. I asked them where they were going. "Getting in line to see Jack White." I told them we had been waiting for the past hour and the line ended back behind me. They said, "Whatever lady" and tried to push past me. Maybe it was the beer, but I stood my ground and said, "Do you know who I am?" They looked at me, and the lead guy looked a bit scared and said, "Oh, sorry, I didn't realize" and walked away. Thank goodness they didn't ask who I actually was! But seriously, if you think you're too old for such events, stop and think how badass you look having confidence and walking through all those teenagers. You're not old, you're what they wish they could be in 15-30 years. Wear that with honor!
Jack White did every song I could desire – songs from White Stripes, Raconteurs, the Dead Weather, and his solo album!
So finally they started letting us in to the pit. There were already a bunch of people in the pit (VIP? Fan club?) so we tried to find the best places possible. I ended up being right in center, again about 10' from the rail. Unfortunately though I was close, I had about eight men over 6' tall in front of me. I had a woman to my left who was about 5' tall and a woman slightly in front of me to the right who was about my height. We all craned our necks from left to right and if the wind was just so we could see Jack White between shoulders. The pit was pretty packed – there wasn't any dancing and I couldn't even raise both hands over my head, but the crowd was pretty awesome… for the most part.
We all had our spots and were getting settled. The guys realized us shorties were behind them and didn't sway too much. Jack White and his all-female white-gowned band were killing it, and this guy in a Hillbilly Casino Tennessee jacket starts pushing through the crowd. The guy next to me was very zen about it – he told his friends to let Hillbilly Casino go, don't ruin your own good time getting angry over one human. I liked his mindset… but then Hillbilly Casino tried to get past the tallest guy in the crowd (me and a new friend called him Michael Phelps because he had a similar build and face shape) and NotMichael put out his hand and stopped him… in front of me.
I wasn't super stressed, Hillbilly Casino was shorter than most of the guys in the area so it actually improved my view. However, this guy had some serious negative energy. He was staring to the left, not to the stage the entire time. He was so angry he was literally shaking, clenching his fists. You could feel the anger radiating off him. The more time that went by, the angrier he got and he started bouncing from one foot to the other like a boxer before a match. I ended up tapping him on the shoulder telling him the crowd was too tight, it was too late in the show, just sit put and accept his place. I couldn't deal with this hostility and nervous energy less than a foot from my face. He just looked at me as though I was insane and kept on with whatever mission he was on.
See those tall people to the right in the crowd? Yeah, that's where I was!
We found out what his mission was when the set ended and he took a swing at NotMichael Phelps. Immediately, I grabbed Hillbilly Casino to pull him back (yeah, he was right in looking at me earlier as though I was insane) and two guys also grabbed him. We pulled him back and I pushed him in the chest and we all told him to leave immediately. Luckily he left; those who still had cell phones working (seriously folks, 90% of the people I met had no juice left because of the poor reception) lit them up and we found NotMichael's cap which flew off during the punch and we all settled in happier and more relaxed for the encore. Oh and to have Hillbilly Casino gone, the thrill of helping to kick him out, extra space, happy neighbors AND Seven Nation Army? Perfect ending to a phenomenal set!
I really wasn't pressed to see anything after Jack White. the lawn was empty except for trash, the place was clearing out. However, Skrillex was still playing so I decided to walk that way. It had gotten very cold so I put on my plaid shirt and buttoned it all the way up. I was walking from the lawn down near the barn and stepped over some of those plastic plates that cover cables. It was damp, I was tired, and in slow motion I slipped and landed on my ass. I looked up and there were three little girls half naked in fur boots and Native American headdresses and face paint. "Are you okay ma'am? Do you need help getting up?" I know they were just being nice but to be tired, be 37, just semi-fight some guy twice my size, and be literally on my feet for nine hours was too much. I said I was fine, got up, brushed off my ass and my pride and headed to the Festival Stage.
I got to the bridge to that part of the grounds and could see the craziness before me. The stage was lit up, kids were dancing everywhere, the Ferris wheel was spinning, and I just didn't want to get into all of that. I leaned against the chain link fence enjoying the bass and people watching. A couple slammed against the fence behind me, making out as though they hadn't seen each other for a year. It didn't bother me, I actually thought it was sweet but a minute later another couple slammed against the fence in front of me. I decided that was life telling me the day was over so I headed back to the car. My sister was already there, my friend Tiffany arrived soon after and us three old, tired, yet happy women headed home.
Would I go back to Virgin Mobile FreeFest? Yes, in a heartbeat. Sir Richard Branson knows how to throw a party. I was impressed with the little details – the phone booths where you could get a call to win anything from a beer to a meet and greet with a festival performer. That the schedule was set that the folks who prefer rock (and likely were older) had their last shows near the main exit and they ended a bit before the dance music. This way we could get out of the parking lot before all the teens on acid and Ecstasy. Fun additions like a circus (I didn't see but Debbie and Tiffany caught). Plenty of staff, be it Merriweather folks or the 9:30 Club staff. It was very well organized and a pretty fabulous lineup for a free festival. I also liked it being post-festival season and not when it's a kazillion degrees. Yes, the crowd is primarily under the age of 25 and I think the majority of those folks were there for the drugs and hook-ups and not music, it was still a lot of fun and look forward to next year's fest!
Follow Me | Twitter | Facebook