This article may contain affiliate links; if you click on a shopping link and make a purchase I may receive a commission. As an Amazon Associate, I earn from qualifying purchases. 
Sorry I have been MIA – I had work training Monday and Tuesday. It was great, but the trainer had a cough and the sniffles and he mentioned being sicker earlier… and I think I got what he had. I was sniffly and a bit icky Tuesday, woke up Tuesday night with a bad cough and by today it feels like a full-blown flu. So the past two days I have been taking Oscillococcinum
and pumping my body with lots of fluids and nourishing foods.
And there's no pics because no one wants to see my bedhead and old hot pink Victoria's Secret terry bathrobe.  Though on a Weight Watchers
-related note, it's really nice that the robe fits again well enough that it can really wrap around my body and stay in place.  The tiny things that bring such pleasure to one's life.  Last Christmas I considered asking for a new robe in a size larger because my robe couldn't be worn and still let me answer the door, dash out and get the mail, or walk past a window.  So, baby steps of progress!
Anyway, I am often asked why I don't purchase more vintage.  I don't purchase more vintage because vintage requires time.
Trolling the thrift and vintage stores, trying on item after item after item.  Or knowing my measurements exactly and trolling eBay, Etsy, vintage online shops.  Once you have the item, it often requires some alterations to really make it fit in a modern and flattering manner.  It means having the time, and a good knowledge of your body's shape and size.  I do not have either, so I stick to brands I know well and can usually have luck with right off the rack.  Once my body gets to a point where its size and shape is relatively consistent, I will go back to shopping smaller retailers and vintage.
That being said, I do love vintage and thrift shopping – more opportunity for a unique look, and I adore the frugality and eco-friendly aspect of it.  I hate disposable fashion, and love the idea of giving garments a second life.  Having a child really makes me grateful to thrift stores, Freecycle, and friends who aren't afraid of hand-me-downs.  Babies wear clothes for such a short period of time before they outgrow them, I love knowing that what Emerson wears was worn by a previous kid and will go to be worn by another kid (or two, or three, or more!).
My mom kept a bunch of my and my sister's clothes from when we were babies.  When Emerson was born I received a giant Rubbermaid tub of newborn clothing – Emerson wore the same kimono-style tops, gowns, and footed sleepers that I wore in 1975 and my sister wore three years later.  She has paired her frilly Easter dresses with hand-crocheted cardigans made by relatives for me and my sister decades earlier.  And now she fits into overalls that my mom sewed for me and my sister for everyday play.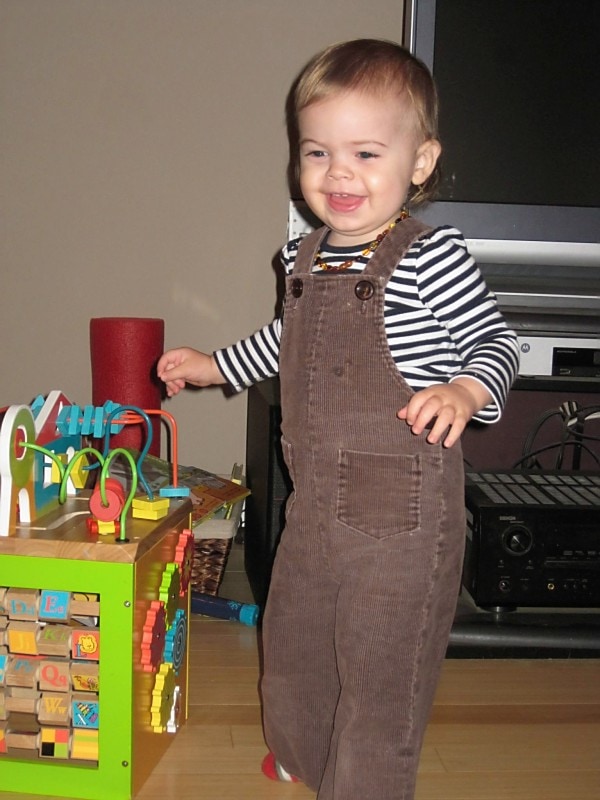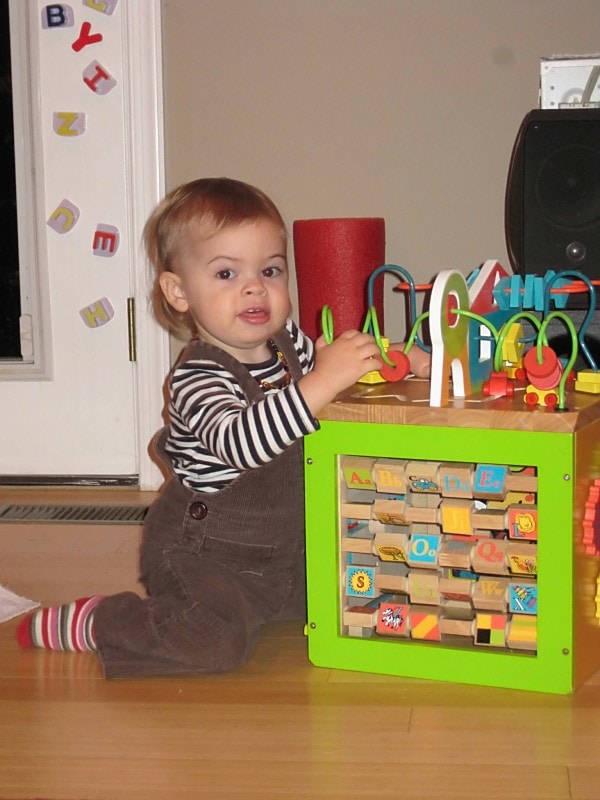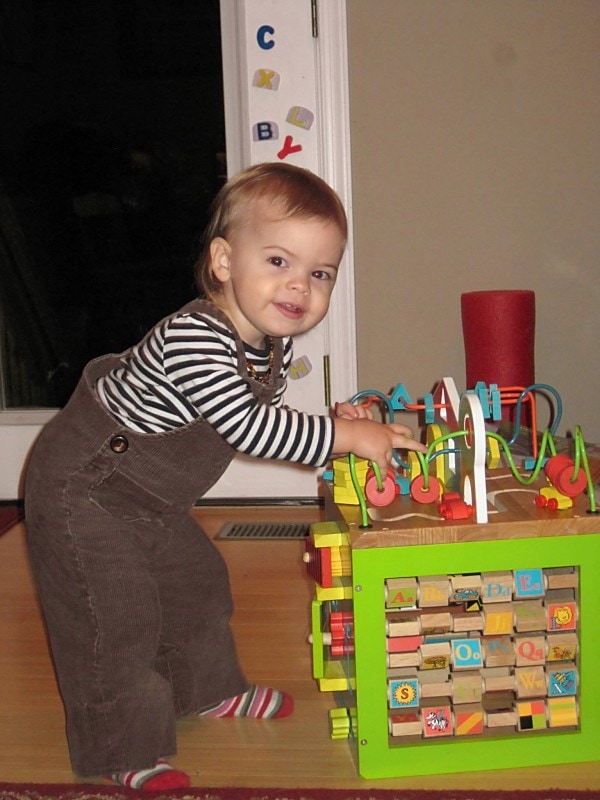 Here are pictures of Emerson wearing homemade brown cord overalls circa 1976.  Like great vintage fashion for women, these overalls are better made than what you can currently find in stores.  They have a silhouette that does show its original decade, but still looks stylish in 2010.  The price is nice (hello FREE) and it's so cool to have my child wear what I wore when I was her age.  Now I just need to scan a picture of me wearing them when I was a baby!