Recently I shared with you one of my beauty secret weapons – having a face uniform and switching it up with one single beauty product. It was the end of the summer and beginning of fall, and I was feeling soft glossy lips and a more subtle look. But now that the weather has gotten downright chilly, Daylight Saving Time has happened and it seems to be dark all the time, it's fun to add a punch with a bright or bold lip.
My face routine has changed a bit for the colder months to include more hydration and a CC cream to add color and evenness to my winter pallor, but it is still a uniform. When it comes to a favorite lip product, for a year it has been the Revlon® Just Bitten Kissable™ Balm Stain. Romantic is a soft red that makes me feel like Snow White when I wear it (I reviewed it here), and Crush Begun is a perfect dark berry shade that is perfect for this season's fashion trends (worn here). I love these chubby crayons because they are easy to apply even without a mirror, they stay put without being drying, no need for a fancy sharpener, and they fade nicely without looking as though I ate off my lips.
I guess I am not the only one who adores these lip products, because Revlon® has come out with two amazing products – the Revlon ColorBurst™ Lacquer Balm and the Revlon ColorBurst™ Matte Balm. And yes, I am just as obsessed with these products as I am with the Revlon® Just Bitten Kissable™ Balm Stain.
Both of these new products are in the same convenient container – a cap that actually stays put, a retractable point that never rolls up when in your purse, causing the product to smash into the cap. Both products wear as nicely as the Revlon® Just Bitten Kissable™ Balm Stain, and have just as wonderful of pigment. However, these products give a completely different and very on-trend effect to the lips: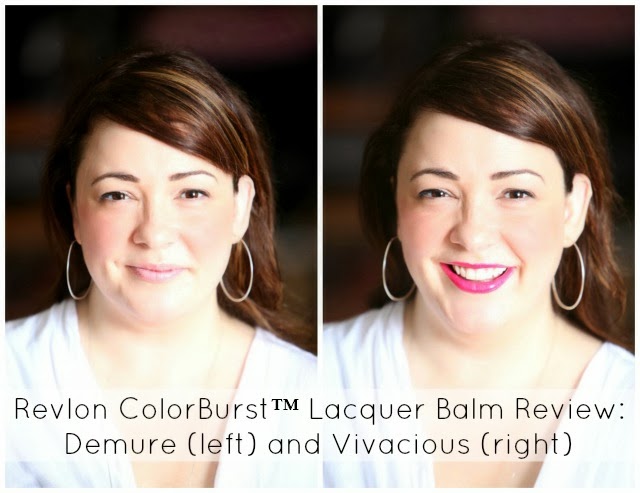 The Revlon ColorBurst™ Lacquer Balm provides a lacquer-like high shine finish with balm-like moisture. Infused with a triple butter complex of shea, mango and coconut butter, these chubby crayons are kind to winter-chapped lips. I received Demure and Vivacious; Demure is a very pale pink with a hint of shimmer which looked a bit chalky on me when worn alone, but makes for a lovely sheer topcoat over matte lipsticks and stains (you can see it on me in this outfit post, worn over the Revlon® Just Bitten Kissable ™ Balm Stain in Crush Begun). However Vivacious is my new love, and holds a place of respect in my purse with Romantic and Crush Begun. A gorgeous hot pink that would make Barbie jealous, it's a fun color that will jazz up your holiday LBD or make an otherwise fresh face look cheerful on a cold winter day. You can see I wore it in this outfit post and it gave a fun pop of color to a neutral look without looking too extreme for work.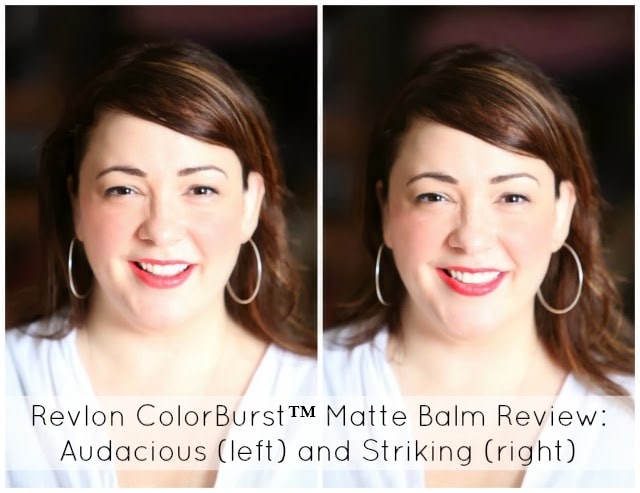 The Revlon ColorBurst™ Matte Balm, like the Lacquer Balm is infused with that triple butter complex. The difference between the two is the Matte Balm is just as it is named, a matte look, but has a soft and non-drying balm finish. I received Audacious and Striking and I have to say I am a mega fan. In winter, it's hard to carry off a matte lip without looking like death warmed over or having your lips crack and flake. With the hydrating ingredients in the Revlon® ColorBurst™ Matte Balm, you can achieve the matte look and still have soft, supple lips. I love these two colors, they really brighten a tan-free winter face without looking extreme, I think they look great with a bit of flush to the cheeks (still rocking the Revlon® PhotoReady™ Cream Blush in Coral Reef), and lush lashes. Audacious looks like a terrifying orange in the package, but on it's a surprisingly wearable mango shade that I think would look fantastic on many skin tones. Striking is a bright red with almost a neon tinge that reminds me of a very popular orangey-red lipstick work by a certain bespectacled style icon, but at a nicer price and an easier application. Both can be made more intense of a color with stronger application; a quick swipe will give a sheer layer of color.
My beauty secret weapon remains the same – keeping it simple but making it look more complex with a quick change of one product. And this fall and winter expect to see that product be Revlon's ColorBurst™ Balms!
Giveaway
This giveaway is now closed and the winner notified. Thank you for entering!
Follow Me | Twitter | Facebook | Instagram